Calendly is a useful tool for booking online appointments.
With Calendly, you can:
Allow potential clients to schedule appointments
Integrate your meetings into other calendar apps
Keep track of your upcoming meetings
And you might be thinking, "There's also a free version of Calendly." That's true, there is.
But, Calendly just might not be meeting all of your expectations.
You want more!
There are other options when it comes to online appointment apps. Just like Calendly, these scheduling tools can help you organize your time. But, they also offer other features, like in-app messaging and invoice management.
Let's take a look at some of the best Calendly alternatives for consultants, freelancers, and contractors.
1. Vyte: Customize it to Your Brand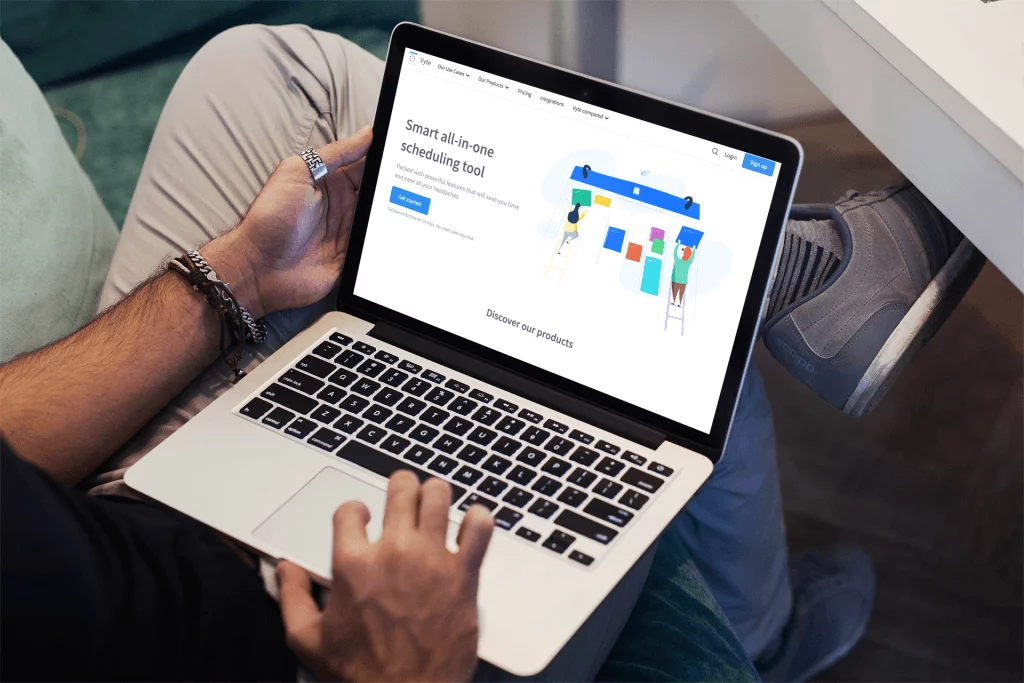 Vyte is one of the most trusted online appointment scheduling tools available. Some of the largest corporations in the world use it. It's no surprise that so many loyal Calendly users are transitioning to Vyte.
Personalized Booking Page
When you register for Vyte, you get your own booking page. What's really cool is that you can personalize the page according to your brand. Add your own colors, fonts, and more.
Depending on the plan you choose, your booking page will include several different features.
All of the plans let your clients choose their own meetings. The most advanced plans, however, account for meeting duration, buffer times between meetings, and your availability. That's all possible because of Vyte's calendar sync feature.
All you need to do is send out a link to your Vyte page and wait for clients to schedule meetings. Once they do, both of your calendar apps will update to reflect the event.
Group Scheduling Feature
Scheduling group meetings is hard. But Vyte cuts out the extra steps.
You just have to send out an invite and allow other meeting participants to choose the time that works best for them.
Once everyone responds, you can choose a time and date that works for the whole group.
Gone are the days of sending a 100-email chain back and forth to schedule one meeting!
Advanced Scheduling Features
Online booking systems are useful for any business. Yet, they're only valuable if they're compatible with other software programs.
Vyte fully synchronizes with your Gmail or Microsoft Outlook accounts. It also syncs with Google Calendar. That way, you can keep track of your upcoming meetings and use your current schedule to determine your availability.
What's also really neat is that Vyte keeps track of your client's current time zone. So even if they're oceans away, you can still schedule that phone call without fearing that you got the time wrong.
Bonus: check out our pick for the 10 best apps for independent contractors
---
2. Drift Meetings: Great for Salespeople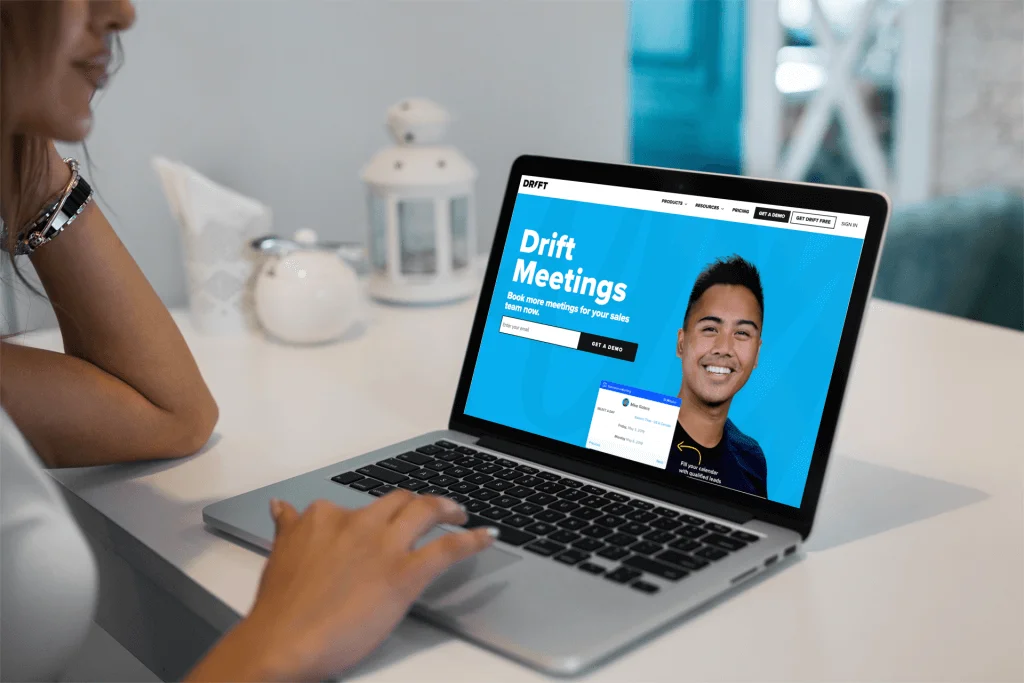 Drift Meetings is a high-quality appointment scheduling app for anyone in the sales world. It's another great Calendly alternative.
This tool provides users with a nearly unmatched experience when it comes to scheduling meetings. It's very easy to use.
Instant Scheduling
If you've ever received a Facebook message from a potential client, you know how much of a hassle it can be to use the Messenger app.
You're constantly waiting for a response. Yet, you and the client can never seem to find a time that works for both of you.
With the Drift Meetings chat feature, your clients can see your availability preferences. This allows them to book a time that's open in your schedule and convenient for them, as well.
That's not all, though. Drift Meetings takes it to a whole new level with the addition of Drift Playbooks. This customizable chatbot will ask each client pre-set questions about their needs. That way, you can better prepare for your sales call.
Qualifying Clients
Drift Meetings and the Drift Playbooks feature leave very little room for surprises.
By the time you open your calendar, you know exactly what the client is looking for, what their budget is, and when they would like to meet.
Drift also helps you determine which clients to target. You can sync it with your Marketo contact list to automatically qualify all your leads.
Ease of Use
When you sign up for Drift Meetings, you'll receive your very own Drift page. All you have to do is send the link to your clients and social media followers.
Then, they can book meetings with you directly through the page.
Once they've chosen a date and time, the program will automatically check your calendar app to prevent double bookings. If plans change and you have to switch the meeting day, you can email your clients with an update.
---
3. Bloom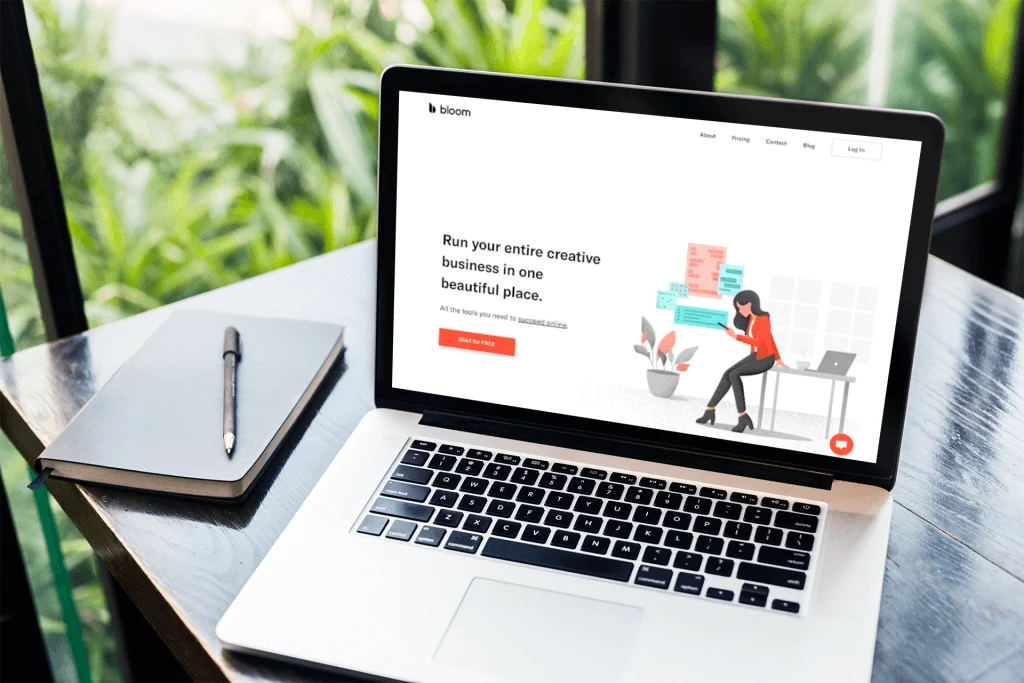 Bloom is an all-in-one organization and communication tool for freelancers and small businesses alike. It consolidates several tools into one easy-to-use app.
With Bloom, you won't have to download a bunch of different apps to manage your calendar. It's a full CRM experience.
Learn more about Bloom today!
A Scheduling App within a Full CRM
When you're looking for a CRM to improve your workflow, you want a program that:
Keeps track of your client interactions
Helps you generate leads
Doubles as meeting scheduling app
Generates invoices and processes online payments
Bloom has all of these features and more. It sets the standard for what a CRM can be.
From the moment you sign up, you can develop your own lead generation pages and send links out to potential clients. You can even share them on your Facebook or Instagram.
From there, you can manage projects and keep track of your contacts with clients. Create drip campaigns to send automated emails to promote your services and maintain constant communication.
What's great about Bloom is that it literally does everything. You can even use it for project approvals and invoicing!
Lead Capture and Generation
There are a ton of Calendly alternatives out there, but very few help you to generate leads.
With Bloom, you can send out lead capture forms, distribute questionnaires to potential clients, and schedule meetings — all in one app!
When clients visit your website, you can chat with them in real-time via the app's chat feature.
For even greater exposure, share your Bloom page with your friends, family, and clients on social media and via email.
Online Appointment Booking
When developing our appointment scheduling solution, we wanted to get rid of any extra steps that didn't make the process easier. This is why the app allows clients to book meetings at the click of a link.
When a client clicks your link, they're brought to a page that allows them to choose the services that they're interested in.
From there, they can choose additional add-ons, schedule a one-on-one meeting with you (that fits into your schedule), and pay on the spot via Paypal or credit card.
With its calendar integration feature, Bloom sends all bookings directly to your schedule. It even sends out appointment notifications to your clients, which saves time and limits the chance of no-shows.
Currently, Bloom is only available for iPhone, iPad, and desktop users, but the Android version is in the works.
Try Bloom free for 14 days!
---
4. Doodle: Simplicity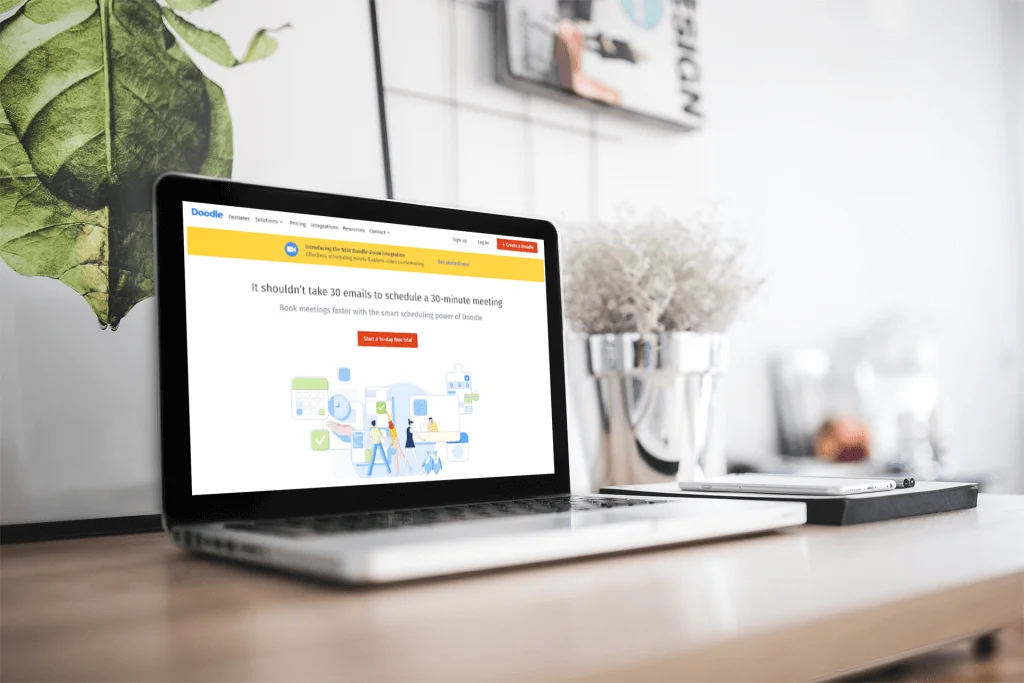 Doodle is considered one of the most user-friendly appointment scheduling app out there. It's pretty effective at scheduling both one-on-one and group meetings.
Anywhere, Anytime
Unless you travel frequently, you probably never think about your current time zone.
But, it's important to consider. If a client is three hours behind you, and you plan a call for 11 am, one of you is going to be surprised when you receive a phone call at 8 in the morning.
Luckily, Doodle accounts for this. It automatically registers your client's time zone when showing them your availability. They'll be able to see what time the meeting would be in their area.
After the meeting is scheduled, both of you will receive email reminders and updates to notify you of any changes.
Group Scheduling
Like some of the other Calendly alternatives, Doodle makes it easy to book group meetings. Without a good calendar management tool, the scheduling process can be longer than the meeting itself.
With Doodle, all you have to do is send out a quick invite to your clients or team members. All they have to do is select the times when they're available.
Once all of the votes are cast, you can choose a date and time that fits with everyone's schedule. It's much better than manually mapping out everyone's free time!
What's even greater about this feature is that it allows for "If Need Be" votes. So, if there's a time that's possible for someone but not their first choice, they can let the group know.
Privacy Features
Are you concerned about people seeing your calendar? Worried that they'll think less of you if you have a slow week?
With Doodle, you don't have to think about that. This app keeps your calendar completely private. Absolutely no personal data is shared with any other user.
Doodle also uses a secure hosting site to guarantee further security.
So, you should have no concerns about using this program. Your clients and team members will only see your availability, not your full schedule.
---
5. x.ai: Custom URLs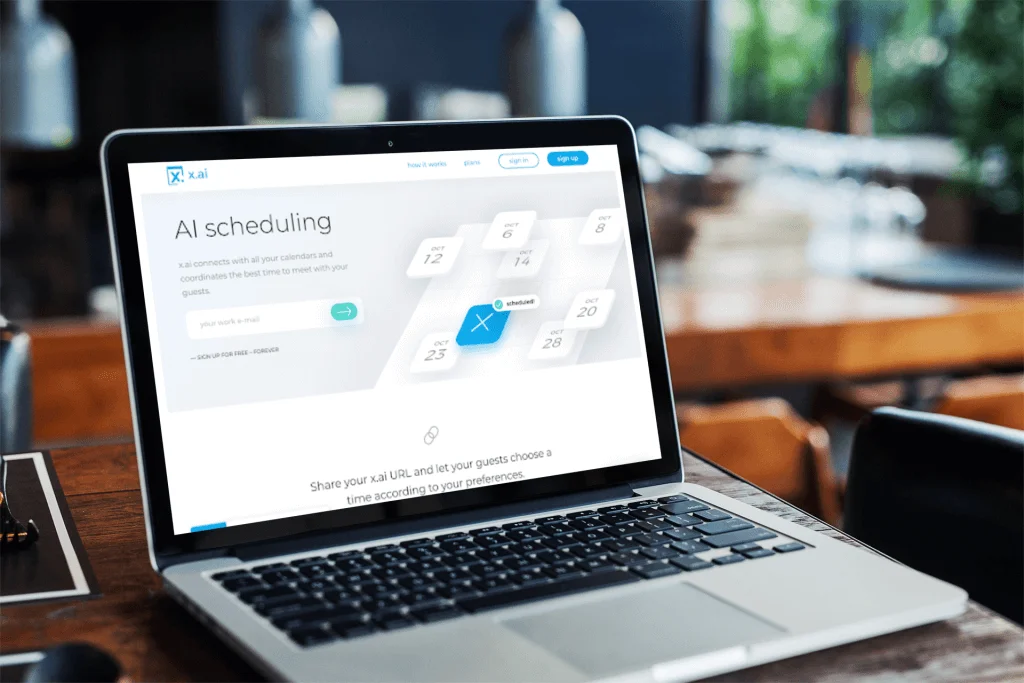 x.ai takes a modern approach to online scheduling. Rather than relying completely on communication between you and your clients, it utilizes AI bot technology.
Your Own URL
When you register for x.ai, you'll get your own personal URL that you can send out to your clients and social media followers. Through the link, invitees can see your availability for meeting times.
This is pretty standard for scheduling tools.
Yet, x.ai takes it one step further:
You can actually produce different forms for each type of meeting.
So, one URL might be for one-on-one meetings while another might be for group meetings. You can have a unique URL for team meetings, too.
This allows you to send out different questionnaires to each person so that you can prepare better.
Instant Scheduling
We live in a time of instant gratification. When we want something, we want it now!
And, for the most part, we can get it.
x.ai is no exception. Their booking feature allows you to schedule meetings almost immediately. Just send out the link and watch the sessions roll in.
Your clients can choose an open slot in your schedule and even sync their own calendar with yours. This eliminates the work of having to compare schedules to find openings.
The program will automatically identify when you're both free and determine the best times that work for the two of you.
Artificial Intelligence
Now, there's no real need for an AI feature like the one x.ai offers. But, it is unique and can be useful if you find a purpose for it.
To use the bot, all you have to do is CC x.ai in the email chain where you're scheduling a meeting. Once the bot receives your tentative plans, it'll confirm your availability before sending it out to others.
At that point, your clients and team members can choose a time that works. The meeting will go straight to your online appointment calendar.
What's important to note about this feature is how specific you need to be. Make sure you're referencing a time frame for the meeting and who you'd like to invite. Otherwise, it won't work.
---
More Calendly Alternatives
Looking for other scheduling tools to help you book online appointments?
Consider these Calendly alternatives here:
Simplybook
Hubspot Meetings
Doodle
Acutity
Appointly
Vocus
Picktime
Appointy
Each of these offers different features and worth exploring.
---
Conclusion
If Calendly isn't cutting it for you anymore, don't feel like you have to download a ton of different apps to get the ideal features from each.
In fact, some apps have everything you're looking for — and more!
Bloom was designed for freelancers and small businesses who want a simplified system for running their business. It includes everything in one package, from lead generation tools to invoicing solutions.
But, there are other options as well, and any one of them could be a valuable tool for your business.
Test an alternative by trying Bloom for free!