Not satisfied with Zoho? Zoho, a large customer relationship management (CRM) software, is known as a suite of tools for enterprises to run their entire business (similar to Hubspot or Salesforce). However, as a freelancer or small business owner, it may not be checking all your boxes, which is leaving you looking for alternatives to Zoho.
Freelancers and small business owners often require affordable, simple ways to manage projects and invoice sending – without unnecessary "extra" features you pay for, but never use. If this sounds like you, then Bloom is a top project management software that has the tools you need – and nothing you don't.
Here, we give an overview of Bloom and Zoho and explain why Bloom is the best Zoho alternative.
What this article covers
(Click on the links below to jump to a specific section)
Why is Bloom The Best Alternative CRM to Zoho?
1. Simple Systems and Workflows
Unlike other complicated CRM software, Bloom has an intuitive interface with a high-altitude perspective on all projects and the next task to be completed. Most business owners have a handful of clients that are at different stages in the sales pipeline. Without a clear workflow, it's easy to get disorganized and neglect critical client communication. This is where Bloom's project management comes in. It begins by giving you unique workflows for every type of service you offer. It uses simple drag-and-drop functionality to rearrange tasks, view invoice status, and check off tasks as you complete them.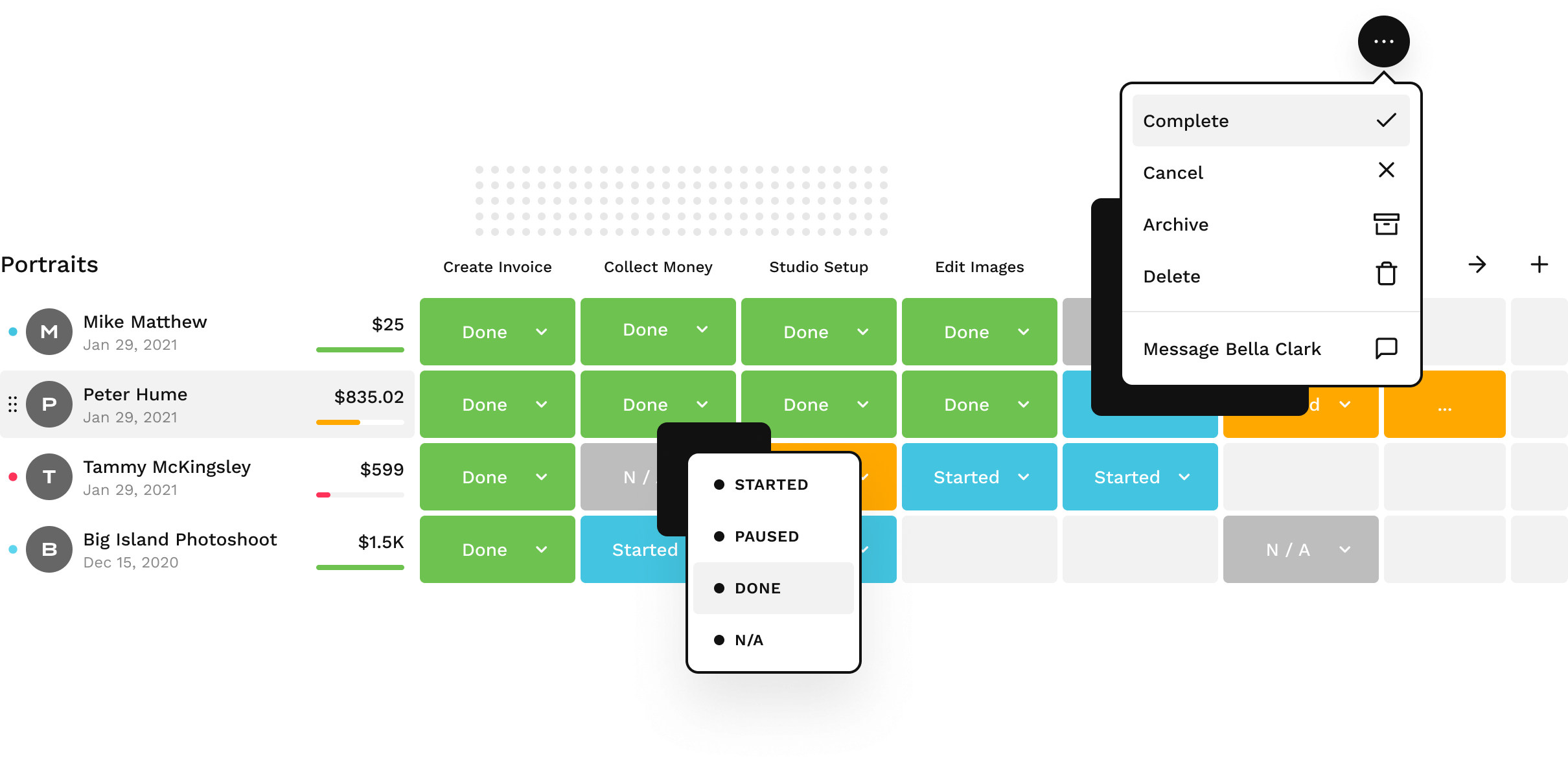 Zoho uses Gantt charts for project management. As you can see, the time management and task management tool is on the left hand side of the dashboard.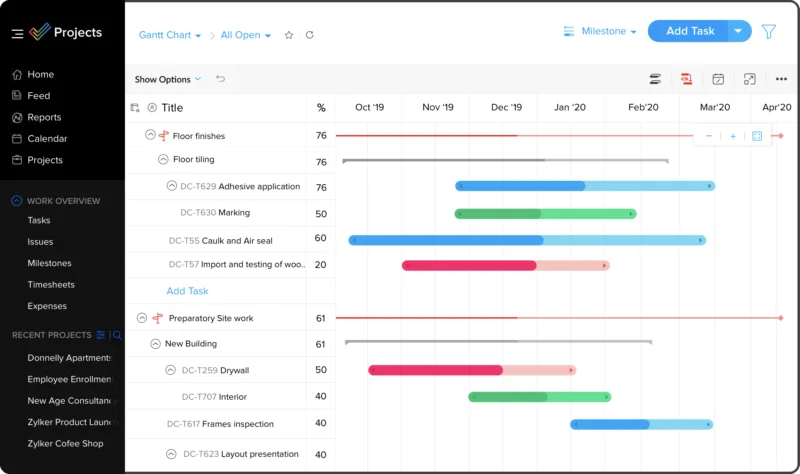 2. Unlimited Invoices
Both Bloom and Zoho offer invoicing, so who does it better? Bloom's alternative simple layout and clean design makes it easy to navigate the payment process from adding a contract to collecting payments in minutes.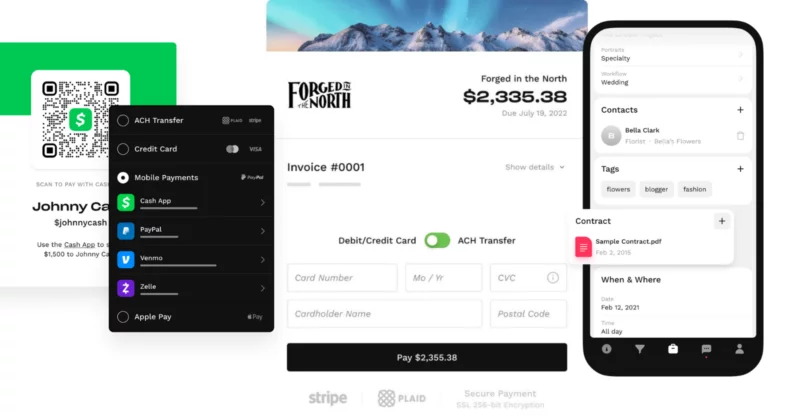 Bloom Invoicing Benefits:
Professional client experience
Keep more earnings with tipping and ACH to bypass credit card fees
Secure payment options like Stripe, Square, ACH, Venmo
Eliminate late payments
Dedicated payment page offering a branded experience
Pre-filled templates to create invoices in minutes
Add contracts to the invoice
Try Bloom now – it's free.
Zoho also has good invoicing options depending on the size and goals of your business. Zoho Invoicing is set up for business owners looking to integrate inventory tracking with a CRM. Along with business management features and inventory automation, Zoho also includes expense management, time tracking, reporting, and a client portal. Zoho invoices are a pricier option with limitations on the number of customers your team is serving.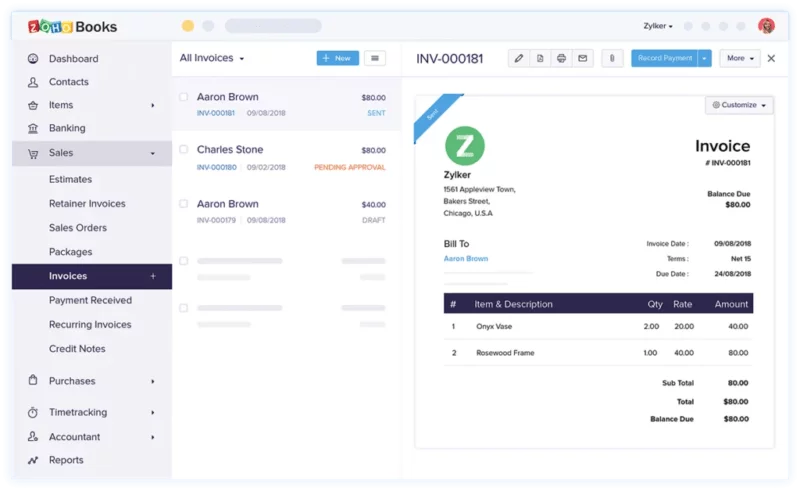 Zoho Invoicing Benefits:
Recurring and one-time invoicing
Customizable invoice Templates
Multi-currency support
Built-in time tracker
Automated payment reminders
Powerful reporting
Want to know more about the best invoicing software? Read more here.
3. Scheduling
Scheduling and keeping your calendars in sync can be challenging when using disjointed services. The ideal appointment scheduling software for your business doesn't just give you a fancy calendar to send to your clients. With Bloom scheduling, you can close more appointments, streamline client communication, centralize payments, and manage projects.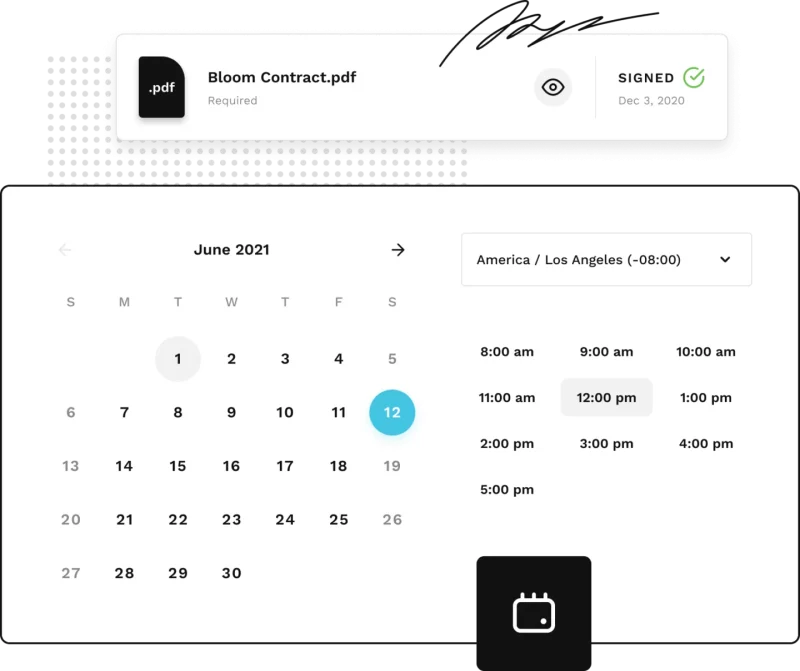 Bloom Scheduling Features:
Two-way calendar sync
Directly embed it on your website
Post links on social profiles
Add a button popup
Create a custom URL
Add Zoom meetings
Zoho CRM also includes robust scheduling and calendar features.
You can book various meeting types, set a scheduling window for cancelations and rescheduling, and never have to worry about missing an appointment. Events are automatically marked as closed when the date arrives, so if your client doesn't actually make it, you can manually reschedule with them.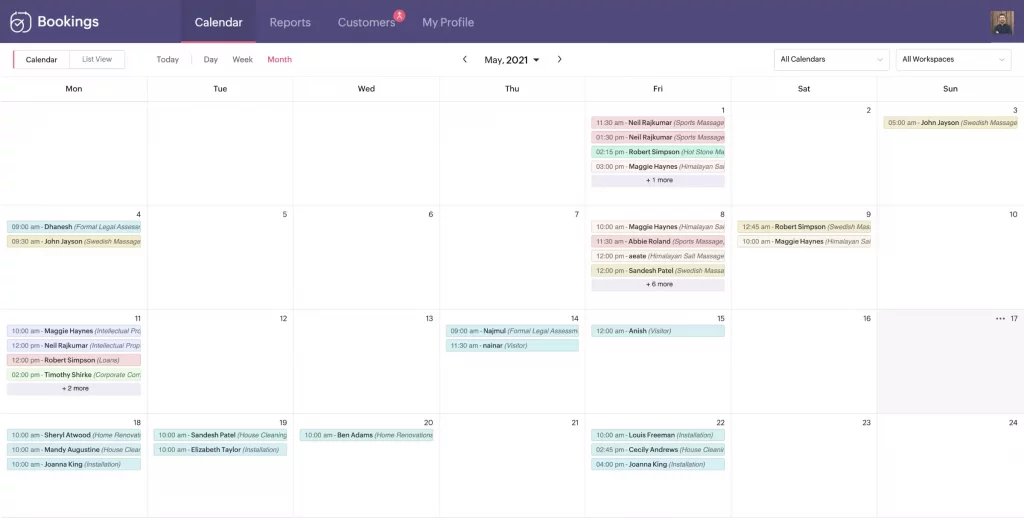 Zoho Scheduling Features:
Two-way calendar sync
Zoom meetings
Automated email reminders
Automatic time zone conversion for customers
Outlook, GoToMeeting, and Mailchimp integrations using Zoho Flow
Mobile apps for admin and staff
Notifications and reminders
4. Automations and Integrations
Consistent follow-ups are the key to great customer service and marketing automation does the work for you when you're away from your desk. How easy is it to set up these automations in Bloom versus Zoho? Let's see how it works side by side.
With Bloom, you can set up automations and know exactly how they will be activated. Set date-based triggers and specialty-based rules that do the follow up work for you. You can also see them in your conversation threads when the emails are sent out. To automate a task, select your email templates, select when you'd like for it to be sent out, and what conditions should apply. That's it.
Zoho automations have a few extra steps to set up and a steeper learning curve, but accomplish the same goal as Bloom automations. Here is what the setup looks like.
You can set up to 10 conditions for every rule. With both Zoho and Bloom, you can streamline your client communication using custom variables and rules. Select project triggers and rules to ensure that each client receives the service they expect. Try it for yourself to see which one works best for you.
5. Lead Management
Bloom provides you with capture forms to automatically create new leads and track each opportunity. Bloom lead and contact management enables you to set a status, create tags, and trigger automated follow-up emails while you sleep. The tool also automatically creates a lead contact card when someone fills out a lead capture form or sends you a message.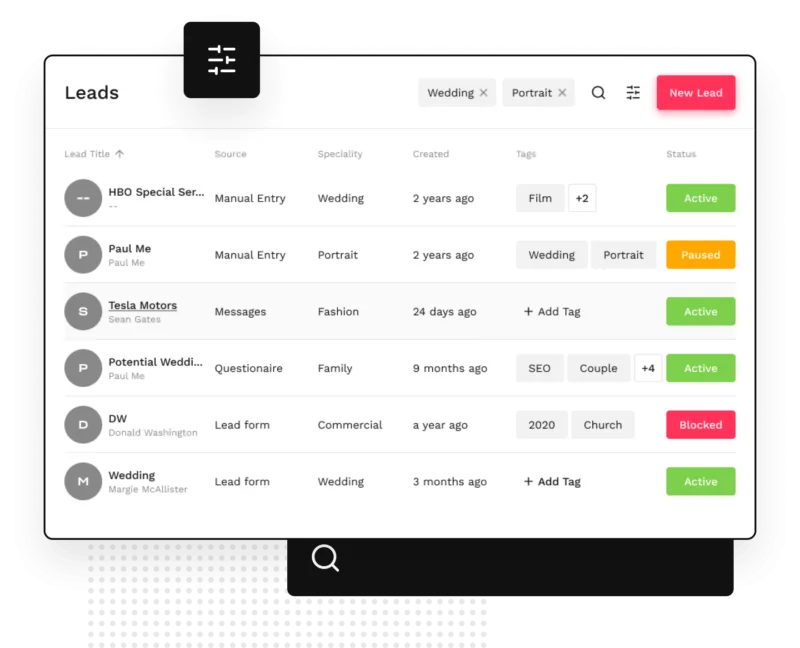 Zoho also has lead management that has advanced features. There's nothing wrong with using Zoho leads, but it will require more integration and setup to get the most of the feature.
6. Custom Branding
Your brand is the representation of your business and it's the way in which your clients identify with you. A powerful brand builds trust and facilitates loyalty. This is why taking the time to customize each invoice, contract, and message is valuable. Consistency is crucial to brand identity which is pertinent for long term growth and repeat business. Clients are naturally attracted to a professional brand look and feel. So choosing a CRM software with the ability to fully brand all points of communication with clients is important. Every engagement your client has with you, is an engagement with your brand.

Bloom's questionnaires, invoices, contracts, forms, and emails are fully customizable. You can change features to your brand color, upload your logo, and add your information. By setting up your branding in Bloom, your clients will experience a special, seamless professional booking process.
Zoho has some branding options for their invoices and forms but tends to be limited. For example, if you want to customize your questionnaires, you'll have to integrate with third-party sites to import content and images.
7. Shared Project Assets
Your business management software should focus on your needs and what your client needs, sees, and experiences. Bloom's client portal allows you to share assets with your clients, giving them access at any point in their journey with you.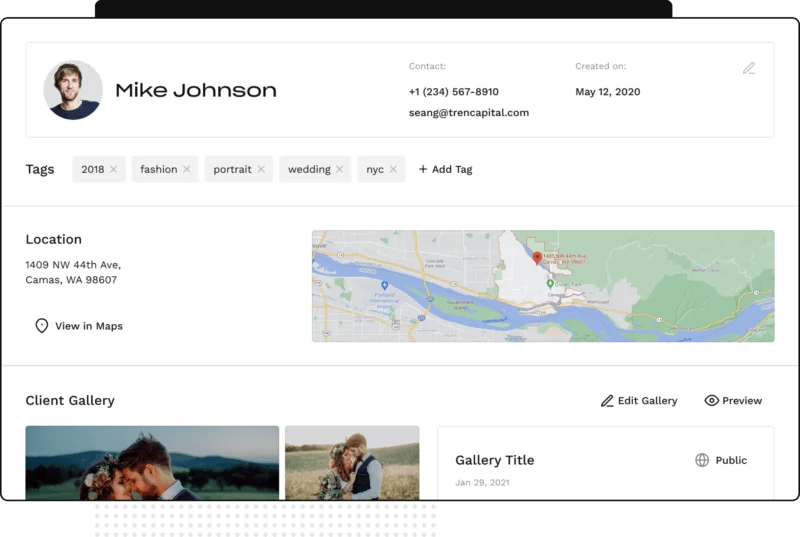 The display is client-experience-focused. You can customize how you present it, make it fun, and manage revisions and feedback. This feature gives Bloom a big point as well, 1) for its practicality and 2) for the original options that go with the feature, not just a simple "send and receive files" thing.
Zoho also has a client portal…kinda. It must be set up (about 10 steps) in order for your customers to view and manage all their transactions including accepting estimates or paying invoices. Portals are only available for the Enterprise version or higher.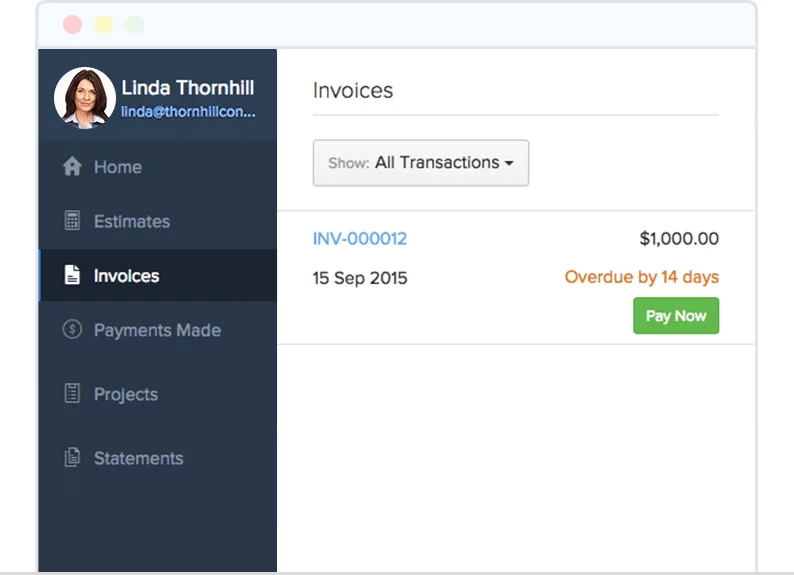 Pricing
The price of your chosen Zoho alternative CRM is a big deal. With the cost of project management tools on the rise, it's beneficial to see exactly what you're getting from each software.
Bloom has a FREE subscription that gives you most of its features for one project. It's a real "free" plan and not just a "pay and then you'll go live" thing.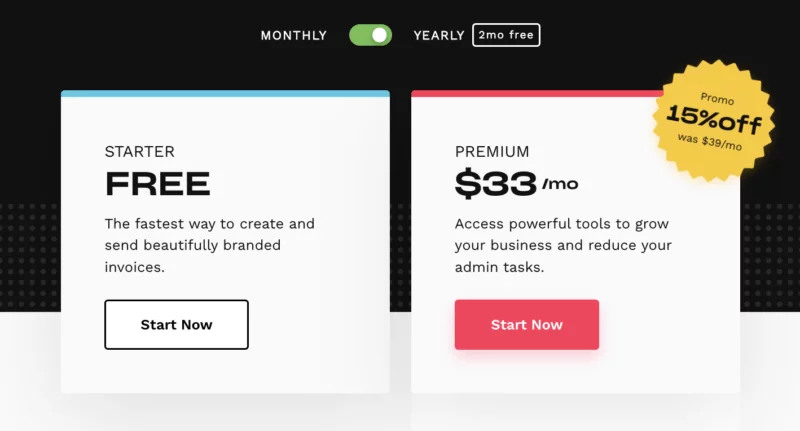 If you want to upgrade to the full suite of tools, it will be $39/mo for a yearly commitment (paid annually). If you sign up right now, a 15% off code is automatically applied. Create a free account and get started today.
Zoho CRM pricing has 5 tiers. You can access the free plan for basic features like leads, contacts, and CRM views for up to 3 users. Many CRMs are billed annually, however with Zoho, the basic plan starts at $20/mo and is billed monthly with workflow automations, custom dashboards, mass email and more. The Professional plan is $35/mo (billed monthly) and has more inventory management and SalesSignals, and more automation options. The Enterprise plan is $50/mo and has multi-user portals and advanced customization. See for yourself.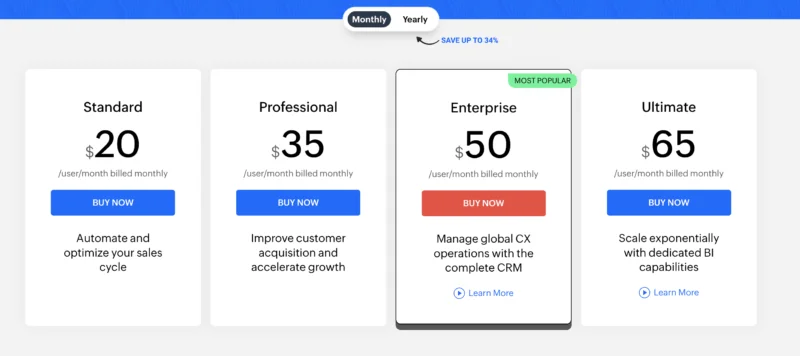 Pros/Cons
Bloom Pros & Cons
Pros
You get a TON of value for the price
Small businesses can become very complex as they scale,, requiring more advanced project management tools. Bloom solves most of those needs (if not all), so you just have to pay for one tool. The payment is also very low compared to the value you can get from it if you leverage it to improve and grow your business.
The tool is made for small businesses
While this tool focuses on solving the basic needs of solopreneurs first, it's key features also include workflows, automations, and asset delivery. It offers you powerful tools to take your small business to the next level.
Cons
No email marketing
Email marketing is not included with Bloom. However, it has email automations, templates, and triggers to streamline client communication.
Lacks team collaboration (multi-user functionality coming soon)
Bloom doesn't support collaboration between multiple team members yet. This feature will be coming soon, but for now the software is focused on solopreneurs and small business owners.
Zoho Pros and Cons
Pros
Zoho is a robust, feature-rich CRM
Zoho dominates when it comes to reporting tools, managing the sales process and a sales team, and advanced CRM tools. It has advanced analytics tools, financial management, sales and marketing automation that is ideal for enterprise-level businesses. There are also other Zoho alternatives, such as Insightly, which could be worth considering for larger businesses.
Cons
Zoho can be complicated with a steep learning curve
Zoho is quite the powerful management system, but it doesn't come without its challenges. These are the cons that we found while reviewing the software:
UI is clunky/lacks clean interface
Learning curve is steep
limited customizable features
Final Verdict – Are There other Zoho Alternatives?
Who should use Bloom as their CRM solution?
When it comes to choosing your Zoho alternative, you need to choose an alternative that solves your unique problems for your specific business. Considerations include your budget, client management process, and business size, between Zoho and Bloom, which of these customer relationship management tools is best suited to you?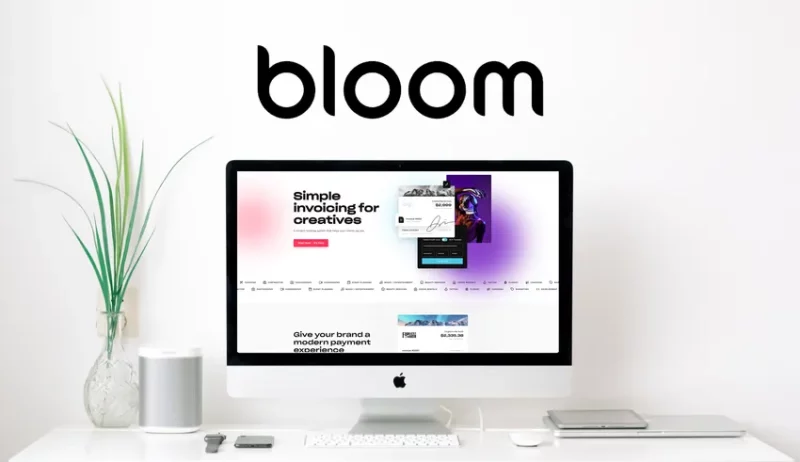 Bloom is for you if:
You are a small to medium sized business owner (1-20 employees)
You run a service business
You use a ton of different services to run one business or side hustle
You plan to scale your business to an agency at some point
Zoho is for you if:
You're an enterprise
You need advanced reporting and analytics tools
You need employee workload management
Keep your clients in mind when choosing a CRM for your business and determine what your current client management process looks like and how it can be improved. The right project management tool will allow you to easily balance maintaining the quality of your work and managing your clients and other team members. Although Bloom and Zoho have distinct benefits, they all intend to streamline your workflow. What is best for your business and clients overall? We hope this article covered everything you need to know to answer that question.
Sign up for a free Bloom account today.