Looking for the best Honeybook alternative?
In this article, we'll go over the best Honeybook alternatives – their features, pros and cons – to give you a better idea of which tool suits you best.
This Article Contains:
Why You Need A Honeybook Alternative

The Best Honeybook Alternatives

The Final Verdict
Why You Need A Honeybook Alternative
While Honeybook is a good business management tool, it isn't perfect.
Here are a few reasons why you might look for an all-in-one Honeybook alternative instead:
1. The Honeybook interface is difficult to use
Adopting a new solution for your business isn't easy, especially if it contains your entire business operation.
The simplicity of use is a core component that will determine how much you enjoy a product and how likely you are to adopt it. Unfortunately, the user interface of Honeybook is difficult to use to process even the simplest tasks, like sending an invoice.
For example, the main project page has a rigid project flow that rarely ever follows that actual flow of events in real life.

2. Limited payment options
Honeybook also limits payment processing to its own system. This makes it difficult if you're already using Stripe, Square, Paypal or other options.
Furthermore, it offers no integrations for easy payments via Zelle, Venmo, CashApp, or Paypal.
3. No international features
Finally, Honeybook is limited to US and Canada with no international features available for those outside the US and Canada.
The 3 Best Honeybook Alternatives
If you're looking for alternative CRM for freelance photographers, here are the best tools for you to try instead.
1. Bloom
Bloom is the #1 business workspace for creative professionals and independent business owners. Used by popular figures like Chris Do and Jamie Brindle, Bloom has everything you need to streamline your client management process.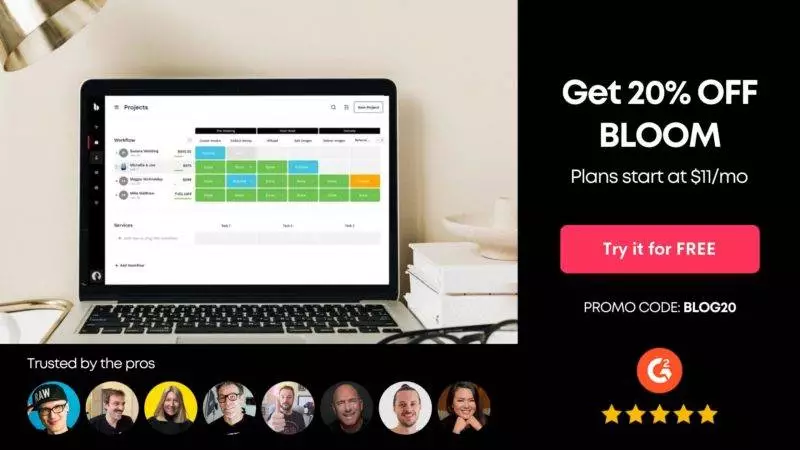 Here's a closer look at why the Bloom platform is the perfect Honeybook alternative:
A) Powerful Workflows
Your business management software has to be able to manage your project workflows effectively. Every project has a set of tasks and deadlines that you need to stay aware of, and be sure to complete on time. The more projects you have the more difficult this becomes and the more important a proper workflow CRM becomes.
Unlike other CRM systems, Bloom has a category-based workflow model that's built for detailed project overviews. In Bloom's model, your tasks are listed at the top of the screen while your projects are listed out on the left.
How does this project management format help?
It makes it super easy to keep track of your tasks and projects in real time! As your tasks and projects are listed separately, you can easily drop them into different workflows and make quick changes to your sequences.
B) Powerful Invoicing
If you want to keep a customer happy, you'll have to offer them a seamless billing experience. Remember, faulty invoices won't just upset a customer – it'll delay the time it takes for their money to reach your bank account!
Bloom offers simple invoicing for freelancers for a modern payment experience. While other tools charge a monthly plan fee or limit invoices, business owners can benefit from using the free invoice generator to create as many invoices as they want, no account required. To explore the advanced features like adding a contract or enabling ACH payments, users can create a free account. It's worth mentioning that it is integrated with major online payment platforms so you can process payments via Cashapp, Venmo, Papal, Zelle, and more.
You can even use Bloom's integrated payment processors to accept credit card transactions with Square or Stripe for online payments. As a bonus, you can add your business logo and a cover image for a branded client experience.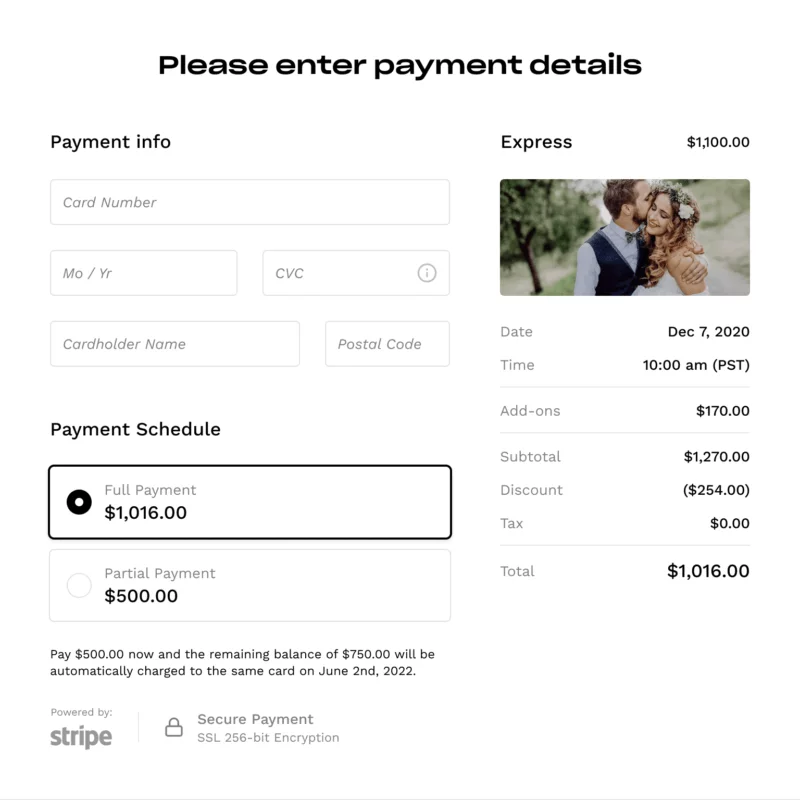 C) Automated Forms and Questionnaires
When dealing with clients, your management solution has to create and send multiple forms and questionnaires about project requirements. However, if you're working with dozens of clients, trying to manage this manually is impossible.
Instead of forcing you to manually manage everything, the Bloom platform supports automated forms and questionnaires.
How does it work?
Just set up marketing automation sequences that trigger after certain actions are performed. For example, you can set up a trigger for sending a form after someone signs up on your website. Also, as these forms and questionnaires are completely customizable, you can get as detailed as you want!
D) Scheduling
Creative businesses need to clearly define their work schedules to accommodate clients and freelancers. If your project management tools can't schedule or book appointments, you could take on more than you can handle – which will ultimately lead to project failure.
Bloom's unique appointment scheduling setup puts the onus on the client. Each client will receive a link to your Bloom calendar where they can see your availability and book a slot. You can even embed this event planner link in your initial contact form for simpler onboarding!
Bloom also supports a full, two-way calendar sync with Google and iCal for easier scheduling and calendar management.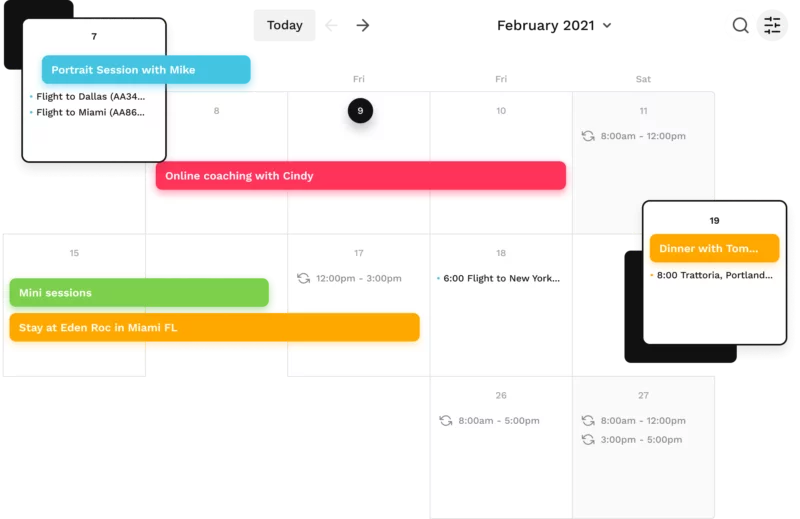 E) Website Builder
Creating an attractive website is integral for efficient lead generation. It helps attract potential clients and convince them to hire you. However, most companies outsource their web building processes and are left with a website that doesn't accurately reflect their product or goals.
With Bloom's integrate website builder, you won't have to worry about poorly designed websites. For example, you can easily create a site that's tailor-made for your company's needs and goals within a day! It even lets you add capture forms and CTAs all over to maximize your conversions.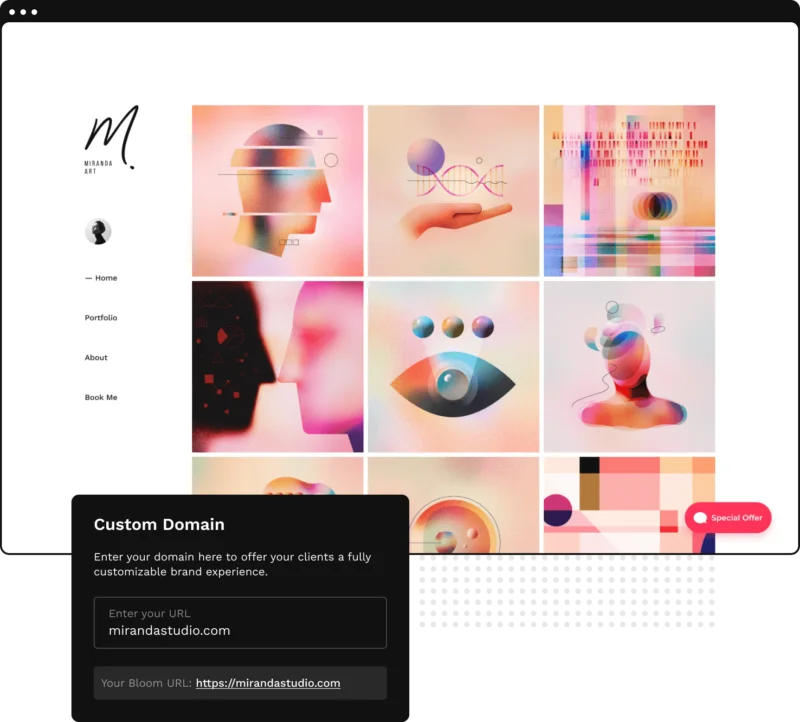 F) Live Chat Widget
At the end of the day, lead generation and management comes down to lead magnets. Your website needs to have a lead magnet to capture the information of potential clients for future follow-ups.
Without this, you won't be able to capitalize on web visits and contact potential clients for further engagement.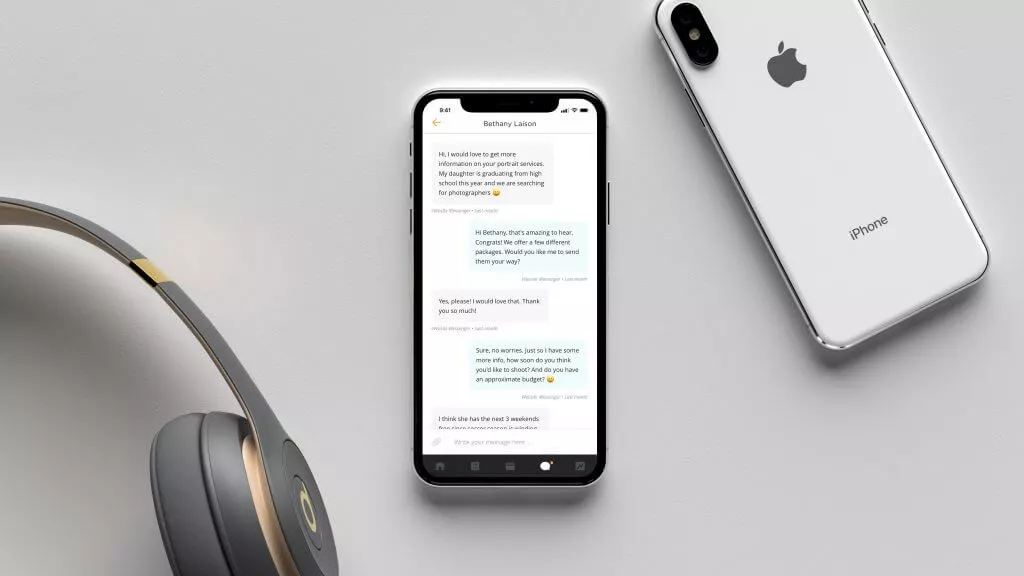 Bloom has a built-in live chat feature for your website. Use it as a customer support tool for your visitors where you address their concerns and capture their information quickly.
With Bloom's live chat, you can easily gauge what a website visitor is searching for and capture their name and email address. This makes it easier to follow-up and directly address their needs.
Why Bloom Is Better Than Honeybook
Here are a few reasons why Bloom is a better business management solution for small business owners:
1. Powerful mobile app
One of the problems with Honeybook is that its mobile apps aren't powerful. While this wouldn't have been an issue a decade ago, tons of people work on mobile apps now.
If you're unable to access all the core features of your desktop app on your phone, you're limiting your efficiency in dealing with projects and clients.
Luckily, Bloom gives you a feature-rich iOS mobile app to easily manage your projects and client-related activities on the move.
2. Great workflow management
Bloom's unique category-based workflow is another reason why it's better than Honeybook. It's built for powerful project overviews to help you manage your projects in a flash.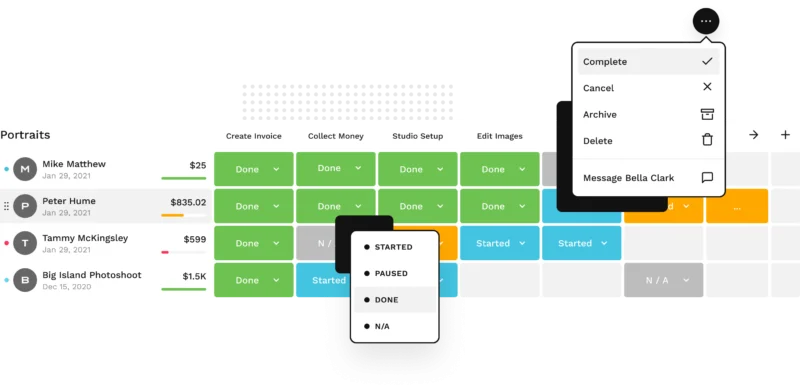 With tasks at the top and projects on the left, you'll have no issue managing project phases – something that isn't easy on Honeybook. And with new features always on the horizon, you'll never lack functionality with Bloom, the all-in-one solution for freelancers.
Pros

:
The software is very easy to use.
Streamlined onboarding with an easy learning curve.
Powerful lead generation features.
The software has easy scheduling features.
Free invoicing and payment features.
Branded invoices, invoice templates, and invoice reminders.
The software supports digital signatures for additional security.
Advanced automated workflows.
Two-way calendar sync with Google Calendar and iCal.
Extensive client management features.
The software comes with attractive pricing plans.
Attentive customer service via social media and email.
Cons

:
Only a 7-day trial.
Multi-user features coming soon.
Pricing plans for Bloom: start with a 7-day free trial. The starter plan starts at only $14/mo and includes all of the core features while limiting users to 3 active projects at a time. Upgrade to the full suite of tools for only $29/month.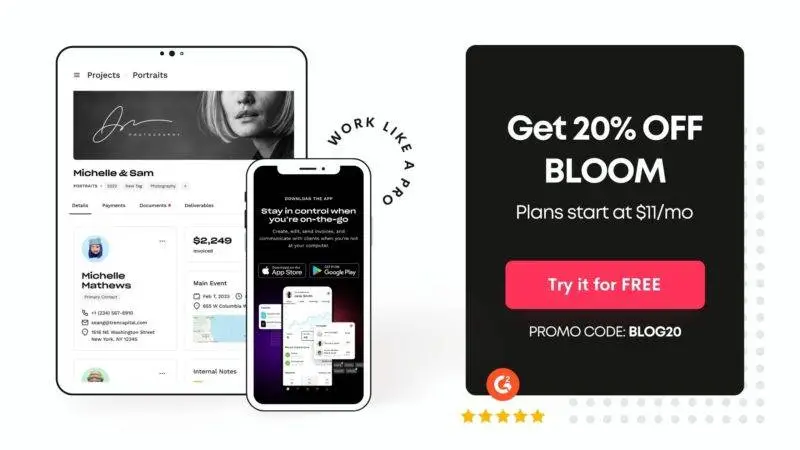 2. Dubsado
Dubsado is another powerful Honeybook alternative. This studio management software helps you acquire clients, automate workflows and manage your to-do list easily.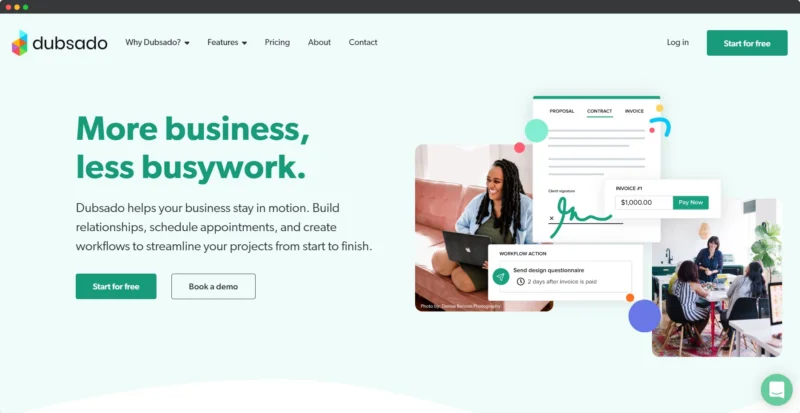 Here's a closer look at some of its comprehensive features:
A. Client Portal
The software lets you set up a custom portal for each client to help them access all the information they need. They can use this portal to access their invoices, track expenses and view emails in one easily accessible space. You can even make this password-protected for additional security.
B.
Invoicing
Many people use Dubsado for its invoicing and accounting software features. The invoicing software can automate billing tasks such as setting up payment schedules with installments and auto-follow-ups. As the invoicing software supports Stripe, Square and Paypal, your clients will have no issues with payment processing and managing expenses.
C. Custom Forms
Dubsado has a strong form builder to help create detailed proposals and client documents for all business needs.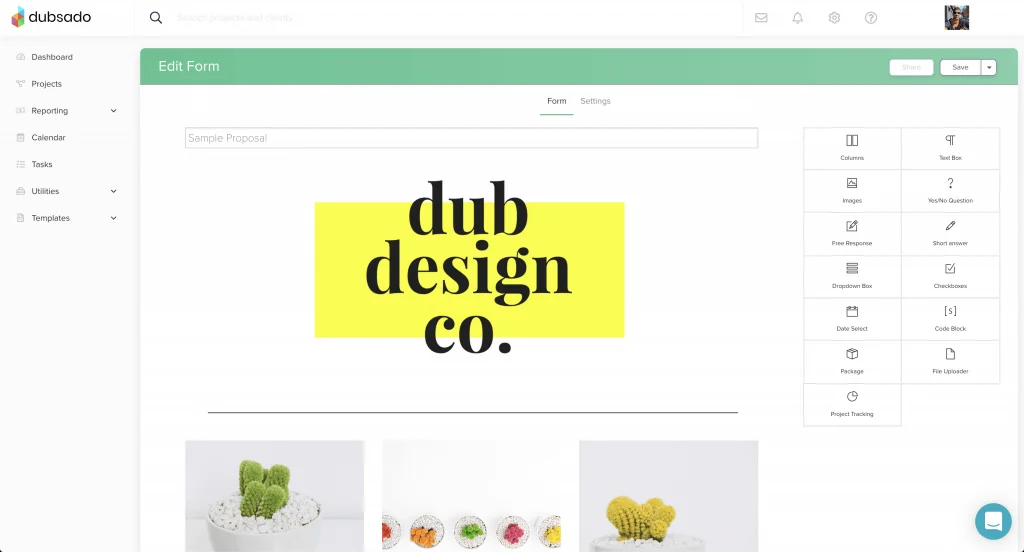 While you can create a form from scratch, Dubsado also offers you tons of helpful templates to get started immediately. Users also have options to customize each form by adding e-signatures or white labeling it too. For example, if you're a software company, you can add your logo on each form sent to your clients.
Pros

:
The s

oftware

has a simple

learning curve.

Detailed client forms and

contracts.

Powerful

invoicing

and

accounting software.

Powerful

automated workflows.

The

platform

has good

customer service.

Efficient organization to manage your

to-do list.
Cons

:
No mobile app available.

No project overviews.

Scheduling in this software is difficult.
Pricing plans for Dubsado: $20/month for Starter Plan, $40/month for Premier.
See our list of Dubsado Alternatives
3. StudioNinja
Like Sprout Studio and 17 hats, StudioNinja is a great online studio management solution to streamline your entire business.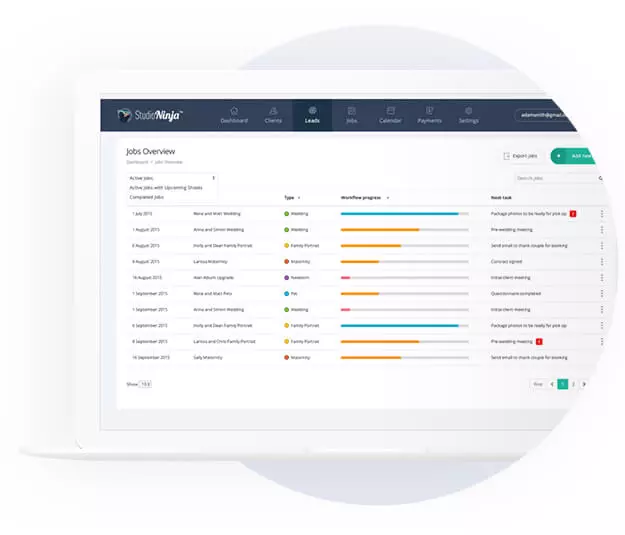 Here's a closer look at the key features of this management software:
A) Streamlined Lead Capturing
The app lets users create detailed lead capture workflows that can automatically trigger follow-up emails and messages. Each email/message is also fully customizable to maximize your chances of a conversion.
B) Powerful Client Portal
The software has a dedicated client portal for customers to accept quotes, sign contracts and settle payments. This streamlines your client management activities as everything they need is neatly arranged in one space.
C) List-Based UI
While most client management tools opt for a Kanban (board) interface, StudioNinja has a unique to-do list based view. This allows users to easily scroll through tasks and deliverables for simple task tracking.
Pros

:
Streamlined setup with a simple learning curve.

The billing

software comes with expense tracking, multiple payment options and invoice creation.

Automated workflows.

Can generate detailed contracts.

Efficient customer service.

Powerful mobile app available on the Apple App Store and Google Play Store.
Cons

:
List-based view can't give you project overviews.

Lacks bookkeeping and accounting software features like Freshbooks and Quickbooks.

Contact editing in this software is difficult.
Pricing plans for StudioNinja: $24.90/month for the Pro Plan, and $36.50/month for the Master Plan. The software comes with a 30 day free trial with no credit card needed.
Honeybook Alternatives Verdict
While Honeybook is still one of the best tools on the market, it's not perfect. There are other client management software for you to try that are may suit your business needs much better.
While each of these three alternatives is great, we'd like to invite you to try Bloom for yourself. Discover how much easier your life can be when you manage everything in one place.
Why not sign up for a free trial today and get started immediately?