Looking for the perfect Hello Bonsai alternatives? This article will evaluate these business tools and see how they compare to Hello Bonsai. As a freelancer, you know that being organized while working with clients is pertinent to your success. Bonsai is one of the most powerful invoicing tools out there.
Hello Bonsai Overview
While Hello Bonsai is a great project management tool that brings together integrated calendars, time tracking, contacts, and taxes, there are other strong task management tools on the market.
Clean and easy-to-use interface design
Automated proposals, contracts, & time tracking tools
Pricing is $24/month for the Starter Plan and $39/month for Professional Plan
The best Hello Bonsai alternatives are: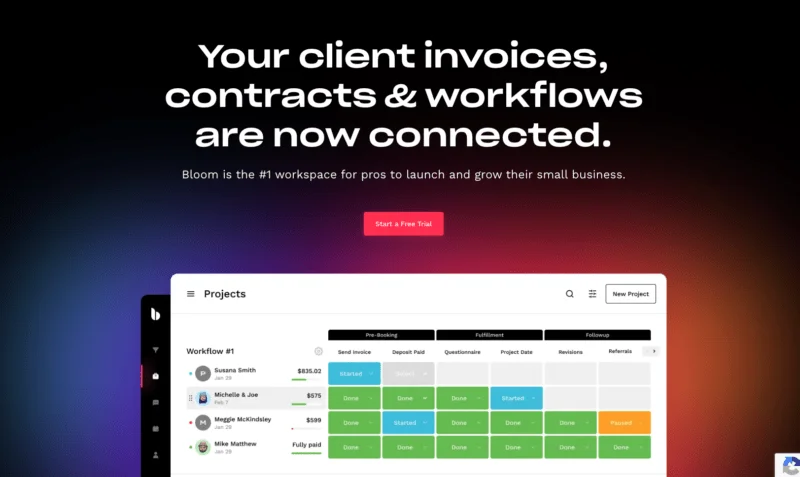 Bloom is the #1 business workspace for freelancers and small independent businesses.
What makes Bloom unique is the combination of powerful features combined with an easy and elegant interface. Most users switch to Bloom from Bonsai because the interface is designed for visual learners and it makes you look professional with your clients.
Bloom brings together the key functions of any independent business:
Online porfolio
Client intake forms
Scheduling and availability
Lead capture & managment
Booking tools
Sending invoices
Digital payments
Contract signging
Client portal and communication
Live website chat widget
Email automation
Much more!
Advanced Features
Auto-countersign
Recurring invoices
Quickbooks integration
Mini-session bookings
ACH payments.
Try Bloom's invoice generator to create unlimited invoices for free, no strings attached.
Bloom Pricing Plans
7-day free trial
Basic Plan: $29 a month per user
2. Dubsado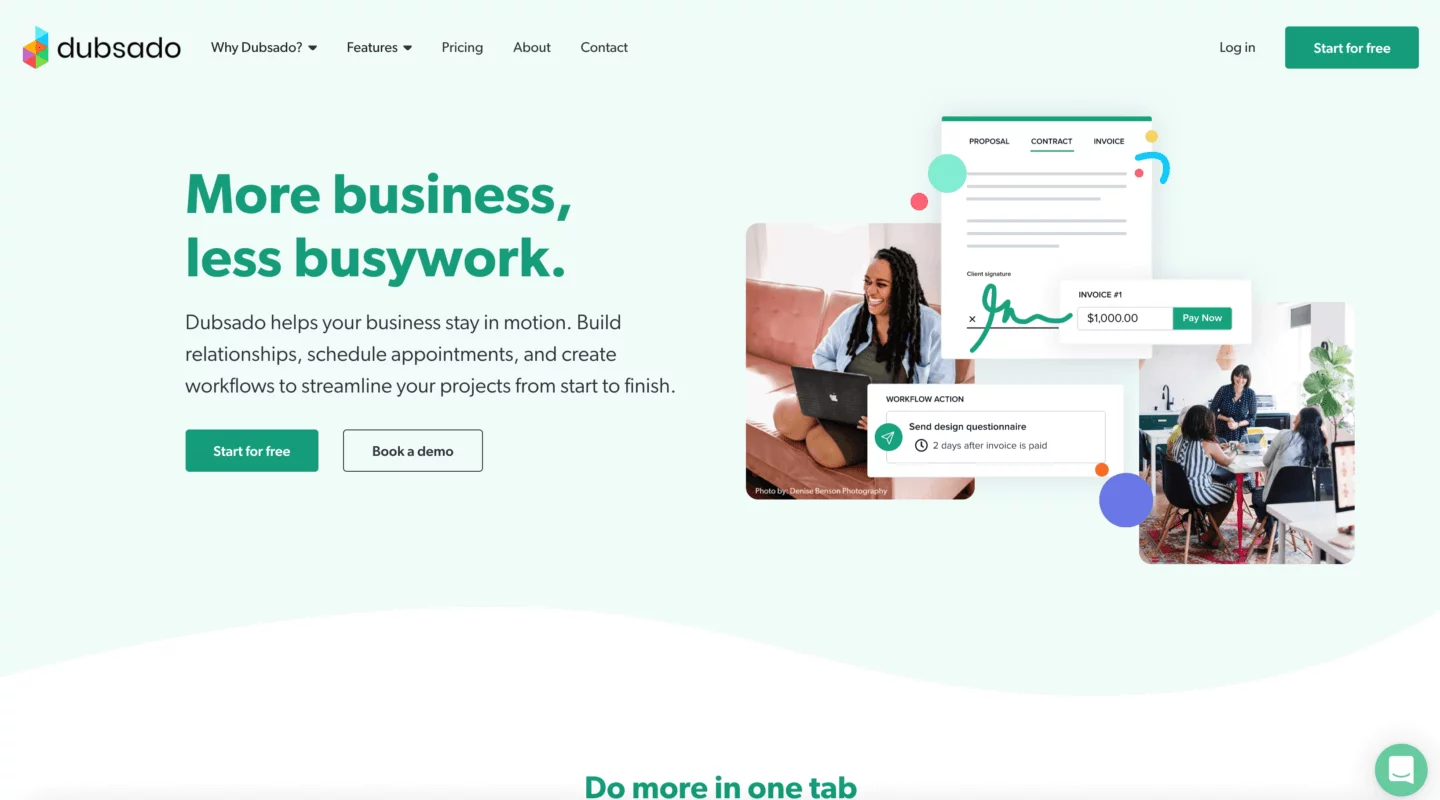 Dubsado is a great CRM software for photographers aimed at small business owners. Even though it's designed for photographers it also works across many different industries. As a great Hello Bonsai alternative, Dubsado is a project management app that helps you build relationships, create workflows, and schedule appointments. Dubsado has excellent features and positive reviews among their users.
Advanced Features
Powerful form and questionnaire builder
Customized invoices & invoicing tools
Automatic Payments & payment processor
Great customer service
Project Management
Financial management
Dubsado Pricing Plans
$40 a month
Larger companies would need to call to look at their enterprise plan.
3. Honeybook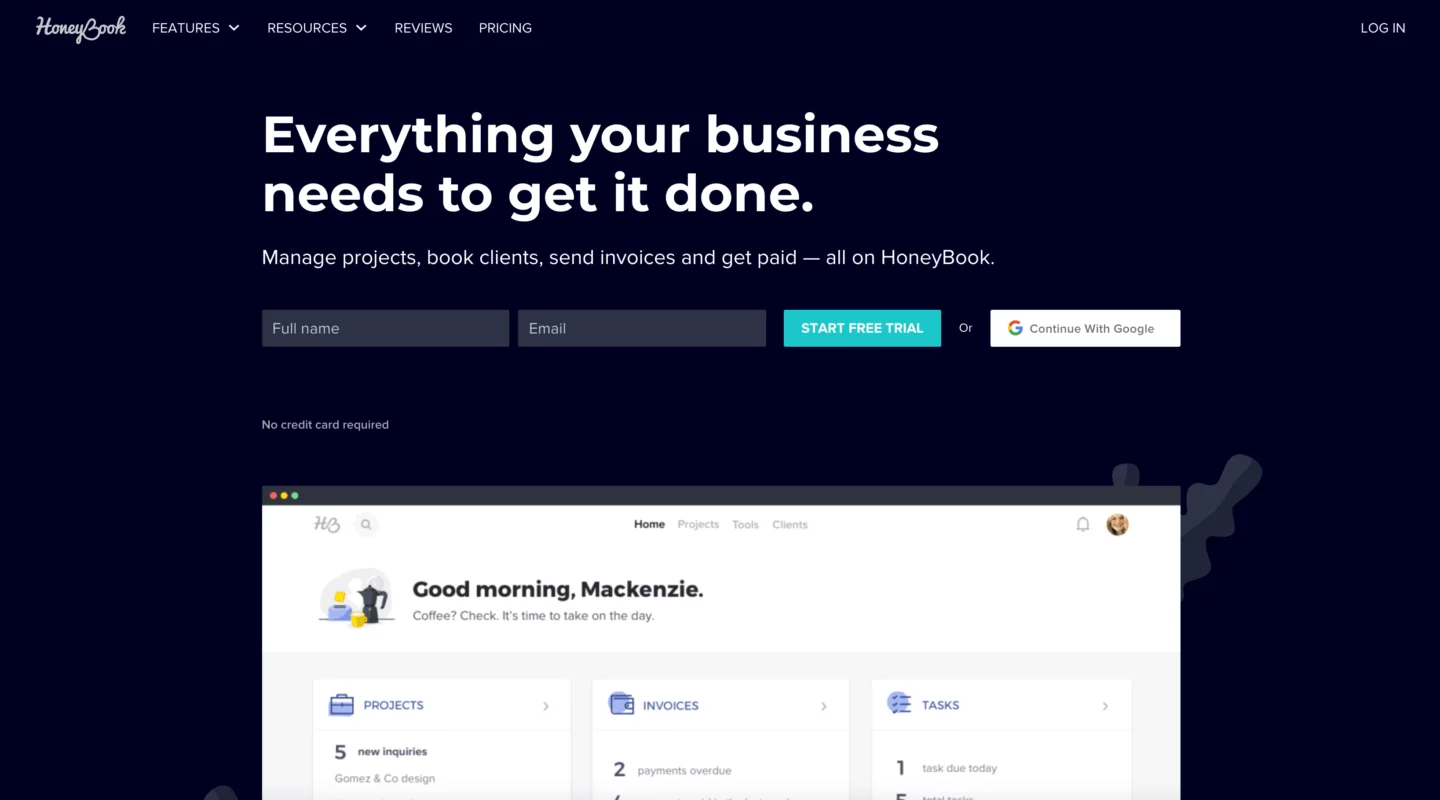 Honeybook is another cloud-based CRM software tool for freelancers. Honeybook's goals are to streamline your workflow and boost your sales. This business process management software lets you create powerful proposals, invoices, and agreements. Honeybook has a built-in payment processor instead of utilizing third-party integrations. However, for financial management you would need to integrate with Quickbooks or Zapier.
Advanced Features
Contract templates & unlimited projects
Client Booking & client contracts
Payment Processing & Automatic Payments
Good financial management features
Honeybook Pricing Plans
Monthly Plan: $39 a month per user
4. PandaDoc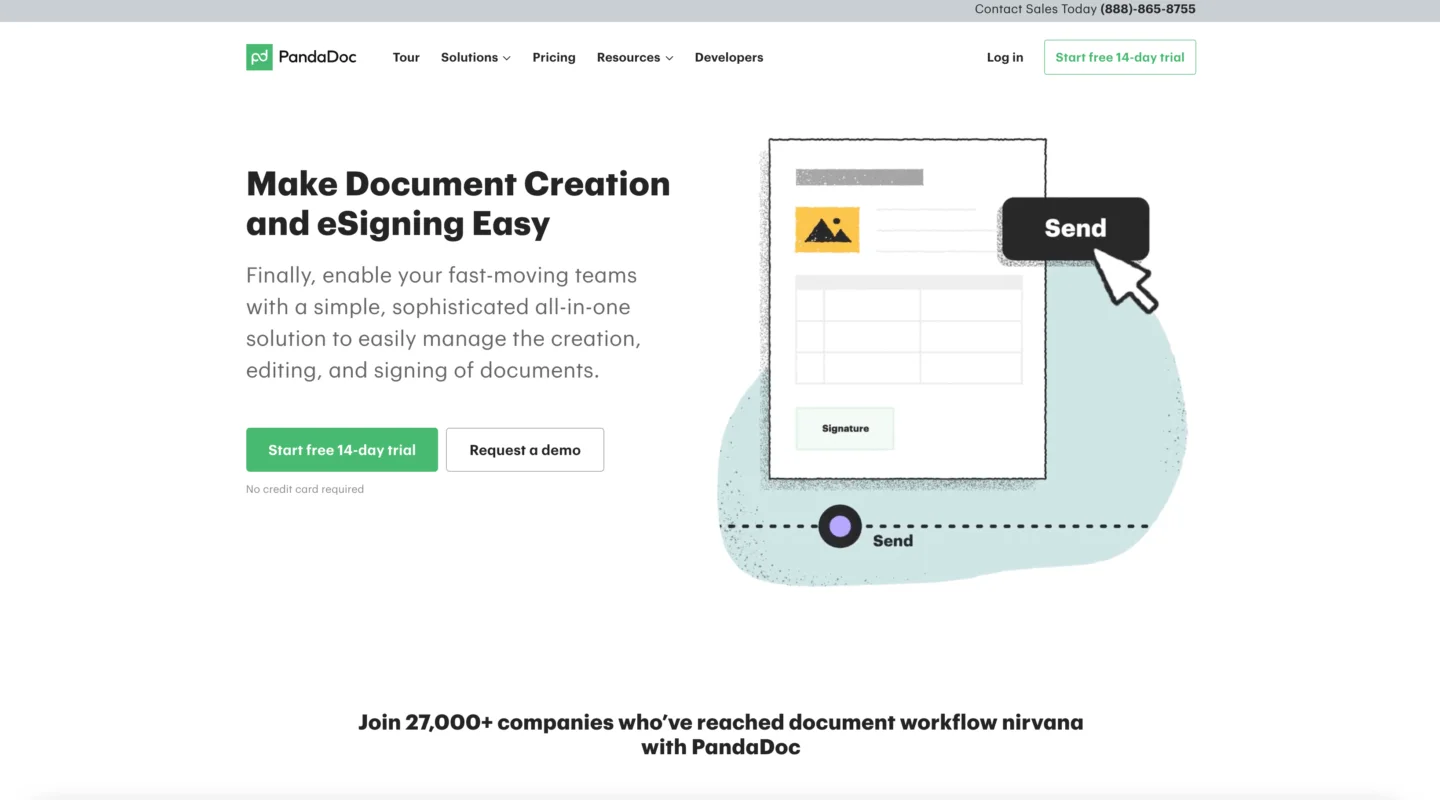 If you are looking for document management and the ability to send electronic signatures, PandaDoc may be a great solution for you. With unlimited documents, a CRM integration for HubSpot, a comprehensive content library and custom branding, PandaDoc may be the ticket if your company needs a high volume of complex documents transferred between you and your customers regularly. PandaDoc isn't a CRM based solution but is an ideal invoicing software. They have a wide range of other features freelancers can take advantage of like contracts, client portals, forms, esignatures, and proposals. PandaDoc is an amazing online software program for freelancers needing just a contract based solution.
Advanced Features
Document Editor
400+ Templates
Connects to Google Drive, Dropbox, Salesforce, and HubSpot.
24/7 Live Chat Support
Performance Reporting
Directory of tools
PandaDoc Pricing Plans
Free Basic Plan
Essentials Plan is $29 a month per user
Business Plan is $59 a month per user
You must contact PandaDoc for their Enterprise Plan
Learn more about 5 Business Management Apps to Cancel in 2021
5. Freshbooks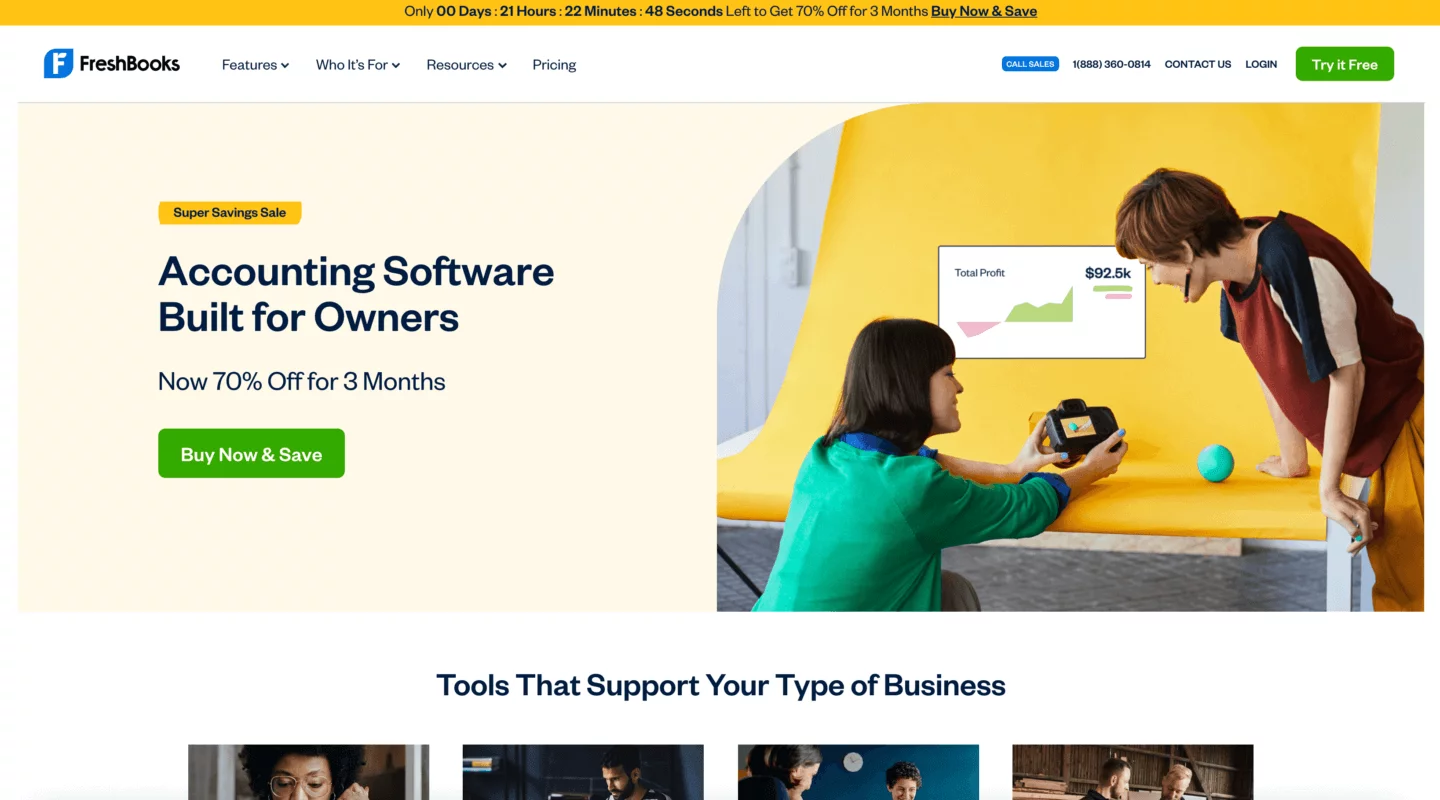 With its $50/month Premium package supporting up to 500 billable clients, FreshBooks is accounting made simple. With its pre-programmed sales tax, late fee, and discount calculations, never again worry about being short-changed. Freshbooks is known for their accounting capabilities but they make a great Hello Bonsai alternative with their contract, invoices, proposal, and estimate features. Freshbooks makes it easy to track time, billable expenses, bank account transactions, and freelance contracts. If you are a freelance writer you will be able to see your financial reports, expense reports, and client payment options.
Advanced Features
Track billable hours for more accurate estimates
Monitor real time business expenses
Track projects, financial reports & payment gateways
Freshbooks Pricing Plans
Lite Plan: $15 a month per user
Plus Plan is $25 a month per user
Premium Plan is $50 a month per user
6. InvoiceNinja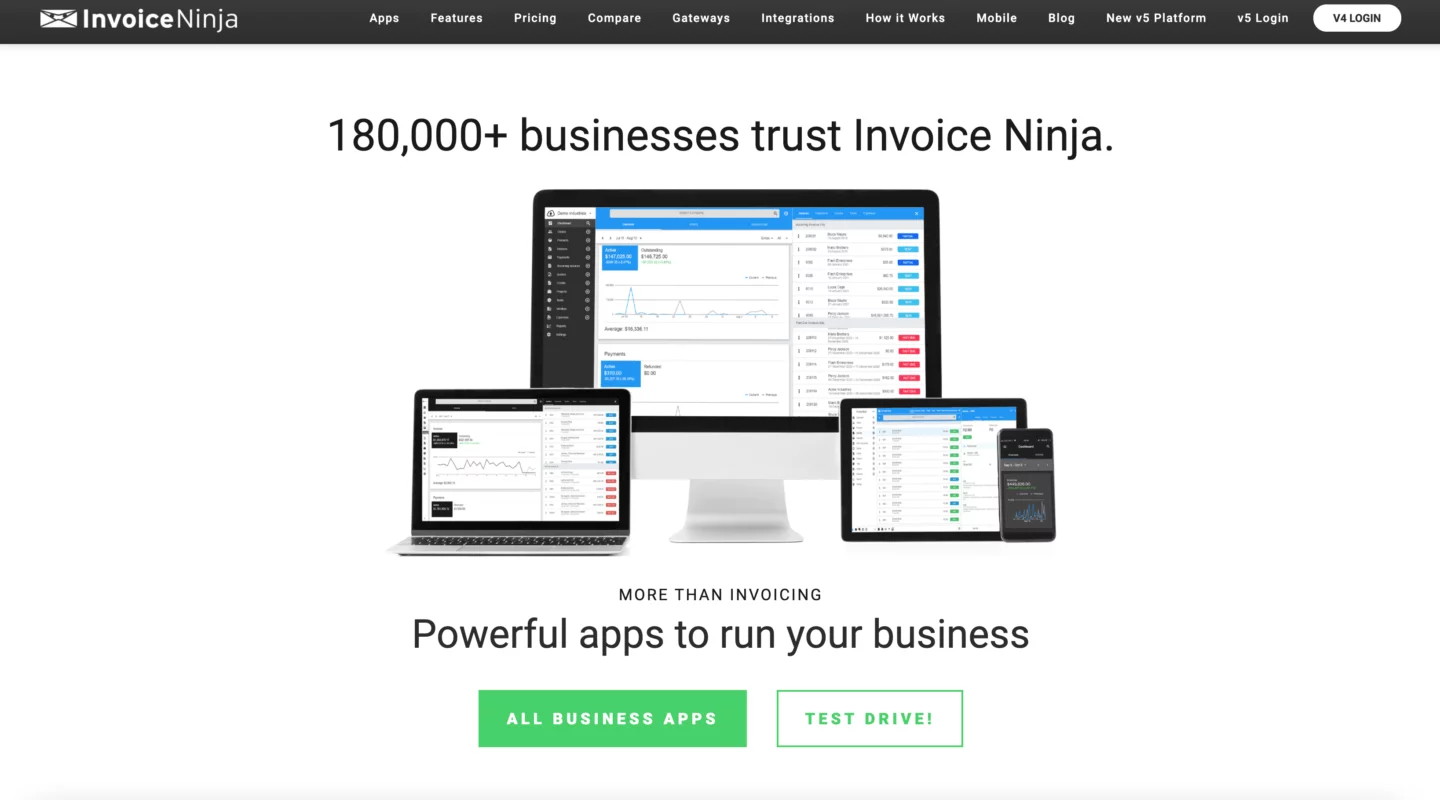 InvoiceNinja is an invoice management software with a clean easy-to-use interface design. InvoiceNinja can help you save time, increase efficiency and get things done quickly. StudioNinja's most common features are their real-time quotes, email invoices, payment gateways, branded invoice designs, and permission sets. This invoicing app integrates with other project manager tools and enables auto-reminder emails.
Advanced Features
Invoice color themes
Expense tracking & time tracker
Quotes & invoices in real-time
Payment gateway integration options
InvoiceNinja Pricing Plans
Basic Plan: $0 a month per user
Ninja Pro Plan: $10 a month per user
Enterprise Plan: $14 a month per user
Ready to try out these Hello Bonsai alternatives?
Which of these business management software solutions is best suited for you? While all these business solutions are great options, Bloom stands out on many levels. It offers you powerful tools to take your small business to the next level. Whether you are looking for time tracker features, or color themed invoicing, try out these tools and see which one is right for your business.
Final Verdict
While every platform has its advantages, Bloom gives the most benefit for those switching from Bonsai. Try Bloom today for free to see if it's a good solution for your business.