Looking for the perfect CRM for photographers? In this article, we'll cover the best CRMs in 2023 (also called photography studio management software). We'll evaluate these customer relationship management tools on several different criteria to help you decide which tool fits your needs best.
The 3 most popular CRMs are Honeybook, Dubsado, and Bloom. For an in-depth comparison read the Insider Review.
Here's what this article covers:
(Click on the links below to jump to a specific section)
Top 15 Photography Studio Management Software (including features, pros, cons and pricing)
Review of Key Features In Each Tool
The Top 15 CRM For Photographers In 2023
1. Bloom
Bloom is an excellent CRM for photographers that's great at handling the needs of both solopreneurs and larger businesses. Used by experts in the field such as RedBull Photography and Joel Grimes, Bloom is a one-stop solution for all your studio management needs.
The easiest-to-use and modern user interface.
A redefinition of an all-in-one that includes a website and image delivery.
Offers a live-chat feature that can be easily installed on your website.
Start with a starter plan that includes unlimited invoicing and contracts. Upgrade to the full suite of tools for $29/month.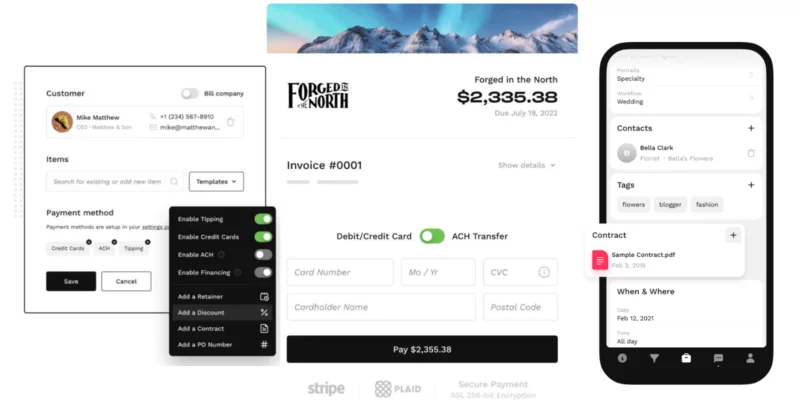 2. Honeybook
Honeybook is another popular CRM for photographers. The slogan of this photography management software is "Book Fast. Get Paid Faster." Honeybook's goals are to streamline your workflow and boost your sales.
Strong community.
Good financial management features.
Simple pricing at $39/month.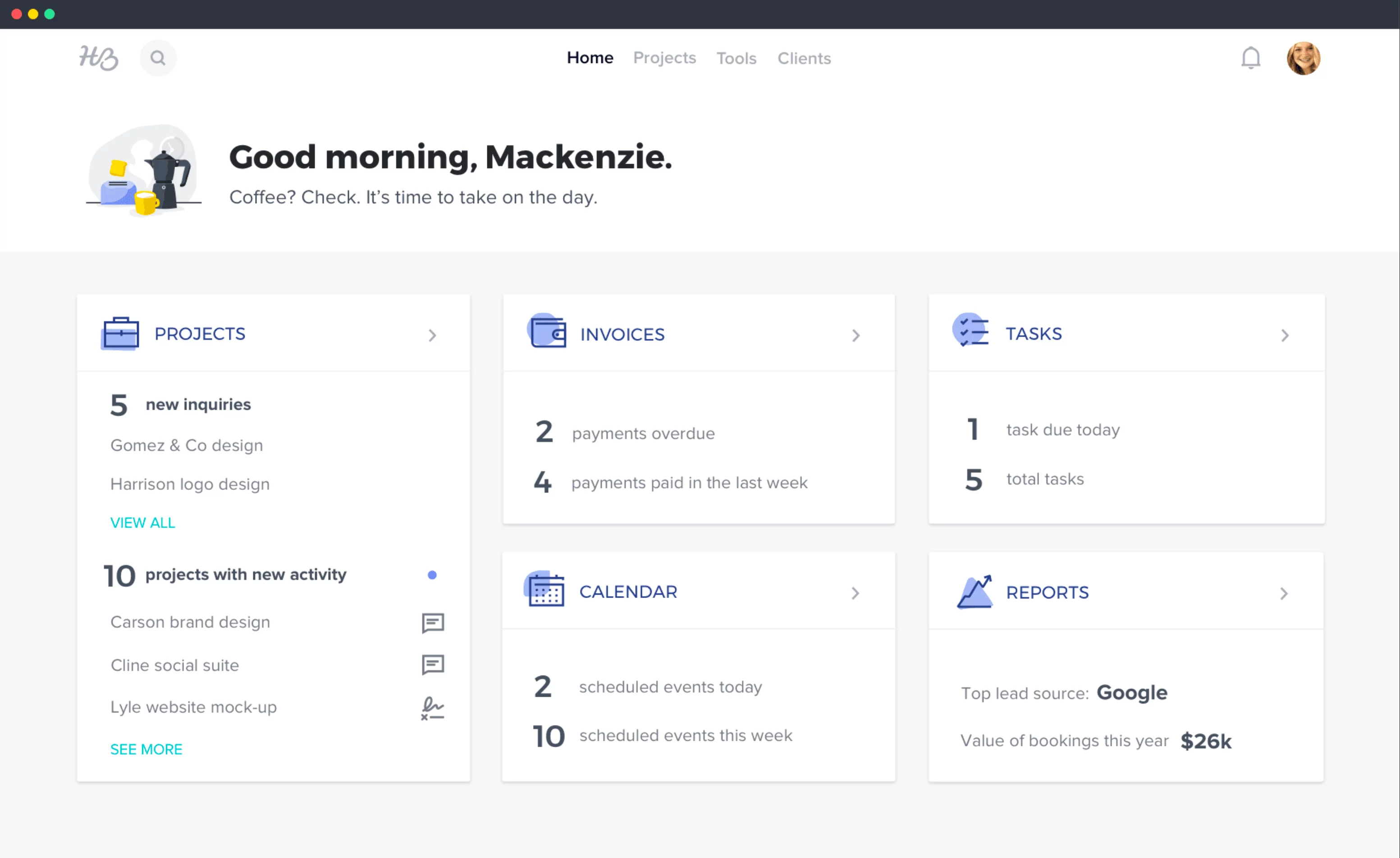 3. StudioNinja
The Studio Ninja business management software is famous because of how user-friendly it is. Studio Ninja can help you save time, increase efficiency and get things done quickly. Another key feature that users often comment on is Studio Ninja's clean interface.
Good invoicing and payment management.
Works for many different industries.
Prices start at $24.90/month.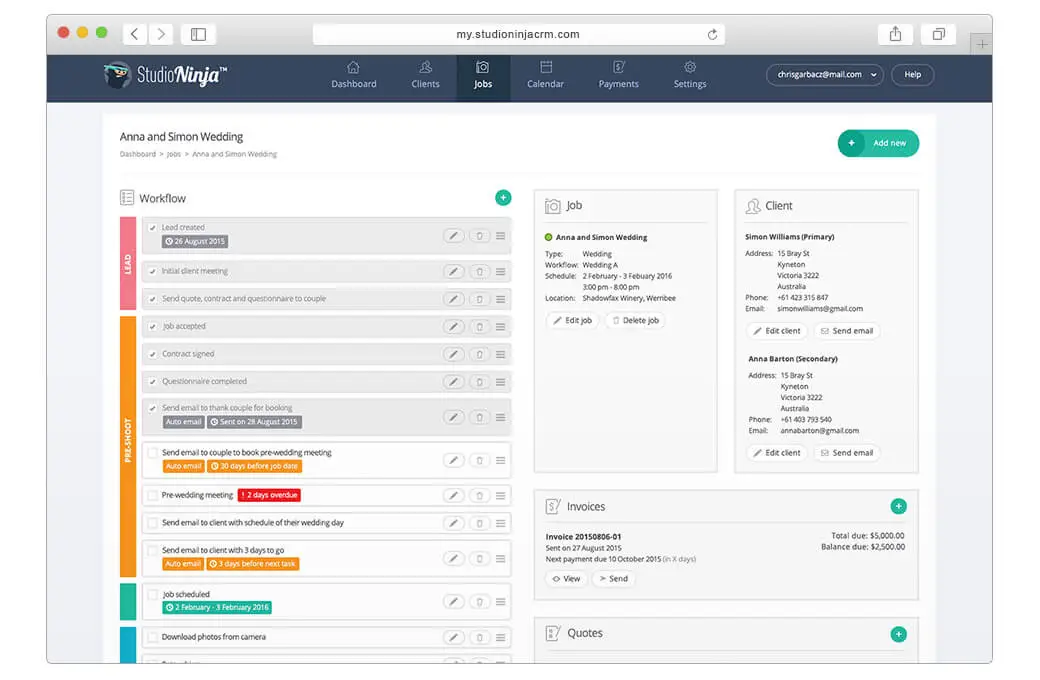 4. Dubsado
Dubsado is a great CRM software for photographers aimed at small business owners. Even though it's designed for photographers it also works across many different industries.
Powerful form and questionnaire builder.
Good workflow management.
Great customer support.
Priced at $40/month for Premier Plan.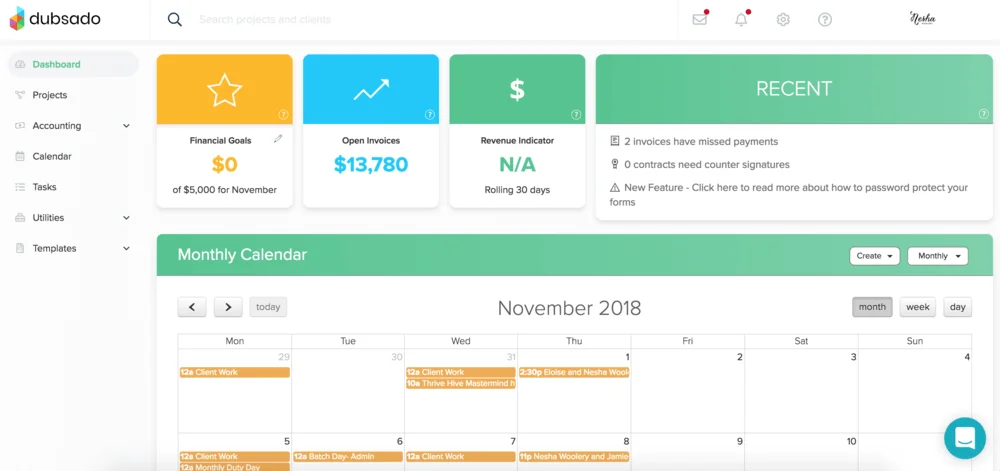 5. Tave
Táve has great client management tools that help keep your business organized so you can spend more time doing what you love. Tave is an extension of ShootProof and is a customizable management solution for photographers. ShootProof is a photo gallery where photographers can sell print, and delivery galleries to clients. Tave integrates directly with ShootProof and is the business management side of photography.
Customizable platform that can handle WordPress data and operations easily.
Advanced accounting and tax reporting capabilities.
Extreme customization capabilities.
Starts at $24.99/month.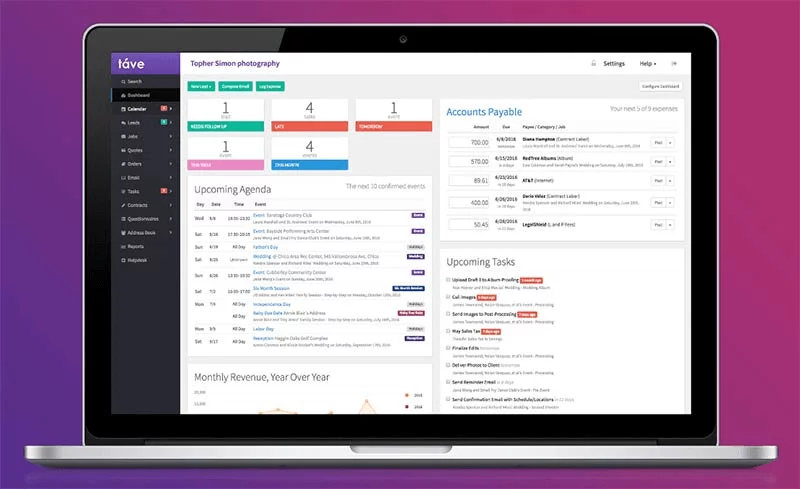 6. Sprout Studio
Sprout Studio is unique because they allow users to have multiple projects running at one time and have advanced contact management abilities. As one of the more advanced photography CRMs out there, Sprout Studio tracks user's business health, income, accounts receivable, mileage, sales tax, and much more.
Contact analytics
Custom price lists
Pricing starts at $17/month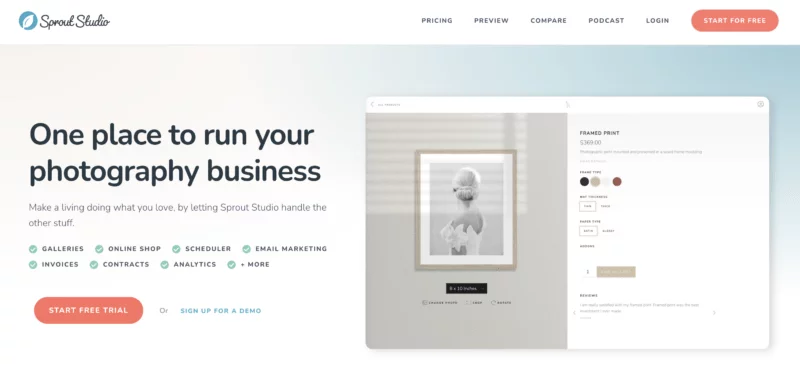 7. Pixifi
Pixifi is a simple photography business management software that allows users to book online appointments, setup staff schedules and sync calendars. Pixifi was created by a photographer who needed a way to effectively track his leads.
Digital client contracts
Variety of free templates
Pricing is $29.99/month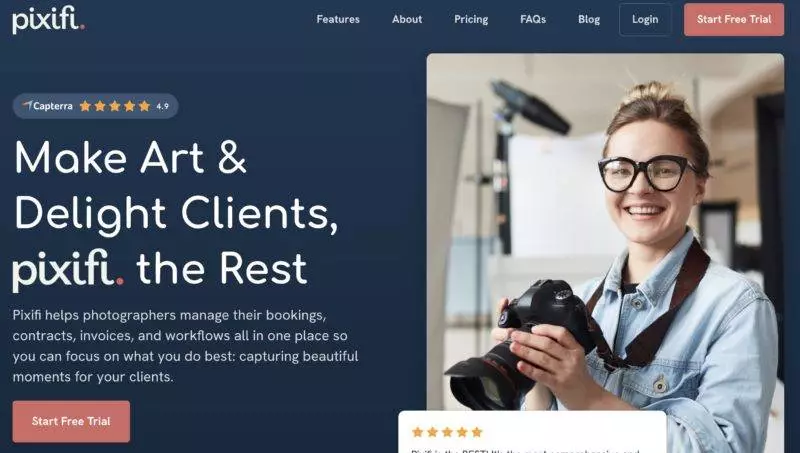 8. Shootzilla
Shootzilla is perfect for structuring, organizing and automating your photography business. Their software is packed with features for professional photographers and was created by one of the more poluat wedding photographers in the industry.
Streamlined workflows
Calendar management with Google Calendar
Pricing is $24/month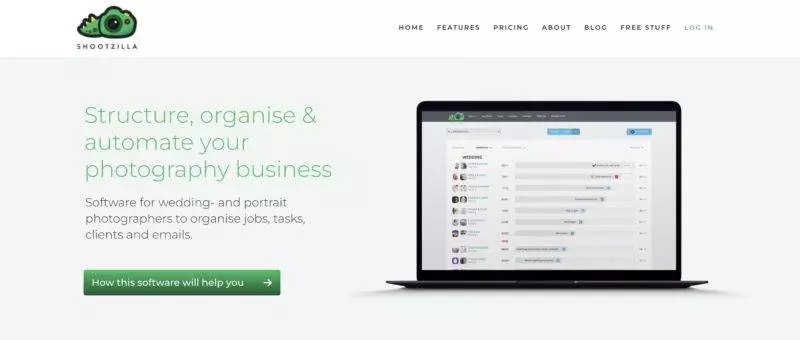 9. Hubspot CRM
The Hubspot CRM is a free customer relationship management tool that is perfect for any sales and marketing team. This CRM is well known and for a good reason. It has everything users need to organize, manage, track contracts, and build relationships with leads.
Calendar management
Automatically logs sales activity
Pricing is $35 with starter plan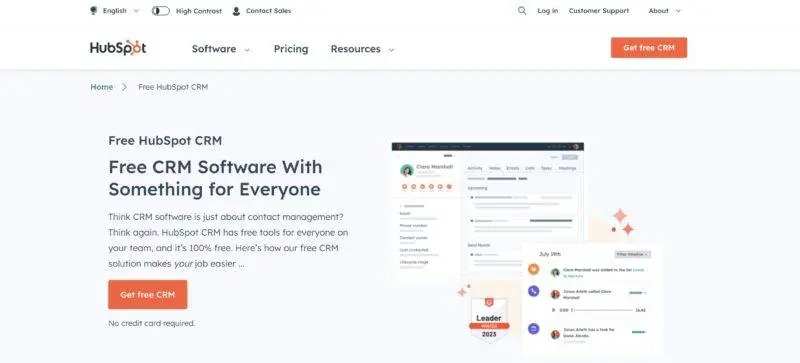 10. 17Hats
17Hats is a feature rich client management tool that is dedicated to providing the education, automation, and advice busy photographers need. The most powerful feature is their free crm software and users can then build out a process that suits their needs.
Strong contact management
Built for new business owners
Integrates with Google Calendar
Pricing is $15/month or $150 annually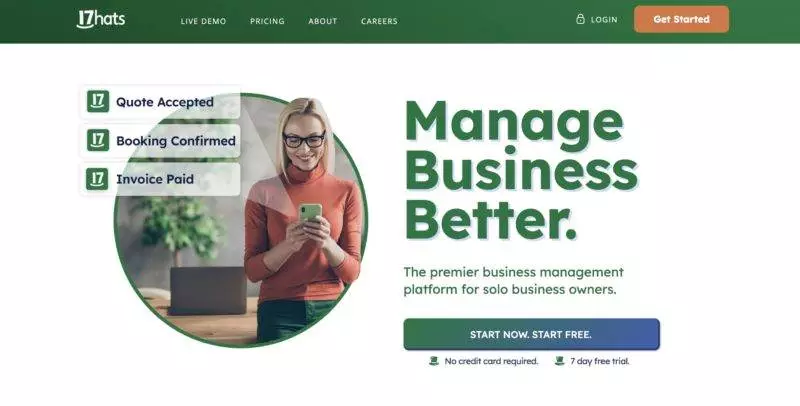 11. Studiocloud
Studiocloud is a free business management software that is customizable to your business type and allows you to manage your employees alongside your lead generation. This client management software is a solid tool for photographers.
Allows clients to book online
Customizable contact form
Integrated credit card processing
Starts at $10/month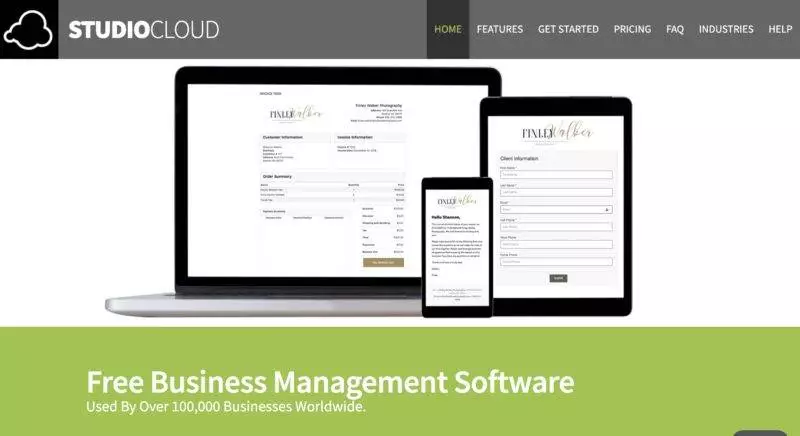 12. Bonsai
Bonsai is a great all-in-one product suite with automated processes that lets you focus on being creative. Even though it's not designed specifically for photographers, they have all of the admin work in one place. Bonsai is an easy-to-use CRM aiming to help creatives. Their streamlined interface includes a powerful automated document creation tool that alerts you when clients view documents. Bonsai's unique features are their expense tracking system that imports data directly from your bank account and their time tracking tool. This is beneficial for those creatives who charge hourly rates.
Built for global businesses
Great free templates
Effective time tracking
Pricing starts at $24/month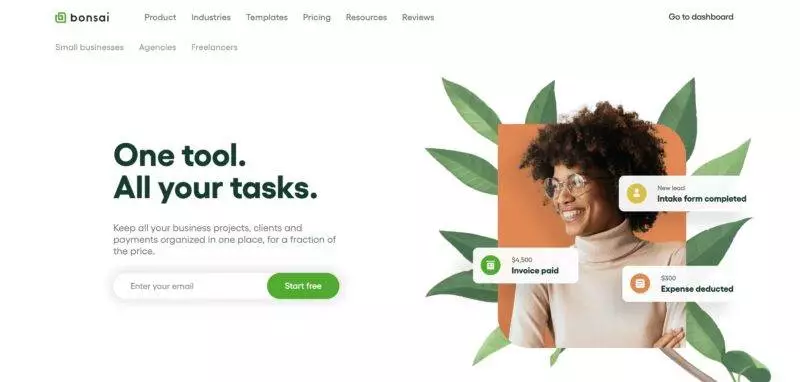 13. ShootQ
ShootQ's management software organizes your entire photography business in one place. They prioritize automating your business workflows, invoicing, lead tracking, and contracts. Their robust features were developed by photographers for photographers. ShootQ provides top-notch customer service with live chat, email and 1 on 1 account setup.
Creative email templates
New lead organization
Pricing is $24/month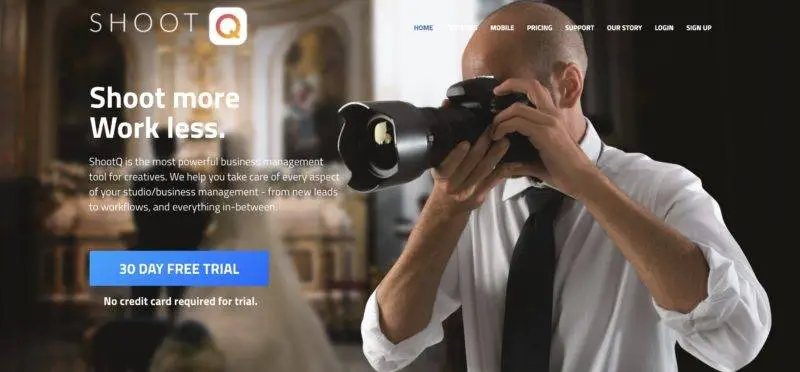 14. Monday CRM
Monday is a customizable CRM solution for all businesses. They have premade templates, workflows, and sales pipelines for businesses to hit the ground running. With their flexible drag-and-drop interface, they make it easy for businesses of all sizes to automate their workflows. This program may not be for photographers specifically and doesn't have a gallery delivery option, but is a strong competitor in the CRM industry.
Centralizes your data
Ability to connect online & offline
Pricing starts at $8/month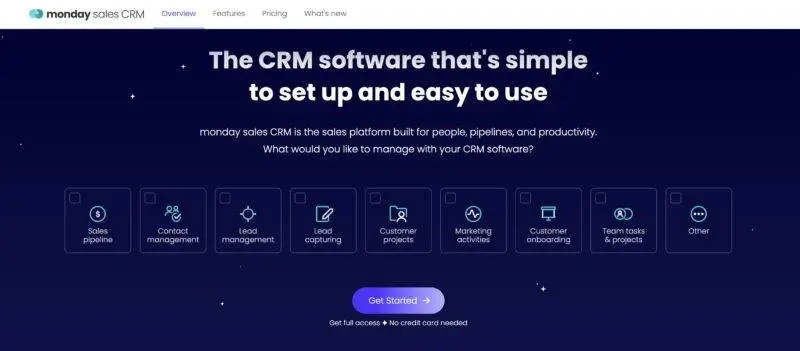 15. Flowlu
Flowlu is a business management software that runs your company projects and finance tracking. They allow remote access to every project and task in your company. Flowlu automates your business's expenses, reports, and invoices. Even though they are not photography focused, Flowlu's team task manager allows you to delegate tasks by project, priority, due date, or assignee.
Maintain financial records
Agile project management
Team pricing starts at $39/month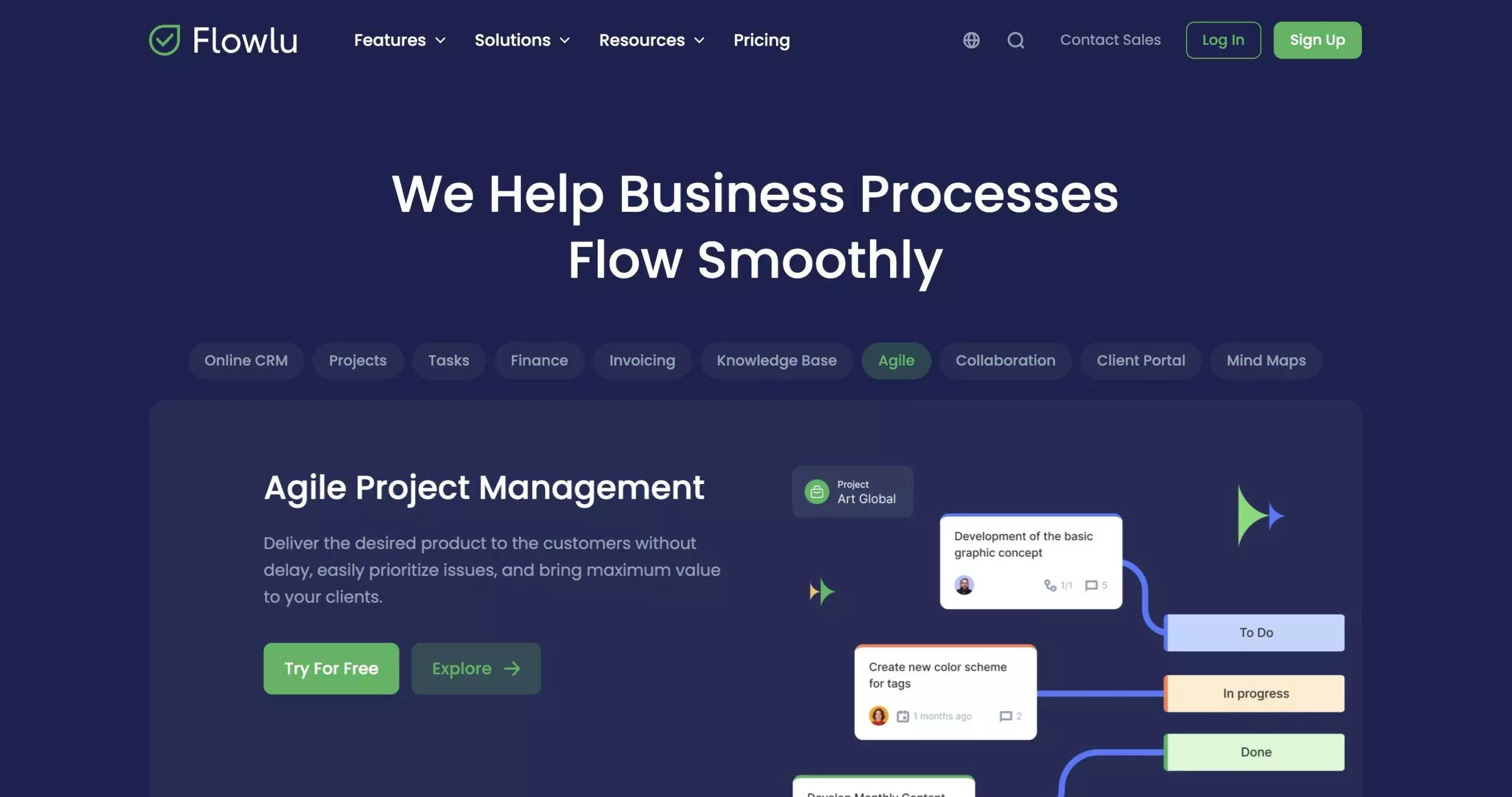 Review Of Key Features – Photography Studio Management Software
Let's take a closer look by comparing the key functions.
1. Lead Management
Lead nurturing is a core part of any marketing campaigns run by all small businesses. You could have the best team members alongside you, but without a lead management system, you won't be able to attract and retain any leads. Unfortunately, if you are a creative business owner, it's hard to find an industry-focused CRM for photographers to send emails, capture leads and follow-up on calls.
The Bloom Solution
The Bloom photography management software gives you a state-of-the-art lead management solution to help you across all stages of the sales funnel. Bloom offers a unique project management/workflow feature built into each lead. This allows you to create tasks for yourself in regards to each lead, instantly add it to your calendar, and reference what has been done with each opportunity.
Other Solutions
We did not find any striking difference between how the other CRMs differentiated in regards to leads. While all the solutions had dedicated pages, Honeybook combined leads with active projects into one workflow. This complicates lead tracking and can be confusing when there are a large number of leads mixed with active projects.
2. Payment Integrations
Ensuring a smooth client experience should be the main priority for any type of studio management tool. A complicated payment system can be a big turn-off for any potential client in the photography industry. Why should they use your services if they're going to have a tough time closing the deal and making payments? Your photo studio management software needs to have multiple integrations for your payments to make invoicing a piece of cake.
Bloom Solution
The Bloom photo studio management software has powerful automated invoicing and payment features to simplify your payments. You can process credit card or ACH payments by integrating Square or Stripe. With support for over 135 currencies, you'll have no problem handling an online credit card payment in Bloom! Unlike other solutions, Bloom also allows you to integrate Paypal, Cash App, Venmo, Zelle, and Bank Transfers–all seamlessly into your invoices.
Other Solutions
The other CRM systems also had integrated online payment options with invoicing features. However, no platform particularly stood out here. Tave offered the broadest range of online payment options but was only integrated with Square.
Honeybook had the least amount of integration and didn't allow you to fully integrate with any platform. All you could do was add your bank information to have your online payment processed through Stripe.
The big downside to this is that you can't see your invoice payments come through in Stripe. Also, this made it impossible to do any additional bookkeeping and issue any refunds.
3. Project Workflows
Managing project workflows are an integral part of the photography industry. You need to have your workflow under control or you'll constantly be under stress. You'll be missing deadlines, forgetting tasks, and delaying clients.
The Bloom photo studio management software is the only solution offering a category-based workflow. This layout allows you to organize your projects under different workflows. In this whiteboard-based model, you'll have all of your projects listed on the left and your tasks on the top.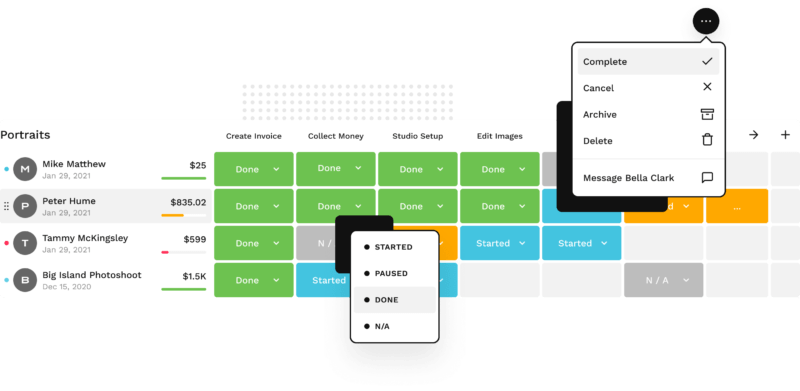 The beauty is that you can create as many workflows as you need. To rearrange your projects or tasks, simply drag and drop them between different workflows. This gives you a quick overview of your small business and makes it easy to make changes on-the-fly.
When reviewing the other CRM systems, we found two different workflow patterns:
A) Project-based workflows
The project-based workflow allows you to take a set of tasks and apply them to any project. In this setup, the workflow lives under the project as a set of resolvable actions. While flexible, the biggest downside is that there is no overview of all your projects and what needs to be done next.
To see your next tasks, you have to click through each project individually. This is the model used in Tave and Dubsado.
B) Swim-lane workflows
The swim-lane workflow is unique to Honeybook. It gives photographers a good visual for each stage of your flow and where each project falls into. Unfortunately, this workflow quickly breaks down if you have projects that don't follow this same exact workflow.
For example, if you shoot commercial and non-commercial work, you'll have very different workflow stages which makes this process unusable. We recommend this model only if you're shooting in one specific photography industry.
4. Communication
When it comes to communicating with your clients, the quality of your customer service interaction is key. You need to communicate quickly and effectively with your clients if you want to succeed. The right app will enhance your client communication by automatically saving notes, details, emails, or form fills. We live in an age where communication is possible through various mediums. The right app will track the client's communication for you and send notifications if the client reaches out asking for more details.
Bloom's unique communication feature is based on a chat-based model. It gives you a centralized conversation tracking hub for each client that includes automated messages, emails, and online live chat. Bloom let's you determine what your weekly schedule looks like and communicates with clients which days you are not available.
It is also the only CRM tool that features two-way message inclusion without any necessary integrations. This allows you to stay organized and communicate effectively without any third-party apps in the way.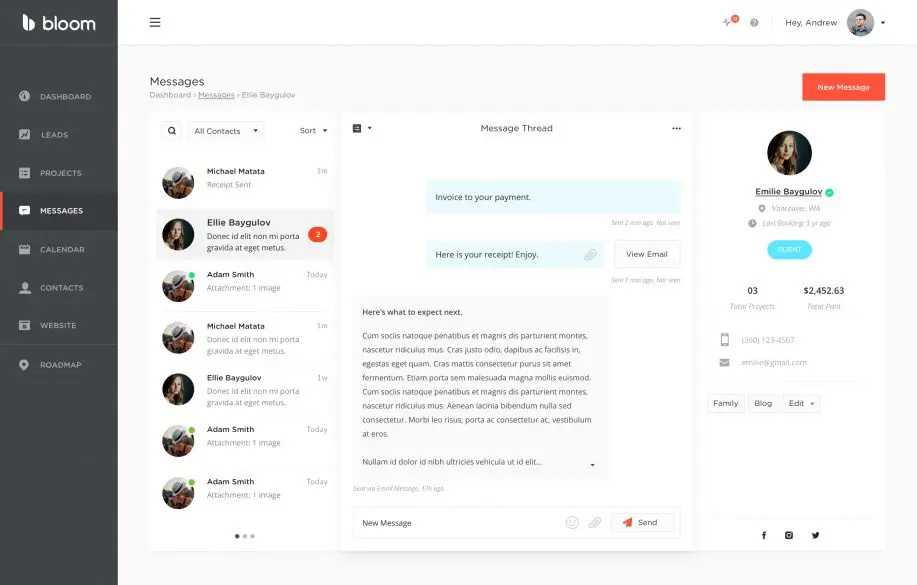 All the other CRM programs allow you to send emails, albeit with different setups. Most platforms chose to organize their messages directly under projects. While this is convenient for sending your first email, it quickly becomes confusing because:
Automated emails aren't tracked.
Most platforms don't show your client's replies inside the portal.
If a contact becomes a new lead or project, you don't have a history of your prior conversations.
Take a look at our review of Acuity Scheduling.
5. Contract Signing
Ever since digital signatures were recognized by US law, they've become an inseparable part of most operations. Most small businesses can't rely on pen and paper contracts anymore.
They're impractical, time-consuming and a big turn-off.
Why would a client wait days for a physical contract when they can just get it done online in seconds? Your CRM programs need to support digital signatures if you want to keep your clients happy and boost your business.
Bloom is the only CRM featuring auto-countersignatures. This feature allows you to create a signature and choose where you want to have it applied.
This way you're not wasting time signing back and forth before each side has a legally binding document. Not only does this make your business more efficient, but it also fosters a great customer service experience for your clients.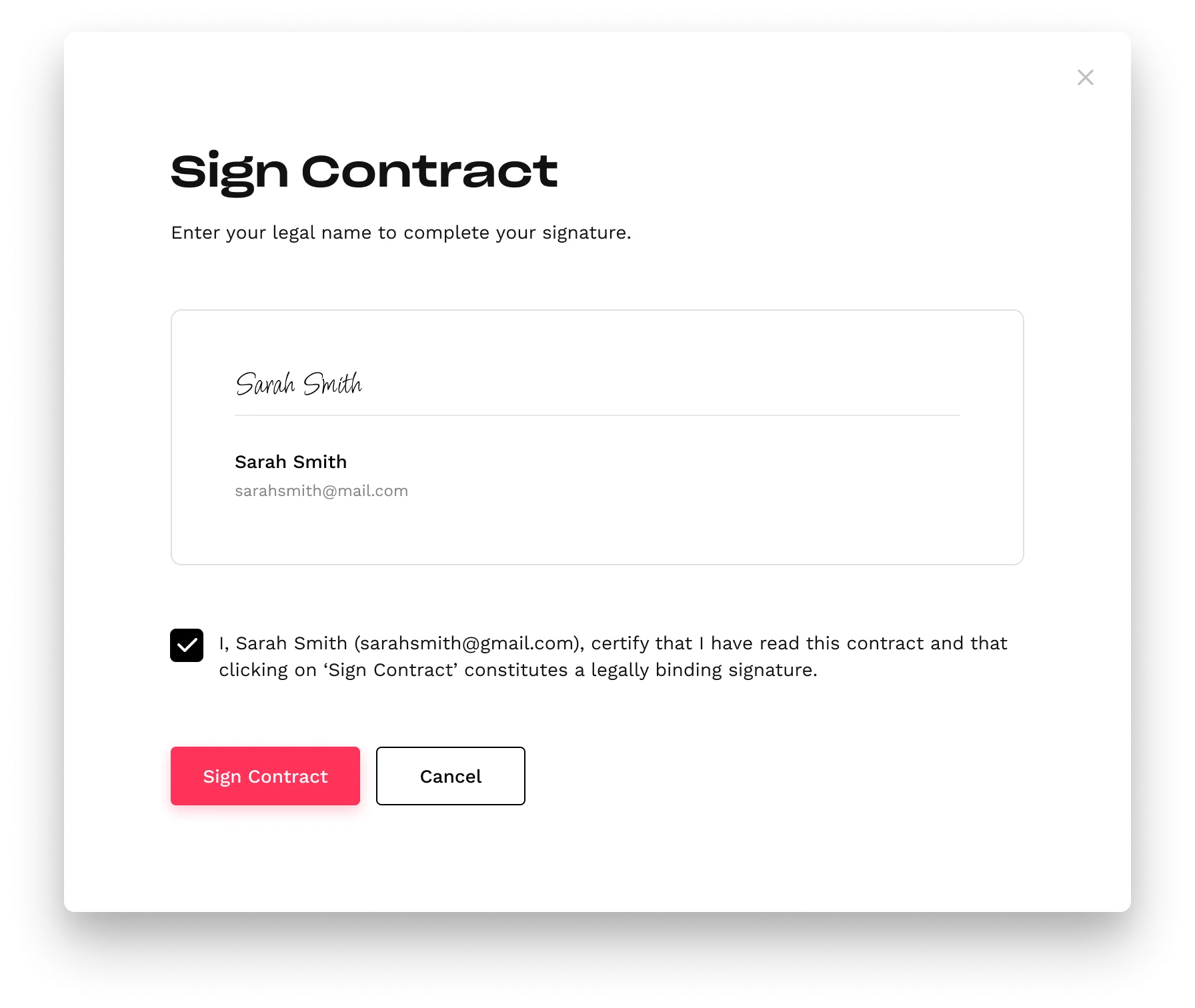 How to Create a Countersignature in Bloom
You can also upload existing PDF contract templates to Bloom. This eliminates the need for manually typing out your clauses into separate contracts. To add an extra layer of security to the e-signature process Bloom records your client's IP address.
Most of the other CRM tools offer you some level of digital contract signing. However, none of them are as comprehensive as Bloom. While most of them were easy to use, Tave was by far the most complicated and confusing to use.
6. Scheduling Dates/Times
Administrative tasks like scheduling are a core part of working with clients. An efficient way to schedule appointments is critical for a professional client-provider relationship. Relying on email threads for your photography business scheduling is far from ideal. The back-and-forth between availability and schedule changes can be tedious and time-consuming.
Bloom solves this common photography business problem by putting the scheduling in the client's hands. Simply send a link to your client where they can see your availability and book a slot by themselves. This completely removes the need for administrative tasks like a follow-up email or call.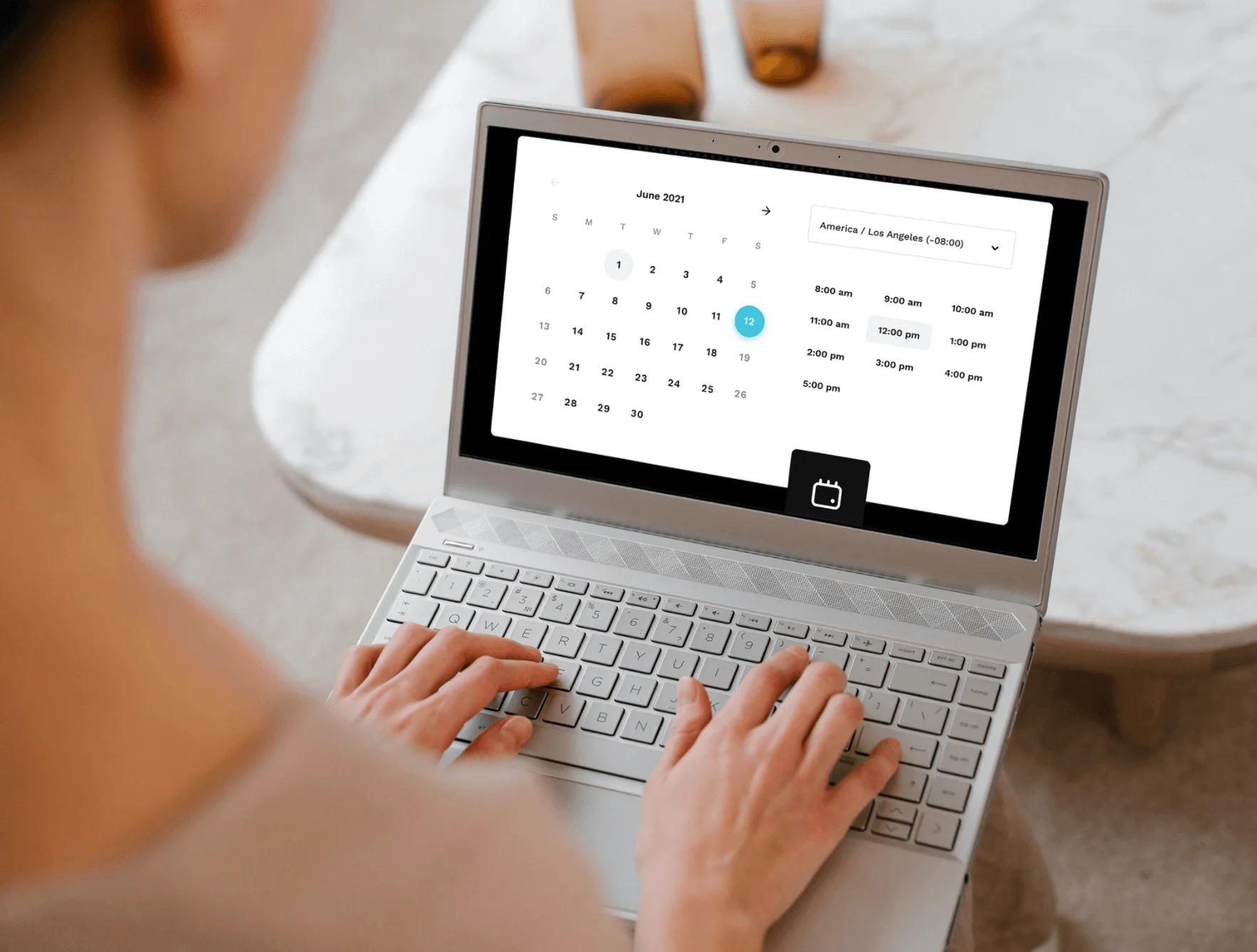 Bloom Scheduling Tool
Bloom also allows you to embed this scheduling feature in your sign-up form to build an instant online booking experience. Your clients can now select a creative package, sign a contract, and select a date/time, in one seamless flow.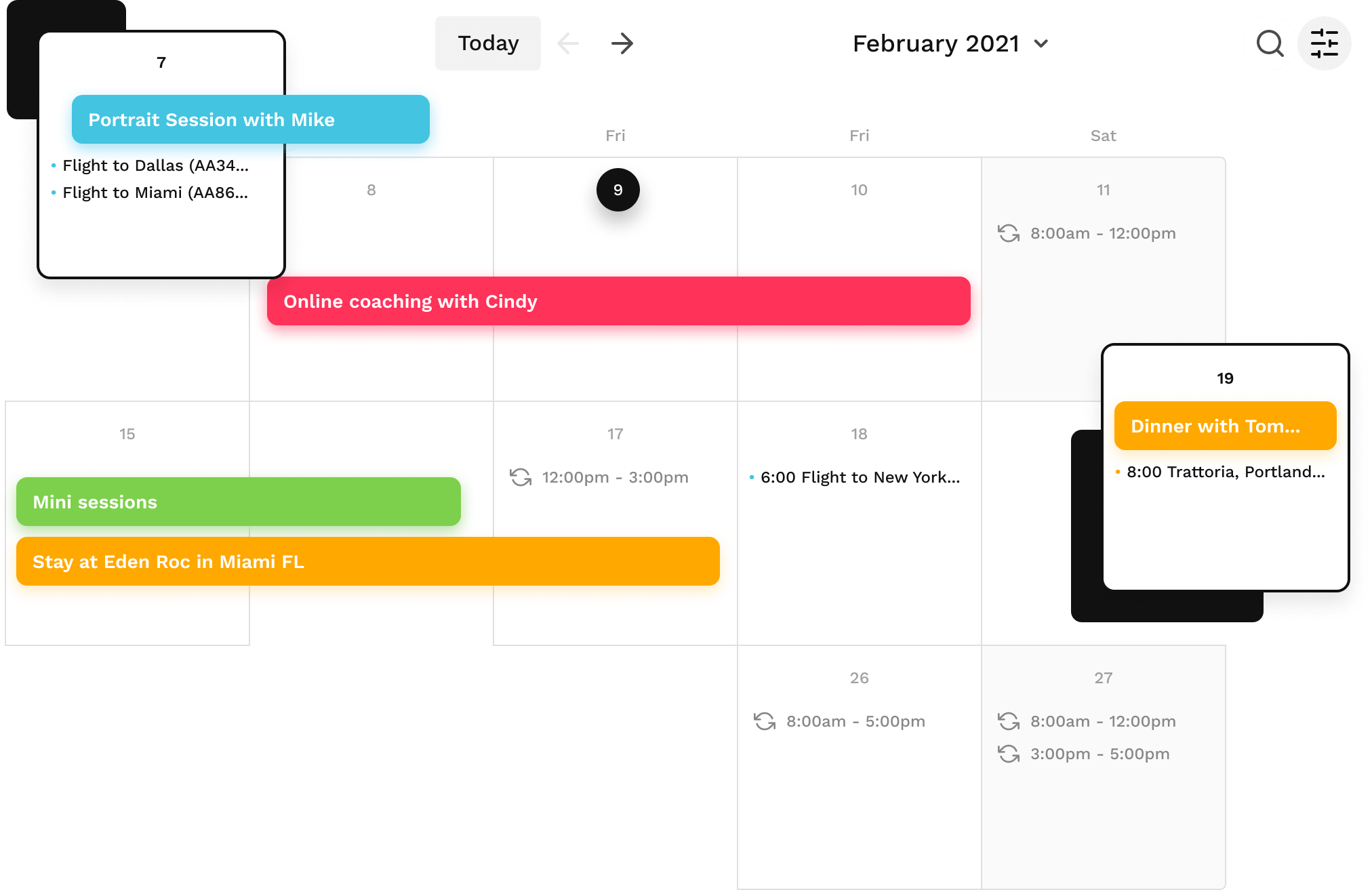 Dubsado also allows your clients to schedule appointments and activities themselves. However, unlike Bloom, this feature is only attached to an invoice – in other words, you can't simply send a form to select a date. None of the CRMs even came close to the kind of scheduling capabilities Bloom has to offer.
7. Questionnaires
Questionnaire forms are an excellent way to improve your efficiency and maintain a professional brand. A good questionnaire can help a client describe exactly what they need and speed up the fulfillment process. It reduces the need for unnecessary follow-ups and can help you get the job done quickly.
Bloom's questionnaires are completely customizable and present the client with one question at a time. This makes it easier for them to answer questions as they're not presented with an endless list of boxes to check off.
The other CRM programs also had a standard set of options like text boxes, multiple-choice, and dropdown lists. The only business software outliers were Dubsado and Tave, which included the greatest variety of different question types. While Dubsado's forms came with customizable CSS and HTML tags, Tave took it a step further with a Gravity Forms plugin for additional customization.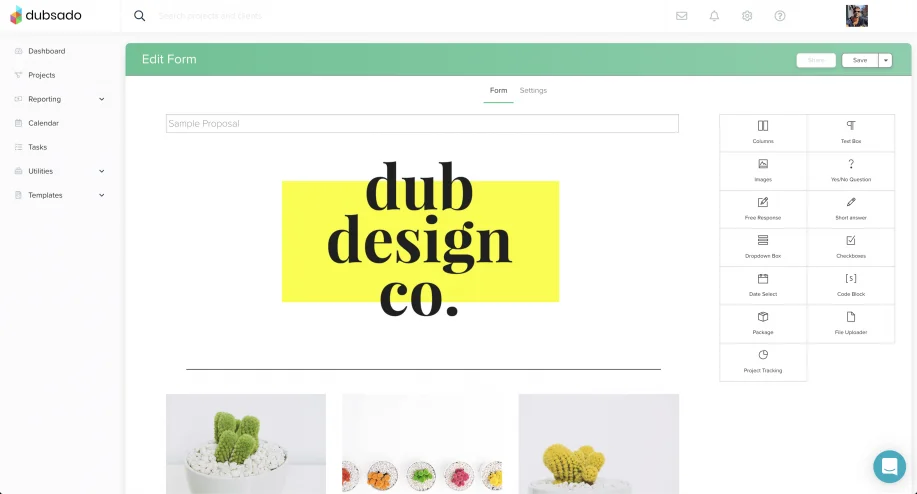 9. Marketing Automation
Marketing automation can make your life significantly easier. Instead of manually following-up on everything, your automation tool can automatically send emails for you.
Marketing automation isn't just useful for client acquisition. You can also use it to streamline your operations. Automate email follow-ups and reminders to keep your client updated on everything happening. Not only does marketing automation reduce your workload, but it can also ensure that tasks don't fall through the cracks. As you're not manually doing any of these tasks, losing track of them isn't an issue anymore.
With Bloom, you can easily set up automations and know exactly how they will be activated. You can also see them in your conversation threads when the emails are sent out. To automate a task, select your email templates, select when you'd like for it to be sent out, and what conditions should apply. That's it.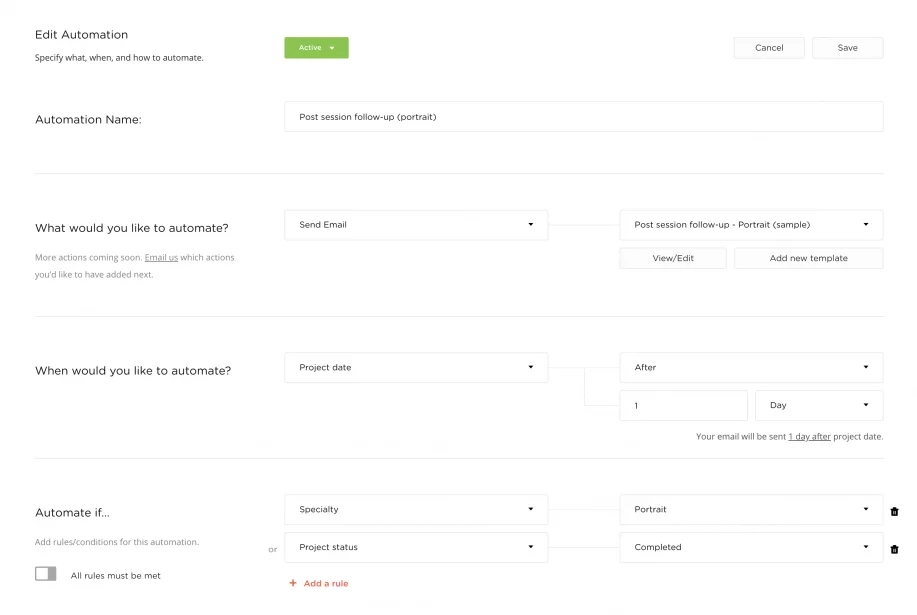 As Bloom's automations are handled independently of any workflow, a studio owner has total control over them. You can view all your automations at once and tweak them to grow your business effectively.
The other business software solutions only feature automation for specific workflows. Once you apply a workflow to a project, the automations will be set for that specific schedule and workflow. While this can be helpful, deciphering which automation is active for each workflow and project can be hard.
Tave, however, opts for a different approach. Like Bloom, Tave automations function independently of workflows, which makes it easier to edit them.
Dubsado's software stands out with their ease of use and ability to automate individual tasks during the booking process.
10. Custom Branding
Your brand is the representation of your business and it's the way in which your clients identify with you. A powerful brand builds trust and facilitates loyalty. This is why taking the time to customize each invoice, contract, and message is valuable. Consistency is crucial to brand identity which is pertinent for long term growth and repeat business. Clients are naturally attracted to a professional brand look and feel. So choosing a CRM software with the ability to fully brand all points of communication with clients is important. Every engagement your client has with you, is an engagement with your brand.
Bloom's questionnaires, invoices, contracts, forms, and emails are fully customizable. You can change features to your brand color, upload your logo, and add your information. By setting up your branding in Bloom, your clients are experiencing a seamless professional booking process.
Other software companies have branding options for their invoices and forms but tend to be limited. Tave has one of the more customizable CRMs when it comes to building out your branding. You have the ability to change headers, background colors, logo sizes and email formats. Bonsai fis more feature rich rather than customizable. They let you customize the booking process rather than individual form set up.
How Bloom Stands Apart
While every management solution has its unique set of strengths and weaknesses, Bloom is uniquely built as a marketing CRM with many unique features. It is entirely dedicated to helping you grow your business. Here are some additional unique features Bloom has to offer:
1. An integrated website builder
Bloom has an integrated website builder for your photography studio that is currently in Beta. While the full version is scheduled for the fall of 2019, you can already use it to create and customize a beautiful photo studio website in minutes!
All the Bloom web templates have clear calls-to-action (CTA's) strategically placed on every page. Also, if you use Bloom to deliver images to clients, you can easily drag and drop your favorite image files to your photo studio online gallery.
2. Live chat messenger
Everyone knows that a good website strategy includes a powerful lead magnet. Your lead magnet will capture your visitor email address for future follow-ups. To help with this, Bloom studio management software lets you add a live chat to your website. This allows your visitors to engage with you in real-time by submitting their name and email.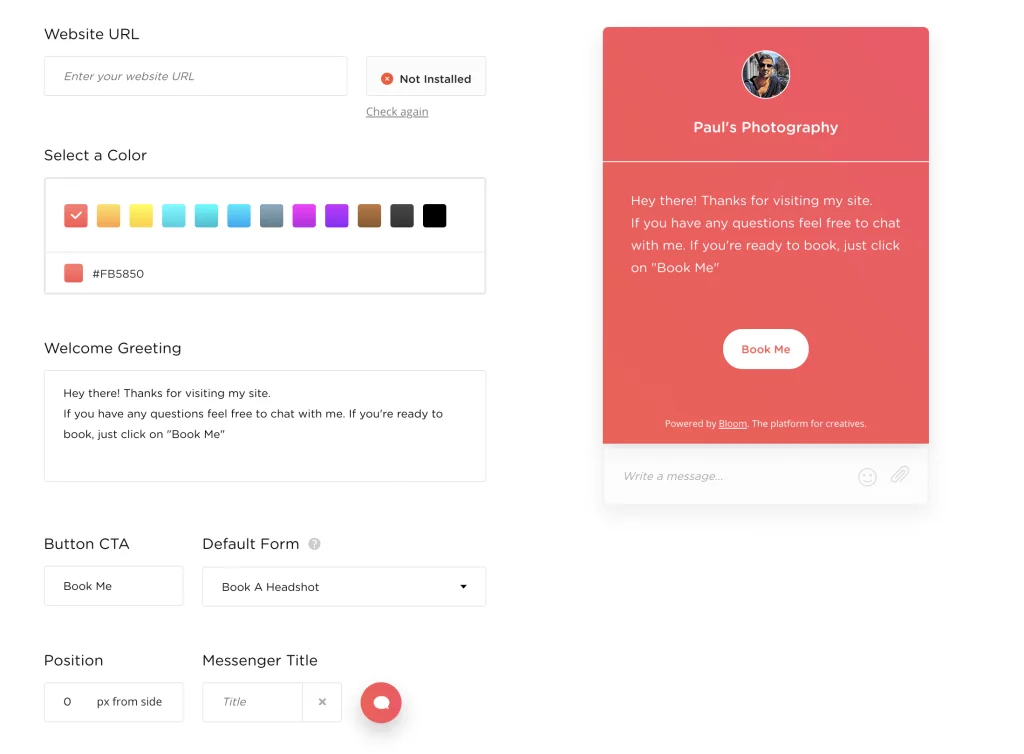 To ensure that business owners are always available for replies, the chat feature is integrated with Bloom mobile and web apps.
Want to know how helpful this is? Statistically, if you chat with a website visitor, they are 83% more likely to book you.
3. Image delivery
Another unique Bloom feature is that you can deliver image digitals through online galleries with a unique client link. All your client has to do is click on the link you sent them, and they can access this gallery through our cloud-based software. Bloom sets itself apart from their competitors by offering 1 terabyte of storage. This is a highlight for photographers since it allows you to store more projects and upload more photos during image delivery. A studio owner can easily upload image files to their online galleries, set a cover and set viewing preferences to customize their experience, like the website builder, this feature is in Beta and is available to all our users.
4. Instant online booking
Bloom strives to make the lead generation and client booking process as seamless and frictionless as possible. The form builder lets you create a customizable experience where your clients can schedule a package, sign a contract and even pay for it —all in one single and seamless flow.
What used to take users days of back-and-forth communication can now be done in seconds. Lead-generation features like this allow a studio owner to customize and scale their small business by focusing on acquiring more customers instead of wasting time on administrative tasks like creating invoices.
How to choose the best CRM for your photography business
1. Explore free trials
Who doesn't like free things? All of the companies listed have free trials that range from a week to two weeks. A good CRM will save you hours of time and manage your schedule for you. Use the opportunity to test out these products and see how they work.
2. Determine your business needs and goals
Determine what your current client management process looks like and take note of what you feel like can improve. By determining what your business needs are, you can use these company's free trials to explore what each software company has to offer. Your photography business might need more cloud storage for image delivery or you might want advanced lead capture capabilities. You can pick which company will enhance your business and curate a relationship with your clients.
3. Think about your client's experience
Keep your clients in mind when choosing a CRM for your business so that you can provide the best experience possible. By testing both the sending and receiving parts of the booking process you can understand how fast the automated processes are. You can determine how your branding will be perceived. As well as, see how easy it is to download photos in image delivery. Each feature matters and each provides different types of value to your business.
A final word on the best CRM for photographers
Which of these customer relationship management tools is best suited to you?
While all these CRM tools are great options, Bloom stands out on many levels. It offers you powerful tools to take your small business to the next level. If you think we've left a photography studio tool out, leave a comment or visit one of our social media pages to let us know. In the meantime, why not sign up for a free trial of Bloom and experience it for yourself?
[Update: Bloom has reduced the price to $29/mo and added a free package also]