Wondering if Dubsado is the right tool for your business?
In this blog post, we'll take you through a Dubsado review to help you determine whether this client management system is a good fit for your needs or not. We'll also give you three great Dubsado alternatives to consider.  Jump to the section that most interests you with these links, or read through the whole article to get the most comprehensive understanding of what these tools have to offer.
Here's What You'll Find in this Dubsado Review:
What is Dubsado and Who is it For?
Dubsado is a client relationship management software that'll help you streamline your workflow. This business management solution allows you to build relationships, create automated workflows and schedule appointments in a flash.
While Dubsado is a versatile tool that can be used in any industry, the features are most suited to creative businesses, such as photography or videography. Dubsado can help you streamline your project management and reach more customers.
---
Key Dubsado Features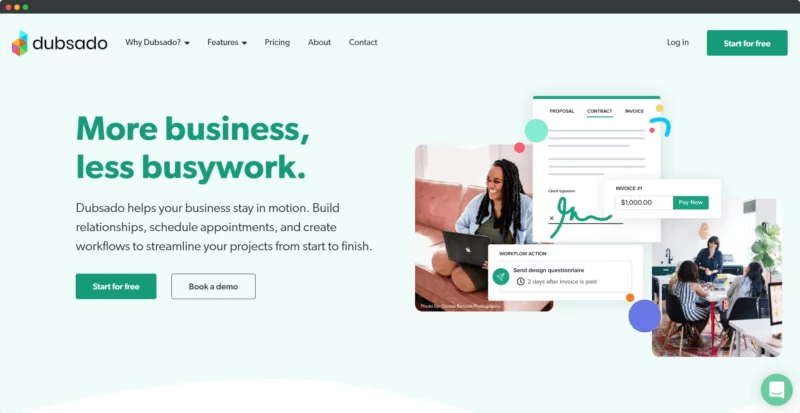 Let's take a look at what Dubsado offers.
1. Lead Capture
Lead generation and lead nurturing are key components of any business' success. You have to manage every potential customer you attract and convert them into new clients.
Dubsado can embed a lead capture form on your website to capture leads and trigger automated lead capture workflows. This ensures that whenever someone shows interest in your business, they're automatically catered to. Dubsado even has a separate page for lead tracking to keep track of your progress.
2. Automated Workflows
Your CRM must streamline project management workflows to help you optimize your work processes. Luckily, Dubsado offers you automated workflows to speed things up. The tool can automatically send forms, emails and an invoice when project stages are completed. You have complete control over these workflow triggers and can pause them at any time.
3. Client Portal
To ensure that your clients always have access to important items, you can set up a custom portal for them. They can easily log in and view their invoice, forms and emails in a unified space. As these are sensitive documents, Dubsado can embed a password-protected login page for each portal.
4. Invoicing
Dubsado has powerful invoicing features to keep your payments on track. You can set up custom payment schedules for your clients with installments, due dates and auto follow-ups. Dubsado also supports any payment via Stripe, Square or Paypal for your invoices.
5. Custom Forms
Dubsado helps you create detailed proposals and forms for your customers. You can create your forms from scratch or use one of their helpful contact form templates to get started right away.
You can even add e-signatures to your forms to create legally binding contacts online. Each contact form can be white-labeled to ensure that your branding is present on any document shared with your clients.
---
Dubsado Drawbacks
While Dubsado is a good CRM for creative entrepreneurs, it's not perfect. Here are a few drawbacks that hold it back from being a great CRM platform.
1. No Mobile App
You need to be able to manage your clients 24/7. Whether you're in the office or on the move, you can't let a client go unaddressed.
Mobile apps help you do this as you can keep up with your project developments at all times. Unfortunately, Dubsado doesn't have a mobile app. You'll have to be by your desktop if you want to get anything done. 
2. No Google Calendar Sync
Double-booking yourself not only leaves clients with a poor customer experience, it can lead to bad blood with your customers as well. Frequent double booking and cancellations could even mean losing the trust of those that depend on reliable service, or sending them elsewhere who may be more trustworthy. Dubsado lacks a two-way sync with Google calendar which increases the chance of double-bookings.
3. No Project Overviews
Dubsado adopts a project-based workflow. In this setup, each workflow lives under each project as a set of resolvable actions. While this offers you some flexibility, it doesn't allow you to get an overview of your projects and tasks.
This is a project management issue when you're trying to take stock of your company as a whole. Additionally, it can be challenging to track a big list of leads because they are grouped into projects.
4. Limited Document Sharing
While Dubsado gives you a powerful client portal to share important forms and documents, they can't be shared outside of your project space. This makes it hard to use these documents for bookkeeping purposes and keep an external record of what's going on.
---
Three Dubsado Alternatives
1. Bloom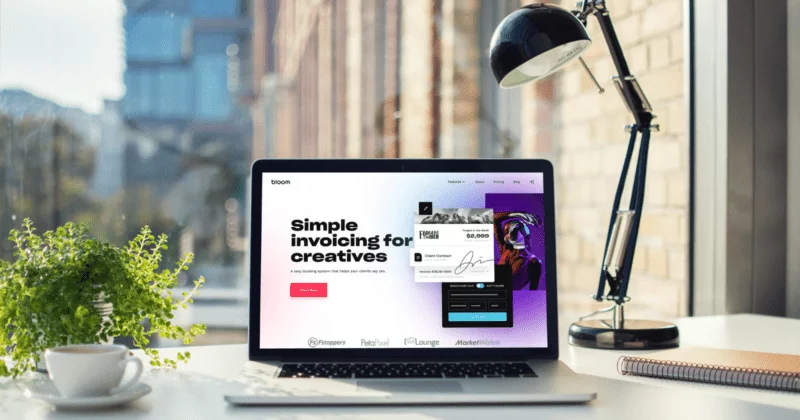 Bloom is one of the world's leading CRMs for creative professionals. Used by leading figures like Joel Grimes and Red Bull Photography, Bloom has all the features you need to take your customer management process to the next level.
Unlike most other CRMs, Bloom is equally adept at handling the needs of all businesses. Be it artists, photographers, lawyers or consultants, Bloom is a one-stop solution.
Here's a closer look at some of the features that make Bloom a game changer:
A) Powerful Workflows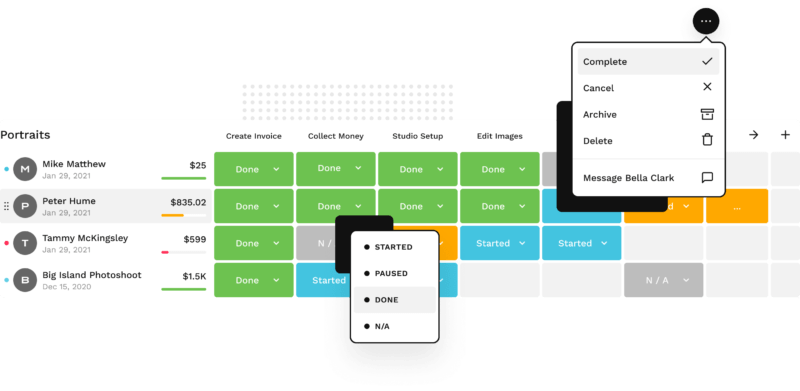 Unlike Dubsado, Bloom comes with a unique category-based workflow that's great for project overviews. In this whiteboard-based model, your tasks are listed at the top, while your projects are arranged neatly on the left.
This makes it simple to rearrange your tasks and projects as you can drag and drop them into different workflows, making it an ideal Dubsado alternative. You can take a quick look at your projects and make quick changes to tasks and sequences.
B) Powerful Invoicing
For a seamless and professional client experience, you'll need to streamline your billing process. You could give clients great customer service, but if you have billing issues, they're going to be unsatisfied.
The advantages of utilizing the Bloom payment system are:
No added payment processing fees
Square, Stripe, Cashapp, Venmo and ACH payment integration
Available in over 25 countries and supports 135+ different currencies
Set retainers
Auto-charge payments
Offer tipping and discounts
Add sales tax
Partial payments available
Automatic payment reminders
Downloadable and unlimited reports
You can create beautiful, unlimited invoices using the free invoice generator and present your business in the best light, wow your clients, and track every transaction legally. Try the free invoice generator, no account required.
C) Automated Forms and Questionnaires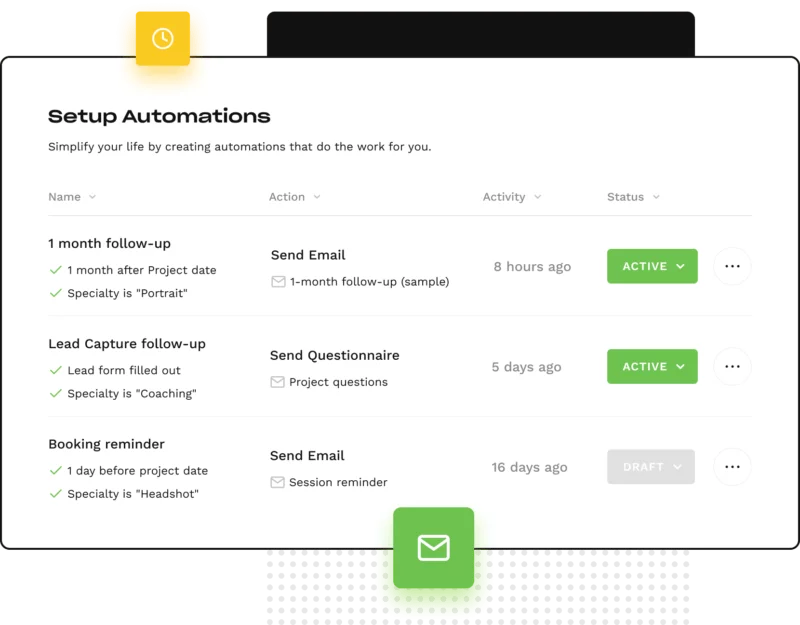 Managing a professional business involves a lot of administrative work, especially for freelancers. You'll have to create and send tons of forms and questionnaires to clients to get an idea of what they want. When you're dealing with dozens of clients, keeping on top of this manually is impossible.
Bloom supports automated forms and questionnaires to do this work for you. You can easily set up marketing automation sequences that get triggered after certain client actions are performed. All forms and questionnaires are completely customizable and can be fine-tuned on a client by client basis.
D) Scheduling
While scheduling is important for every industry, it's especially important for creative entrepreneurs. You need to clearly define work schedules and organize your calendar to meet client demands.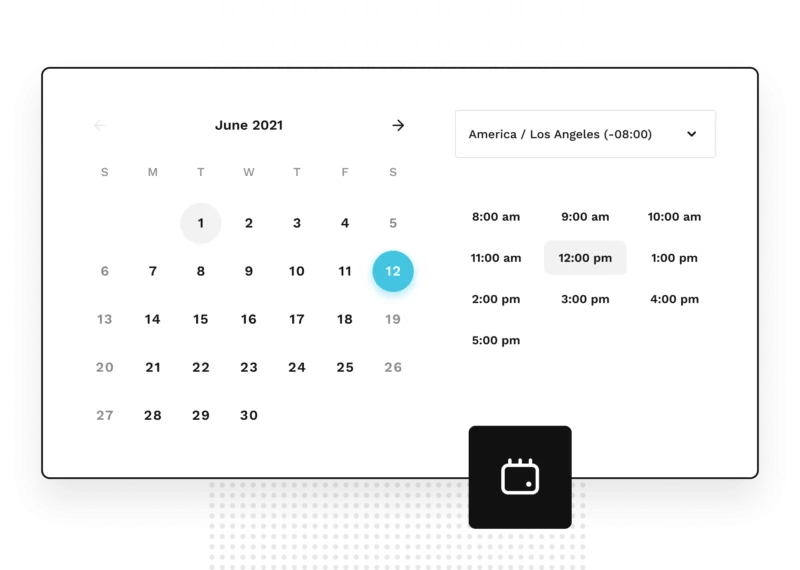 Most businesses try and manually do this or use third-party software like Acuity Scheduling. While there's nothing wrong with this, you'll have to manage different tools simultaneously – which is difficult.
Instead of doing all the scheduling yourself, Bloom's scheduler offers users the chance to put the onus on the client instead. The scheduler sends each client a link to your Bloom calendar, where they can see your availability and book an appointment accordingly. You can even embed this link in their contact form to make the onboarding process and client experience as seamless as possible.
Is Acuity right for your business? Learn more in our Acuity Scheduling Review for Freelancers and Contractors
E) Website Builder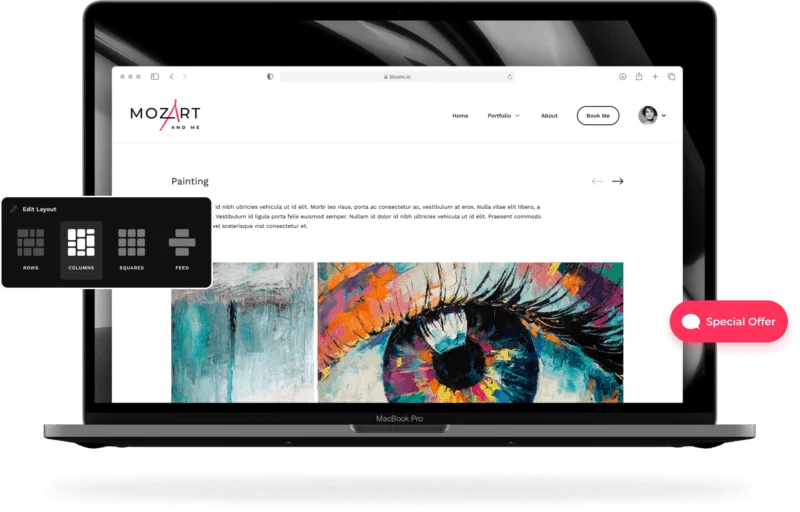 If you want to maximize conversions, you need your website to seamlessly integrate with your work processes. Your website should facilitate your client management – not hinder it. Unfortunately, most businesses outsource their web building activities and are left with a website that isn't optimized for their needs.
Bloom comes with an integrated website builder to instantly create a site that aligns with your needs and goals. You can use some of Bloom's website templates to create a site within minutes.
F) Live Chat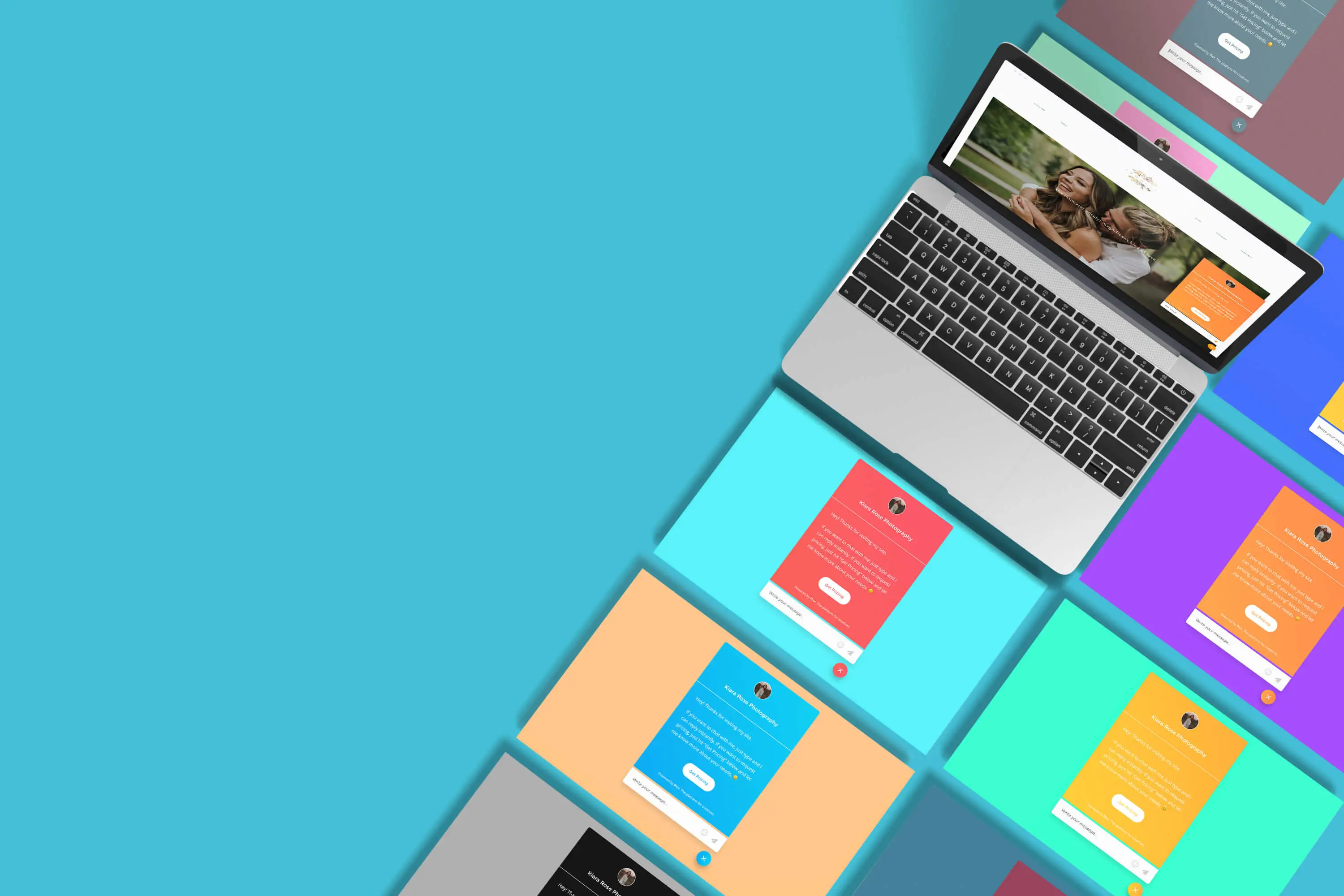 All businesses should have a lead magnet on their site. The goal of this lead magnet is to capture your visitor's email address for future follow-ups. Without their email addresses or a point of contact, you'll have no way to contact them and could lose the lead.
To ensure that you never lose a lead again, Bloom offers you an in-built live chat on your site. You can use this customer service feature to communicate with your customers in real-time and address their needs and wants.
Not only does this help gauge what a customer is looking for, it can capture their name and email address. This ensures that you're able to follow-up and address their concerns and needs easily. This smoothens your client intake process and helps you close leads easily.
G) Image Delivery
Most photography businesses have a tough time sending clients photos once an assignment is completed. You'll have to either manually email each photo or upload them to Google Drive where the client has to download it all themselves. Neither option is ideal as it doesn't allow the client to take a quick glance at the photos and recommend any changes.
Instead of dealing with the hassle of downloads, Bloom lets your clients access an online gallery through a unique link. Business owners can set custom covers and viewing preferences to create the optimal client experience.
Once a client clicks on the link, they'll be redirected to their online gallery where you've uploaded all their images and files. They can now easily select the photos they want for their Instagram posts on their Instagram feed.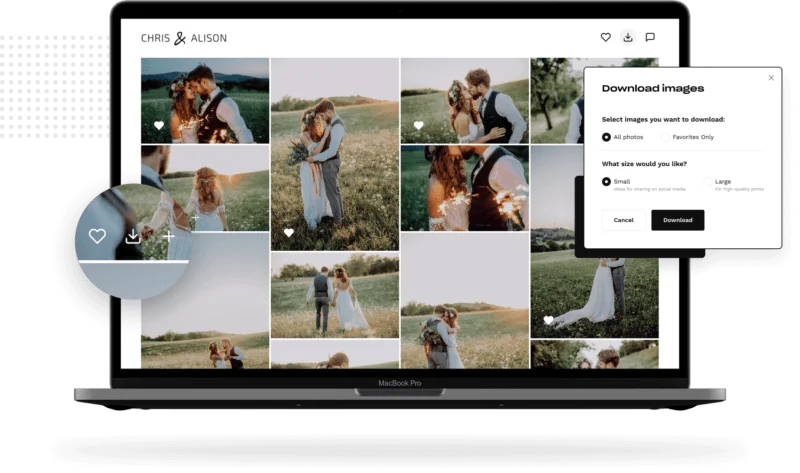 Pros
The software is easy to use.
Free invoicing.
Comprehensive studio management features.
Simple setup and client onboarding.
Can set up a detailed lead capture form to maximize client acquisition.
Digital signature support for security.
Powerful automation for tasks.
Two-way calendar sync with Google Calendar and iCal.
Great client management features.
CRM software with affordable pricing plans.
Great customer service via email and social media.
Great appointment scheduler.
Cons
No email marketing.
Lacks team collaboration (multi-user functionality coming soon).
Pricing: Dubsado has an unlimited $40/mo premier plan. Bloom offers multiple alternative pricing plans including the free plan with most features unlocked.
2. Honeybook as a Dubsado Alternative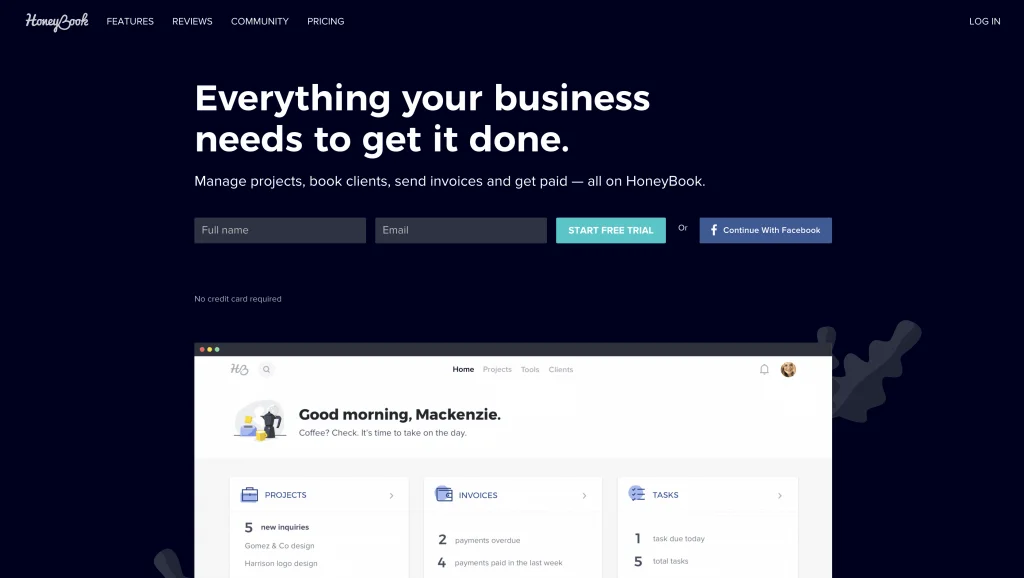 Honeybook is a popular studio management software that rivals Tave, Sprout Studio, and Dubsado. While it's built for creative entrepreneurs, it can handle most businesses with features like bookkeeping and time tracking, making it one of the top Dubsado alternatives. 
Here are a few key features of this platform:
A) Powerful Proposal Management
Honeybook lets you create powerful proposals to onboard a potential client. Unlike other tools, Honeybook lets you include the invoice, agreements, and payments in one unified proposal. This ensures that your clients have a seamless onboarding process. To smoothen the client process, Honeybook offers you tons of proposal templates to get started immediately.
B) Good Invoicing
Honeybook has an in-built payment processing facility instead of using third-party software for payments. It supports automated payment schedules and can send you billing reminders when you have to send invoices.
C) Integrations
Honeybook comes with tons of integrations to ensure that it seamlessly fits in with the tools you currently use. It can integrate with accounting software like QuickBooks and tools like Zapier to give you a smooth onboarding process.
Pros
Automated payment schedules and reminders to easily send invoices.
Good customer support on social media and live chat.
Support for payment via their in-house credit card support instead of using third-party software.
This management software has an-built time tracker.
Good bookkeeping features.
Cons
Mobile app lacks the extensive functionality of their desktop software.
Project phases can be difficult to customize in this management software
This management software cannot edit user access rights.
Pricing: Honeybook has an unlimited $40/month plan or $390/annual plan.
Visit our list of Honeybook Alternatives. 
3. StudioNinja for Client Management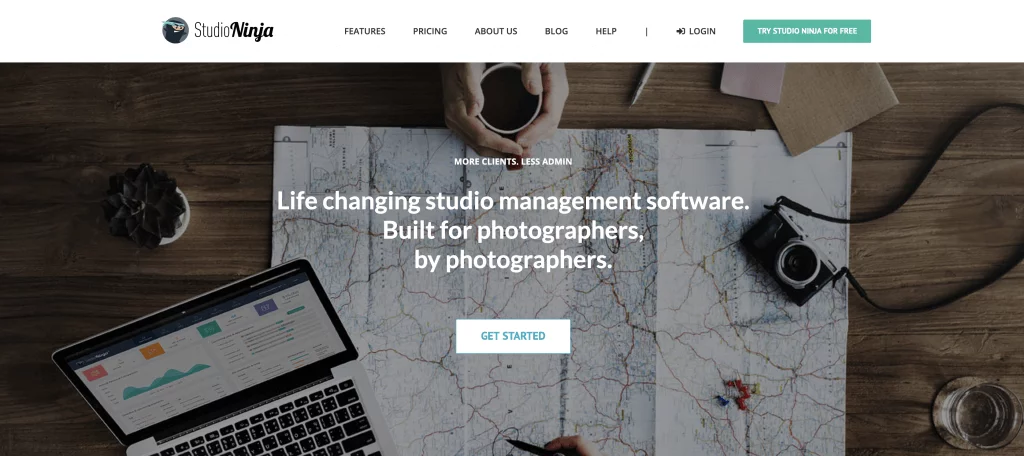 StudioNinja is another popular studio management software known for its user-friendliness, amongst other pros. It helps you streamline your work processes for good client relationship management. Here's how this platform does it:
A) Lead Generation
StudioNinja boasts of some of the best lead capture and lead tracking features in the CRM field. You can establish clear lead capture workflows that automatically trigger follow-up emails for lead generation activities. You can even customize what these lead tracking emails contain to maximize your chances of converting a potential client.
B) Powerful Client Portal
StudioNinja can set up a branded portal where your customers can accept quotes, sign contracts, and pay their invoices. This ensures that your clients have an easily accessible, unified space for all their documents.
C) User-Friendly UI
StudioNinja is one of the most user-friendly client relationship management tools on the market. Unlike other tools that use a Kanban approach (similar to a Trello board), StudioNinja opts for a list view. Getting started with it is super easy and you can get up and running in no time.
Pros
Simple setup and client onboarding.
Can create detailed lead capture forms and quote templates for your prospects.
Email tracking features.
Two-way calendar sync with Google Calendar.
Automated business processes, payment schedules, and reminders to send invoices to clients.
Cons
Limited contact editing.
It's tough to get studio management overviews.
Bookkeeping could be improved with new features.
The software is mainly meant for photographers – not all small businesses.
Pricing: See Studio Ninja's per month and yearly pricing here.
---
Conclusion
While Dubsado is a good tool, it's not perfect. There are many great Dubsado alternatives on the market that are worth checking out. Bloom, Honeybook, and StudioNinja are just some of many great CRM's for freelancers. For a complete breakdown of the most popular CRMs, check out our previous article, and be sure to check each platform's reviews before making your final decision.
Alternative to Dubsado FAQs
1. Who is Dubsado Best For?
Dubsado is generally designed for service-based business owners, such as freelancers, coaches, and small businesses. While it offers some features that might be useful, like agreement templates, it might not be the best fit for those looking for a comprehensive management tool or unique invoice templates. There are alternatives in the market that may better cater to these specific needs, providing more tailored options for different industries.
2. Is Dubsado a Project Management Tool?
Dubsado is primarily a client management tool rather than a project management tool. It does have some process-management capabilities, like workflow automation, but lacks the robustness found in specialized project management tools. For those in need of more intricate work templates and management tools, alternative platforms could be more suitable. Dubsado might be a month paid service that offers some benefits, but for full project management, looking at other options might be wise.
3. Why Do You Need Dubsado?
Dubsado can be beneficial for managing client relationships and offers some features like agreement templates. It can streamline the client onboarding process and make handling administrative tasks more efficient. However, its cons may include limitations in customization and a lack of some advanced features that businesses may require as they grow. To reach ROI or for more extensive needs like coaching and training, some businesses may learn that looking at alternative platforms provides more value.
4. Does Dubsado Have a CRM?
Yes, Dubsado includes a CRM (Client Relationship Management) component within its suite of tools. It allows for client tracking, and some businesses might find it suitable for their needs. However, compared to specialized CRM platforms, it might not offer the same level of depth or features. If the focus of the business is heavily on CRM functionalities, exploring alternative platforms might bring about a more comprehensive solution.