If you're not already using a CRM for consultants, you may be dedicating too much time and effort streamlining your business. Owning a consulting business isn't just about nurturing client relationships and sharing expert knowledge.
"Operations keeps the lights on, strategy provides a light at the end of the tunnel, but project management is the train engine that moves the organization forward." – Joy Gumz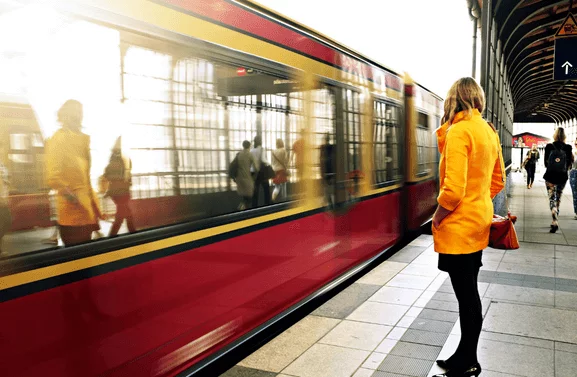 Instead of spending hours on managing your consulting projects, a customer relationship management (CRM) tool does the heavy lifting so you can put your energy towards clients.The right CRM for consultants will have the most versatile "train engine" with scheduling, booking, proposal and contract templates, task management, invoicing, and client communication in one place. In this article, we'll cover the 7 reasons consultants are using Bloom CRM software for client projects.
1. Project Workflows
Most consultants have a handful of clients that are at different stages in the sales pipeline. Without a clear workflow, you can get disorganized and neglect critical client communication. This is where Bloom's project management comes in. The layout is category-based, so you can organize your projects under different workflows, completely customizable to your unique tasks. Bloom has a clean whiteboard-based layout with all of your projects listed on the left and your tasks on the top.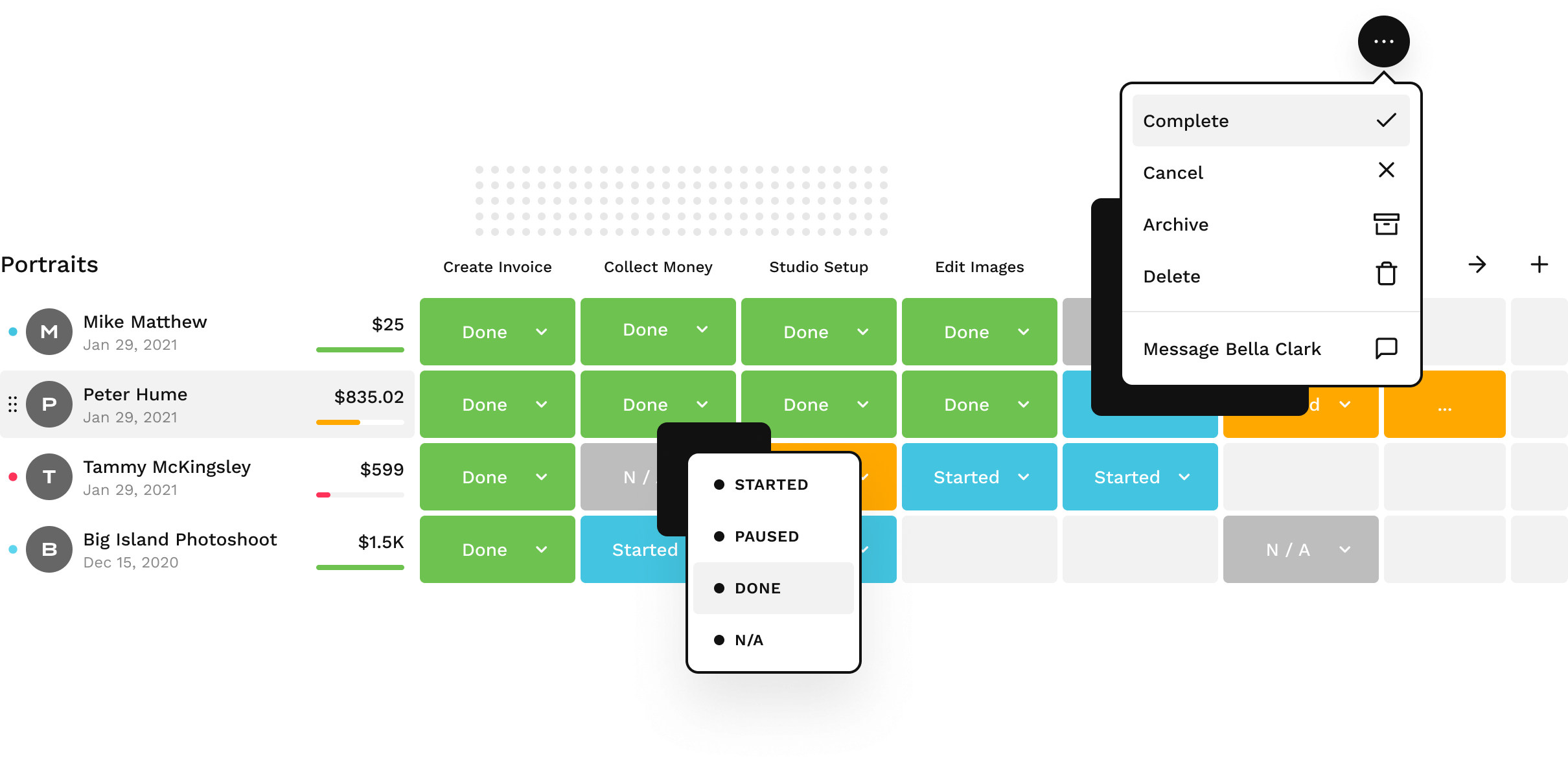 The beauty is that you can create as many workflows as you need and keep track of customer insights and sales teams if needed. To rearrange your projects or tasks, simply drag and drop them between different workflows. With this tool, you can quickly see what stage of the project each client is in.
2. Simple Invoicing
Why take clients through a sales process and leave them with limited payment options? A complicated, outdated payment system can risk losing potential clients.
While there are many invoicing software for freelancers, not all are created equal. Remember, a branded invoice with modern payment options will present your business in the best light and provides a smooth payment experience for clients. The appealing layout and clean design makes it easy for consultants to navigate the payment process from adding a contract to collecting payments in minutes.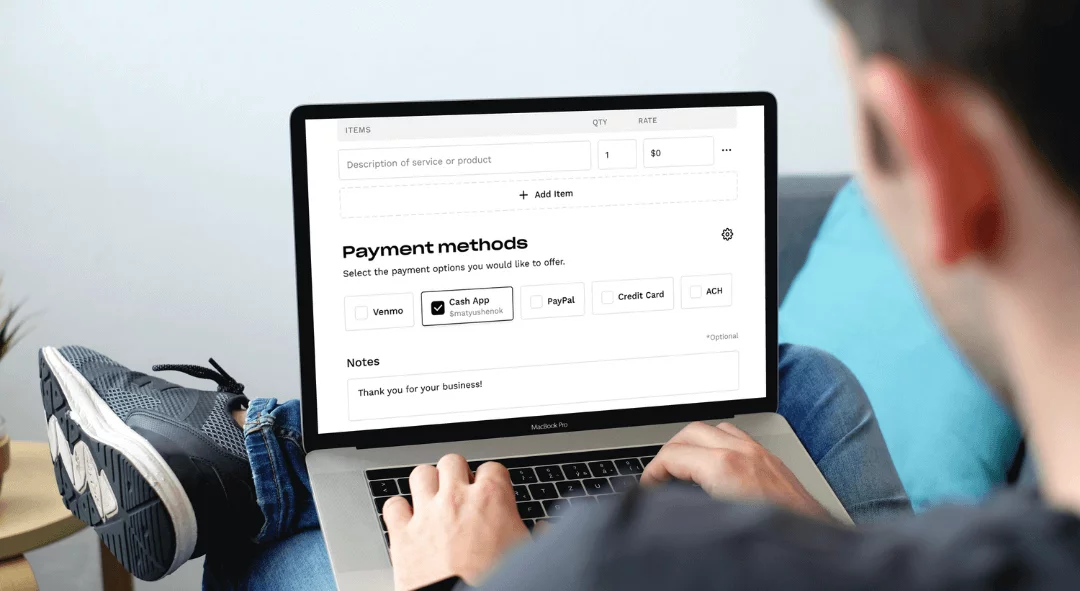 Here's an overview of what you can expect when using Bloom invoicing:
Unlimited invoices
Create multiple invoices within project
Preview invoices before sending
Square, Stripe, credit card and ACH payment integration
Automatic payment reminders
Add taxable percentage
Add contract with e-signature to invoice
Downloadable reports
Customize brand experience with color scheme
Available in over 25 countries and supports 135+ different currencies
No added payment processing fees
As a bonus, you can use the free invoice maker, no account required.
3. Easy Lead Management
Lead acquisition and management is a core part of any consultant's business process, but most CRM software aren't built for capturing leads and following up with them. In order to reach sales goals, you need a good lead management system to create a sales pipeline.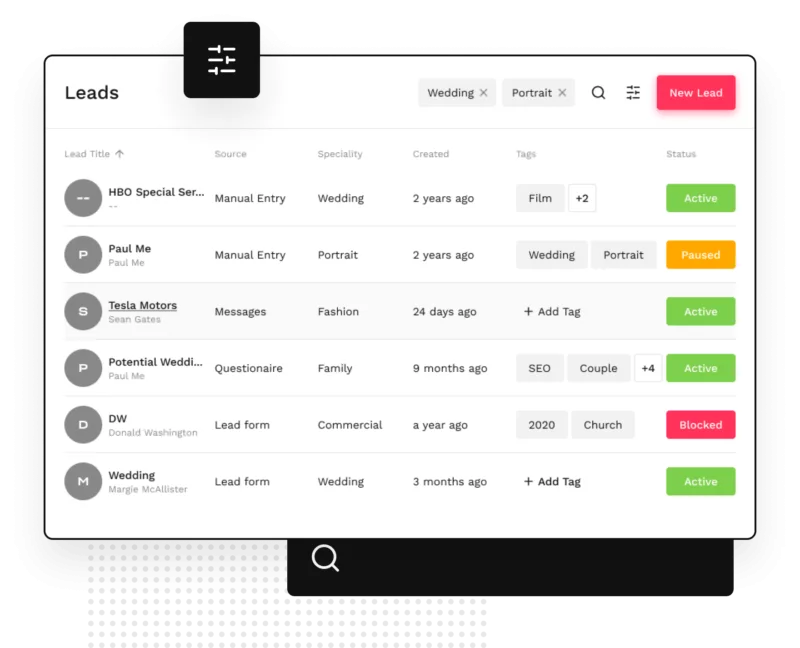 Thankfully, Bloom offers independent consultants an easy way to reach their business goals with a unique project management feature built into each lead. This allows you to create tasks for yourself in regards to each lead, instantly add it to your calendar, and reference what has been done with each opportunity. You'll be able to see which leads are more likely to become clients of your consulting business and easily see the stages of customer acquisition. 
4.Client communication
We get it – responding to multiple conversations in a timely manner is not only challenging, it's time-consuming. Writing a response to the same questions and concerns, updating clients on their project status, or reminding them to pay their invoice can be streamlined with automated responses.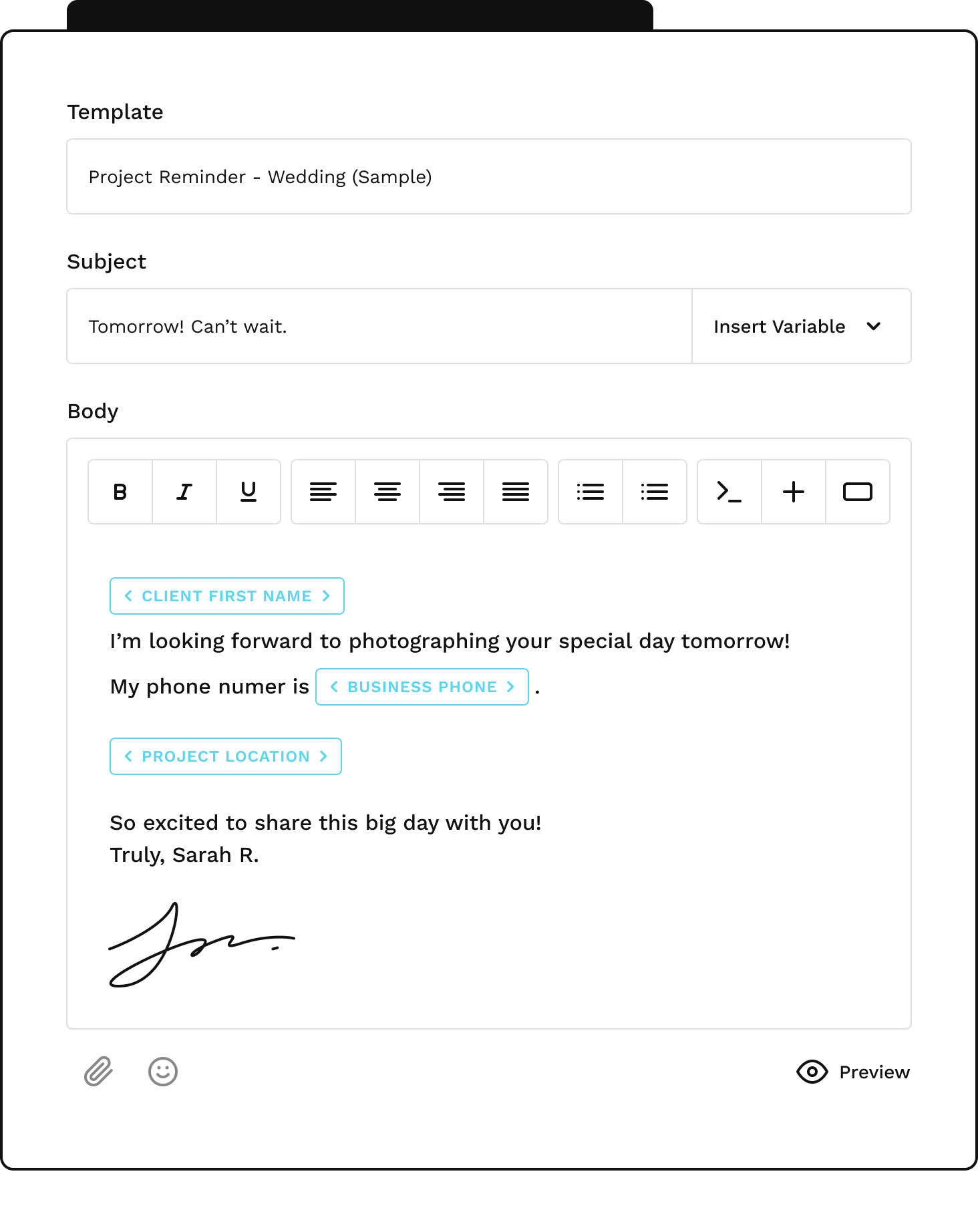 Bloom's unique communication feature is based on a chat-based model. It is also the only business solution that features two-way message inclusion without any necessary integrations. It gives you a centralized conversation tracking hub for each client that includes automated messages, emails, and online live chat. The right app will keep track of client communication for you and send automated responses if the client reaches out asking for more details. Need help with email templates? Read "How To Write An Invoice Email" to learn more.
5. Contract Signing
Before drafting a paper contract or paying for a separate contract signing app, consider using the digital contracts. Every CRM should support digital signatures because it makes your consulting business more efficient, and fosters a great customer service experience for your clients.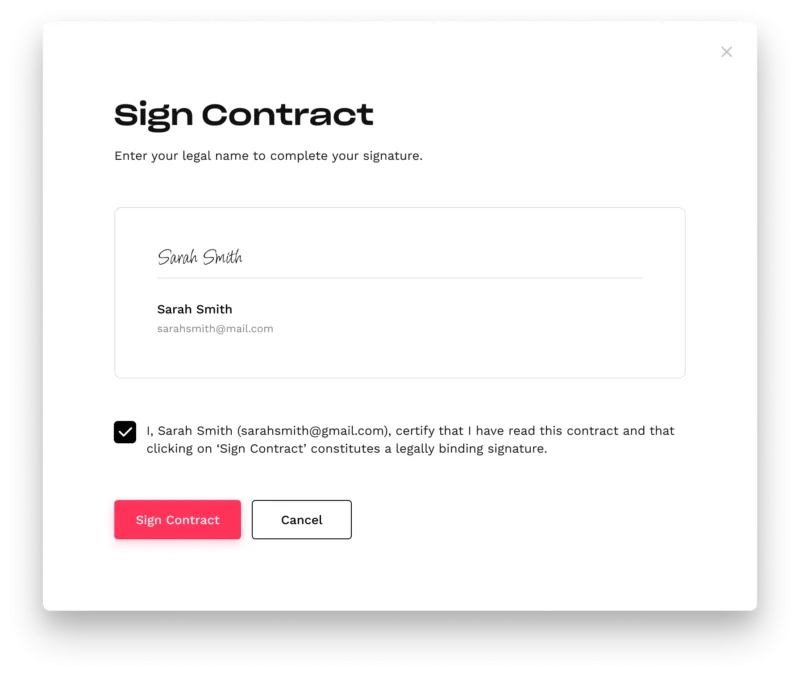 Bloom is the only CRM for consultants that features auto-countersignatures. This feature allows you to create a signature and choose where you want to have it applied. This way you're not wasting time signing back and forth before each side has a legally binding document.
6. Scheduling Dates/Times
Scheduling can be a pain in the you know what. Sure, you can use a scheduling app like Calendly or Acuity, but they lack the full CRM capabilities for consulting firms. Instead of using a disjointed calendar and paying for an extra monthly subscription, you can use an instant scheduling tool.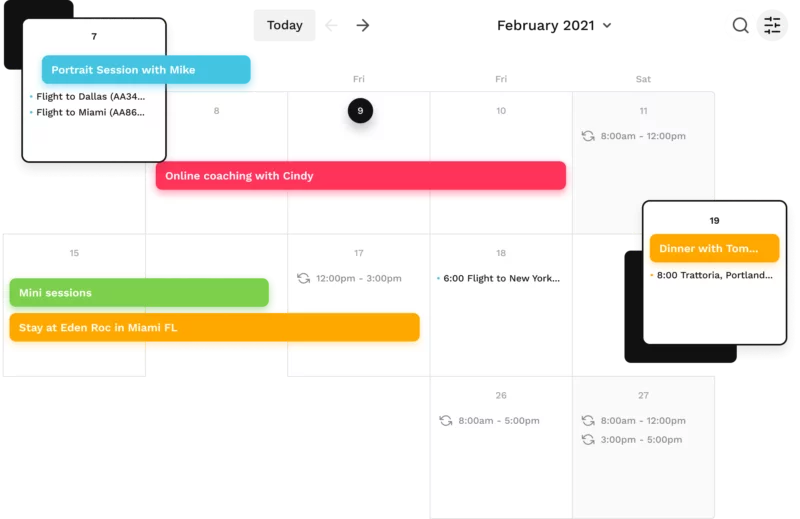 This feature connects you to clients and key prospects immediately so that you can avoid back-and-forth emails to determine availability. You can easily integrate your existing calendar, set availability, and schedule virtual meetings using robust scheduling features. Bloom integrates with Google calendar and other popular third party applications. 
7. Marketing Automation
The time and strategy that's spent on marketing your consulting business can be devoted to developing better client relationships or scaling your business. Automating marketing processes like email follow-ups will not only reduce your workload, it will ensure you don't forget responding to potential or current clients.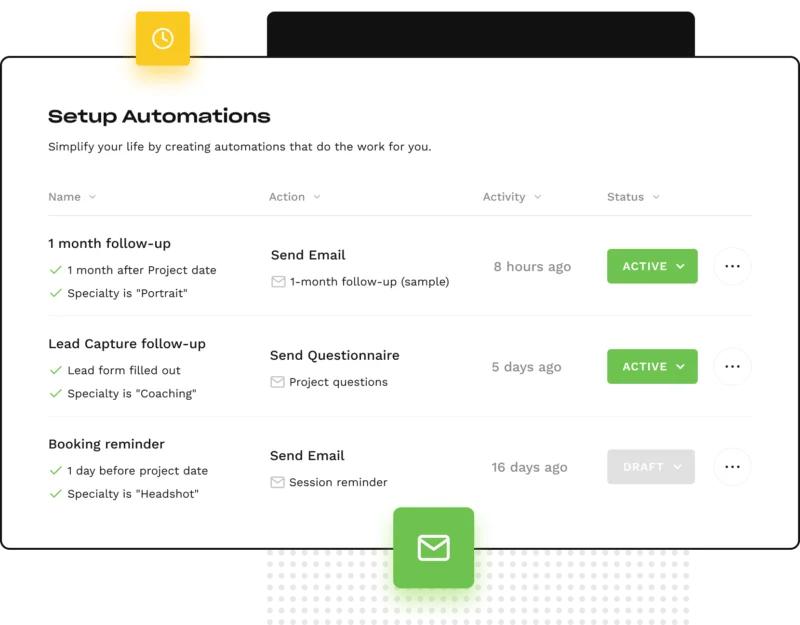 Marketing automation isn't just useful for client acquisition. You can also use it to streamline your operations. You can set up automations and know exactly how they will be activated. You can also see them in your conversation threads when the emails are sent out. To automate a task, select your email templates, select when you'd like for it to be sent out, and what conditions should apply.
How to choose the best CRM for your consulting business
1. Identify your business needs and goals
Choosing the right CRM for your consulting services depends on what you're looking for in term of business goals. Here are some questions to ask yourself when deciding what's best for you:
What does your current sales pipeline management look like?
Do I need better customer service processes?
Do I care to have a custom CRM with custom functionality and document management?
Once you have determined your business needs, start trying different software. Try Bloom's free starter plan to explore advanced lead capture capabilities, business growth tools, built-in email and scheduling, booking, and more.  
2. Consider the client experience
Keep your clients in mind when choosing a CRM for your consulting services so that you can provide the best customer experience possible. Everything from scheduling, booking, and invoicing features matter as they reflect your brand and professionalism as a business owner.
A final word on the best CRM for consultants
All in all, the best CRM for your consulting services is going to depend on what features you are prioritizing based on your goals. We compiled a comparison chart of the top project management tools for consultants to help you decide. While all these CRM tools are great options, Bloom stands out on many levels. It offers you powerful tools to take your small business to the next level. So, one last question: which of these customer relationship management tools is best suited to you? Take a look at this comparison chart to see the top CRMs for consultants, features, and pricing.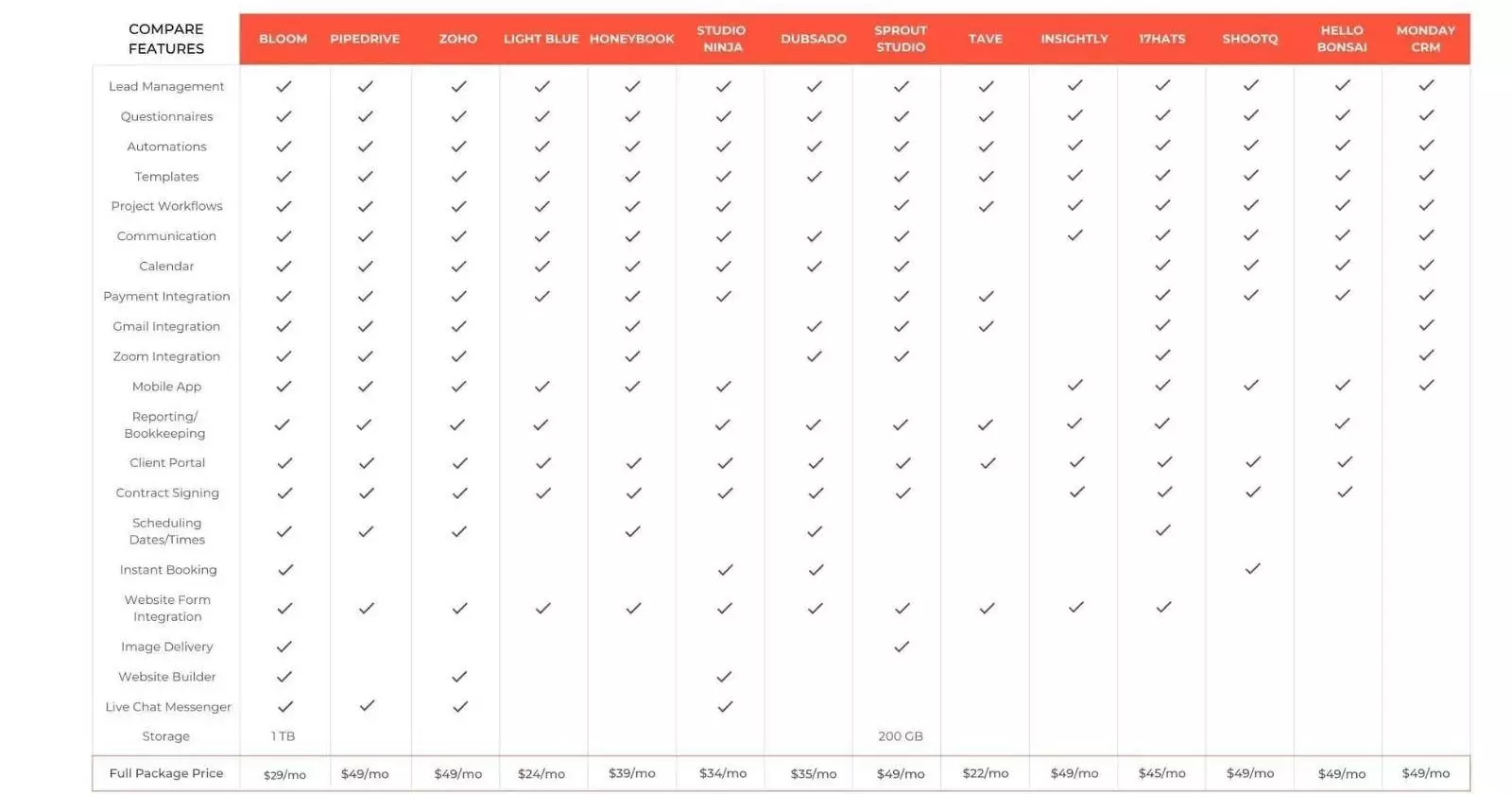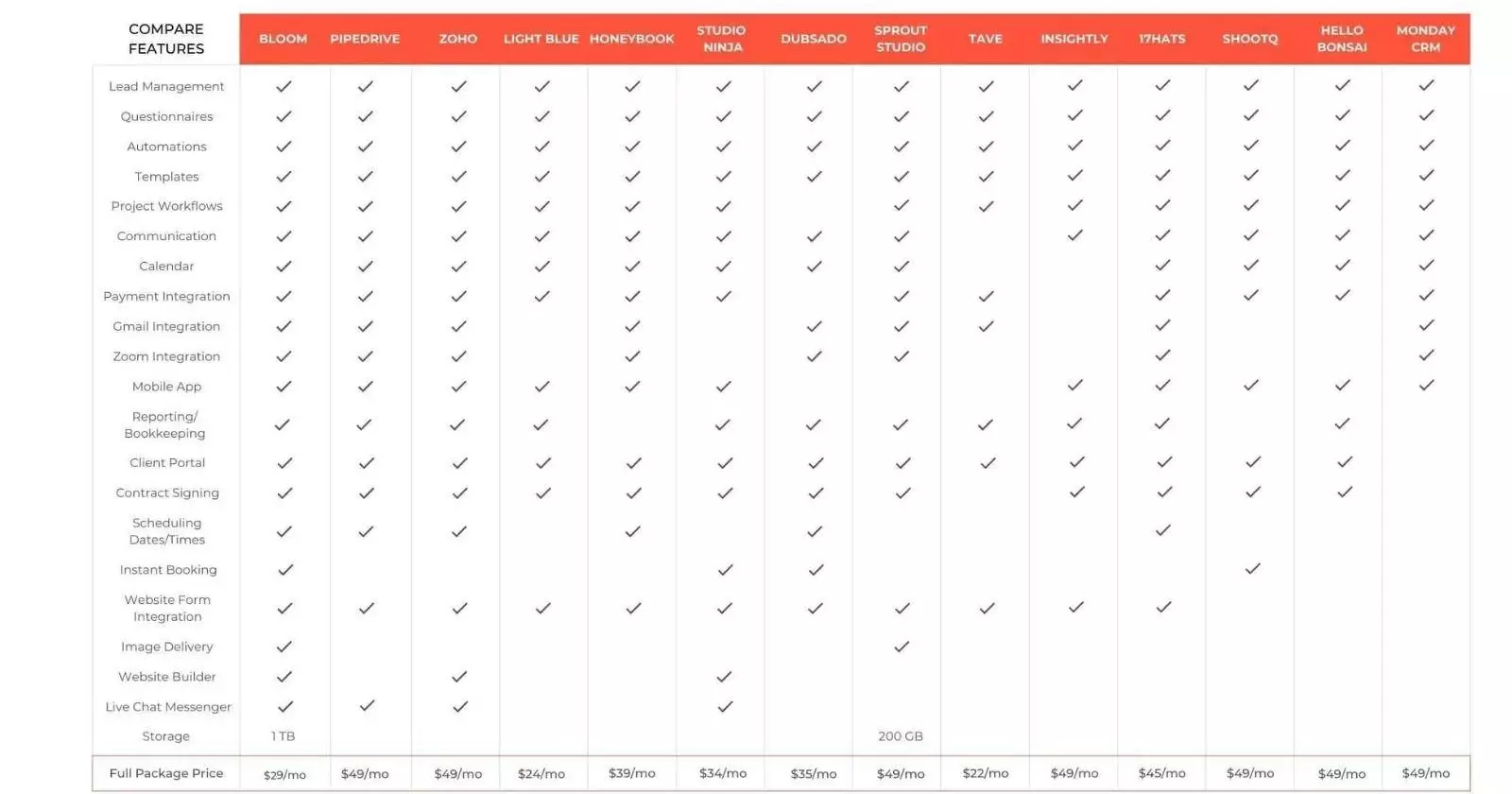 Grow your consulting business with one tool. Try Bloom today – it's free.