The digital world has given us access to an overwhelming number of tools that are tailored for specific tasks, and one of those advanced tools is Wave. Wave is an easy-to use, free accounting option for small businesses looking for an advanced payroll solution. It works well for businesses with 1-50 employees, but isn't designed for freelancers or solo business owners managing multiple projects and clients. Since it lacks a full suite of tools for freelancers, we'll review Wave and help you decide on the best wave alternatives to manage your freelance business.
Is Wave right for my business?
We know that Wave Is an online accounting software that focuses on payments, accounting, banking, and payroll. It has a clean user interface with easy accessible accounting reports. Project management tools like scheduling, booking, digital contracts, asset delivery, and client communication are not included in this business accounting software.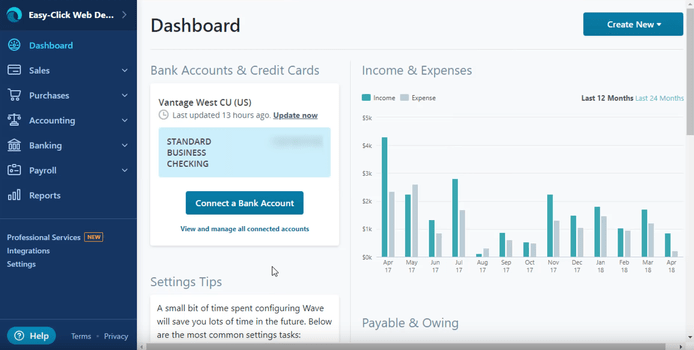 Let's take a look at Wave's Notable features:
Unlimited invoicing.
Reporting features.
Tax payments and filings.
Unlimited income and expense tracking.
Customizable invoice templates.
Sync invoices and accounting automatically.
Unlimited users with varying permissions.
Double-entry accounting.
Automatic payment reminders.
Accept online credit card payments using Wave Payments (fees apply).
As with most online payment processing platforms, you will need to consider the transaction fees.
2.9% plus 60 cents per transaction for Visa, MasterCard and Discover payments.
3.4% plus 60 cents per transaction for American Express payments.
1% per transaction ($1 minimum fee) for bank payments.
Compared to the other alternatives, Wave's credit card fees are higher than others. A few other factors to consider before committing to Wave are:
No project management.
Limited time tracking.
Limited integrations.
Slow customer support.
Pricing: Free. Upgrade to Wave Payroll starting at $20/month (plus $6 per employee) for the self service plan.
Overall, Wave has very strong accounting features. If you're just starting your business journey as a solopreneur or freelancer, you may want to consider an all-in-one management software that already includes invoicing and money management. It's very useful for those who are not into paying the fintech app development cost or anything else. Let's look at the 5 alternatives to Wave including Bloom, Freshbooks, Hello Bonsai, Invoicera, and Quickbooks Online. 
Wave Alternatives for Freelancers
1. Bloom
The first alternative to Wave is Bloom – the free invoicing software that also doubles as an all inclusive toolkit for freelancers and small business owners. Wave is built for accountants and larger businesses, but Bloom is designed with project management tools for freelancers. When it comes to payments and managing the financial side of your biz, this CRM doesn't clutter your dashboard with unnecessary tools you don't need. Integrations are made easy with Bloom if you already use Quickbooks, Freshbooks, or other finance tools.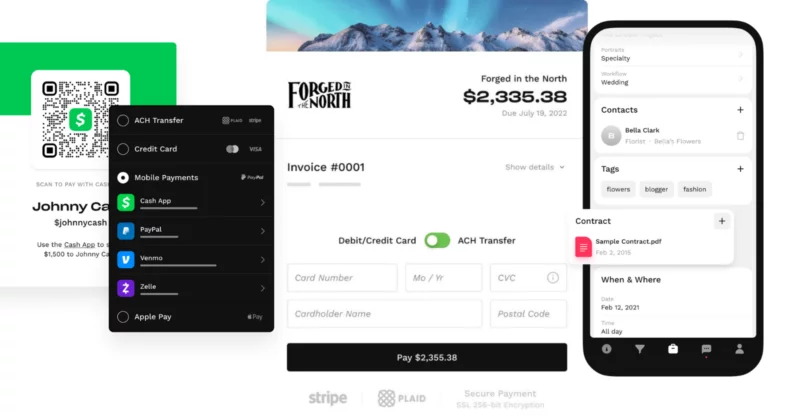 While other online software requires monthly fees, high processing fees, and limited payment options, Bloom does not require an account to use the unlimited invoice generator. If you want to explore Bloom's full management software including digital contracts, scheduling, instant booking, and so much more – try Bloom today.
Here are some key features of Bloom:
Free Invoicing
All invoicing tools are completely free.
Unlimited Invoicing.
Integrated with all major platforms: Cash App, Venmo, PayPal, and Zelle.
Use ACH or bank transfers to bypass credit card fees.
Square and Stripe Integrations (free account required).
Customize to reflect the creator's brand.
Android and iOS apps enable on-the-go invoicing.
Available in over 25 countries and supports 135+ different currencies.
Try Bloom's invoice generator to create unlimited invoices for free, no strings attached.
Suite of Business Management Tools
Contracts with auto-countersign.
Lead capture & contact management.
Email automation & management.
Ability to schedule sessions and meetings.
Collect online payments & payment processing for free.
Pricing: All invoicing features are free. Try the full CRM suite of business tools which are available if you wish to upgrade starting at $39/mo.
2. Freshbooks
Freshbooks is very similar to Wave accounting because of its advanced accounting tools and financial capabilities. Both accounting software solutions offer user-friendly interfaces, unlimited invoices, expense entries, and time tracking. For freelancers, Freshbooks may be a better option than Wave because of its project management features. When it comes to scheduling, booking, and adding contracts, Freshbooks doesn't quite get the job done.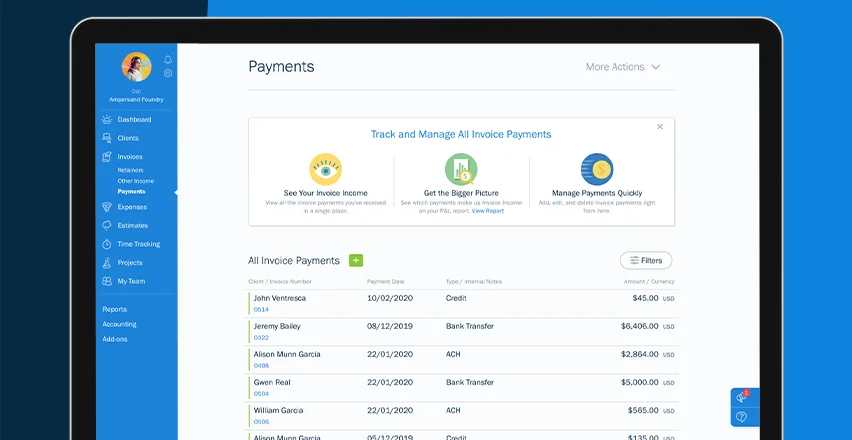 Taking payments is easy with Freshbooks as they are integrated with WePay, Paypal, Stripe, and offer credit card payments. Check out the payment processing fees associated with some of these platforms. Freshbooks is a more expensive accounting alternative.
Features of FreshBooks Invoicing (Lite Plan):
Send unlimited invoices to up to 5 clients.
Track unlimited expenses.
Send unlimited estimates.
Get paid with credit cards and bank transfers.
Track sales tax & see reports.
Access anywhere on iOS and Android.
Integrates with over 100 apps.
Recurring invoice & auto payment.
Robust reporting.
Pricing: $15/month for 5 billable clients, $25/month for 50 billable clients, $50/month for unlimited billable clients. You can try it free for 30 days, no credit card required.
3. Hello Bonsai
This well-known CRM for freelancers has proposals, client management, and you guessed it – accounting features. Even though Hello Bonsai doesn't offer scheduling or instant booking features, it's still a good alternative to Wave. While Hello Bonsai is a great project management tool that brings together multiple tools, there are other strong task management tools on the market. If you want to explore further alternatives to Hello Bonsai, read the Top 6 Hello Bonsai Alternatives in 2022.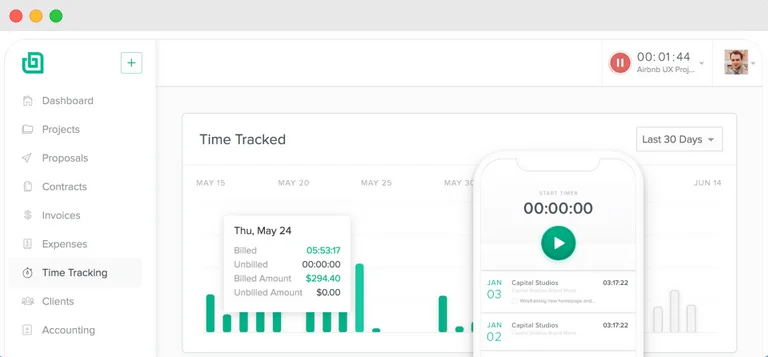 Clean and easy-to-use interface design.
Automated proposals, contracts, & time tracking tool.
Customizable invoices with templates.
Automatic reminders for payment due.
Integrated with Paypal, Stripe, ACH
Partial payments.
Credit card required for a free trial.
Pricing: $24/month for the Starter Plan and $39/month for Professional Plan.
4. Invoicera
Invoicera is a great alternative to Wave because it has client and project management, invoice management, automated recurring expenses, time tracking, and many payment gateways. On the downside, the layout and design of this software is outdated and is more cluttered than the other alternatives we mention. The project management portal especially looks dated and offers very limited features and customization.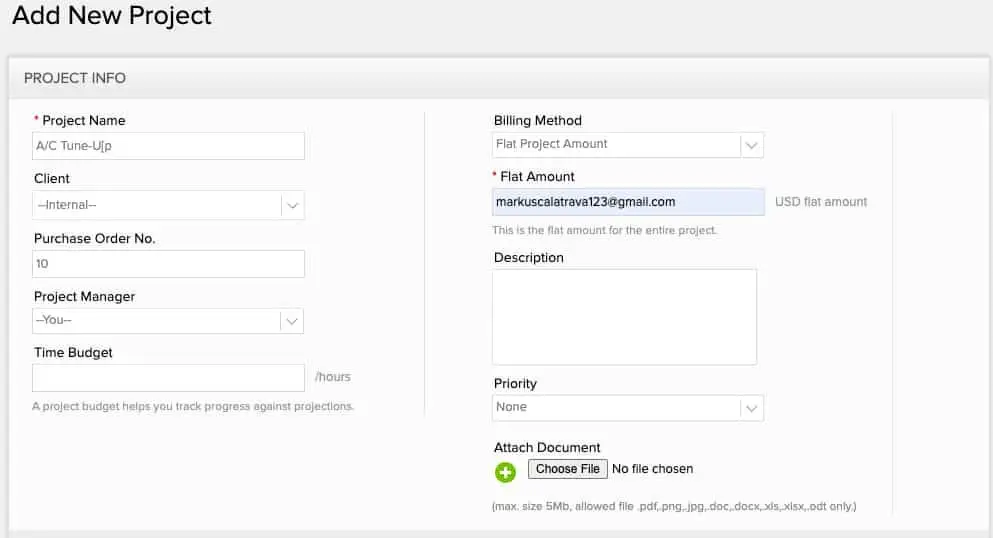 Let's take a look at Invoicera's basic accounting features:
Expense management.
Online invoicing and payments.
Time tracking.
Financial forecasting.
Reporting.
Late payment reminders.
Pricing: Invoicera offers a forever-free plan (up to three clients) and packages that start at $15 per month when billed monthly. You can sign up for a 15-day free trial with no credit card required.
5. QuickBooks Online
Intuit's QuickBooks is a well-known and highly utilized accounting software for small businesses. Users can tailor and automate invoices, add billable hours, and send recurring invoices to many clients. The solution also has bookkeeping and record-keeping services, making it ideal for larger enterprises or business owners searching for detailed reports.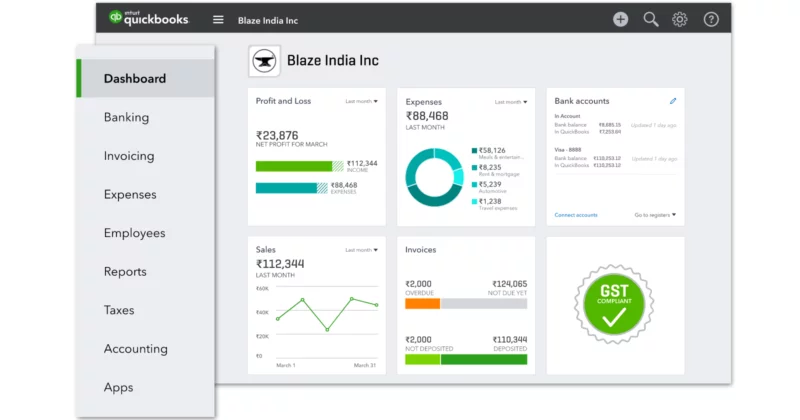 For freelancers, QuickBooks may be too robust and expensive for making fast, simple invoices. The user interface takes time to learn as it has so many in-depth financial tools. The Simple Start plan ($25/month) is the basic bookkeeping plan with custom invoicing with logo, invoice tracking, and payment reminders.
This software may be costly, but it has a lot of functionality. Even when you factor in the price tag, it can be an excellent investment if reporting is your primary objective. If you're looking for a simple and affordable solution, your best bet will be one of the other options we reviewed.
Features of QuickBooks Invoicing:
Invoice customization.
Accepts all credit cards and bank transfers.
Custom Reporting.
Mileage Tracking.
Organize income and expenses.
Pricing: $25/month for Simple Start Plan, $50/month for Essentials Plan, $80/month for Plus Plan. You can try QuickBooks Online free for 30 days.
The final verdict
After reviewing these accounting solutions and alternatives to Wave, you may be wondering how to choose the best one for your business. This comparison chart can help you decide.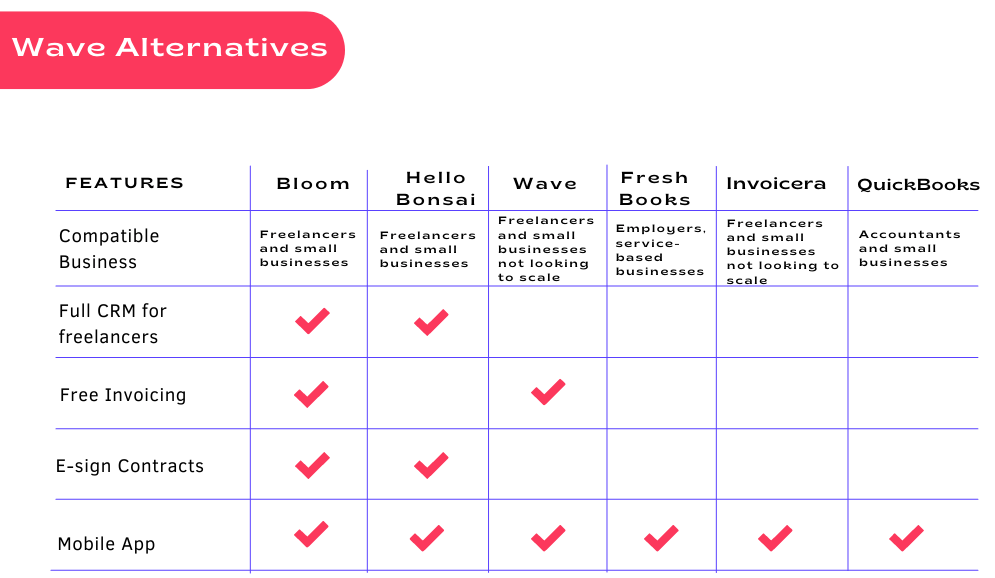 In conclusion, you can use invoicing software or an accounting system, but there are many other key elements that make up the full picture of running a successful small business. Instead of using disjointed tools, sign up for a free account at Bloom where you can get the job done in one place.