In the business world, having a structured system to receive payments for your services is crucial to maintaining your client base. You want to provide a hassle-free experience for your customers and that includes offering them the option to use the payment method of their choice. And, being able to accept various freelance payment methods means you can expand your business internationally, work with people from different countries, and charge in other currencies. Plus, if you can provide free payment methods, that only makes your business more attractive to the client and your bottom line.
Here's what this article covers:
(Click on the links below to jump to a specific section)
The Goal of a Freelancer
When you own a freelancing business, your primary goal is to find clients. Your second is receiving payment for the goods and services you sell to your clients. You want your payment method to be as streamlined as possible.
It would also benefit your freelance business if you could provide everyone with a free payment method. The good news is that whether you are a writer, photographer, developer, or other entrepreneur, there are several online payment options you can offer clients that do not have a monthly service charge or a processing fee to sign up.
1. Bloom
Bloom is a popular online payment solution, offering more than the usual features that other accounting software and payment apps like PayPal and Stripe do. You'll get your own free invoice generator here too, but with more unique customizable branding options and available payment solutions. Once that invoice is sent to your client, they'll be directed to their own personal portal where they can make a debit or credit card payment or ACH bank transfer. You can even set up automatic payments.


The best part is, this software for freelancers ditches any extra fees for ACH transfers and payment processing costs. Bloom also offers Stripe, Square, Venmo, PayPal, Cash App, and Zelle integration, so your clients can make electronic payments using their preferred method. This is a great all-in-one solution for all your online invoicing, reporting, and payment needs, whether you're accepting one-off or monthly payments, cross-border transactions, or domestic transfers.
And with automatic reminder emails, you'll never have to track down a late payment again.
2. PayPal
PayPal is one of the world's most recognized payment options. It is accepted worldwide. There aren't many people out there who don't have a PayPal account or haven't heard of PayPal. Like the traditional account, a PayPal for business account is usually linked to a personal or business bank account through an email address, phone number, or PayPal debit/credit card.


Payment methods act the same as with a personal account. You send an invoice to your client and they make a payment. This is great because, with multiple clients, you can easily keep track of who has paid and who may be delinquent, heaven forbid. While it is free of a monthly service charge, there are extra fees for debit and credit card transactions. For example, in the US, you're looking at a 2.9% debit card fee + a .30¢ flat fee. So, as someone looking for freelance payment methods that are more affordable, these extra fees might make you want to look for alternative payment methods.
3. Stripe
Stripe is a fast up-and-comer for freelancers, primarily due to its ease of service and ability to engage in international transactions. From eCommerce to subscription business to the gig economy, Stripe is a well-rounded platform.

Like PayPal, you can create and send invoices from the Stripe dashboard. Along with other accounting tools, the invoicing feature allows you to keep your financial reports all in one place and receive payments via credit or debit card, ACH, wire transfer, bank transfer, and many other payment types.
When it comes to freelance payment methods, Stripe's online payment fee is a bit on the higher end and is assessed per swipe; 2.9% + 30¢. However, credit card transactions and ACH charges are very reasonable.
4. Skrill
Freelancers have a lot of options these days when accepting digital payments. Skrill offers three forms of payment for clients to select from when jobs are completed. ACH bank deposit, Visa or Mastercard, and PaySafeCard are free methods of payment provided for you and your clients. However, one drawback is that Skrill has a steeper processing fee for withdrawing funds, $5.50. It is much higher than any other option.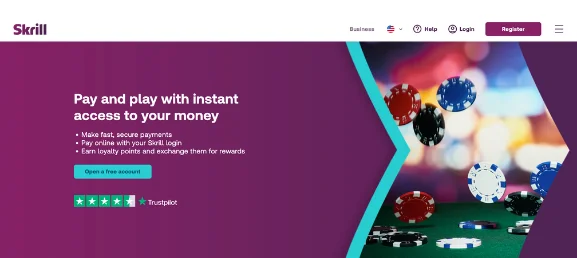 Skrill offers users a Visa card, which you will need to apply for; a $10 fee applies to some. There is a downside to a standard account, however. It can take 2 to 5 days for your transfer to occur. Patience is a virtue here.
Skrill does offer its members the benefit of a Loyalty Program called Knect. It works by earning points for every $1 spent or earned on your Skrill card. The points earned build up, and you become eligible for a variety of rewards and gifts.
5. Square
Square is a new kid on the block and is more of a dedicated invoicing software, like Bloom. Their free service is easy to set up. First, you download the app to your phone. Next, set up your square account with your bank account information. The app says it can take up to a few hours to approve your bank, but if it is a well-known financial institution and your account is established, it should be instantaneous. Once accepted, when your customer makes a purchase, you can easily take their payment information, and you are good to go.


Within Square, you can send invoices or accept payments live. This is great for freelancers or artists when you have a showing and need to take live payments. Square offers you a free POS device for you to be able to receive payments. You plug into your mobile device, input the details and purchase amount, and swipe a customer's credit card, and that's it. Other more elaborate POS devices are purchasable. Square has a 2.6% + 10¢ fee per swipe. It generally deposits the next business day into your attached bank account, but there is an instant deposit option for an added fee.
6. Venmo
Venmo is a great online payment platform for any freelancing business with the second lowest fee per swipe at 1.9% + 10¢. It is simple to create your business profile, begin your next freelance assignment, and bill your client for completed work or purchase. Venmo's free payment method allows you to develop your unique business QR code to streamline the billing and payment process.
If you have a Venmo account, you can easily create a business account under your existing profile. Having a separate account enables you to plan and sell better. Here you can add all the information about your freelance business, including images of products, stories of your business, and specifics like forms of payment and hourly rates.
7. Wise
Like most free money transfer services, you're okay with fees until you withdraw your money. Wise doesn't charge fees until you begin to spend the money you've earned. You won't get charged for your first two withdrawals if they are less than $100. But when you take out more than that amount, you are charged 2% + $1.50 per transaction. However, if any of those withdrawals are wire transfers, the fee will increase to $4.14. With Wise, payment can be as fast as instantaneous but generally takes up to an hour.


One of the biggest benefits is Wise has a lot of options for foreign currency. This is an excellent solution for freelancers if they work with international clients, payments, and transactions, depending on country availability. There are fees for converting money that varies by currency but having that option can open the door to a variety of clients. Be wary of exchange rates where they apply.
8. Google Pay
It seems that everything is coming up Google. From TVs to watches, they have their hand in it all. Why should a business payment system be any different? Even in the freelancing world, Google has its reach, providing fast and secure online payment software to get paid for goods and services rendered. They have come up with ingenious forms of payment for those in the gig economy – from the standard emailed invoice to a contactless payment system.
Payment times can be instant or take just a few hours. When you select the bank deposit option, it can take up to three to five days. Fees for Google Pay are 1.5% or 31¢ for amounts less than $20.70. Google Pay is another option that is accepted worldwide, making international transfers the new norm. Country availability will be dependent on how your freelancing business is structured.
Another notable feature that connects it all is Google Wallet, a nice perk to using this freelancer payment method. You have the ability to employ services such as a loyalty program for your customers as well as keep track of your sales.
9. Apple Pay
Again, Apple has expanded its reach into all avenues of our daily lives. Chances are, if you are not a Google user, your home is filled with Apple devices. And for the freelancer, this can be a benefit when looking for comprehensive payment methods. Using the right freelancing payment method is as easy as sending Apple Cash from your Apple Watch to an apple-scented candle-selling client.


With Apple Pay, you can receive payments instantly or in up to three days with bank transfers. Instant payment fees are 1.5%, with a minimum of .25¢ up to $25 per transfer. Like Wise and Google, Apple can work on a worldwide platform. Country availability will depend on how you choose to accept payment for freelancing. But you'll likely be able to accept international payments with ease.
10. Zelle
If you have a bank account and live in the U.S., chances are you have the ability to use Zelle. While not explicitly designed as a freelance payment method, it is a free option that is available and can link to your bank account.
There are no transaction fees and transfers, or bank deposits, generally occur within minutes. All you need to do is sign up for Zelle within your banking app on your phone. Then you are ready to accept payments from clients with Zelle. All your client needs is your phone number or email address.
Benefit Your Business with the Best Freelance Payment Methods
While these 10 free payment methods are just a few of the many, they are among the most popular used for freelancers and their clients to connect, make payments for services rendered, and ensure future projects run smoothly. Each has its benefit, and each freelancer depending on their industry will find one better suiting than the other. It is often beneficial to offer multiple options for your clients, but too many options can make it difficult to manage, especially on larger projects, if there is paperwork involved, or if you are new to the game.
Whether you are a freelance photographer shooting a wedding, a designer working on a new website, or a writer typing a blog for a freelancer like you, payment for services rendered can be a big deal when you choose to spend the money that you have worked hard for. When looking for the best free payment option for you and your client, always look at what it will cost you to make instant withdrawals from your account. Many of the choices we have reviewed do not have fees for one to three days. The fees, while not high, tend to kick in if you need to access your money immediately. Sometimes the best does come to those who wait.
Try the #1 freelance payment method – Bloom. The free plan includes unlimited invoicing and projects. Upgrade to the full suite of tools for $39/month.