The purpose of a professional invoice is to receive payments securely and quickly while having an easily accessible, legally binding document proving the transaction was made. Let's be honest – creating invoices, sending them out, and following up on late payments can be a hassle if you don't have the ideal online invoicing software. There is no need for your small business to use out-of-date accounting software or complicated billing software. We reviewed the top invoicing software solutions for freelancers and highlighted our top 10 recommendations so you can pick the one that best fits your needs.
Here's what this article covers:
(Click on the links below to jump to a specific section)
1. Bloom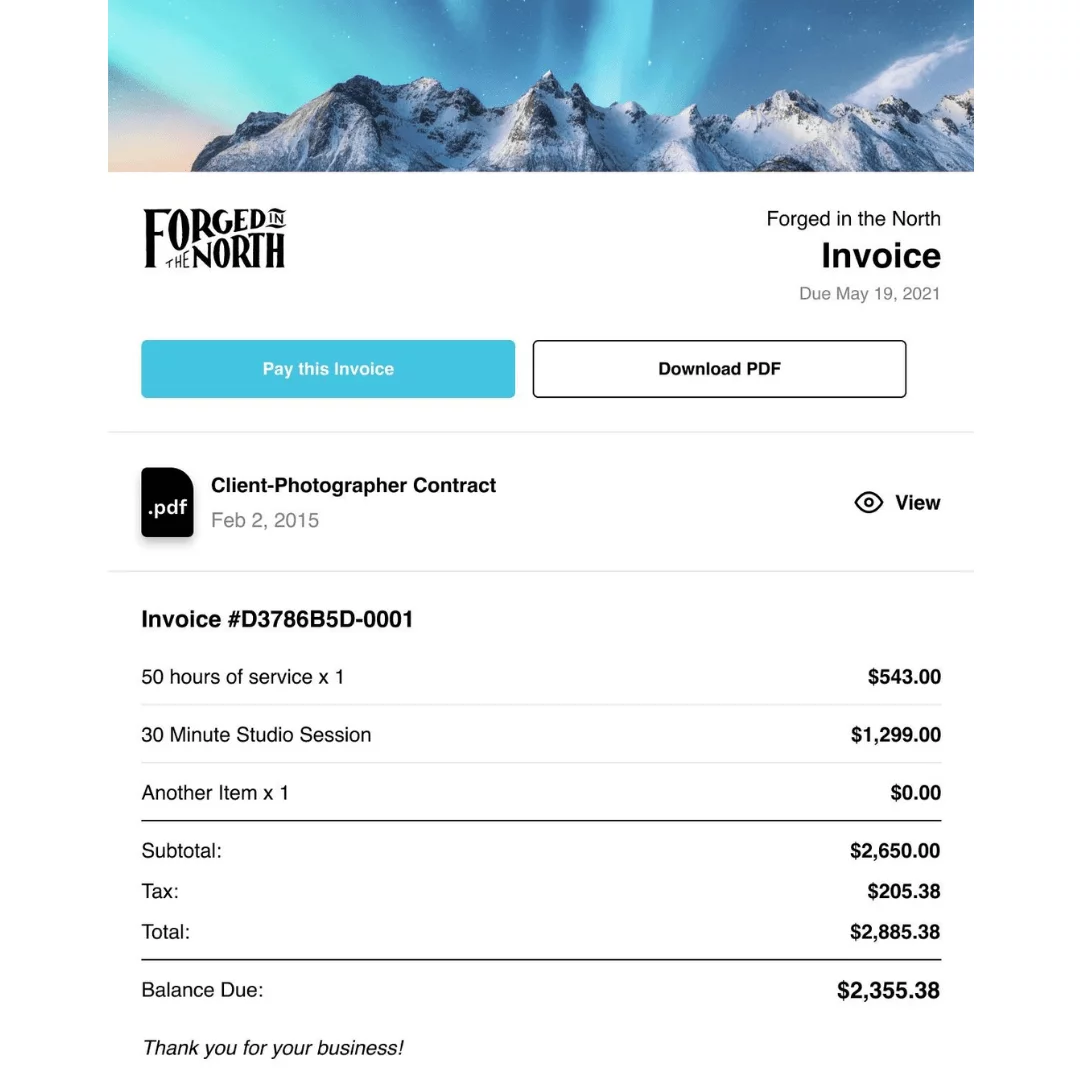 Bloom is an invoicing software designed for creative freelancers. While other online software requires monthly fees, high processing fees, and limited payment options, Bloom does not require an account to use the unlimited invoice generator. Yes, you read that right – completely free, unlimited beautiful invoices in seconds. It's worth mentioning that it is integrated with major online payment platforms. You can add your business logo and a cover image for a branded client experience. While other software is built for accountants and larger enterprises, Bloom is made with freelancers in mind. This is the reason tipping or gratuity options are available. In addition, you can add a contract, discounts, and taxes to each item on the invoice.
Here are some key features of Bloom:
All invoicing tools are completely free.
Unlimited Invoicing.
Integrated with all major platforms: Cash App, Venmo, PayPal, and Zelle.
Square and Stripe Integrations.
Collect a retainer and/or enable tipping.
Customize to reflect the creator's brand.
Offer clients instant 0% interest financing on the payments.
Use ACH or bank transfers to bypass credit card fees.
Android and iOS apps enable on-the-go invoicing.
Available in over 25 countries and supports 135+ different currencies.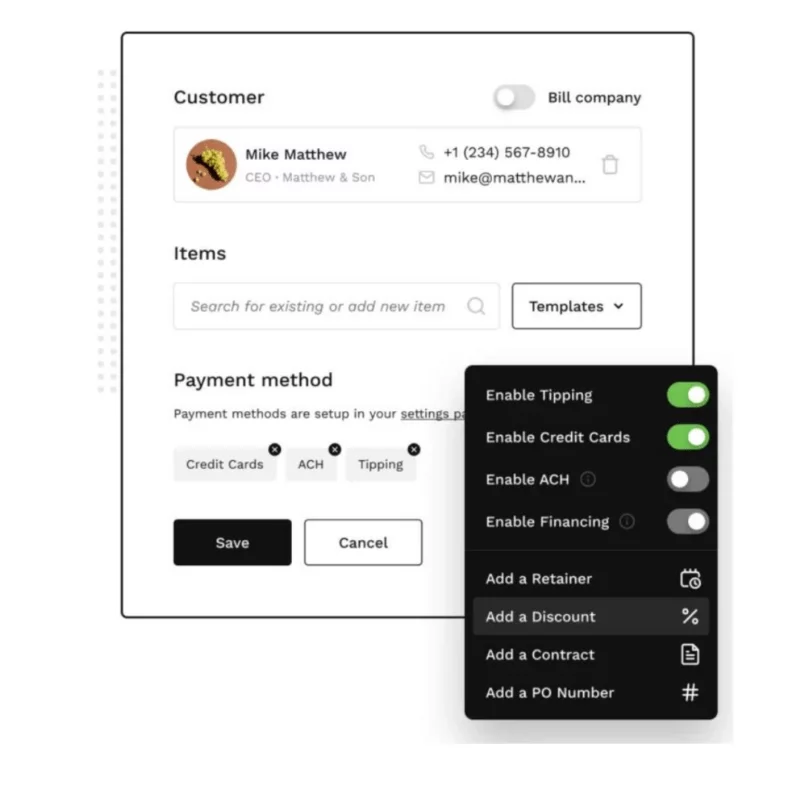 Pricing: Free. No account required to use free invoice generator. Upgrade to the full CRM suite of business tools which are available if you wish to upgrade starting at $29/mo. Try Bloom today.
2. Wave
If you are looking for free invoicing plus more advanced accounting tools like payroll, Wave is a good option. Your invoices, payments, and banking are automatically tracked together in this app. Although it does not have a full suite of tools for freelancers, it is a user-friendly, free billing software solution. As with most online payment processing platforms, you will need to consider the transaction fees. You will have to create an account and answer a series of 7 questions before you can create your first invoice.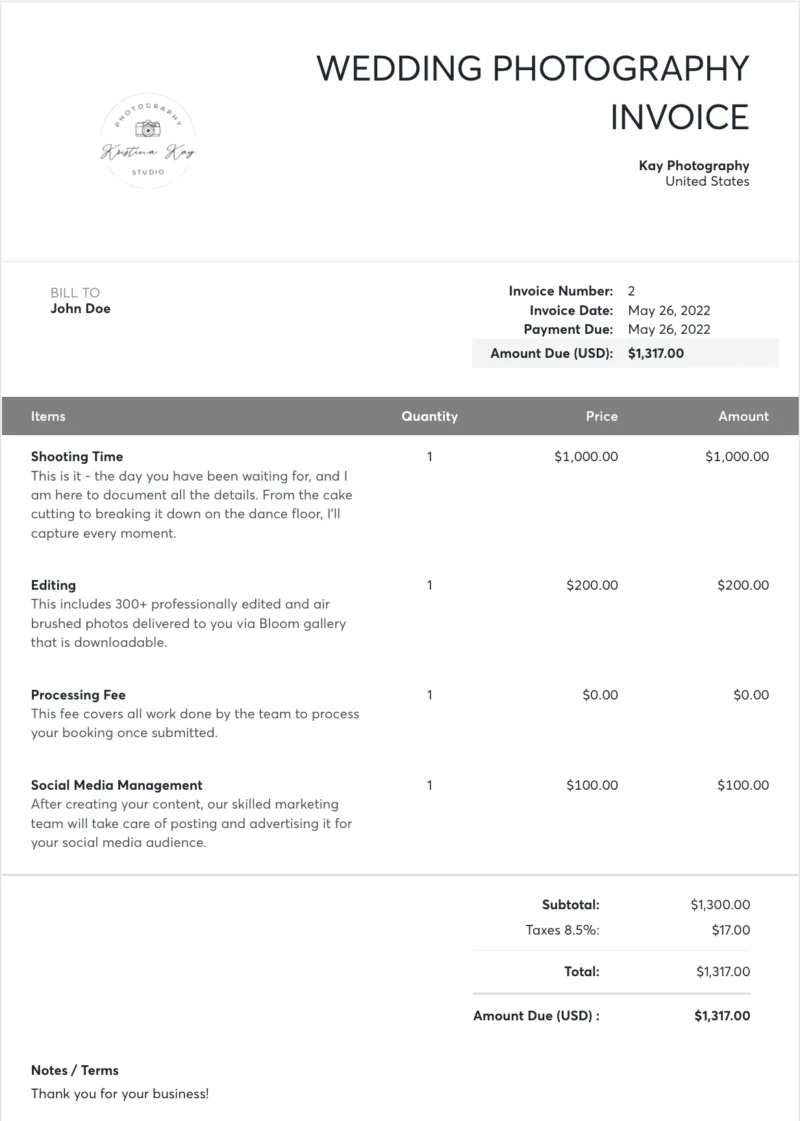 Payment processing pricing:
2.9% plus 60 cents per transaction for Visa, MasterCard and Discover payments.
3.4% plus 60 cents per transaction for American Express payments.
1% per transaction ($1 minimum fee) for bank payments.
Here are some key features of Wave:
Unlimited invoicing.
Unlimited income and expense tracking.
Customizable templates.
Invoicing mobile app.
Unlimited users with varying user permissions.
Double-entry accounting.
Automatic payment reminders.
Turn estimates into invoices once approved.
Accept online credit card and bank payments using Wave Payments (fees apply).
Sync invoices and accounting automatically.
Monitor payment statuses and receive notifications.
Pricing: Free. Upgrade to Wave Payroll starting at $20/month (plus $6 per employee) for the self service plan.
3. FreshBooks
Freshbooks makes it on the list of best billing software because of its customizable invoices, auto payment, and advanced accounting tools. Even though FreshBooks is used by accountants for more advanced financial needs, it's still a scalable invoicing option for small business owners. Making an invoice is quite simple using this software, just add your logo, add the client info, and add your services. You can add taxes, but the option to enable tipping and gratuity is not available here. The customizations are fairly limited with only three templates and two fonts to choose from. Taking payments is easy with Freshbooks as they are integrated with WePay, Paypal, Stripe, and offer credit card payments. Check out the payment processing fees associated with some of these platforms.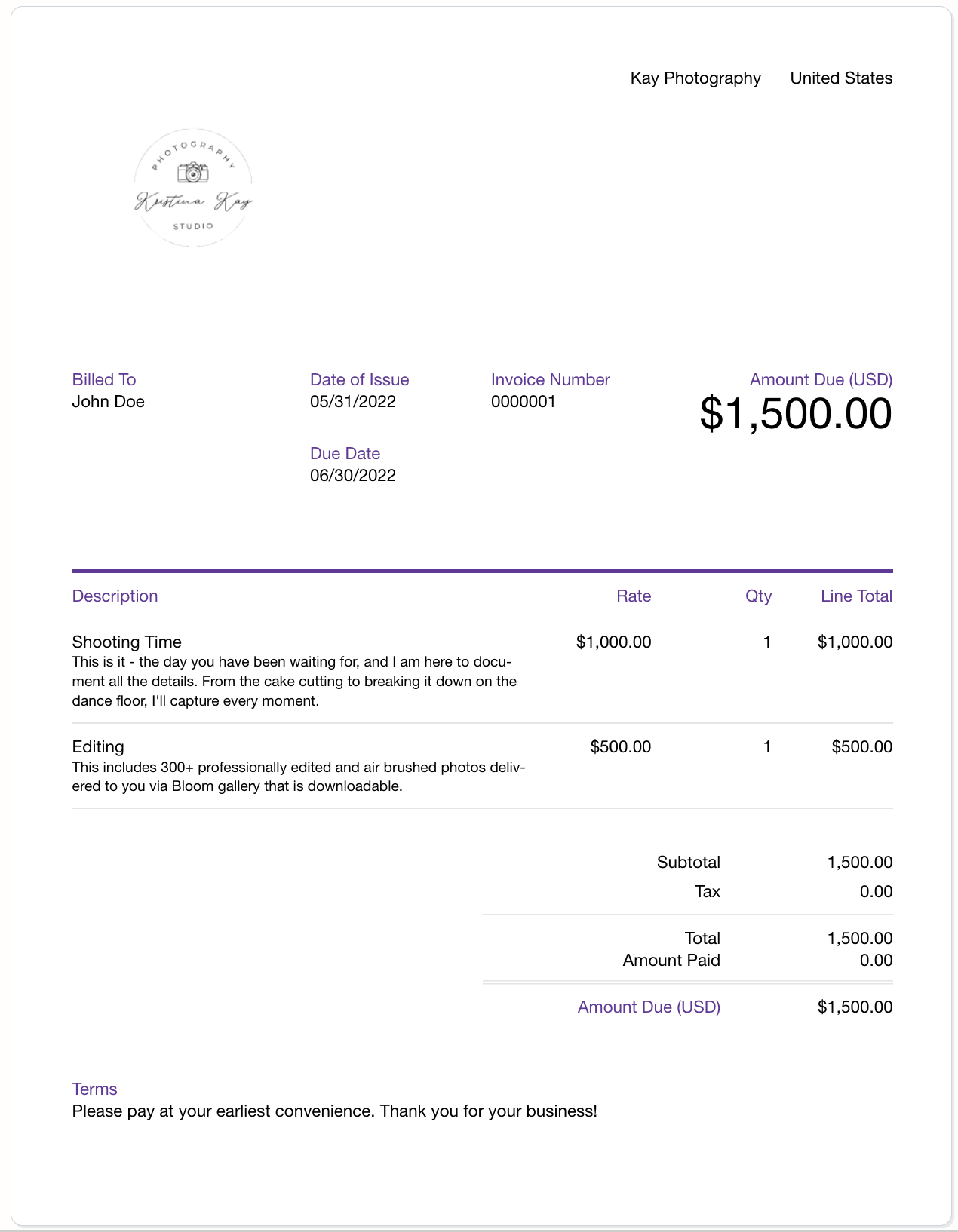 Freshbooks allows you to send unlimited invoices up to 5 clients starting at $15 a month, making this invoicing software pricier than other free options with more features. If you want access to unlimited invoices to unlimited clients, you will want to upgrade to the premium, $50/month plan.
Features of FreshBooks Invoicing (Lite Plan):
Send unlimited invoices to up to 5 clients.
Track unlimited expenses.
Send unlimited estimates.
Get paid with credit cards and bank transfers.
Track sales tax & see reports.
Access anywhere on iOS and Android.
Integrates with over 100 apps.
Recurring invoice & auto payment.
Robust reporting.
Pricing: $15/month for 5 billable clients, $25/month for 50 billable clients, $50/month for unlimited billable clients. You can try it free for 30 days, no credit card required.
4 Zoho Invoice
Zoho Invoice offers customizable, branded invoices and some powerful automation capabilities for invoices including late payment reminders for overdue invoices. When it comes to payments, it has 10 payment gateways for clients to choose from. It also has the option to schedule recurring payments and auto-charge payments. If you need to create an invoice quickly, you may not want to use Zoho as it takes time to learn the software. There is no option for tipping on the Zoho invoice, so clients would not have the option to add a gratuity. If you would like to manage your business, Zoho CRM is known for working will with larger enterprises that need robust tools, however small businesses can use it as well.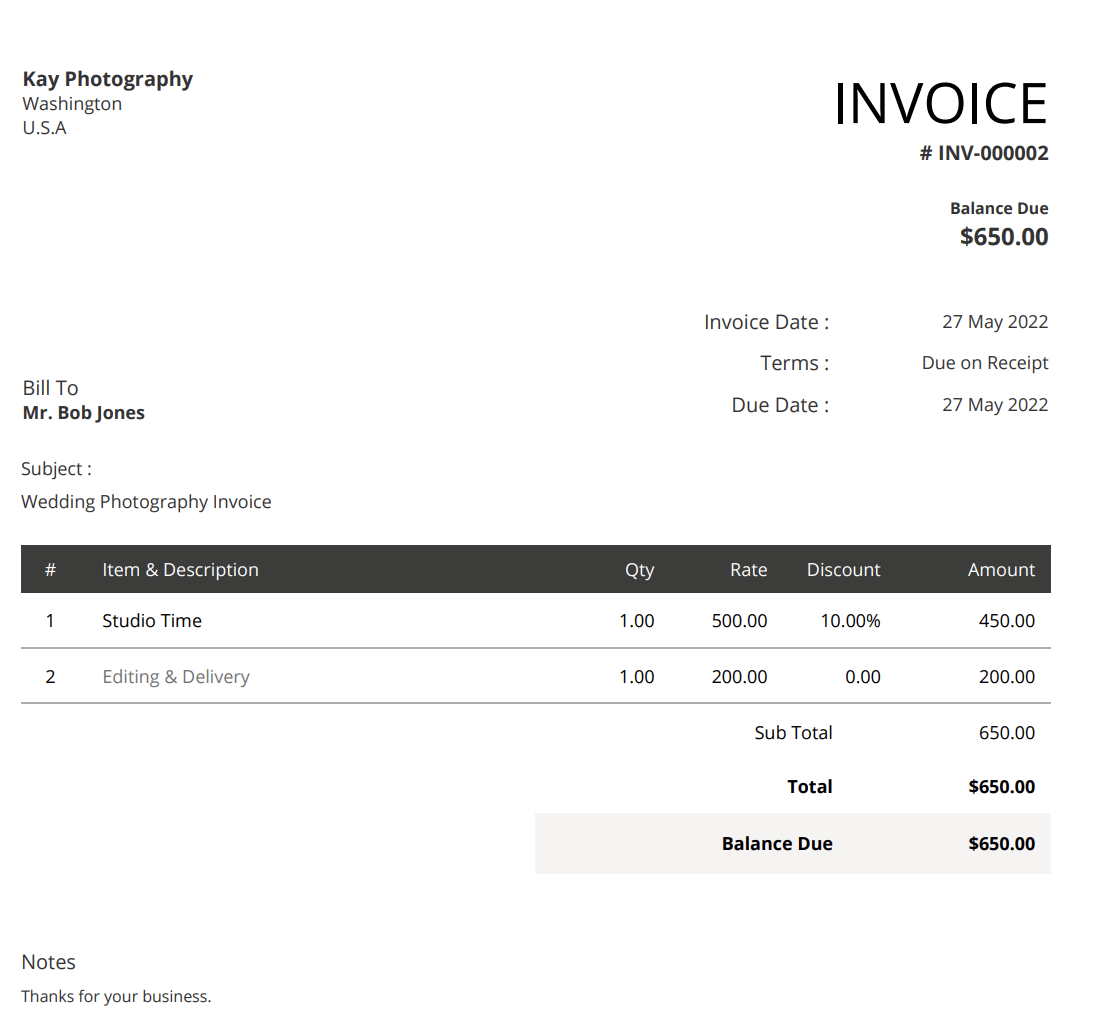 Here are some key features of Zoho Invoice:
Customizable invoices.
Self-service portal for clients.
Expense tracking.
Time tracking.
Reports.
Multi-currency support.
Multiple invoice languages.
Accepts a variety of payment methods.
Pricing: Free. Upgrade Zoho CRM starting at $35/month (Professional Plan includes invoicing).
5. Hiveage
Hiveage is a web-based invoicing software that is easy to use for small business owners that don't need a robust accounting software. You can create custom, unlimited invoices for up to 5 clients with the free plan.
For entrepreneurs just starting, this invoicing solution has everything you need to get started: time tracking for billable hours, expense tracking, and basic reporting of income. If you need to send an invoice on your phone, the app allows you to customize branding, add a logo, and enter taxes and discount before sending to the client. A drawback of Hiveage is its restricted credit card acceptance to US customers only. Also, it is a pricier option especially if you want to send unlimited invoices to more than 5 clients.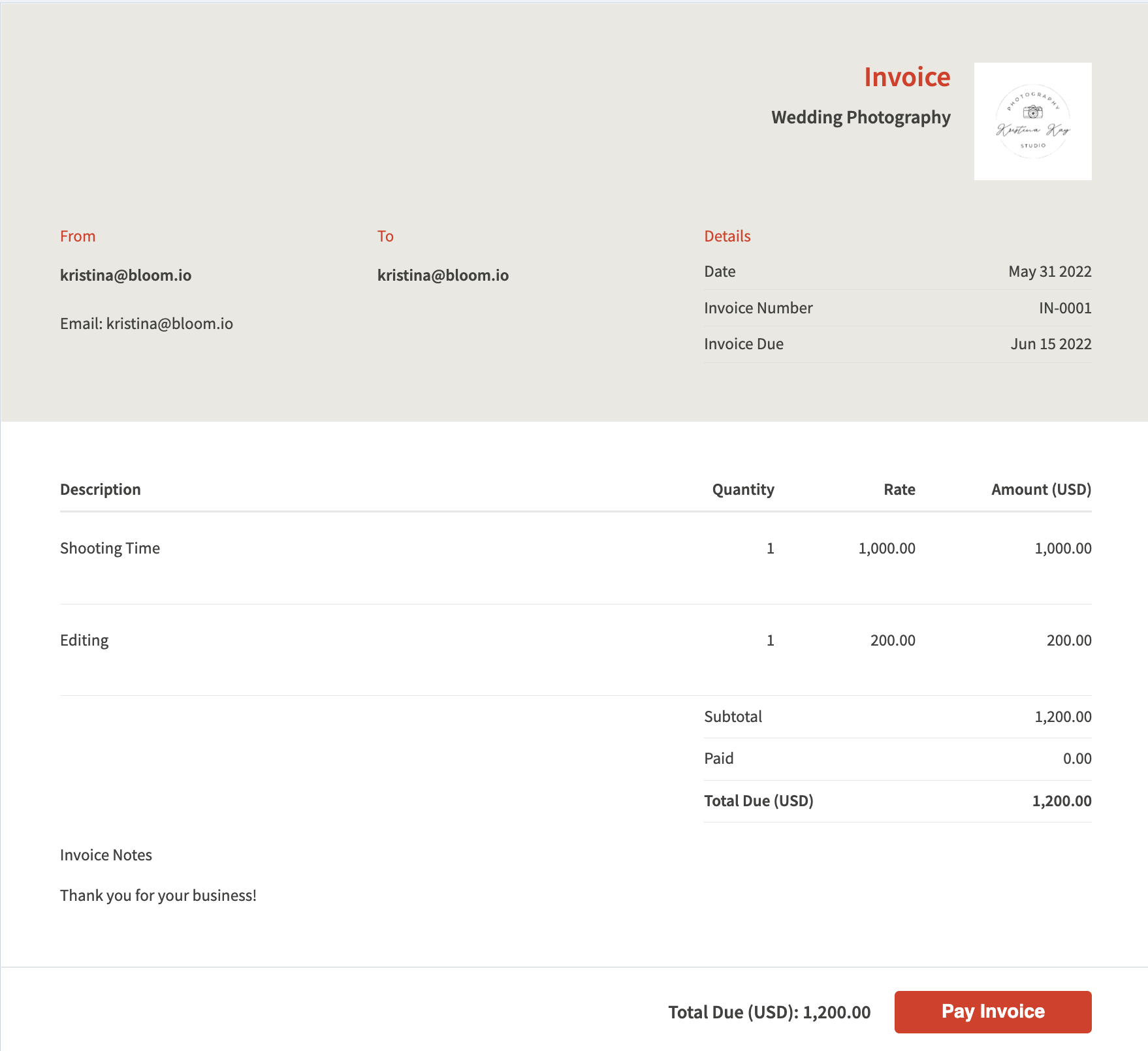 Let's dive into the main features of this invoicing software solution (free plan):
Unlimited invoicing (up to 5 clients).
Customizable invoices.
Hourly Billing.
Multi-Currency.
Integrated with Paypal, Stripe, WePay).
Receipt Management.
Time & Expense Tracking.
Tax Calculator
Payment Reminders
Quotes (Estimates)
Contact Database
Recurring (Subscription Billing)
Pricing: Free unlimited invoicing up to 5 clients, $19/month for 50 clients, $29/month for 250 clients, and $49/month for 1,000 clients.
6. Square Invoices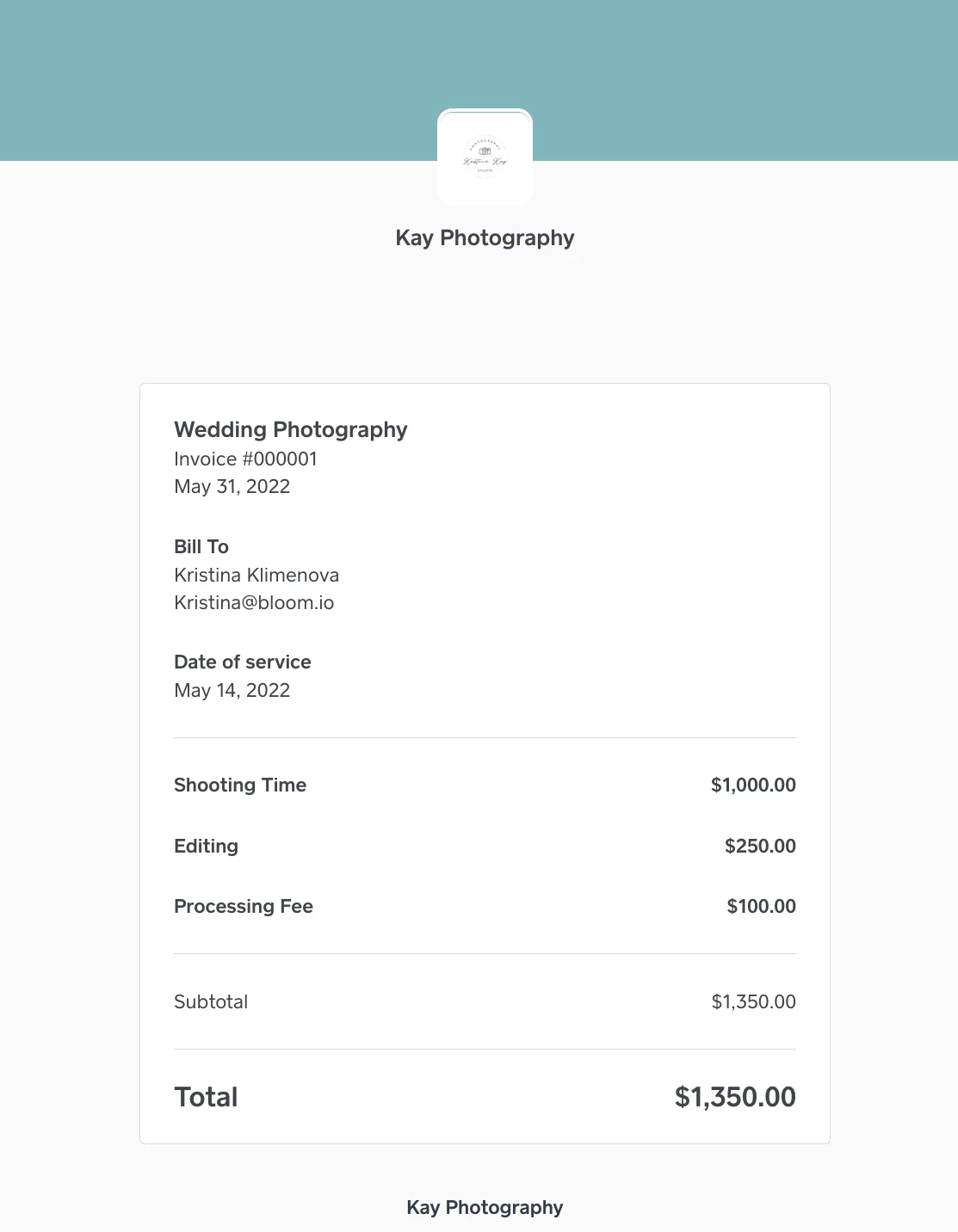 Square has become a staple for small company owners who need simple and straightforward payment processing, and they also have free invoicing. Although Square's processing fees are a bit higher than other payment processors, they have one-click payments for clients to pay conveniently and quickly. Keep in mind that Square doesn't charge monthly fees to use their invoicing, but each Square invoice will cost a 2.9% + $0.30 processing fee.
Features of Square Invoicing:
Real-time invoice tracking.
One-click payment option for customers.
No monthly fee.
Add tipping.
Customizable Branding.
Electronic Payments.
Invoice Management.
Pricing: Free.
7. QuickBooks Online
QuickBooks is well-known for its wide range of accounting tools, and its invoice functionality does not fall short. Users can tailor and automate invoices, add billable hours, and send recurring invoices to many clients. The solution also provides a comprehensive range of bookkeeping and record-keeping services, making it ideal for larger enterprises or business owners searching for detailed reports.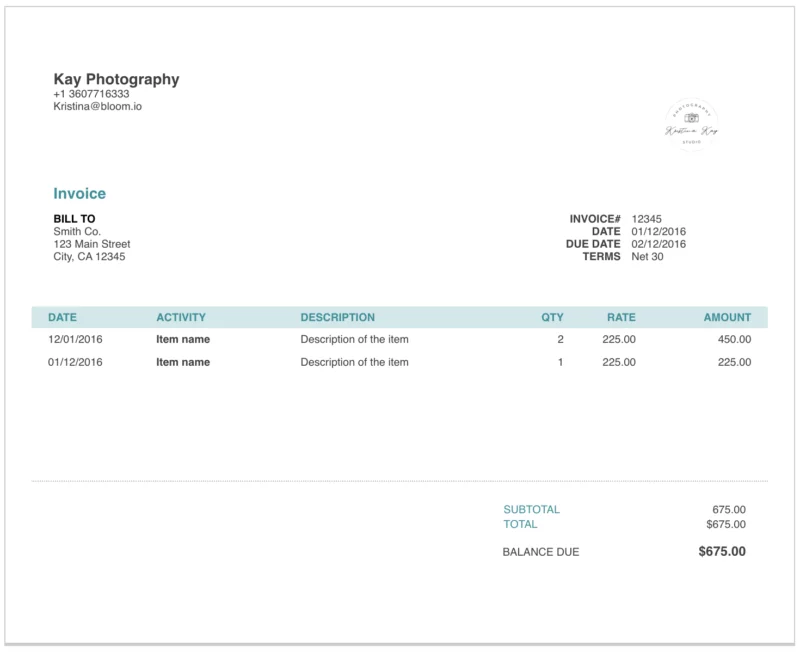 For freelancers, QuickBooks may be too robust and expensive for making fast, simple invoices. The user interface takes time to learn as it has so many in-depth financial tools. The Simple Start plan ($25/month) is the basic bookkeeping plan with custom invoicing with logo, invoice tracking, and payment reminders.
This software may be costly, but it has a lot of functionality. Even when you factor in the price tag, it can be an excellent investment if reporting is your primary objective.
Features of Quickbooks Invoicing:
Invoice customization.
Accepts all credit cards and bank transfers.
Custom Reporting.
Mileage Tracking.
Organize income and expenses.
Pricing: $25/month for Simple Start Plan, $50/month for Essentials Plan, $80/month for Plus Plan. You can try QuickBooks Online free for 30 days.
8. Harvest
You can quickly transform your time and expenditures into invoices and receive payment with Harvest. Its core feature is time tracking, but it also has multiple payment integrations and currency support, automations, and recurring billing. The payment integrations include PayPal and Stripe. This software has the least customization compared to the other options. If you want a more branded and memorable experience for clients, the other options would suit your business more. Overall, Harvest gets the invoicing job done while providing great tracking features.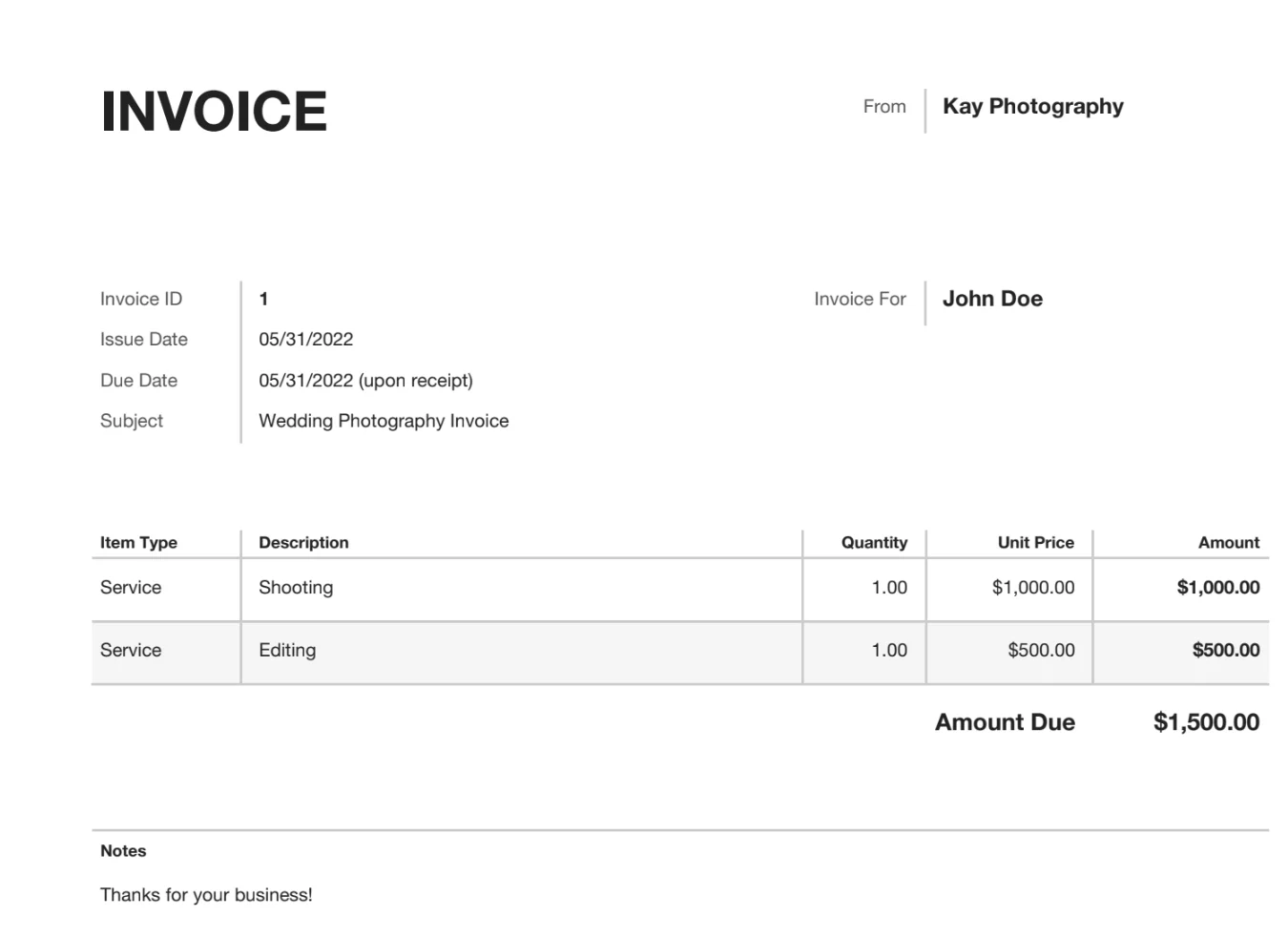 Features of Harvest Invoicing:
Billing & Invoicing.
Expense Tracking.
Project Tracking.
Time Tracking.
Timesheet Management.
Invoice Management.
Reporting & Statistics.
Pricing: Harvest has a freemium plan with invoicing for 2 projects at a time. It costs $12 USD/person/month (billed monthly) for unlimited invoicing for unlimited clients. You can try it for free for 30 days, no credit card required.
9. Invoice Ninja
Invoice Ninja is an open-source invoicing software that includes tracking for billable time and expense tracking, and although it can't replace accounting software, it's a great option for small business owners who need a simple invoicing tool. The free plan gives you four invoice templates and limited customization options, and all invoices are stamped with the Invoice Ninja name. This software uses a live PDF, so you can easily make changes in real time. You can quickly detect when invoices have been read thanks to the invoice overview section, which also includes a pleasant invoice dashboard. If you want to upgrade to the paid plan, you can explore 10 customizable invoice templates with various fonts, colors, and logos. Only the Enterprise Plan allows you to add attachments to invoices.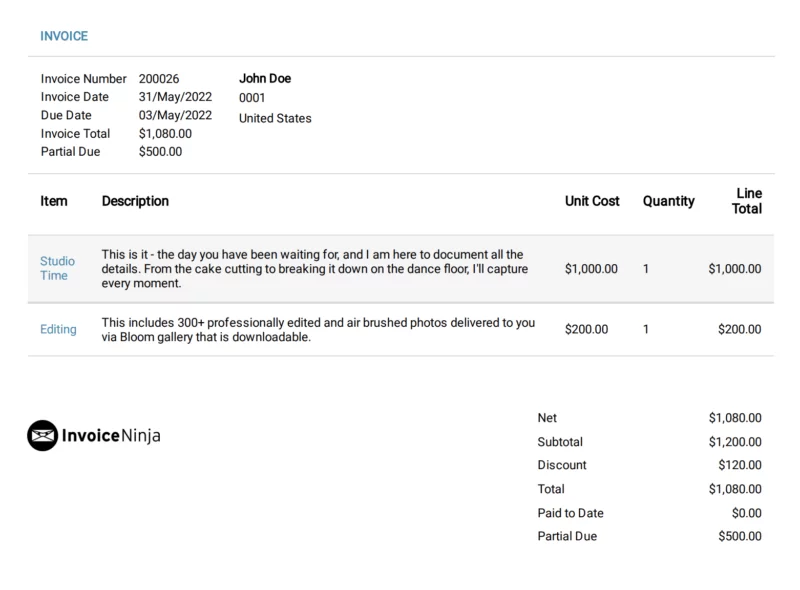 When it comes to the UI, it is more outdated than the other options in this list, and the self-hosted version of the software can be difficult to use if you're not an experienced developer. Invoice Ninja has additional features for project management like client portals, proposals, reports, and more.
Here are some key features of Invoice Ninja (free plan):
Unlimited invoices and estimates (up to 20 clients).
One user.
Four invoice and estimate templates.
Time tracking.
Expense tracking.
Proposals.
40+ payment gateways.
Supports 95+ currencies.
Pricing: Free plan (20 clients + unlimited invoices), Ninja Pro Plan $10/month (unlimited clients and invoices), and Enterprise Plan $14/month for fully branded client portal. You can try 14-day trial available for the paid plans. No credit card required.
10. Invoicely
Invoicely is a cloud-based invoicing solution designed for freelancers and small companies wanting to automate their invoices. With Invoicely, you can send, manage, and track invoices, estimates, and bills through a simple, easy-to-use interface. While it is simple and easy to use, it has limited customizations, reporting, integrations, and poor customer support.
The free plan will allow you to send invoices to five clients a month and only accepts Paypal as a payment option which has very high processing fees (see Paypal alternatives here). This plan also lacks estimates and expense tracking, and has limited branding. If you want to upgrade, the next plan would be $9.99/month with 100 invoices max.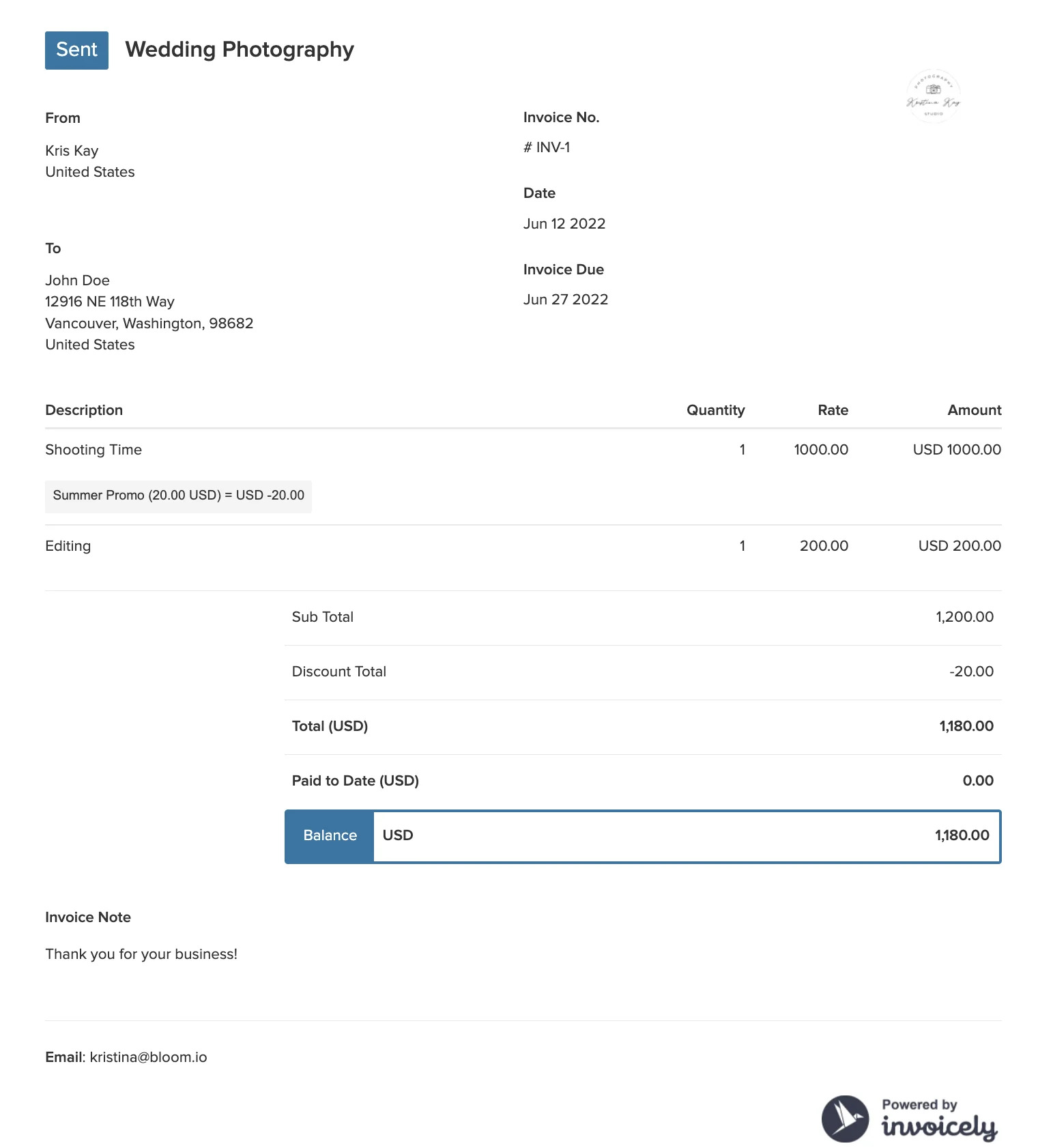 It might be a decent choice for freelancers and small company owners searching for a basic (and free) invoicing solution, but Invoicely's cloud-based invoicing program is rather limited.
Invoicely's Free Plan is free and includes:
Five monthly invoices.
Three saved clients.
Invoice tracking.
One user.
PDF invoices.
Payment reminders.
PayPal integration.
Statement branding.
100 emails per month.
Taxes and discounts
International currency support.
Reports
Pricing: Free invoicing up to 5 invoices, $9.99/month for 100 invoices, $19.99/month for 250 clients, and $29.99/month for unlimited. You can try the free plan with no credit card or banking information required.
Now that we have analyzed the features and pricing of our top 10 invoicing solutions for freelancers, you may be wondering how you'll be able to choose the right one for your business. Here are 4 simple questions to ask yourself before choosing the best invoicing software.
1. Is the billing process easy for you and your clients?
Invoices are the messengers that carry your value, trustworthiness, and respect to clients, and providing a seamless client experience is key to having repeat business. The number one question you should ask when choosing the best invoicing software is how easy will it be for your client to use. Even if you like all the bells and whistles of a particular software, it doesn't guarantee that it's client-friendly. The best invoicing solution for your business should have simple invoices with a clear breakdown of each service, price, due date, and total amount so the customer can see what they're paying for. Most importantly, a digital invoice will have convenient payment options for a secure checkout. This will ensure that your payment is processed quickly and securely.
2. What are the payment options available?
Speaking of payment options, does the invoicing software you're choosing have the best possible variety of payment options for your client? Do these payment processors charge too high of a percentage or do they offer low percentage ACH transfers so you can keep more earnings? Read more about payment processing fees here.
While many invoicing softwares claim to be "free," the payment processors they use keep a significant portion of your earnings and don't offer tipping. Just for reference, let's take a look at the advantages of utilizing the Bloom payment system are:
No added payment processing fees
Square, Stripe, and ACH payment integration
Available in over 25 countries and supports 135+ different currencies
Set retainers
Auto-charge payments
Offer tipping and discounts
Add sales tax
Partial payments available
Automatic payment reminders
Downloadable and unlimited reports
Invoice management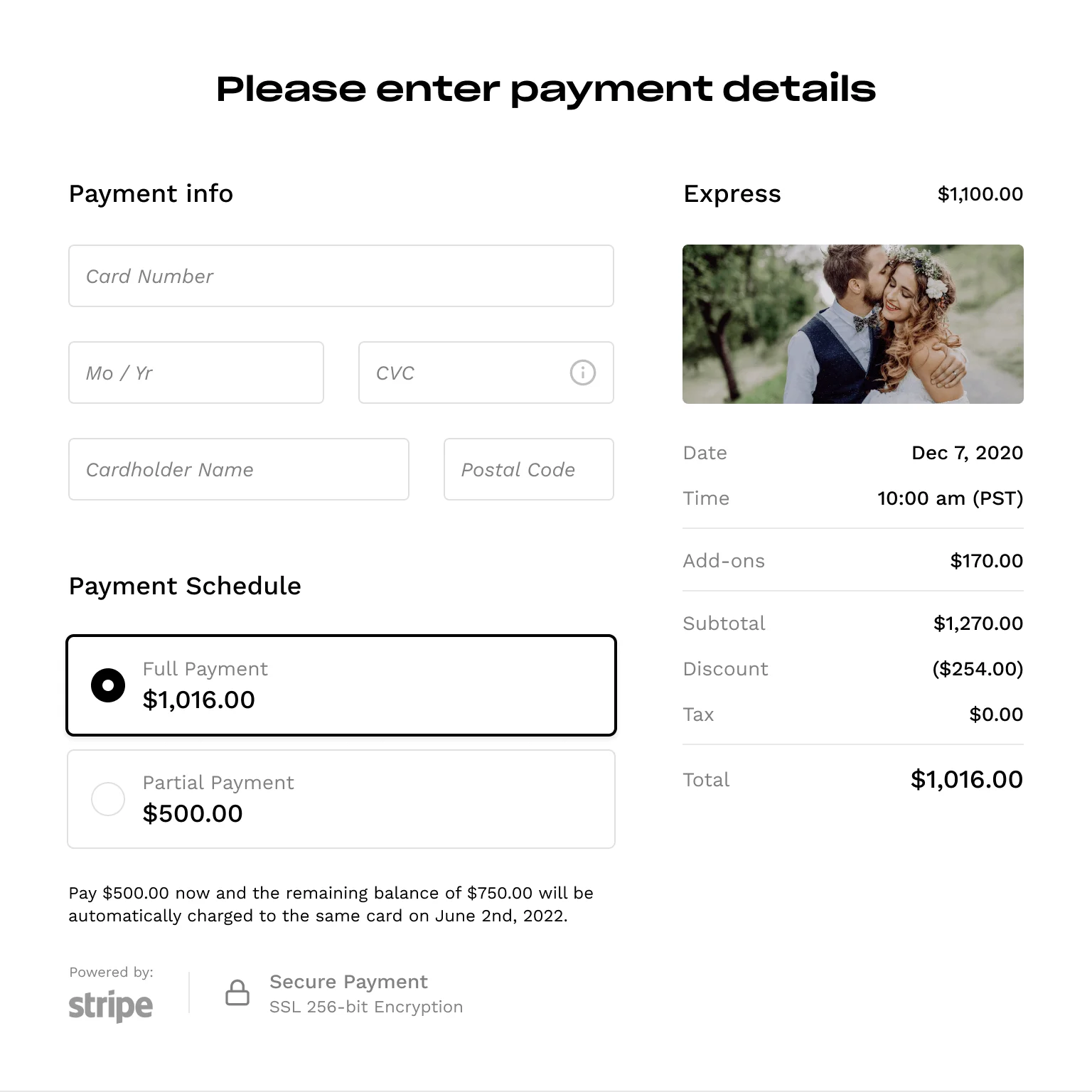 3. How much does it really cost?
Although many invoicing solutions claim to be unlimited and free, most of them are only unlimited up to 2-5 clients. Beyond 5 clients, a lot of these options we reviewed charge a monthly fee for a certain amount of invoices and clients. If you are looking to send unlimited invoices to unlimited clients, no account required, try Bloom's free invoice generator.
4. Does it come with additional tools to manage your business?
Why use multiple tools to manage your business when you can do it in one place? While many of the invoicing software handle your invoicing needs, they may not have the other tools you need to manage your business. Project management tools like contracts, email automation, lead management, instant booking, and asset delivery are not offered in most of the solutions we reviewed. Instead of paying separately for invoicing software and other disjoined tools to manage your business, you can invoice and manage client projects from start to finish with Bloom.
Conclusion
The winning invoicing software will be the most cost-effective, efficient, and user-friendly option for your small business. If you're looking for just an invoicing platform with accounting tools, robust reporting, and time and expense tracking, consider trying FreshBooks and Quickbooks Invoicing. For more affordable, less robust invoicing that keeps it simple, Wave, Invoice Ninja, Harvest, Hiveage, Invoicely, and Square Invoicing are options that will get the job done for free or a monthly fee. Is your goal to create branded invoices and manage your projects with management tools? If so, try Bloom or Zoho CRM. If you decide to use Zoho, you will have to sync your Zoho CRM data with Zoho Invoice. With Bloom, all of your business management tools and invoicing will be in one place along with contracts, emails, scheduling and booking tools, and asset delivery.
Try Bloom invoicing today. The free plan includes unlimited invoicing and projects. Upgrade to the full suite of tools for $39/month.