Professionally pricing your wedding photography will be the difference between just taking gorgeous wedding photos on the side to a full-time profitable business. This wedding photography pricing guide will cover how much you should be charging as a wedding photographer from the shoot to editing and packages.
As a disclaimer, I'm not going to be able to set specific numbers for wedding photography prices due to all of the variables involved, but I will share pricing principles that can be used by aspiring and experienced photographers alike.
Wedding Photography Pricing Factors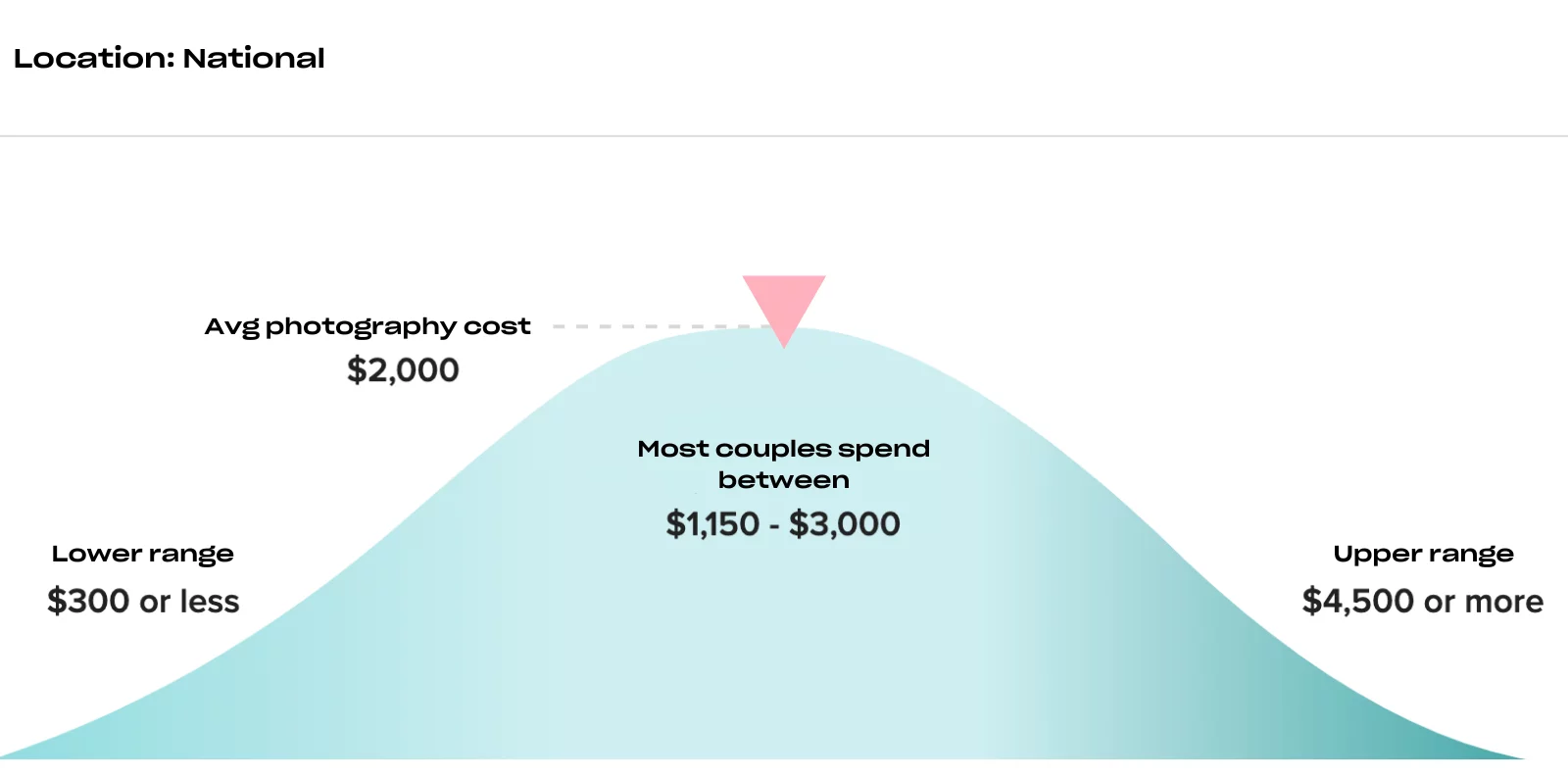 As you can see, wedding photography pricing isn't a one size fits all pricing model. The national average ranges from $300-$4500 depending on experience, location and additional factors.
Photographer to photographer, you should look at your wedding photography costs and the time involved before you start thinking about setting prices. Setting wedding photography rates depends on different variables like the ones listed here:
Length of event (hours of coverage)
Ceremony and reception
Travel time
Destination wedding vs local wedding venue
Bridal portrait sessions
Rehearsal dinner coverage
Digital images
Wedding albums
Online wedding gallery
Wedding photography style
Wedding photography budget
Your experience level
Post-wedding process
Indoor or outdoor weddings
Average time spent overall
Local market average pricing
There are other items to factor into your pricing which includes equipment, employees, business expenses, marketing, liability insurance, and more.
Business Profit and Loss
When considering wedding photography pricing, remember that you're setting a package price based on best business practices, not what you think your photography is worth. As a professional photographer, it's vital to know how to streamline a profitable business and manage wedding photography costs. Fair photography pricing should be based on your skill level, location, and photography type.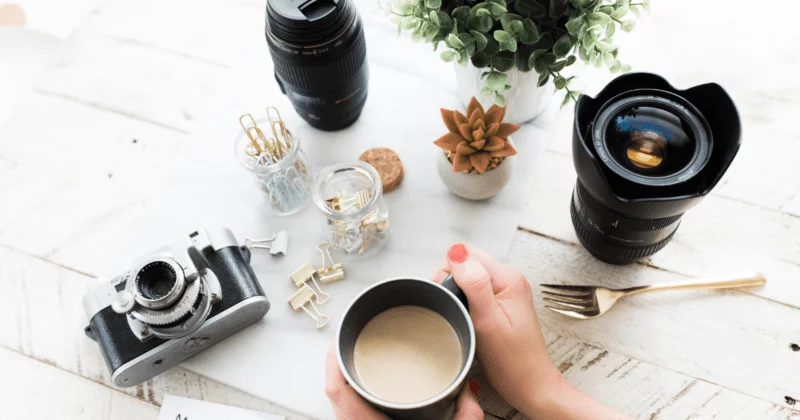 Self-awareness of your skill level will determine a fair pricing model that will please your bank account and your clients. You don't want to overcharge and not get booked, and you certainly do not want to undercharge your clients, leaving you with too much to edit and no profit.
Do your research and see what other wedding photographers at your skill level are charging for their hours of photography. The best clients aren't the ones that have the most money; the best clients respect, value, and want to invest in the lifelong keepsakes you are providing. How much are clients you're targeting willing to pay for the work you're offering? Join a local creative community that can help polish your prices and identify what your ideal clients are willing to invest. Discover the best photography communities here.
Wedding Photography Pricing Packages
Many of the most in-demand wedding photographers use wedding photography packages.You can tailor every package and clients can choose the best fit for their wedding photography budget. The wedding packages can also be set up to include pre-wedding photography such as bridal portraits, rehearsal dinner coverage, engagement photo sessions, and other special moments. Your wedding packages can be completely customizable to fit the client's needs.
A major advantage of this is easy booking and invoicing. When the client decides to reserve or book, you can take them to an instant booking page where they can schedule, sign the contract, choose add-ons, and pay the retainer within a few minutes.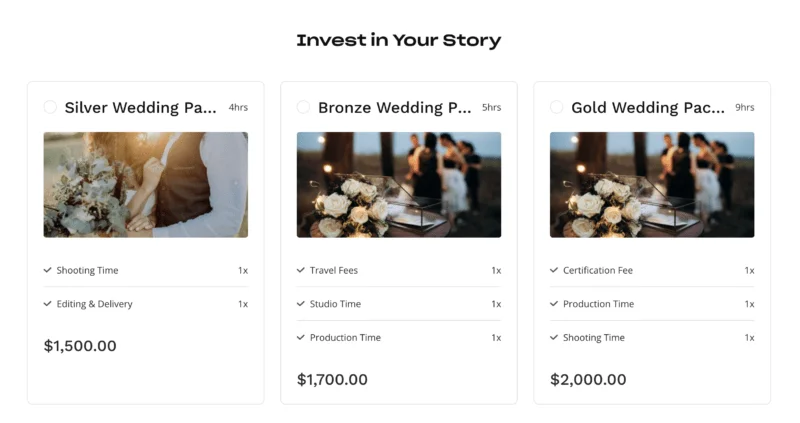 Knowing the average costs of services and prints available will allow you to estimate accurate end pricing for your wedding photography clients. Don't underestimate how much extra profit a professional photographer can make with extras and add-ons.
Wedding Albums and Digital Files
Giving the wedding couple the opportunity to purchase prints and special items will not only increase your profit margin, it will offer clients a perfect wedding experience. Your wedding photography packages can offer a traditional wedding album, fine art photos, or canvas prints. You can also share examples of wedding photographs and albums you've created for other clients on your website portfolio.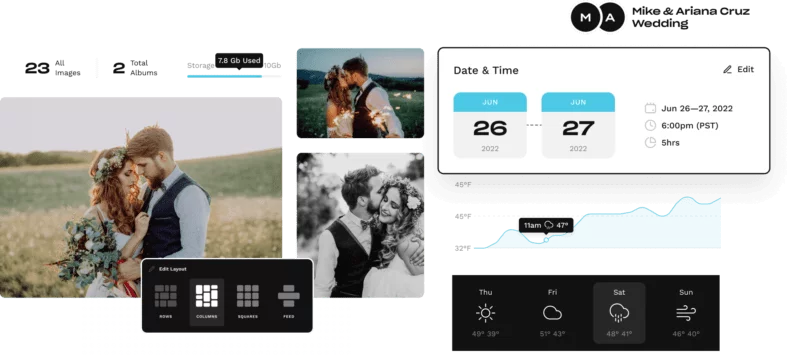 Before the actual wedding day, make sure to communicate how your digital assets will be delivered. For example, "we will most likely be using digital photography for the job, so we have options of presenting digital files, wedding albums, photo books, canvas prints, fine art photos, or an online gallery."
Instead of paying for a separate subscription, a common alternative for sharing wedding albums is using a free image delivery app. If you want free image delivery with image proofing, try Bloom for photographers and wedding videographers.
Pre-Wedding and Post Wedding Decisions
The work of a wedding photographer begins long before the actual wedding day. In fact, a lot of weddings are booked months in advance. Along with securing the venue and booking the wedding caterers, a wedding planner usually gets a wedding photographer involved right away.
Other decisions will involve how long you are shooting on the actual wedding day. A four-hour shoot will have different costs than an eight-hour event. A full-blown wedding will involve more time than a city hall ceremony. A destination wedding will have additional hours including travel time and travel fees.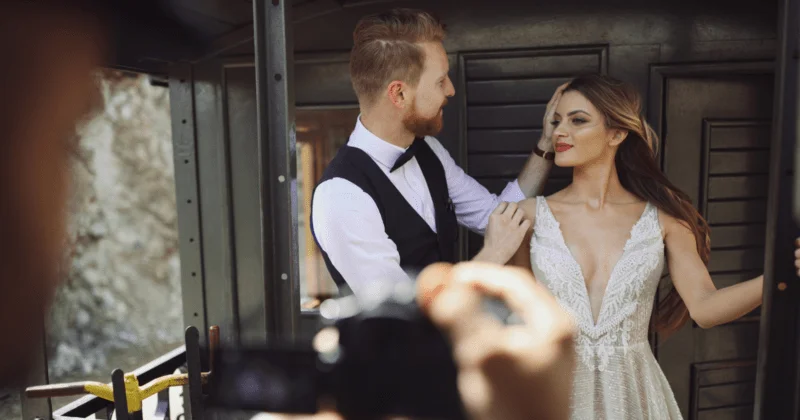 The pre-wedding experience is one thing, but the editing process of your high-resolution digital files is also part of the post-wedding process. Your editing services are just as important as capturing images and videos the day of the wedding. All of the time spent in the editing process will vary from wedding to wedding and needs to be accounted for in setting your wedding photography prices.
Wedding Invoices and Contracts
Think of sending a polished invoice to your clients as building trust with clients right away. They will see that you care about the details. A good invoice for photographers will have a clear breakdown of each service, price, and total amount due so the client has a visual of exactly what they're investing in and why. If a client goes past due, you'll have the invoice handy to remind them.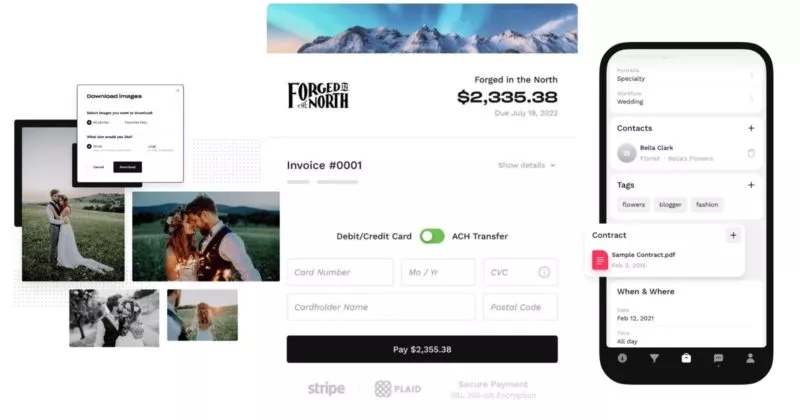 You already know what comes after the invoice–getting paid! The payment process speaks volumes to your professionalism and reputation as a photographer. Venmo and Cash App do not have protection guaranteed, and that's sketchy. Sure, you can take cash or check payments, but why slow down the process of getting paid?
Remember, you deserve to get paid for the work you are doing, and not everyone is your ideal client. You can attract higher-paying clients by setting the tone early on. With these five ways to attract higher-paying clients, you'll be on your way to a more profitable business.
The importance of having a detailed contract in writing can't be stressed enough. Details matter, including having disclaimers and permissions or print releases for images and video footage. You can add a contract with an e-signature to any invoice with Bloom.
Automate Your Wedding Photography Business
With all that is involved in wedding photography and the business side of wedding photography pricing, booking and invoicing, you have to stay organized.
You can streamline your workflows, manage all your clients and project using Bloom. You can create separate workflows for engagement sessions, wedding photoshoot jobs, and other types of sessions you shoot. Take a look at how Forged In The North manages 150+ booking per year.
Here's what makes Bloom a good option for wedding photography: it simplifies booking, scheduling, client communication, invoicing, free image galleries, contracts, payments, and calendar coordination. Consider a management software as a personal assistant for your wedding photography business. Try Bloom – it's free.
Takeaways
As you can see, figuring out the typical wedding photographer pay is not a simple equation. There are so many variables like costs, client wishes, delivery options, and all of the extras.
Sure, there are a lot of challenges, and running any small business is not a simple operation, but it can be streamlined with the right tools. For extra tips on the wedding photography business, explore these articles.