Finding the right, ehem, least annoying CRM for your small business is the "secret sauce" to winning as a business owner. What do all small business owners have in common? They all want to scale their business, build strong client relationships, and have a consistent flow of leads. By using an all-in-one CRM, you can see every customer's journey from start to finish and manage your resources wisely. With hundreds of CRM software to choose from, we reviewed the top 5 CRM software with a low learning curve and the essential features you need to scale and manage your small business.
This is what the article covers:
(Click on the links below to jump to a specific section)
Reviewing 5 Best CRM for Small Business
Intro
Do you need a CRM for my small business? Sorry (not sorry) but if you plan to manage an entire biz without a CRM, we wish you a LOT of luck and a personal masseuse for your stress! Disjointed tools not only rack up your business costs, they double the time it takes to complete simple administrative tasks.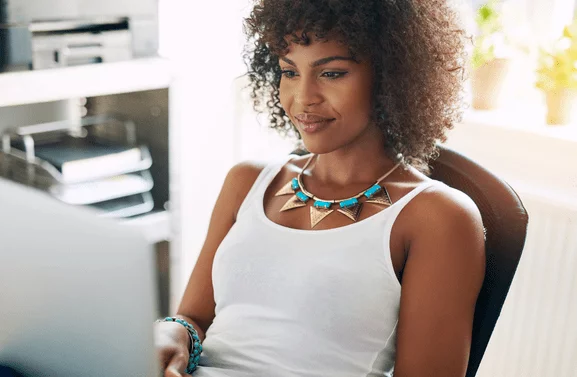 Running a small business is no easy task, and finding the right CRM can make a big difference. With so many CRM tools to choose from, we narrowed down the least annoying, most intuitive software on the market. Here are the key features of the 5 best customer relationship management for your biz.
Reviewing 5 Best CRM for Small Business
1. Bloom
What is Bloom? It's an all-in-one tool that stands out from other CRM software because of its modern user-interface design, customizations, price point, and versatility. It's a powerful business management and growth toolset that gives small business owners access to features like:
Unlimited invoicing and contracts
Bloom's simple layout and clean design makes it easy to navigate the payment process from adding a contract to collecting payments in minutes.Bloom is the only CRM featuring auto-countersignatures. This feature allows you to create a signature and choose where you want to have it applied. Not only does this make your business more efficient, but it also fosters a great customer service experience for your clients.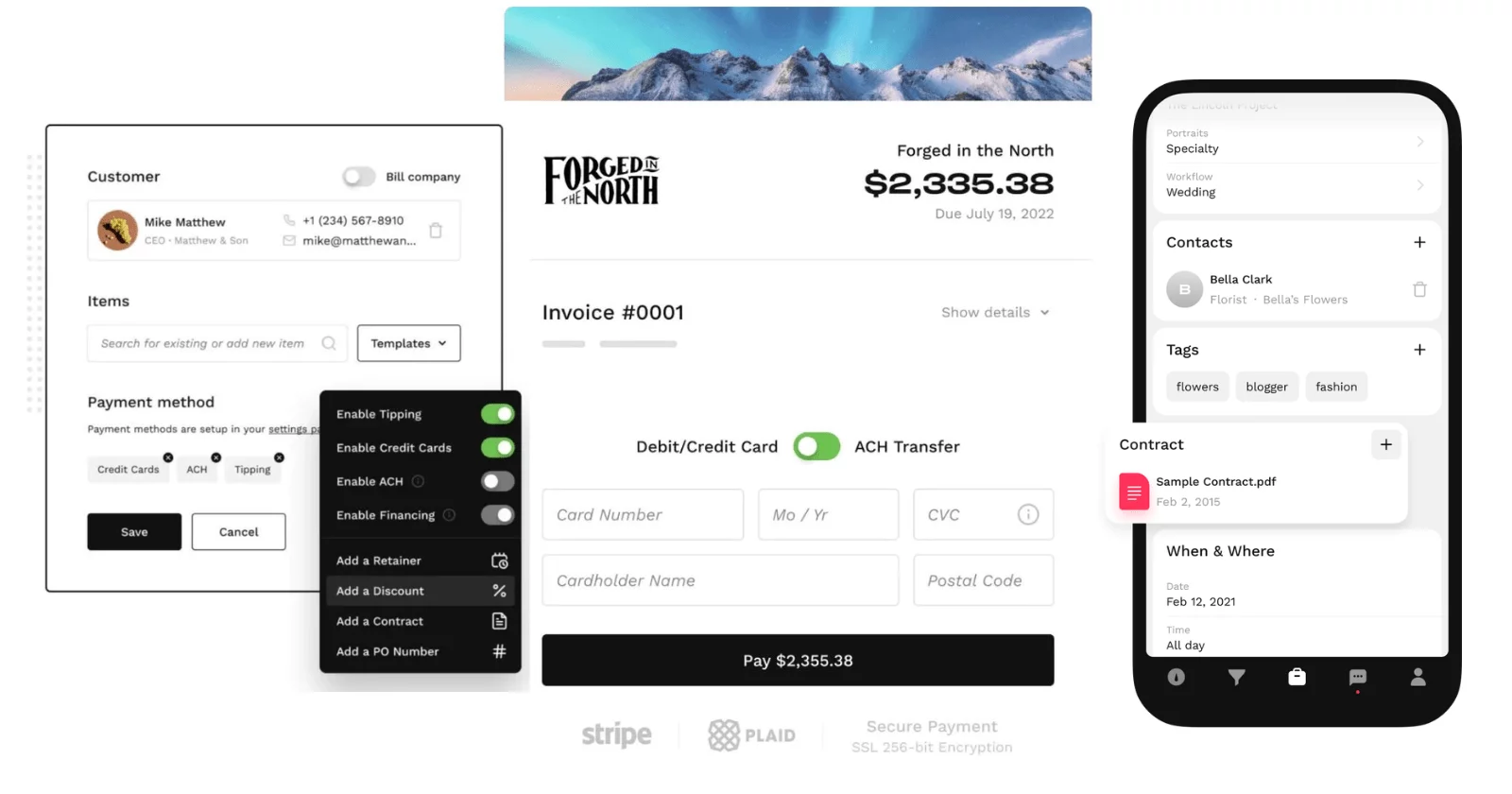 Bloom Invoicing Benefits:
Professional customer experience
Keep more earnings with tipping and ACH to bypass credit card fees
Secure payment options like Stripe, Square, ACH, Venmo
Eliminate late payments
Dedicated payment page offering a branded experience
Pre-filled templates to create invoices in minutes
Add contracts to the invoice
Project management
Bloom has a high altitude perspective on all projects so you can prioritize and organize every task according to the highest priority. It gives you unique workflows for every kind of service you offer, drag and drop to rearrange tasks, view invoice status, and check off tasks as you complete them.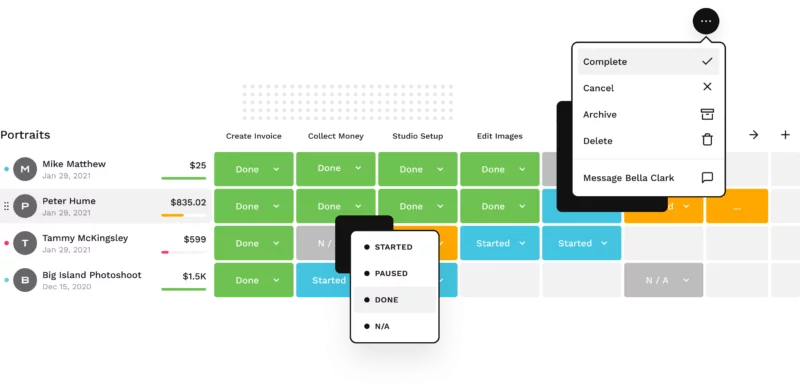 Lead management
The Bloom management software gives you a state-of-the-art lead management solution to help you across all stages of the sales funnel. You can track every new opportunity by creating a unique workflow for each lead. This allows you to create tasks for yourself in regards to each lead, instantly add it to your calendar, and reference what has been done with each opportunity.
Customer Communication
When it comes to communicating with your clients, the quality of your customer service interaction is key. You need to communicate quickly and effectively with your clients if you want to succeed. The right app will enhance your client communication by automatically saving notes, details, emails, or form fills.
Bloom's unique communication feature is based on a chat-based model. It gives you a centralized conversation tracking hub for each client that includes automated messages, emails, and online live chat. Bloom let's you determine what your weekly schedule looks like and communicates with clients which days you are not available.
It is also the only CRM tool that features two-way message inclusion without any necessary integrations so you can stay organized and communicate effectively without any third-party apps in the way.
Automations
Marketing automation can make your life significantly easier. Instead of manually following-up on everything, your automation tool can automatically send emails for you. Automate email follow-ups and reminders to keep your client updated on everything happening. Not only does marketing automation reduce your workload, but it can also ensure that tasks don't fall through the cracks. As you're not manually doing any of these tasks, losing track of them isn't an issue anymore.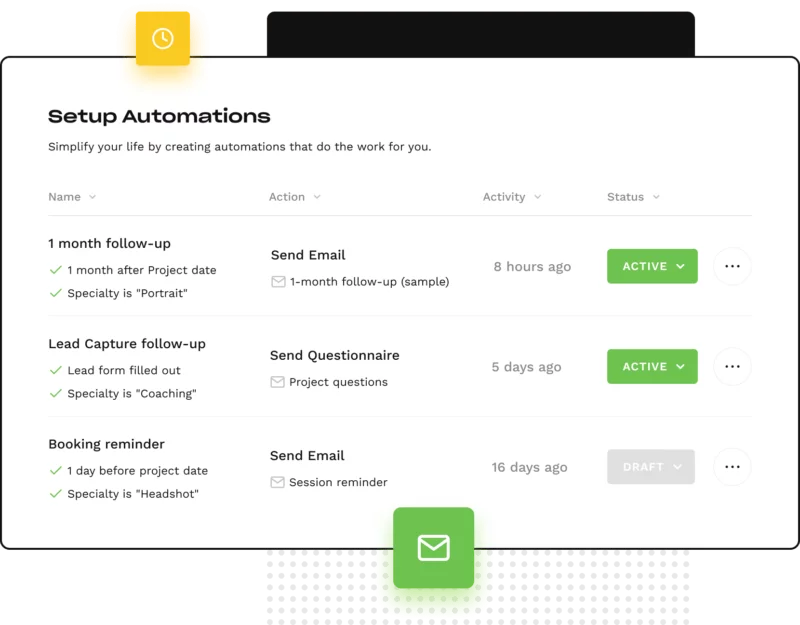 With Bloom, you can set up automations and know exactly how they will be activated. Set date-based triggers and specialty-based rules that do the follow up work for you. You can also see them in your conversation threads when the emails are sent out. To automate a task, select your email templates, select when you'd like for it to be sent out, and what conditions should apply. That's it.
Bloom is for you if:
You are a small to medium sized business owner (1-20 employees)
You run a service business
You use a ton of different services to run one business or side hustle
You plan to scale your business to an agency at some point
Try Bloom today – it's free!
2. Zoho CRM
Zoho is another CRM that has robust reporting and analytics tools, sales management, marketing and sales automation, and advanced CRM tools. Although it has a steeper learning curve than most, it is worth exploring. Small business owners looking to streamline their sales pipeline and focus their efforts on lead management can benefit from using Zoho CRM.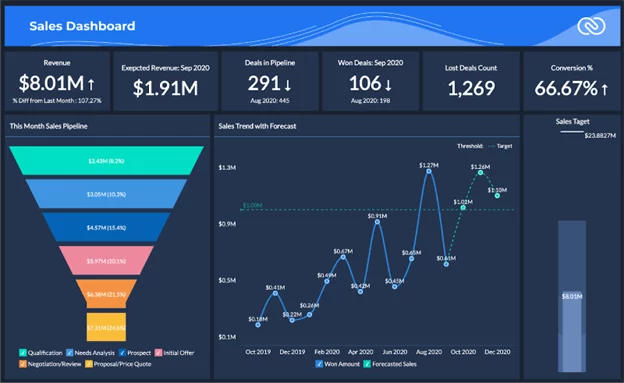 Zoho's strongest features include:
Marketing automations: If you have a complicated sales process, Zoho helps automate repeat sales and business processes.
Analytics: This CRM has real-time reporting, analytics, and forecasts. This can be super helpful when scaling a small business.
Sales team Collaboration: If you manage a sales team, Zoho has a good platform to share sales updates or leave notes for other team members.
Zoho CRM is for you if:
You need advanced reporting and analytics tools
You need employee workload management
You plan to scale your business to an agency at some point
Consider what your priorities are in your business. If you're searching for a simple way to manage your projects, send invoices, and collect payment, consider the other options in this article. If you're looking for advanced sales and reporting features, Zoho may be the best fit for your biz.
3. Pipedrive
Pipedrive is known as a customizable CRM that allows users build their own unique pipelines and advanced reports. Just like the name suggests, Pipedrive gives you a visual sales pipeline that you can customize to match your sales cycle.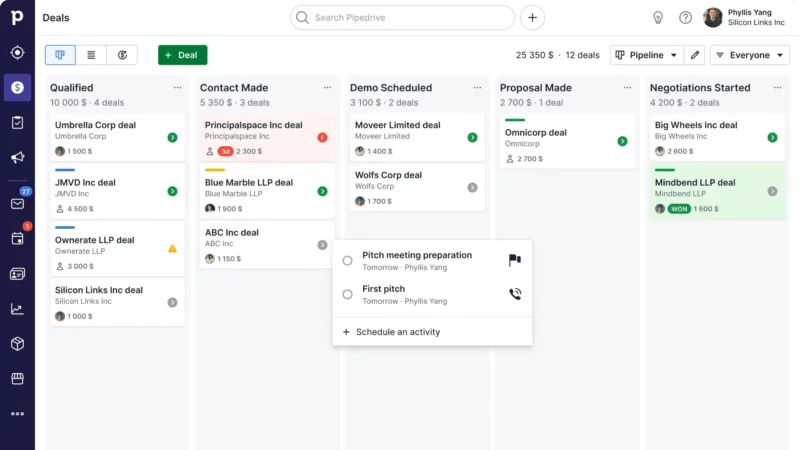 One of the best features of this software is the AI technology that can help identity opportunities to close more sales.
Here are the most notable features:
Tracking communications with clients and with those in your sales cycle
Allows for recording complete contract histories and a customer database
Automate tasks, lead sourcing, and call center management
It integrates with over 350 third party platforms and services
Pipedrive is for you if:
You need to streamline and maximize your sales process
You need email marketing
Read more about Pipedrive alternatives here.
4. Keap
Keap is a robust sales and marketing platform that combines features to help entrepreneurs grow their businesses. Keap integrates with over 2500 applications to make your sales process simple. This CRM for small businesses helps convert more leads and close more deals with their highly personal and automated follow-up. It's one of the best-known brands in the business, focused on developing customer relationships and streamlining your sales pipelines without wasting precious time and energy.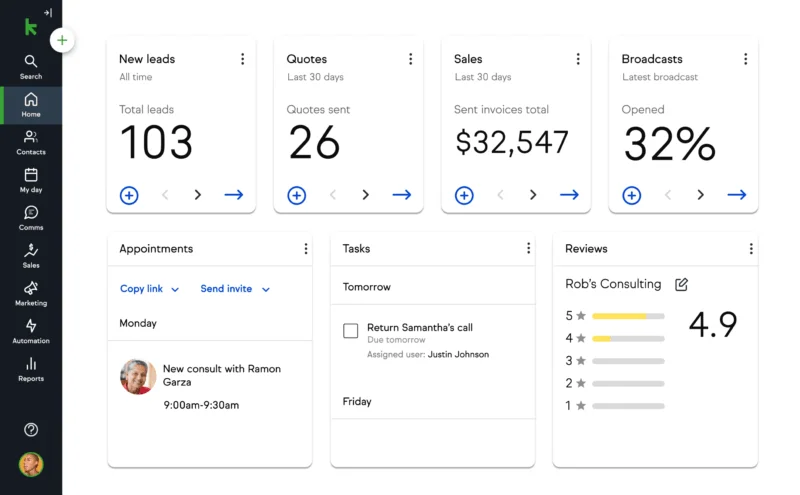 What are Keap's best features?
Keap is extremely customizable, letting users build their own unique sales pipelines and follow-ups
Tracking communications with clients and with those in your sales cycle
Allows for a/b testing and text messaging
Automate tasks, email marketing, and reminders
It integrates with over 2500 third party platforms and services
Keap is for you if:
Your small business is heavily sales focused
You need integrations
You need marketing automation
5. Monday
Monday.com is a team focused software to plan and track projects, and it also doubles as a business CRM. You can handle your sales pipeline, contact management, lead capturing and management, and all team tasks using this software.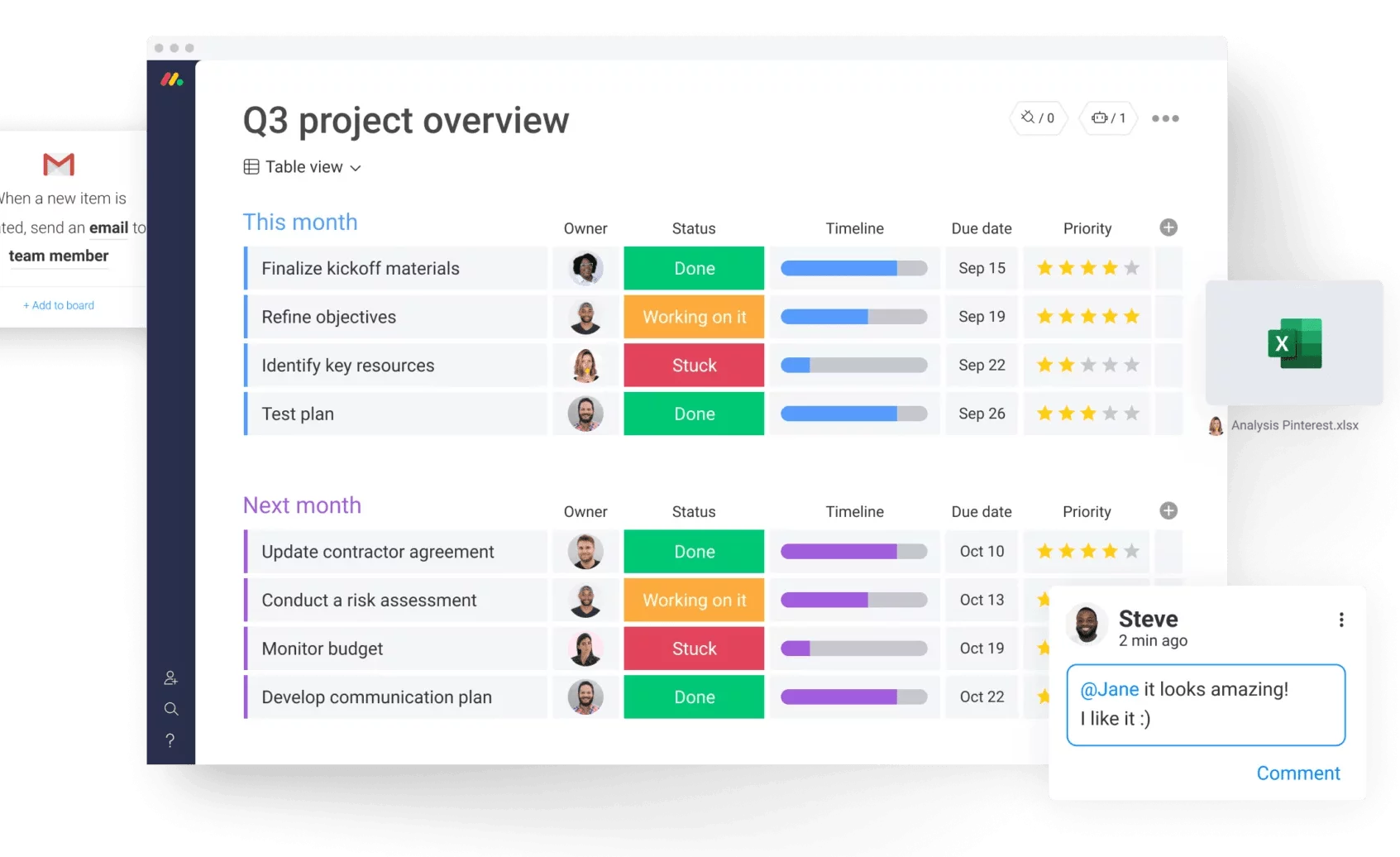 The strongest Monday best features are:
Sales team management: Team collaboration and connection keeps everyone on the same page. You can create team dashboards for any project and team members can mark tasks as complete or add new tasks/deadlines in the team calendar.
Sales CRM: Track the customer journey, streamline sales activities, and set up workflow automation.
Keep in mind that Monday has a LOT going on, and it's made for larger teams. It can take a long time to navigate through the platform to find the project management tools you really need like simple invoicing.
Monday is for you if:
Your small business has a team of 10+ people
You need employee workload management
Pricing
Bloom
Bloom has a FREE plan that gives you most of its features for one project.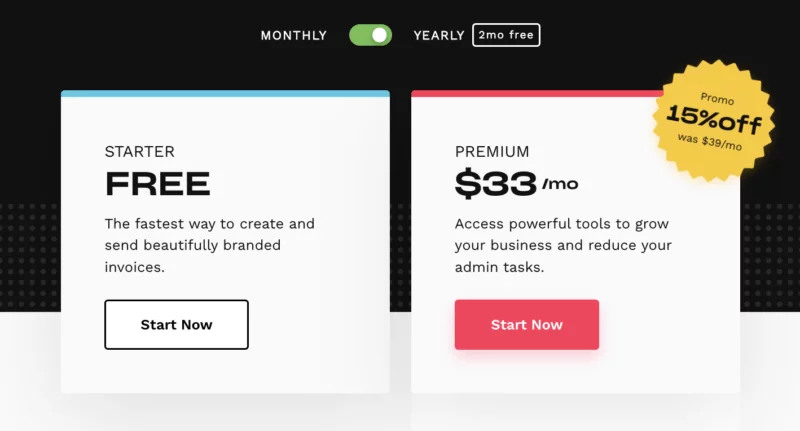 If you want to upgrade to the full suite of tools, it will be $39/mo for a yearly commitment. If you sign up right now, a 15% off code is automatically applied. Create a free account and get started today.
Zoho CRM
Zoho CRM pricing has 5 tiers. You can access the free plan for basic features like leads, contacts, and CRM views for up to 3 users. The basic plan starts at $20/mo (billed monthly) with workflows, custom dashboards, mass email and more. The Professional plan is $35/mo (billed monthly) and has more inventory management and SalesSignals, and more automation options. The Enterprise plan is $50/mo and has multi-user portals and advanced customization. See for yourself.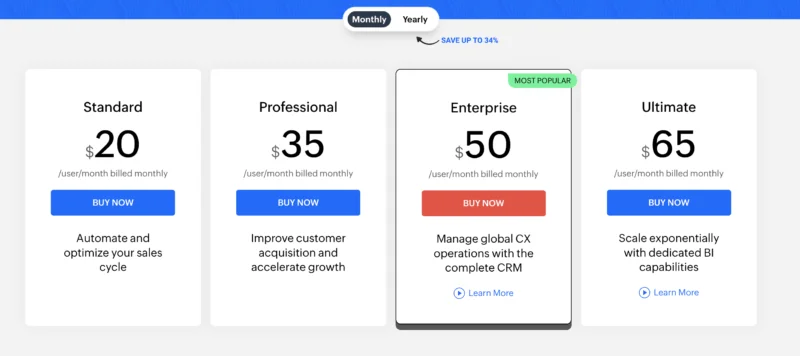 Pipedrive
Essential – $19.90 a user per month
Advanced – $34.90 a user per month
Professional – $59.90 a user per month
Enterprise – $119.00 a user per month

*This pricing is based on a monthly subscription.
Keap
Pro – $169 a user per month
Max – $249 a user per month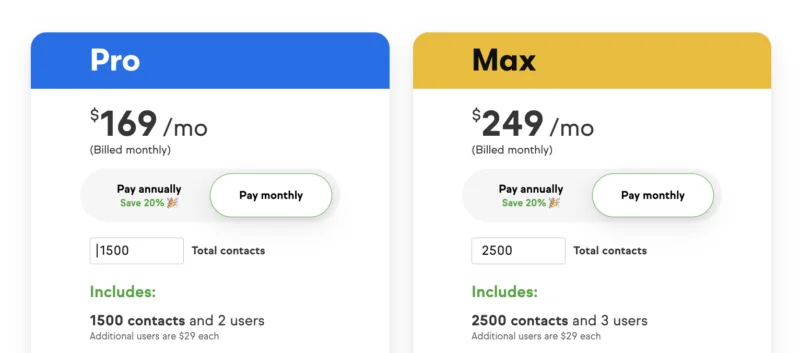 *This pricing is based on a monthly subscription.
Monday
Individual: This free plan is available for up to 2 seats. It offers three boards, a kanban view, an activity log for up to one week and more.
Basic Plan: from $24 per month (depends on the number of users)
Standard Plan: from $30 per month (depends on the number of users)
Professional Plan: from $48 per month (depends on the number of users)
Enterprise Plan: At Request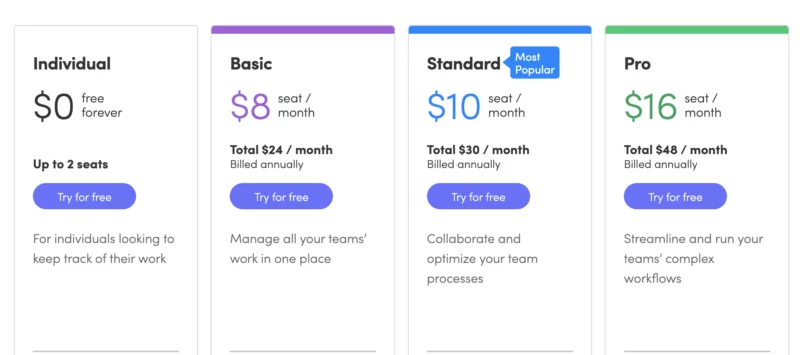 *This pricing is based on 3 seats for an annual subscription.
What's Missing?
Project management software can get clunky, expensive, and unnecessarily complicated when it doesn't have to be. Every customer relationship management software has its pros and cons. We already outlined the best features of each software listed, but what are the downsides?
The "busiest" software with the steepest learning curves are Monday and Zoho CRM. Zoho, Monday, and Pipedrive are great for a heavily sales focused business, but they lack the simple features and customizations that Bloom offers. With that said, scheduling and invoicing may be more "annoying" with the more robust software options on this list. While Bloom does have a clean design with customizable workflows, an easy learning curve, and super easy invoicing and contracts, it lacks email marketing. Last but not least, the most expensive programs are Monday and Keap. Monday.com pricing can be expensive for small businesses that want to scale users. It has pricing in batches of users up to a certain number, which may lead to paying for users that aren't required. Keap is the most expensive on the list, but it has built-in marketing automation for growing any small business. These cons are important to consider when choosing the right CRM for your small business.
Choosing the right CRM
Which of these business management software solutions is best suited for you? Each of these 5 tools will benefit your small business in different ways. Some are more sales heavy while others like Bloom focus more on streamlining your processes to give your clients the best experience. Try out these tools and see which one is right for your business.
Try Bloom today – it's free.