Are you in need of a CRM, but want to explore Pipedrive alternatives? While Pipedrive can be a useful customer relationship management tool (CRM), there are many alternatives out there. As you know, organizing your workflow as a freelancer or small business is essential to growing your business, which means getting the right CRM for your needs. Almost anyone who has been working in the customer-service industry long term has heard of Pipedrive. It's one of the best-known brands in the business, focused on developing customer interactions and streamlining your sales pipelines without wasting precious time and energy.
Pipedrive Overview
Pipedrive is extremely customizable, letting users build their own unique pipelines and advanced reports
Tracking communications with clients and with those in your sales cycle
Allows for recording complete contract histories and a customer database
Automate tasks, lead sourcing and even call center management
It integrates with over 350 third-party platforms and services
Pricing Plans
Essential – $12.50 a user per month
Advanced – $24.90 a user per month
Professional – $49.90 a user per month
Enterprise – $99.90 a user per month
However, it isn't the only CRM tool on the market; many pipedrive substitutes are just as well-suited – if not better – for your unique needs and budget. Not all CRMs are created equal, and your choice likely depends on what features are most important for your work.
Pipedrive Alternatives we are looking at:
1. Bloom
2. Monday.com
3. ZoHo
4. Hubspot CRM
5. Insightly CRM
Bloom – The #1 Pipedrive Alternative CRM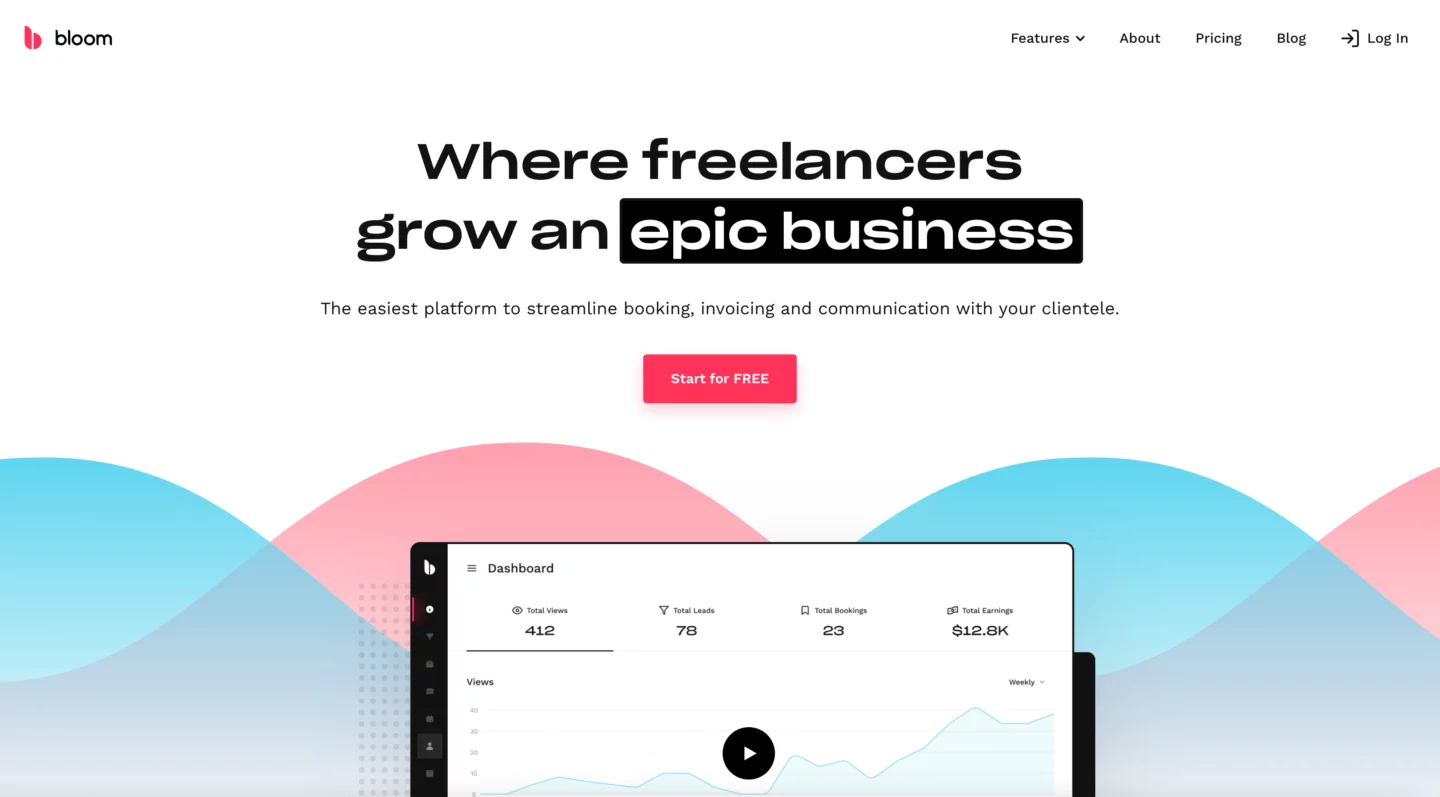 Bloom is a user-friendly CRM designed with freelancers and small business owners in mind. The straightforward design makes it easy to dive into the features and build your own. It integrates well with several other online tools like Gmail, Microsoft, and more – including so far as to collect payments from invoices and automate payment reminders. Bloom makes repetitive tasks easy, offering everything from contract and email templates, esignatures, and dynamic customizable workflows. It puts workflow and customer data right at your fingertips with high usability, automation, and custom options. As a sales platform, Bloom excels at generating leads by keeping the sales process easy for clients. Bloom's additional features include 1 terabyte of storage for photo deliveries, making this a perfect alternative for those photographers needing more storage and scalability options. Unlike other platforms that charge additional fees for add-on services or pricier, elite membership plans, Bloom offers a simple inclusive overall price that gives you unlimited access to everything (including dedicated support for your business). Additionally, Bloom also offers 24-hour support, which our reviewers found helpful, and we're sure you will too.
Pricing Plans
Starter Plan – Free trial no credit card required
Standard Plan – $39 a user per month
Studio Plan – $79 a user per month
Monday.com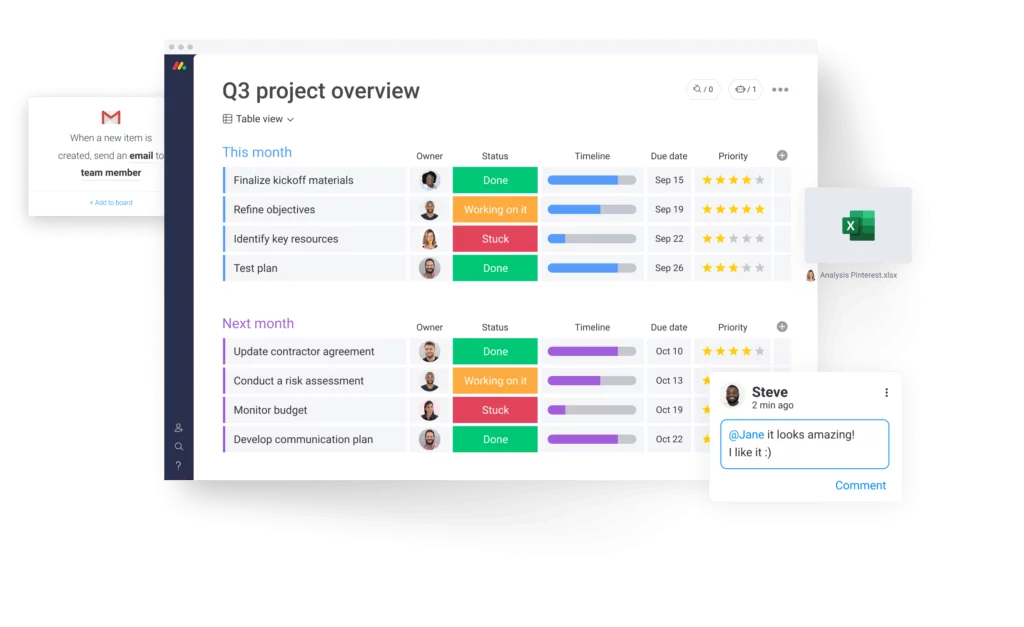 Often marketed as an online collaboration app, Monday.com is a great piece of software for teams who want to streamline their workflow and coordinate project planning. For a project management tool, this CRM works great and has tons of features designed to boost your productivity. Monday.com's project management features make this a great alternative with its reporting feature, simple user interface, and marketing strategies all on a single platform. Monday.com isn't just a collaboration platform but their CRM has powerful features like sales forecasting, sales opportunity, deal management which is perfect for sales agents, sales managers or any sales professional actually. Monday.com can be difficult to navigate at times, leaving users frustrated if they are looking for specific tools. It also lacks a chatbot feature, a live chat, and does not keep a library document. It's designed for in-house management and while those features for sales and marketing are growing, it's still not quite on the same level as other options on our list.
Pricing Plans
Standard Plan: from $30 per month (depends on the number of users)
Professional Plan: from $48 per month (depends on the number of users)
Enterprise Plan: At Request
Hubspot CRM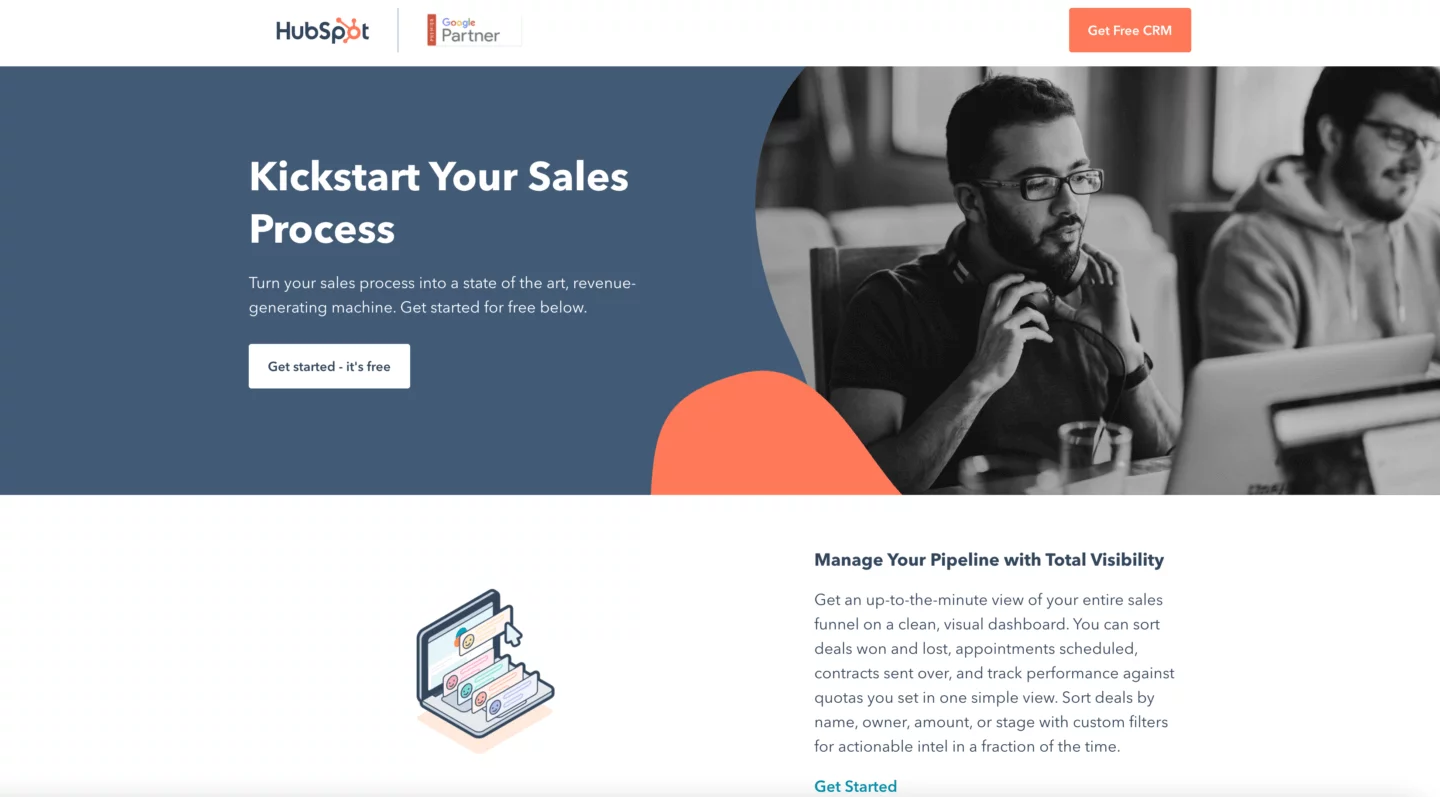 Designed for any marketing teams or sales teams, Hubspot is one of the more popular alternatives to Pipedrive because it's both a CRM/Sales platform that also doubles as a customer service software. Along with automating workflows, numerous templates, and web design tools, this great Pipedrive alternative gives you the means to develop personal email sequences and an incorporated form builder. Hubspot's user friendly features have some powerful advantages, which include email sync, business goals, sales forecasts, sales activities, sales sequences, marketing strategies and delivery features. Like Pipedrive, it's adoption into other programs like Microsoft, Mailchimp, and GSuite. Where it lacks is in the sales analytics features. It is also limited in that it has some issues with email integration functionality, which in comparison to some other CRMs on this research list, makes it somewhat restrictive.
Pricing and Sales Plans
Plus Plan – $29 a user per month
Professional Plan – $49 a user per month
Enterprise Plan – $99 a user per month
Zoho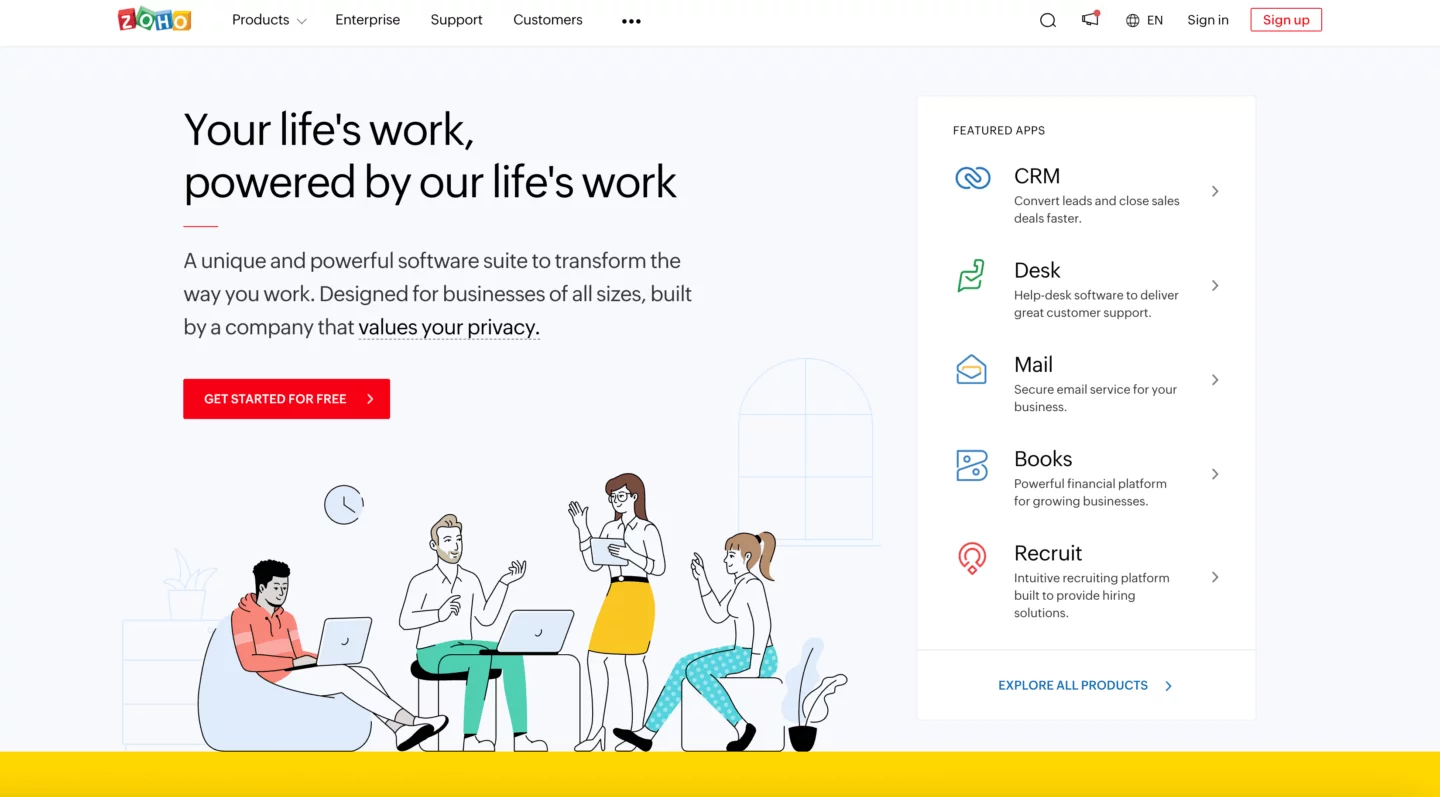 The best thing about Zoho is its versatility and potential for customization. It's great for both small and large organizations in many fields, from small freelance creators to larger real estate agencies and retail establishments. It's a terrific product for unlimited inventory tracking and product shipping management. With some of the higher tier plans, Zoho has AI integrations that can help Enterprise level sales teams prioritize leads and manage sales. Zoho falls into the category of a cloud application with an easy to learn, intuitive interface that helps streamline your opportunity reports, sales processes, and potential customers. While the overall pricing is comparative to most other CRMs, the additional add-ons (while incredibly versatile) do add to the max overall cost.
Pricing Plans (standard features)
Standard Plan: $14 a user per month
Professional Plan: $23 a user per month
Enterprise Plan: $40 a user per month
Insightly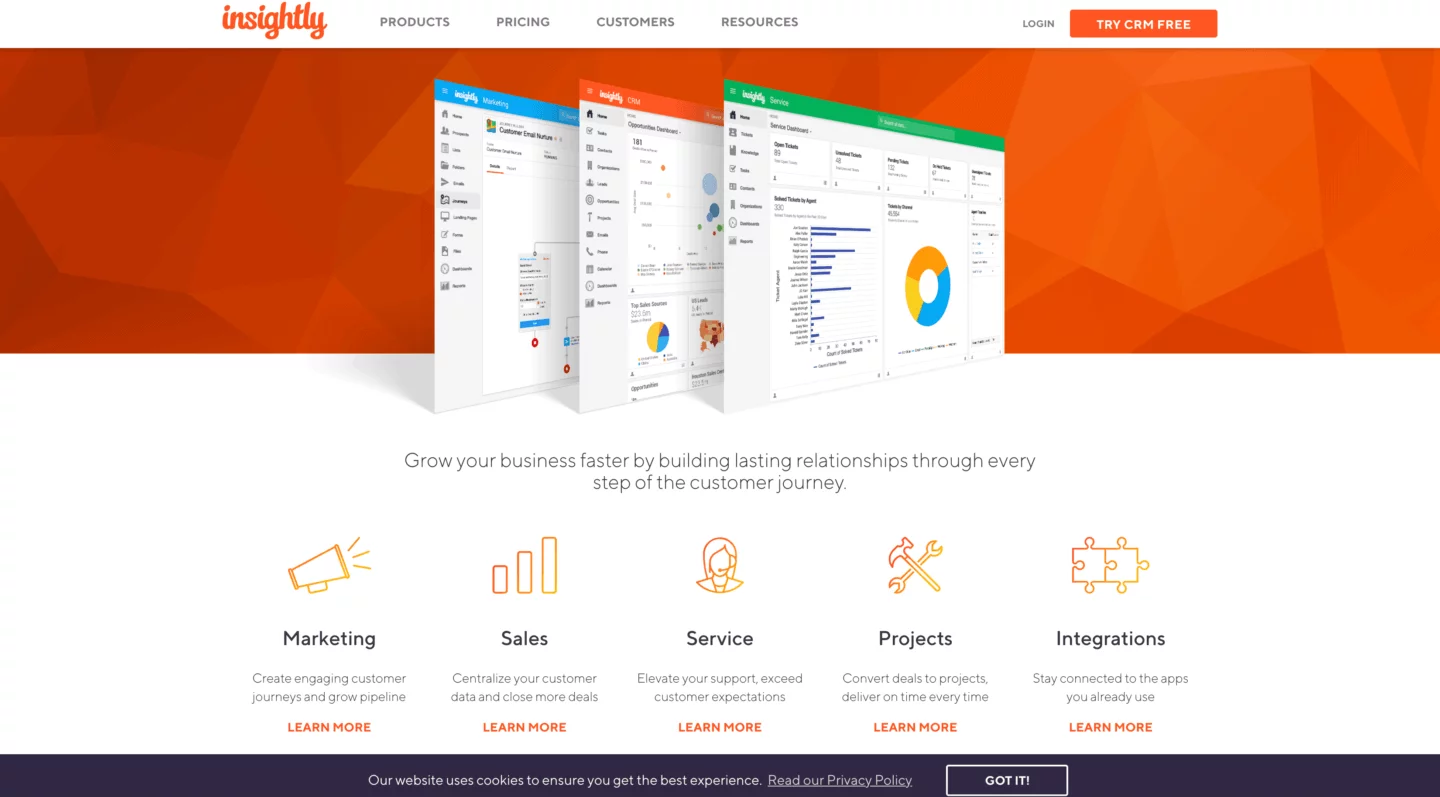 A user-friendly platform that combines sales, workflow efficiency, and project management, Insightly is a robust CRM product for small businesses. It's great for keeping the sales and project delivery coordinated and collaborative without breaking the bank. Insightly is intuitive for use and integrates with many other sales and management tools. Insightly has recent positive customer reviews and quality customer care. They are a sales machine perfect for sales managers looking to perfect their sales processes.
While this is a relatively inexpensive CRM, they do have a Marketing tool that is not included in the base pricing. This separate service, Insightly Marketing, may be indicative of their changing price plan. It also lacks the same scale of reports and dashboard functionality as other platforms, which our reviewers found kept it lower in the ratings relative to other CRMs out there.
Pricing Plans
Free Plan: free for 2 users
Standard Plan: $29 a user per month
Which Pipeline Alternative is for you?
Which of these business management software solutions is best suited for you? Each of these 5 Pipedrive alternatives will benefit your small business in different ways. Some of these pipedrive substitutes are more sales heavy, while others, like Bloom, focus more on streamlining your processes to give your clients the best experience. Try out these tools and see which one is right for your business. 
If you think we've left a Pipedrive alternative tool out, leave a comment or visit one of our social media pages to let us know. In the meantime, why not sign up for a free trial of Bloom and experience it for yourself?
Pipedrive Alternatives FAQs
What is an alternative to Pipedrive?
Bloom is a notable alternative to Pipedrive, offering CRM features with unique additions like image sourcing and a highly engaging user interface.
Why not to use Pipedrive?
Some prefer alternatives to Pipedrive due to privacy concerns, different billing structures, or specific features like advanced image sourcing found in options like Bloom.
Why did you choose Pipedrive over these alternative products?
Some users choose Pipedrive because of its established reputation, high customization potential, and seamless integrations.