Any business owner knows that a proper CRM is essential to ensuring a consistent client experience. As your business grows, keeping track of each client becomes exponentially challenging and any freelancer or independent business owner will need to find the right tool for them.
A CRM stands for Client Relationship Management and refers to tools used to optimize your client experience.
Thankfully there are workspace solutions designed for freelancers. If you're looking for a comprehensive CRM client management tool, three of the top platforms to compare are: Dubsado vs Honeybook vs Bloom.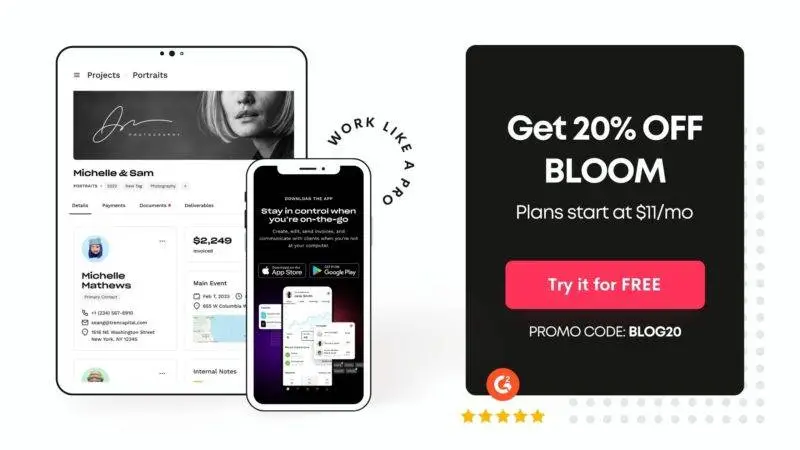 At a glance, all three platforms offer robust features to help you organize, streamline, and automate your client processes. But, upon closer examination, each platform provides a distinct set of advantages and disadvantages.
To help you make an informed decision, we've comprehensively reviewed these CRM solutions' major features and functions. Continue reading for a complete insider review of Dubsado, Honeybook, and Bloom in 2023, and how to choose one of them as your client management solution.
Let's start with the big picture. When selecting the best tools, consider the following criteria:
How easy is it to use?
How strong are the features?
How professional is the client experience?
What is the price?
What Are the Main Differences Between Honeybook vs Dubsado vs Bloom?
To start with, Dubsado has the most complicated interface among the three, so Dubsado is best for someone with advanced technical knowledge. This feedback is consistent across all review platforms. While there is a wide array of features, the navigation is not intuitive and new users will be required to invest a great deal of time before experiencing any benefits.
Honeybook and Bloom are more user-friendly, with Bloom, particularly elegant and modern. Many users have claimed that "Bloom is designed for visual learners" and that it's easy to get set up and get going. All of the processes are distinguished with colors, helping visual learners keep track of projects, tasks, and deadlines without the interface looking tacky.
Honeybook appears to be in the middle of a rebrand, and much of the navigation still lacks flexibility. New users will get lost in how exactly the features are organized. There's no real dashboard and the navigation is organized into Projects, Contacts, and Tools.
If usability is a priority, Bloom and Honeybook are your top choices. It's also worth mentioning the ease of use of these two software platforms does not mean they lack in features compared to Dubsado (a more detailed comparison of features can be found below).
Of all three workflow management tools, Bloom features the most elegant and modern user experience without compromising the features.
Let's dive into each solution separately and see how they compare with the core features:
Website Portfolio
Client Intake & Booking Forms
Lead Management
Project Workflows
Invoicing and Payments
Contract Signing
Asset Delivery
Scheduling
Email Automation
Mobile App
New Features Frequency
Pricing
Branding
A Full Comparison of Honeybook vs Dubsado vs Bloom.
Let's review each core feature and see how the different solutions compare.
1. Website Portfolio
Every business needs a professional online website. But creating an effective website can be a challenge for freelancers with limited resources.
While website builders and industry templates are good shortcuts, they can be expensive and still require technical knowledge to integrate them into a CRM. Honeybook or Dubsado don't have these portfolio templates.
Bloom is the only CRM to include portfolio templates that are beautiful, easy to set up, and all of your integrations are automatically included. Here's a sample of what the "Vertical Split" template looks like.
2. Client Intake & Booking Forms
Turning website traffic into leads requires smart tools. Instead of offering PDF downloads or other lead capture techniques, Bloom allows you to embed a live chat widget on your website. Many of your website visitors have a few simple questions before they will submit a "Contact Form". This messenger allows them to write you in a non-obligatory way and allow you to capture their email in the process.
You can respond whenever you're available and it'll go to their email. Chat is a modern way to converse with leads.
When it comes to lead capture forms, Honeybook, Dubsado, and Bloom all feature robust form builders. Here's a preview of how robust the form builders are for Honeybook. You'll notice that there are content and question slides to create a comprehensive experience for your clients.
Dubsado's form builder has many options for question types. Both Dubsado and Honeybook have many templates to choose from when building your forms.
The Bloom form builder interface is the easiest to navigate, as it separates the questions from the design, which makes the building process much simpler.
3. Lead Management and Proposals
A growing business will have several dozen leads constantly coming through your CRM. Managing these opportunities is critical to growing your business because each one will take several points of contact and follow-up. While all CRMs offer some lead tracking, Bloom includes a dedicated page for your leads.
Most service professionals have a long sales cycle which means that you'll need to followup several times before closing a deal. If there are a dozen leads in your pipeline, there's no way to remember each one and to followup promptly.
When comparing the CRMs, Honeybook and Dubsado group their leads into a project pipeline.
However, Bloom has an entire dedicated page to managing your leads.
The benefit of a dedicated lead manager is that you can have greater clarity on the status of each lead, tags, and what next step you need to take with each one.
By using tags and status' you're able to know exactly where you're at with each one, what's next and how to followup.
4. Project Workflows
Every freelancer has a workflow, but not every tool is a good fit. Dubsado and Honeybook (and all other CRMs), have their workflows hidden inside projects and only a small number of users utilize them.
The Bloom workflows are built for visual learners, and are used by 95% of their users.
What makes the Bloom workflows unique is that you're able to see all of your projects and their milestones, on one page.
Furthermore, you're able to group projects into workflows representing the different kinds of services you may offer, for example, Photography, Marketing Services, and Hobby Projects.
The benefit of this layout is that you're able to stay in control and have peace of mind knowing that your entire operation is running smoothly. On one page you have all of your projects, tasks, project dates, and invoices totals.
This feature alone can remove the need for an assistant for many small agencies or studios.
5. Invoicing and Payments
How you invoice your clients is essential to getting paid. When it comes to invoicing and payment processing, each software in the Dubsado vs. Honeybook vs. Bloom comparison, is very different.
Honeybook is the most restrictive, only allowing you to process payments using their own system. They do not integrate with Stripe, Square, or Paypal, which means that you won't have access to the robust International, fraud prevention and management features those platforms provide.
Dubsado integrates with Stripe, Square, and Paypal, and gives you the option to select different platforms depending on the project.
Bloom is the most robust, integrating with Stripe, Square, Paypal, Zelle, CashApp, Venmo, allowing you to process via ACH or simply input your bank transfer info.
Here's a breakdown of payments between Honeybook vs Dubsado vs Bloom.
When it comes to ease of use, Bloom stands out dramatically with a visual interface that is simple and easy to navigate. Furthermore, Bloom features a digital payment page separate from the PDF invoice which gives your clients a full scope of the project, invoice details, contract, and lists all of the payment options you're making available to them.
Giving your clients many options to pay is the fastest way to get paid on time. Here's what the Bloom payment page looks like.
6. Contract Signing
Bloom, Dubsado, and Honeybook all feature a digital contract signing, but each has a different take on it.
Dubsado separates Contracts and Sub-agreements, which function as secondary contracts in projects. This is useful to those who use sub-contracts, but for most freelancers, it complicates the experience.
Bloom is the only CRM supporting multiple digital signees to an agreement and instead of manually having you customize each contract, the dynamic variables and custom fields allow you to send a contract in seconds.
Honeybook has the most robust customizations, allowing users to be meticulous about the details, but can also take up a great deal of time learning and using day-to-day.
Honeybook "Smart Files" are a generic category of a form builder that can include contracts. It's convenient when you require a complex client form. But in many cases it can also be a burden if you're just trying to send out a simple contract.
7. Asset Delivery
Bloom is the only CRM that includes client asset delivery. If you need to share a file, Bloom allows you to upload it to your project "shared files" and it'll be added to your client portal.
This is a far more professional experience than an email with attachments.
Bloom features a complete client image gallery builder, giving visual artists an elegant way to deliver their client images.
You can upload image into albums, set a cover image, customize the design, and customize the settings to set access, download permissions, and favoriting/commenting preferences.
8. Scheduling
Similar to contract signing, each software in the Dubsado vs. Honeybook vs. Bloom comparison feature a scheduling tool integrating external calendars like Google and iCal along and video conferencing solutions like Zoom.
All three CRMs also allow you to customize rules including event buffers, time limits, and last-minute bookings.
However, a major pro for Bloom is that is it is the only CRM featuring a complete schedule availability builder. When you're on the calendar tab, you can toggle between events and availability to set your scheduling preferences.
This feature is especially important to any freelancers who are offering event-based services.
Bloom's scheduling forms also allow you to set location, apply global availability settings, set a limited date range, and whether to require the time for the booking.
9. Emails and Automations
When it comes to email automations, Bloom, Dubsado, and Honeybook all feature robust tools enabling you to save time by eliminating extra steps.
Honeybook and Dubsado both combine automation with workflows, which means that your automations are focused on what workflow you have on a project level.
Dubsado particularly has a wide range of actions that the automations can perform, not only sending emails. This is good for businesses who's client journey always follows the same workflow without deviation.
The challenging aspect of this method is that many projects can move away from a predefined workflow making it especially difficult to know what to expect next.
Bloom handles workflows differently by allowing you to set global automations. For example, you can set a global email automation for "followup emails" by setting the actions, trigger, timing, and rules.
This method gives easy visibility to what emails are being sent out and when.
10. Mobile Apps
The ability to have your business operation in your pocket, on the go, is essential for any business. A premium business experience means you're able to respond quickly to your client's needs. If someone sends a business inquiry, or is ready to book, with a mobile app you'll be able to send an invoice right away.
Unfortunately, Dubsado does not have a mobile app at all. Honeybook and Bloom both support Android and iOS apps extensively.
They Honeybook app is robust and easy to use, however, it does not support direct chat with your clients.
The Bloom App has everything Honeybook features, plus it also features live chat if you added live chat to your website and there's someone asking questions.
Bloom chat widget is also included in your client portal, which makes communication easy and efficient.
11. New Feature Release Frequency
Another essential factor for selecting a CRM that's best for your business is how fast the development team is able to fix bugs and ship new features.
Generally speaking, the larger the company, the more tech debt and the more difficult it is to change anything. Dubsado released a big update to their forms builder a year ago, but outside of that, a con to consider is they've been notoriously slow to launch new updates.
Honeybook has maintained a steady release cycle for a larger brand, but nothing that would stimulate excitement for an average user.
As a newer brand, Bloom is shipping features at least 4-5x faster than Honebook and Dubsado. Using the product you're able to see consistently how it keeps evolving into something better every week.
They also have a robust community where you can see the upcoming feature roadmap and leave your feedback for their product team.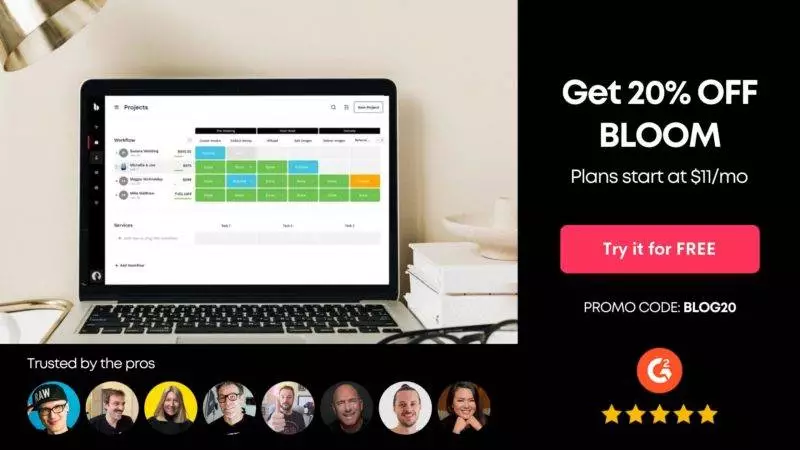 12. Pricing
Bloom and Honeybook feature a 7-day free trial for their users while Dubsado doesn't charge a processing fee to start with and puts everyone on a free plan which they can upgrade when they're ready.
Dubsado offers a free plan with no time limit, no credit card required, and a chance to test the platform with up to three clients. It's hard to compare the plans side-by-side because all offer different feature sets, so we encourage you to explore them closely before choosing one.
Here's the overview of the Dubsado vs. Honeybook vs. Bloom pricing at a glance.
Bloom has two plans – Starter ($14/mo) and Standard ($37/mo). It has one of the most straightforward pricing systems among the three platforms. Starter limits users on project quantities (up to 3), workflows (up to 1), instant bookings and automation (up to 1 each), and other limitations. At the same time, the Standard plan unlocks full access to all features.
Dubsado has a free version + 2 plans – Startedr($20/mo) and Premier ($40/mo). The Starter plan does not include the most powerful features of the platform, such as scheduling, automated workflows, Zapier integration, etc. At the same time, Premier is an all-inclusive subscription with all the features.
Honeybook has three plans – Starter ($15.20/mo), Essentials ($31.20/mo), and Premium ($63.20/mo). The Starter plan has unlimited clients and projects, but with limited, we can even say only the most basic features like invoices and payments, calendar, basic reports, and similar. The Essential plan goes further and unlocks extra features like automated workflows, scheduler, QuickBooks integration, standard reports, etc.. Finally, the most advanced plan unlocks Honeybook's full potential, including unlimited team members, onboarding specialists, advanced reports, etc.
Here is the package breakdown of Honeybook vs Dubsado vs Bloom.
13. Branding and Final Things to Consider
Branding is something all freelancers who want to appear professional and who want to be able to charge premium rates for their work must consider. The sharing information and assets, or creating templates (whether these be work templates, an agreement template, a contract template, invoice template, a quote template or quotation template), having a congruent branding experience across all business assets improves your perceived quality and value, which will boost customer loyalty, and ultimately your bottom line.
Conclusion: Which Client Management Tool Is Right for You?
After completing a full comparison of Dubsado vs. Honeybook vs. Bloom, we can confidently say that each has unique features, and it's hard to say which one is the best.
Bloom has a competitive edge over the other two regarding dynamic and user-friendly interface, custom website builder, and a full image gallery sharing platform. It's a revolutionary CRM platform as it integrates features that are not common for most market players, including a chat with clients, a website builder, a library of creative works, etc. So, if you need a comprehensive solution that's easy to use and make your brand stand out, Bloom is the right choice.
Dubsado and Honeybook have more similarities than differences, but Dubsado is rated as a more powerful platform due to its advanced automation features and integrations. It connects to popular video conferencing tools, allows multi-user accounts to delegate tasks to different team members, and provides customizable reporting. We can probably state Dubsado as a more suitable choice for businesses with bigger teams, more complex project workflows and larger databases of clients.
Finally, Honeybook is no less than the other two CRM platforms. It's straightforward and intuitive to use – and the platform's versatility is one of the crucial advantages. However, it's more suitable for small businesses that have the availability and time to learn a more complicated CRM.
So, the choice is yours! Take your time to go through all three platforms' features and decide which one is right for your project. Good luck!
Honeybook, Dubsado and Bloom FAQs
Does Dubsado's proposal system have any advantages?
While Dubsado offers extensive customizability, Bloom's intuitive, freelancer-friendly approach provides a smoother experience in crafting proposals.
Which platform offers superior client engagement templates?
Each has its strengths, but Bloom's simplicity and easy-to-use interface stand out, making it an excellent choice for freelancers wanting fuss-free client interaction.
How do quotation templates compare across these platforms?
All platforms provide solid options, yet Bloom's user-friendly and streamlined quotation templates make it a favorite among freelancers for quick and effective quotations.
What should I look for in a project management template?
Key factors include ease of use, customization, and workflow integration. Bloom shines for freelancers here, offering well-designed templates that seamlessly fit into a freelancer's workflow.