Mini sessions aren't a new concept or an earth-shattering business tactic for photographers.
But they are picking up a good deal of steam, as of late.
Maybe it's the custom-made holiday card craze, the desire to post every moment on Facebook, or the affordability factor of holiday mini sessions.
Either way, they're officially "in."
And it looks like they're here to stay!
As a photographer, you know that the best way to expand your client base and ramp up your revenue is by staying on top of current trends.
So we're going to let you in on a few secrets.
What Is a Holiday Mini Session?
Photography mini sessions offer new leads a quick taste of your talent.
In other words, they get new clients in the door to try your services without the financial commitment of a $200+ full photography session.
It's like a test drive!
Instead of a 60-minute standard photoshoot spanning multiple backdrops and hundreds of photos, mini sessions keep it short and sweet.
One location.
15-30 minutes.
5-15 digital images.
Holiday mini sessions take this same concept and simply infuse the holiday spirit. Think tree farm mini sessions for Christmas time or family sessions for Hanukkah, Kwanza or Thanksgiving.
Types of Holiday Mini Sessions
Holiday mini sessions swoop in when the slower time of year hits (fall and winter). If you're a full-time freelancer, they're a great way to keep your head above water until your busy schedule returns come May.
People want holiday photography for days like Halloween, Thanksgiving, Valentine's Day, and Easter.
If you can find cards for it at your local Hallmark or decorations for it at a nearby Party City, you could probably book an afternoon of mini sessions for that holiday.
For example, Mardi Gras mini sessions probably wouldn't work in Seattle. But they could be a massive hit just outside of New Orleans.
Do some local research and get creative!
---
Tailoring Mini Sessions to Each Holiday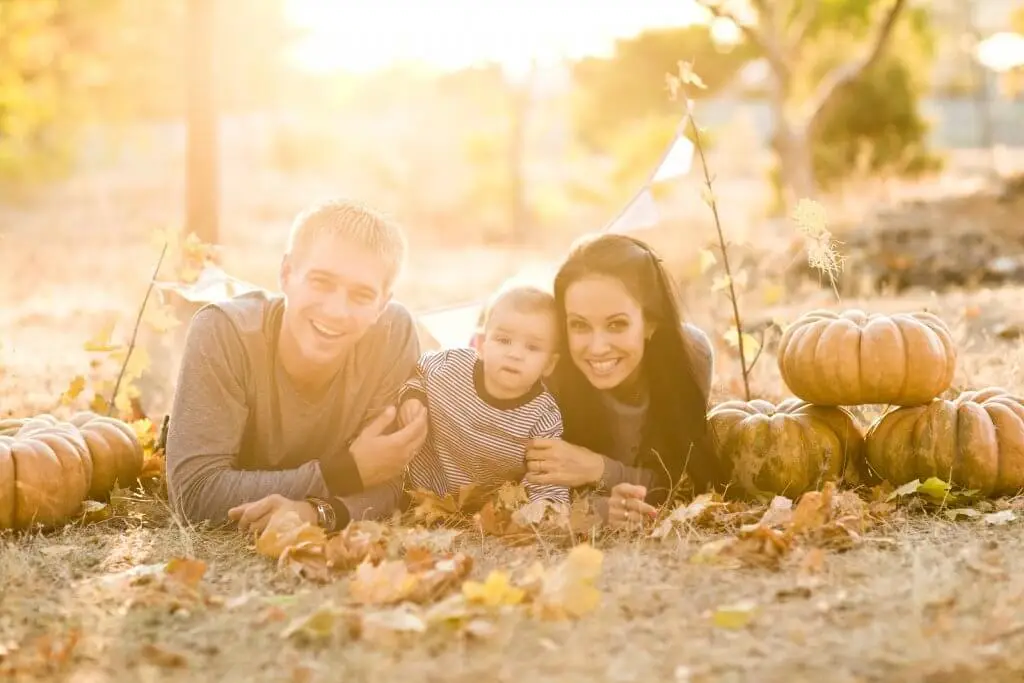 Mini sessions in December aren't automatically Christmas themed.
And simply rolling out a Rudolph the Reindeer backdrop, reminiscent of a 90s Christmas portrait session at Sears, won't draw the masses, either.
If you want to book more holiday mini sessions, you need to bring the holiday spirit!
Adding in the Props
The first things you need are props, props and more props.
We're talking about huge wreaths and wearable LED string lights for Christmas mini sessions, pumpkins and leaf piles for Halloween shoots, and massive colored eggs for Easter.
The more movable props you offer, the more clients can input their personalities.
Is there anything cuter than a toddler sitting in a bucket while holding a pumpkin?
We think not!
Location, Location, Location
Next comes the location.
A bare photography studio is just fine for crisp holiday photos with prop overload. Minimalist photoshoots are all the rage these days, and this is the perfect way to capture that audience.
But here's the thing:
Other clients want the full holiday experience and tons of natural light.
Never overlook the excitement of hosting Christmas tree farm mini sessions or partnering with a local pumpkin patch for a fall-themed backdrop come Halloween.
Encourage Your Clients to Get Festive
You spent a week getting ready for Easter holiday mini sessions. It took forever to line-up the eggs just right, find authentic metal jugs, and pick the perfect flowers.
And then, your next client walks in, dressed as if they're coming from the gym.
Good luck editing those family portraits to look good!
It doesn't have to be that way.
Reach out to your clients before the session and encourage them to get into the spirit to bring the session to life. Telling them to wear their Sunday best will make those family photos worth sharing on Instagram.
---
Keeping Mini Sessions "Mini"
The more time you spend shooting and editing, the less profitable your sessions will be.
Mini sessions should always be, well, mini!
Here's how to make sure they stay that way:
Set a Time Limit
The length of your mini sessions depends on a few things:
The number of clients you want to squeeze in
The number of hours of daylight you have
The length of your permit
The product you promise your clients
Ask yourself how many sessions you want to schedule for the day.
If you plan to be at the park for 8 hours and you want 16 sessions, you could technically book 30-minute sessions for each client.
Of course, 25-minute sessions with 5-minute breaks in between may be less hectic.
That's 16 new sets of eyes on your work, all in a matter of 8 hours, and more people to post your photos online, tell their friends, and book again next year.
Create Time Slots Online
It's 2020. Your clients would rather schedule a mini session online than play phone tag or face the dreaded, "What time works best for you?"
Thankfully, apps like Bloom, Acuity, and Calendly make this a possibility.
All you have to do is send out a link to your calendar via your Facebook page or an email campaign.
Clients click the link, select a time slot that fits into their schedule, and it's booked. When you automate your sales funnel like this, overbookings are nothing more than a nightmare of your past!
By the time the shoot rolls around, you're already booked from 9 to 3. And when your schedule fills up, feel free to open up another weekend for bookings!
Is Square Appointments enough for your business? Get the facts in our Square Appointments review.
Client Satisfaction is Key … To an Extent
You may be pocketing $100+ per mini session. And a (literal) day at the park can net $2,000 or more.
Well, that assumes you stick to what you promise.
Let's say you set your mini session pricing to $119, and you're offering ten digital downloads with the package.
But then you give 50 downloads.
As happy as your clients may be to receive five times what they expected, it's not a win-win situation.
You made your services perhaps too valuable.
And why is a client going to book a regular session later on when they can get 50 high-resolution photos (like one of your full sessions) at a steep discount?
Frankly, they won't.
If you say 30 minutes, do 30 minutes. If you say 20 prints, give 20 prints.
Try Bloom free for 14 days!
---
Marketing Mini Sessions to the Right Audience
There are two things you need to market your sessions: local outreach and something worth clicking.
Here are some of the best marketing strategies:
The goal is to get the word out to the right people in whatever way possible.
That could even mean sharing the news in the bleachers at a youth soccer game, at PTO night, or on your personal Instagram page.
Don't Forget to Mention …
If you have expectations for how you want your holiday sessions to go, make sure you include the following in your marketing materials:
Theme: Is there any particular clothing style you want clients to wear? Do you want them to bring any of their own props?
Location: It makes no sense to advertise broadly, only for clients to learn you're three hours away from them.
Available times: If you have no wiggle room for time slots, add a disclaimer to your ads like, "Arrive ten minutes early. We will not accept late arrivals."
Your value: What makes your mini sessions different from your competitors? Do you send digital copies out within a week, have top-of-the-line gear, or keep a lot of props on hand? Let them know!
And since mini sessions still cost a decent amount, drive the point home by including a festive photo sample from last year! That way, anyone who sees your ads knows what to expect and can picture themselves in the shoot.
---
Building Local Partnerships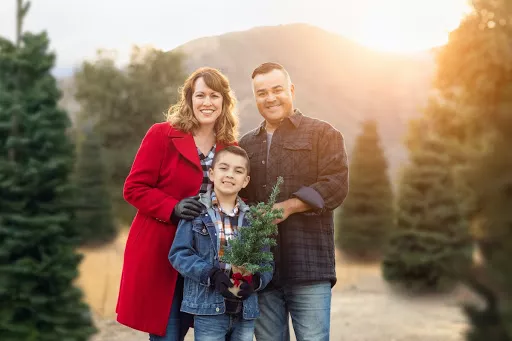 Photography may be a "one-man job" in many aspects. But nothing will boost your business more than building local partnerships.
Local studios, wedding venues, pumpkin patches, and Christmas tree farms may be the perfect partners for you.
It's a win-win.
These venues may attract thousands of people per year or even hundreds of people a day during their most profitable seasons.
And both you and your partner share the publicity—you advertise their venue to your clients, and they promote your on-site photo sessions to their visitors.
What better way to get a new festive location for your holiday mini sessions while also gaining local popularity?
---
Planning Mini Sessions Ahead of Time
If you're starting to plan your Thanksgiving mini sessions in October, you're already too late. Good luck coming up with fall mini session ideas, getting permits, gathering props, and filling up every time slot by mid-November.
Translation: The planning stages are key.
How Far in Advance to Plan
Market your holiday photo sessions too early, and people will forget about them before that holiday rolls around. Market too late, and you're bound to have bare spots in your calendar.
You're looking for the sweet spot.
Three months before the holiday season hits, start organizing the administrative things—getting permits, creating a schedule, and crunching the numbers.
About a month before, make sure you've decided on a theme and have props.
Around 2-3 weeks before the event, begin marketing.
Related: Time Management Techniques for Freelancers
Schedule Mini Sessions Before the Holiday
Late October may be primetime to capture autumn's colors and beauty at a pumpkin patch (i.e., the leaves, fresh pumpkins, and ripe apple trees).
Now ask yourself: How long will it take to edit all 15+ batches of photos?
Let's say it's 2-6 weeks.
Nothing will irk your clients more than receiving their Thanksgiving-themed family pictures two weeks after the holiday.
You need to give your clients time to:
Receive their photos before the holiday
Arrange to order prints, holiday cards, or other templates
Order frames or canvas prints on sites like Etsy
Mail (or hand-deliver) these memories to family
Remember: Happy clients
book more sessions
, and they also tend to spread the word to their family and friends. Scheduling appropriately is the easiest way to make your clients happy.
---
Conclusion
The holiday season is fast approaching.
And the sooner you get the behind-the-scenes details sorted out, the more time you have to jampack your schedule and sell-out a weekend's worth of mini sessions.
But remember: These 15-minute sessions are just the beginning.
No matter how good your Christmas photoshoot ideas may be, they'll only be profitable until mid-December. And Valentine's Day mini session shoots run their course well before February 14th.
Then, the bulk of your schedule reverts back to standard full session packages (engagement sessions, senior portraits, etc.).
Think long-term. As you're filling your calendar with holiday mini sessions, start strategizing how you'll get those clients to come back for a full session.