You didn't start your business because you wanted to do back-office tasks — you did it because you have a passion for your product or service and vision for the work you love to do. There is freedom in setting your own schedule and being in control of your day. But being a one-person team in your own business means the responsibility for all the work falls on you.
From the little administrative tasks like checking and responding to emails, to making sure the bills get paid and taxes get filed, it's all on your shoulders. Some days, your to-do list might be manageable. Other days, it can be full of tiny but engulfing tasks.
Without organization, important deadlines can sneak up on you. Due dates might get missed, costing you money in late fees. On top of your solopreneur responsibilities, you also have family obligations and personal roles.
If you don't have a method to keep all of your hats lined up and straight, it's easy to get overwhelmed.
An all-in-one solution to your problem sounds like a magic trick, right?
The truth is, I was once in this situation. I had started a business and had clients who wanted to work with me but when it came to actually sitting down and running my business I froze up.  I still spent time working for those clients but never made the most out of my time with them from both a productivity standpoint and when it came to financial income. Ultimately, I gave up. I thought being an entrepreneur wasn't for me. But that's when I did my research. I figured out the key was actually nothing more than finding a really great customer relationship manager (CRM) app to do the job of keeping my lights on so I could really hustle.
But not just any CRM will do!
When it comes to staying organized as a small business owner, there are some key elements I recommend looking for in an all-in-one CRM.
1. A Method to Limit Paperwork
One of the most time-consuming aspects of being an independent business owner is dealing with paperwork. It often seems like a never-ending job all by itself!
You have to save receipts, file taxes, pay bills, and keep track of all of the other minutiae that come across your desk each day. Learning what's important versus what's trash can be a learning curve.
A desk file system is important if you're a paper/pencil person.
But to limit the clutter on your desk and the possibility of losing an important document, switching to a cloud-based organizational system is a smart idea.
Cloud-based storage lets you access your files from anywhere there's a WiFi connection present. If you need something accessible at any time, you can always make the document available offline, too.
Bloom, a customer relationship management system, is designed for independent business owners. Its organizational program makes setting up files and transferring documents a breeze.
As you create your file system, consider including a folder for these key legal documents:
Your business license and registration
Any insurance documents required by your business
Contracts, vendor agreements, and other editable, regularly used document templates
Non-disclosure or confidentiality agreements
Any terms and conditions or privacy policies
Employment or independent contractor paperwork
Receipts, mileage records, and other tax documentation
Contracts and communication between you and your business partners, if any
These basic folders will get you started as you begin the process of organizing your paperwork.

---
2. An Interactive Scheduler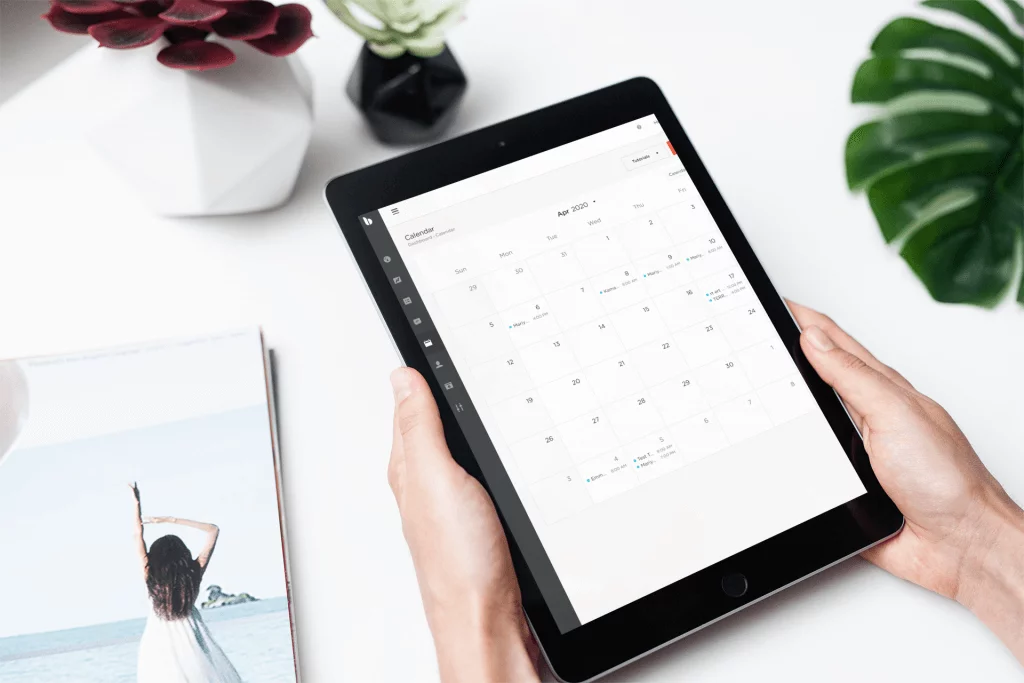 As a solopreneur, you're the only one handling your clients. This gives them the personal touch they come back to you for.
Not every aspect of communication must be person-to-person, though. If you have an interactive scheduler, clients can set up meetings with you based on the availability you give them.
Bloom's scheduling program does everything from setting appointments to providing potential clients with the forms they need to fill out ahead of time. When your calendar system syncs with your scheduler, you can pull up your client's appointment and open all of the saved information you have on file.
Bloom also goes above the competition by giving you the ability to talk with customers in real-time through an integrated chat messenger.
These features integrate into an efficient surface-level way to free you up from repetitive questions and phone calls. Now you have the extra time to do what you love to do, instead of dealing with the organizational aspects of your business.
To make the most of your time, read 7 Workflow Optimizations for Meeting Client Deadlines
---
3. Integrated Communication
Communicating with your clients via social media and website responses can't be overrated. The fact is that no matter how good your product or service is, communication skills are often the key to a successful company.
One negative review can quickly spiral into a lot of missed business. Your reputation hinges in part on how you respond to your potential, past, and current customers.
If you're juggling multiple platforms to make sure you've answered every message and followed up with every business opportunity, something is bound to get missed.
You can promote successful client communication with a few proactive approaches and strategies, like:
Consistency
Be consistent about checking your messages. Consider implementing an auto-generated response to emails and texts, letting the client know when to expect a reply.
Personalized Engagement
Much of your work will be consistently the same for everyone, but you should add a special touch where you can. Ask individual clients what their pain points are and show them that you can fill that need better than anyone else.
Clear Expectations
If you have a document in your storage files that tells clients what your policies are, send that with your first or second return contact. When you do this consistently, it creates an organizational process that keeps you from trying to remember what you told each client.
Related: How to Inform Your Clients of a Price Increase
---
4. Simplified Template Creation
Contracts, forms, and emails are all essential parts of running a business.
Tailoring them to individual clients can be a time-consuming process — and especially cumbersome for the self-employed. Going online to find templates for your business just leads you down a rabbit hole of possible wasted resources.
But if you have template creation as part of your regular CRM program, you can start from a reputable source and build your own from there.
Templates serve multiple important purposes when it comes to getting the small business owner organized.
Templates Ensure Accuracy
When you can easily plug your client's personalized information where it needs to go, and do so through your CRM, your meetings run more efficiently.
A template in your CRM also gives you the comfort of sending a new team member to an interview and knowing they will get all the pertinent details filled in on the contract.
Templates Increase Cost-Efficiency 
Creating unique templates for each of your documents takes some work up front, but after that, it's a continuous time-saver.
Even when you have changes to your business, it's easier to tweak the template a little to reflect them than to start from scratch.
Templates Make Your Business Look More Professional
Using templates for all your documents lets you keep the same format and layout that displays your brand.
This consistency throughout all your documentation gives your business professionalism that shines through to the client. It also makes your work recognizable to others, and they are more likely to remember you when they need the product or service you offer.
Templates Make Business Changes Easier
A template is also important when it comes to opening more than one office or franchising. The basic format and layout stay the same, but the address changes. Unless you have policies specific to one place, there isn't too much to adjust.
Templates Save Time 
Concise and clear documents made from consistent template layouts help clients to navigate your site or search through their paperwork to find their own answers.
By making every part of your business, from your website to your documents, have the same layout through template creation, you make it simple for your clients to know what to expect.
You can even include a template for the FAQs you want to cover to reduce the redundant questions you get repeatedly.
Bloom's CRM features include a simplified template creation option that guides you through setting up email templates.
Related: The Best Time Organization Hacks for Freelancers
---
5. Automated Invoicing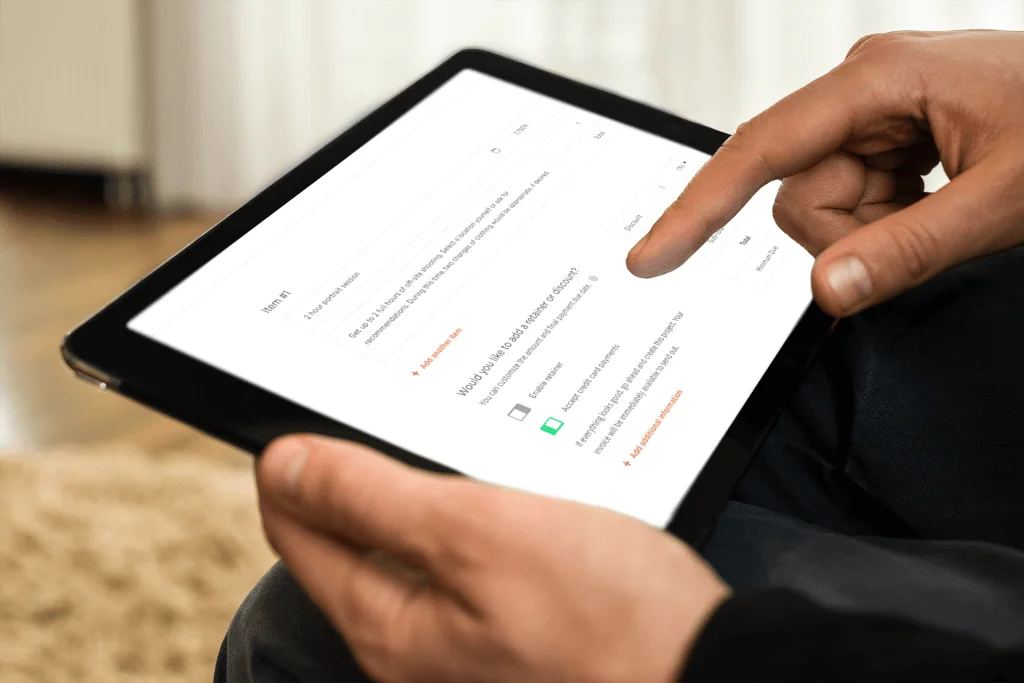 If you don't have a system in place for creating invoices, it's a quick and slippery slope to losing track of the money you're owed.
You probably don't have the time to go back through all of your clients' invoices to make sure they paid.
Invoicing clients can be a full-time job if you're a busy independent business owner.
Unless you want to hire a subcontractor to do the job for you, you need to get your invoices efficiently managed.
You should automate your routine for sending out statements, from the first one you send to the time the money is collected.
Start by creating a clearly defined invoice template that clarifies the terms of your payment policy.
Make sure you include the following elements in your template:
A clearly stated list of everything on the 'charges' line, so charges are fully understood

The expected due date for payment and any penalties for late payments

The methods of payment you accept, including a list of credit cards or cloud-based apps
Once you have the original invoice template set up, use a CRM program like Bloom to automate the process.
Any statements that don't have a zero balance can be scheduled to be rebilled as you choose. Typically, auto-generated invoices go out monthly, but this is up to you.
Investing in a CRM like Bloom that automates your entire process is a return on your investment that pays for itself.
---
Ultimately, It's 2020, Being a One Person Team Is NOT an Excuse to Be Unorganized
Getting organized takes time and an investment in the right tools. But disorganization can be even more costly.
From the overwhelm of trying to do everything yourself to the missed deadlines and invoice payments that hit you financially, you have to get your business processes running efficiently.
Bloom's CRM system is exactly what you need to be on top of everything. With all your business's tools in one place, staying organized is a breeze!
This all-in-one product makes client interaction, scheduling, and communication simple. You'll save time and avoid missed messages and appointments. It covers every aspect of what you need to get and stay in control of the little odds and ends, including:
Providing an all-in-one way to limit paperwork by storing everything in one program or on the cloud
Minimizing your interactions with clients by using an interactive scheduling system
Integrating all your communication platforms into one place, reducing the time spent checking multiple forums and possibly losing messages
Simplifying template creation to enhance your business's professionalism and share your brand across all your documents
Increasing your revenue by automating your invoicing process, making expectations clear to the clients and giving you the freedom to use your talents instead of following up on missed payments
As an independent business owner, you don't want to be bogged down with tasks like paperwork and filing. Let Bloom do the work for you, making day to day business operations simple.
Bloom's cloud-based organizational system, automated invoicing, and template creation program free up your time and improve your bottom line with efficiency and ease.
Getting a system under your belt is the first step in streamlining your entire business. Once you have all the workflows in place, your time is yours to spend doing what you enjoy instead of handling the little details.
Make your life easier — try Bloom for 14 days free!