In 2019, there were nearly two million bookkeepers and personal accountants in America. To put that into perspective, that's about 0.6% of the U.S. population.
But don't let this prevent you from trying to expand your current bookkeeping business or from pursuing bookkeeping as a side hustle when work slows down.
Because there are still enough bookkeeping clients to go around:
There are more than 30 million American businesses that may need your services—especially if you already handle your own finances quite well.
The trick is knowing where to find them.
You've already proven that you know how to start a bookkeeping business and can handle the duties involved. Now it's time to shift your attention to lead generation.
Kick Off an Email Marketing Campaign
The average person will check their inbox around 15 times a day. And nearly 25% of all marketing emails are opened by their recipient.
Translation: A good portion of your bookkeeping email campaigns won't fall on deaf ears. And for every thousand emails you send off, a 1% conversion rate can secure you a few clients.
It's easier than it sounds, thanks to automation.
How to Build an Email Mailing List
People are far less protective of their email addresses than their phone numbers.
Most people will gladly give you their online handle if there's an incentive on the other end (like a discount or a freebie).
Some will even hand you their contact information if you ask nicely.
The goal is to collect email addresses whenever and wherever you can:
During in-person meetings
At networking events
Through lead capture forms on your website
To get access to gated content (like white papers)
… and more.
Types of Marketing Emails
The biggest mistake that freelance bookkeepers make is collecting email addresses and then not doing anything with them.
That lead is going to turn cold. And quickly.
As soon as you meet a potential client, you need to add their contact information to your CRM and get them started on a drip campaign.
Begin with a friendly "Welcome" email and follow-up with biweekly (or even monthly) scheduled emails, such as:
Newsletters
Holiday and birthday greetings
Upcoming deals, promotions, and discounts
Press releases (business updates to keep clients in the loop)
Events you'll be attending or hosting in the future
Downloadable content (white papers, a how-to guide)
Snippets of your latest blog posts
The goal is to give your leads and clients something educational or entertaining that they're willing to click on and skim through.
Otherwise, you risk increasing your bounce rate and unsubscriptions.
Dodging the Spam Filter
A creative subject line in an email can be the deciding factor in whether a client gives your latest campaign a second-look.
But spam filters could be your biggest roadblock.
That's because many finance-related keywords will trigger a spam filter to kick in. That email you worked so hard to craft never even made it to your client's inbox.
Avoid the following financial terms when marketing your bookkeeping services:
Big bucks
Income
No fees (or "No catch")
Potential earnings
Risk-free
Be your own boss
Additional income
No strings attached
Before you hit send, ask yourself: Does this sound too clickbaity? If it does, head back to the drawing board and do a little fine-tuning.
Don't have a CRM? Try Bloom for free!
---
Ask Past Clients for Referrals
It's probably not a huge shock that people are more likely to trust the word of a family member or close friend over advertisements.
As a business owner, word of mouth is an 83% percent more effective strategy for getting your product or services out there.
Pushing Actively for Referrals
In a perfect world, clients would tell their friends that they've entrusted you with their business finances, and then their friends would call you.
In reality, it takes a little more poking and prodding.
So how do you encourage your clients to refer you to their friends?
The first and easiest way is to give your clients business cards every time you see them. Follow up with the old, "Tell your friends," and you'll be surprised at how well this works.
As an accounting whiz (either by hobby or career), you can also use a referral system to incentivize spreading the word.
For example, you can drop your hourly rate by $1 for each client they recommend to you or drop your flat-rate by 5% on the next service.
Building Strategic Partnerships
As a bookkeeper, you can get a lot of work from other freelancers and small business owners.
The best way to get referrals is by befriending business folks that have a little "pull" with other local businesses in the area, such as:
Lawyers
Insurance brokers
Doctors and medical centers
Retail stores
Small business owners
Owners of accounting firms
These partnerships can also help you build a steady stream of reciprocal referrals. This can help you get more clients and generate repeat business.
For example, you can encourage your new real estate agent client to spread the word at their brokerage office. In return, you can recommend everyone you know to buy and sell real estate with that agent.
---
Become a Xero or Quickbooks Advisor
Your target client is one you know is looking to hire a bookkeeper to handle their business's finances.
But statistically speaking, just 10.6% of people in America own a business. And there's no guarantee they're looking to hire a bookkeeper to organize their inventories and invoices any time soon.
Wouldn't it be great if there was a local directory strictly for accounting or bookkeeping professionals? That's where Xero and QuickBooks ProAdvisor enter the picture.
After creating a profile and undergoing training, suddenly, your bookkeeping practice is visible to all business owners in the local area.
Having a profile on each of these platforms can also help you improve your reputation.
---
Build an Online Business Presence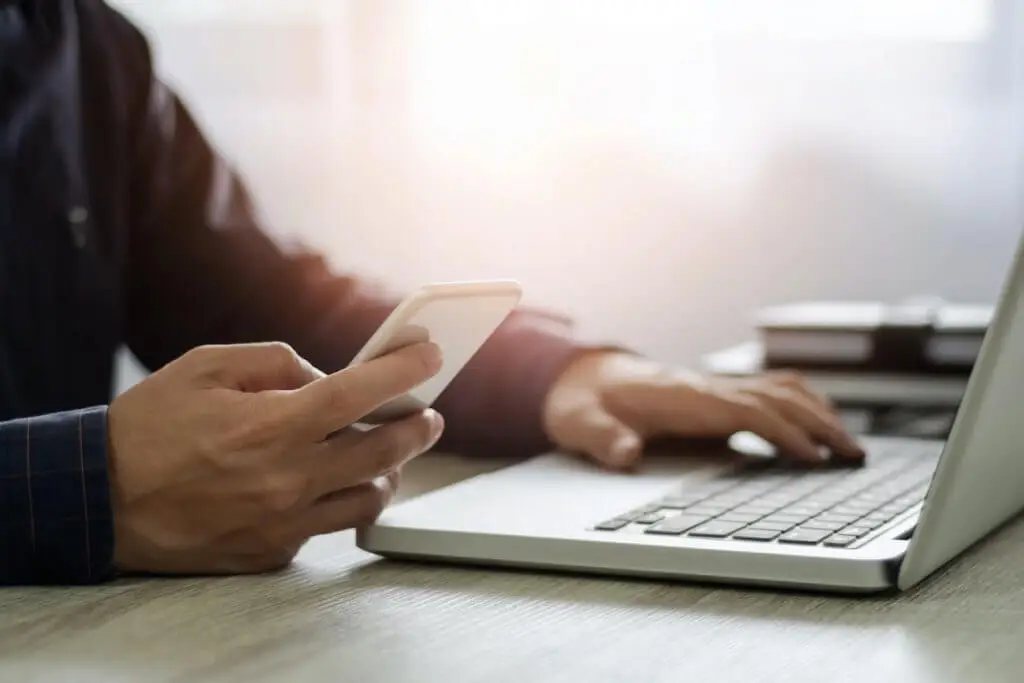 Nothing can beat the ingrained trust that comes with getting new clients in the form of referrals.
Well, nothing except for maybe building a professional presence online, a place where 92% of American adults already spend some time daily.
Social media platforms, a business website, and online directories are all excellent places to start.
Social Media Profiles
Social media isn't just a place to reconnect with old high school friends and share photos of your summer wedding. It's also the perfect platform to get on your bookkeeping soapbox and share what you know with those looking to learn.
Consider creating business profiles on:
Instagram
Facebook
YouTube
LinkedIn (there's no better place to meet other business owners)
Twitter
Pinterest
Bookkeeping is arguably one of the more specific niches. And if you post strictly about bookkeeping online, you're bound to lose followers and your engagement will always be low.
Balancing content types is key.
Pass on daily self-promotion. Instead, join online groups about managing finances and provide free management advice without caveats or begging for a follow.
And stick to making posts that generate interest—financial tracking tips, money-related news stories, and photos and videos of you in your local community (to give your account some personality).
Website
A professional web page is a must-have if you want to outlast your competitors.
But unfortunately, we live in a world flooded by over 1.9 billion websites.
Therefore, unless you're actively trying to help your site to rank on search engines, you'll never earn organic web traffic, let alone get a visitor on your site who happens to be your ideal client.
That's why it's important to invest in SEO services or even fiddle with some target keywords (like "Bookkeeping services in Atlanta"). It can drive traffic to your site and help you rank on that coveted top slot on a search engine.
Your website also needs landing pages.
A landing page with an unbeatable incentive (like a free financial analysis) can help you collect email addresses and build your client base quicker than ever.
Online Directories
Surveys show that only 11% of people will look through a physical phonebook at any point during the year, while 97% rely on online directories for the same purpose.
To get your new business in front of the right people, you need to add your contact information, website URL, and business name to:
Yelp
Google My Business
YellowPages (the online version, of course)
Bing Places
LinkedIn
The goal for online directories is to meet prospective clients within a certain mile radius of your bookkeeping business.
---
Invest in Online Advertising & Marketing
Direct mail, cold-calling, door-knocking, and other face-to-face marketing methods still work in many industries.
Bookkeeping is not one of them.
Not only are you competing for a much smaller client base, but your clients may be across the country if you're running a virtual bookkeeping service.
So when it comes to marketing yourself in this industry, online ads are the way to go.
How Do I Market Myself as a Bookkeeper?
Name recognition is everything in the business world. Unfortunately, "J+J Accounting & Bookkeeping" means nothing to the average person.
What will make an impact is explaining who you are and what you do.
All of your marketing materials should include awards you've won, what makes you different, unique package options you offer, competitive pricing options, or even a review from a well-known local.
Locals should think of you when they need bookkeeping services!
How to Market Your Bookkeeping Business Online
The good (and bad) news about bookkeeping is that your prospective clients aren't all hanging out in the same place online.
Some are on Facebook.
Others spend their free-time on LinkedIn.
A few are easier to reach with a PPC ad.
So think about your digital skill set and who you're looking to reach with your marketing efforts, then consider the following online marketing tactics:
Twitter, Instagram, and Facebook ads: Choose the age, income level, and physical location of your ideal client, then target ads to them.
Google Adwords: Pinpoint keywords your target client is searching for.
Blogging or guest blogs: Get a backlink to your website or social media profiles to boost your Google ranking.
YouTube videos: Create videos about informative topics (i.e., "Nine Tips for Saving Money During the New Year")
There's no right or wrong way to advertise your bookkeeping or accounting services, as long as it makes you look like the expert you are.
Want to learn more about marketing? Check out our SMB Marketing Tactics article.
---
Attend Local Networking Events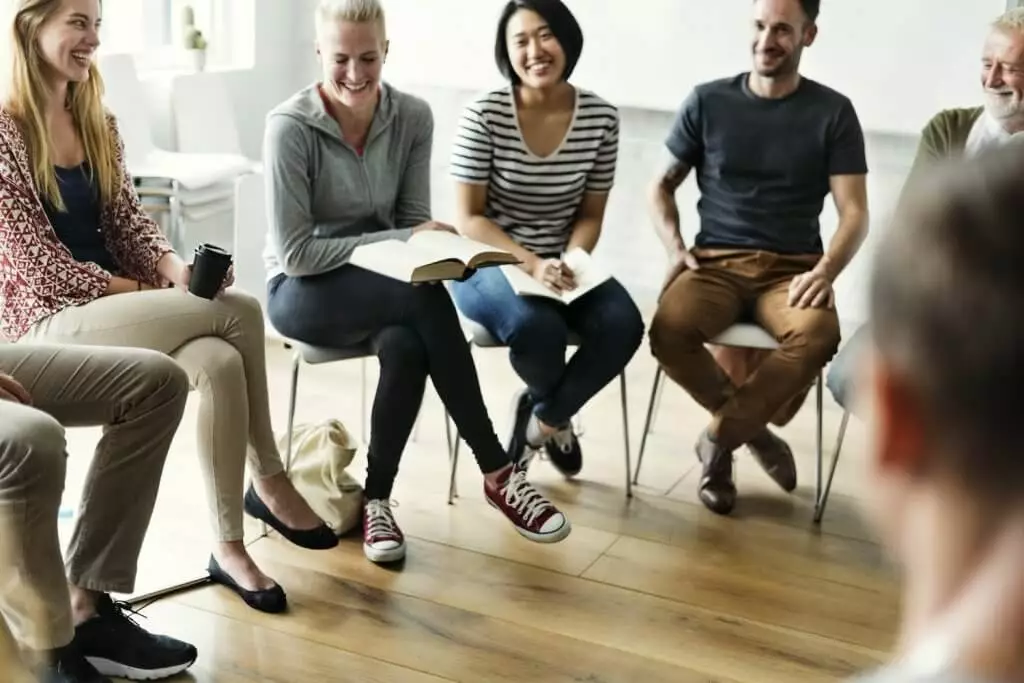 What better way to expose yourself to the local small business community than by joining them at networking events?
In today's world, you don't even need to be in-person to network effectively. Virtual meetups are a convenient way to mingle with potential clients in your local area and beyond.
Professionalism is key if you want to walk away with new contacts to add to your mailing list.
To make the best possible impression, greet everyone you meet with a firm handshake, confident eye contact, and a business card.
Then, be careful about how you broach the topic of your bookkeeping services. Networking events aren't about making sales pitches, and word will quickly get around that you're in sales mode.
You should use this time to listen to and take an interest in other local business owners. You may leave with new partnerships and a wider referral network.
Is Square Appointments enough for your business? You may need more than scheduling. Learn more in our Square Appointments review.
Networking In the Digital Age
In this day and age, nearly anything you can do in-person, you can also do online.
And in the midst of a worsening global pandemic, face-to-face networking events may not even be an option for the foreseeable future.
Virtual meet-ups via Zoom or Eventbrite are the new "norm."
But the downside of going virtual is that the handshake and business card hand-off combo fall by the wayside. Alternatively, you can follow new leads on social media, follow-up with an email within 48 hours, or send out a virtual business card.
The goal is still the same: Get their contact information and stay in touch.
Read more: Lead Generation for Freelancers [How to Get Clients]
---
Look for Clients on Boards & Forums
There's always a market for bookkeepers, especially when it comes time to file tax returns in mid-April. But if you're running a virtual business, your services are needed year-round and across the country.
Lucky you!
Online job boards and forums are excellent places to frequent, with some of the better platforms including:
The best part of using these platforms is that you don't have to wait for the clients to discover you on Google by happenstance. You can search for jobs and send your resume out to dozens of clients in just a few hours!
---
Get a CRM System to Help You Stay Organized
Your startup business may take a few months or even years to really get going, whether you're doing it as your side hustle or as your "main gig." But once you have a steady flow of leads and referrals streaming in, you'll need a way to organize them all.
That's where a CRM system like Bloom comes into play.
How Bloom Can Be a Game-Changer
Bloom helps with all of the administrative and behind-the-scenes tasks that come with running a freelance business, such as:
Keeping track of financial documents on a safe and secure platform
Sending invoices to clients at no additional cost to you
Updating contract templates, workflows, and other aspects of your virtual office
Sending out client intake forms or surveys to get a gauge on your client base for the upcoming fiscal year
Communicating with your clients via email campaigns and an in-app messaging feature
Each of these features makes your life as a freelancer a heck of a lot easier.
Plus, they can ensure incredible customer service and boost your chances of converting leads into paying customers.
Try Bloom free for 14 days!
---
Conclusion
Bookkeeping clients are far and few between unless you know where they hide out and how to draw them out of their caves.
Regardless of your approach to expanding your client base, consider how you represent both your business and yourself.
Stick to a positive message, search far and wide for clients, and stay organized.
You'll have a stream of referral business begin to trickle in as soon as you start showing clients that you and bookkeeping are a match made in heaven.
You might also be interested in these articles:
A Beginner's Guide to Freelancing | 5 Steps to Project Management | The Easiest Way to Write Project Estimates