According to Remote's recent survey, 81% of freelancers think being in control of when they work is the biggest benefit they enjoy in 2023.
But when you get to control every aspect of your professional career, you also have to control ALL the aspects of your career—including the ones you're not comfortable with.
Most freelancers we talk to have one thing in common: as much they value flexibility, they crave the consistent, repeatable systems of full-time jobs. After all, being an awesome professional in your field doesn't mean you'd have the same flair for running a business. But that's what freelancing is: a one-person business where you're responsible for everything. And sometimes, it can get overwhelming.
In this article, we'll go over the biggest challenges freelancers face, and how you can build a perfect system for your business without sacrificing your mental peace. This should help new freelancers who are transitioning from traditional jobs and seasoned pros who have too much on their plate. Let's go!
1. Plan and implement lead gen strategies
When you're working full-time for a company, you don't have to worry about where your next work will come from. And that's an incredible luxury for freelancers. To build a steady flow of clients, you have to focus on your lead generation methods. Applying to every kind of job in your wheelhouse could be one way to go but you'll soon burn yourself out. What you need is a lead gen system.
First, create an ideal client profile (ICP). Deeply analyze the skills you have, the type of clients you want to work with (industry, budget, potential, compatibility, etc.), and how you can influence them.
For example, if you're a new freelance developer, your ICP can be SaaS entrepreneurs who are looking to launch and test their MVPs. Now, find where your ICP hangs out. This could be LinkedIn, Slack, Discord, X, Hacker News, Reddit, YCombinator forums, or any other community. Pick 2-3 platforms for concerted efforts. Observe how and who they interact with and create content or engage with them in similar ways.
Building a lead gen system requires time and consistent efforts but once you get used to the ideas, you'll start seeing results.
2. Integrate instant booking form into portfolios
When starting out, only a few freelancers invest in building a portfolio of work. But as you scale up, your portfolio will do most of the negotiations. Having said that, a well-designed portfolio website doesn't guarantee 100% conversions. Most freelancers miss out on a trick that costs them thousands of dollars in potential income each year: an instant booking form.
A portfolio website is often looked at as the best place to show work, testimonials, and experience. But they also need to serve as a quick way for potential clients to connect with you. If they're impressed with your work, the best way to close deals is immediately.
For example, if you're a freelance photographer, you can include questions such as the type of pictures, editing options, occasions, etc. This way, you can save a week's worth of back-and-forth emails.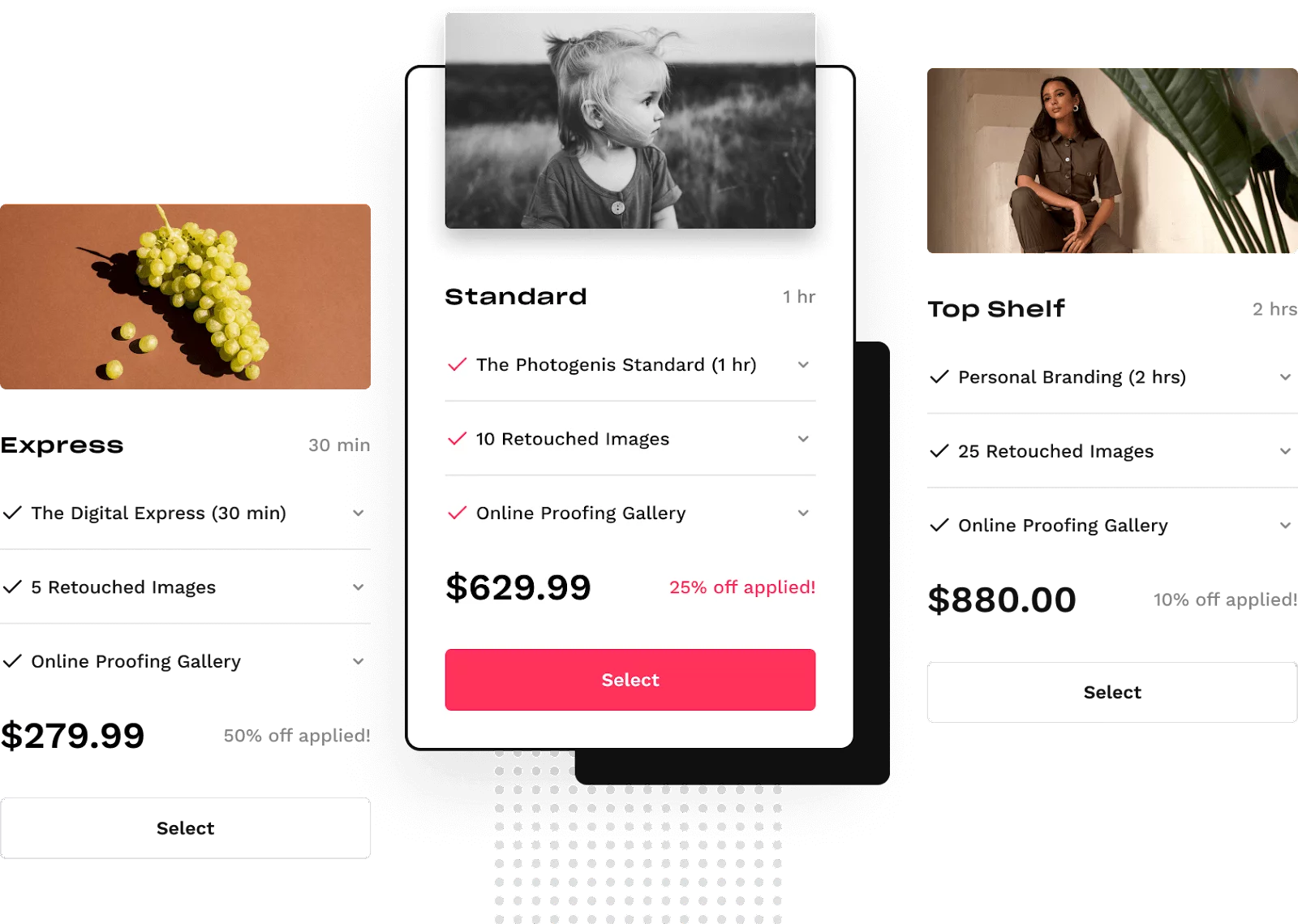 When you create your website portfolio with Bloom, you can also embed an instant booking form with curated questions. This not only saves time for both parties but also creates a strong first impression on clients.
3. Use a centralized sheet to manage leads and clients
You can only grow as a freelancer when every part of your business is organized. But it's nearly impossible to keep track of assignments, lead gen, contracts, payments; day in and day out.
To wade through the chaos, you need a second brain. It's the concept of a note-taking methodology to store all the real-time information and ideas without burdening your conscious mind. For freelancers, it's crucial to have a second brain to dump data that's not being used right now. You can use simple spreadsheets or in-built note-taking apps but they are not made to run a business. But Bloom is.
With Boom CRM and lead management tool, you can track, store, and organize all your leads and assignments within an intuitive dashboard. You can add tags, track dates, pull client data, and scale as you wish. On top of that, you can use Bloom workflows to set up steps for each client and tick them off as you progress. It essentially replaces email chains with a more powerful and scalable dashboard that has complete visibility over your work. In a way, this becomes the digital HQ of your business.
4. Create contract templates and e-signatures
The fact that DocuSign is still widely popular in 2023 means we haven't yet moved over e-signature and templates. Clients know this and if you're long enough in the game, you know this too. That's why it's important to have a competitive edge with a fast and simple contract and e-signature workflow to expedite client onboarding.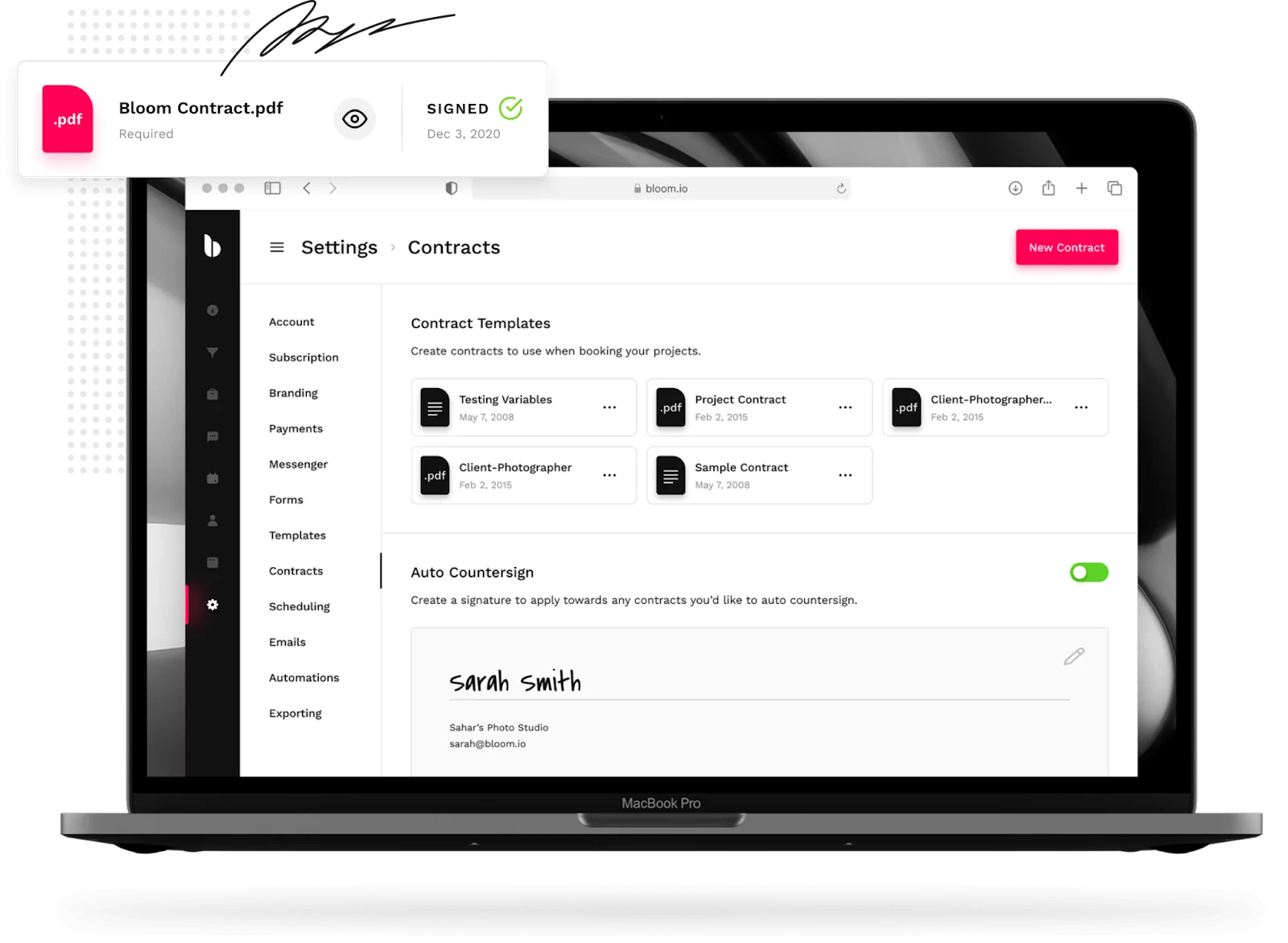 You can use your computer's built-in tools and standard PDFs to create contracts but they're not flexible and multiple versions lead to legal inaccuracies. With Bloom, you can set up and edit contracts on the go, add custom variables, and even enable auto-countersigns. It's easier to store all the contract templates and signatures within Bloom so you're ready to send over the legal documents quickly. This may sound like a small issue, but having a system for templates and e-signatures will save you a crucial few minutes when you're interacting with a prospect.
5. Set up your calendar to track deadlines and events
The dreaded deadlines! Freelancing is fun as long as you're on track to finish the work within the deadlines. But with extra freedom, people also tend to become complacent. You could fill your calendars with all sorts of meetings and deadlines but they get complicated super fast. Plus, you're adding another tool to your business stack.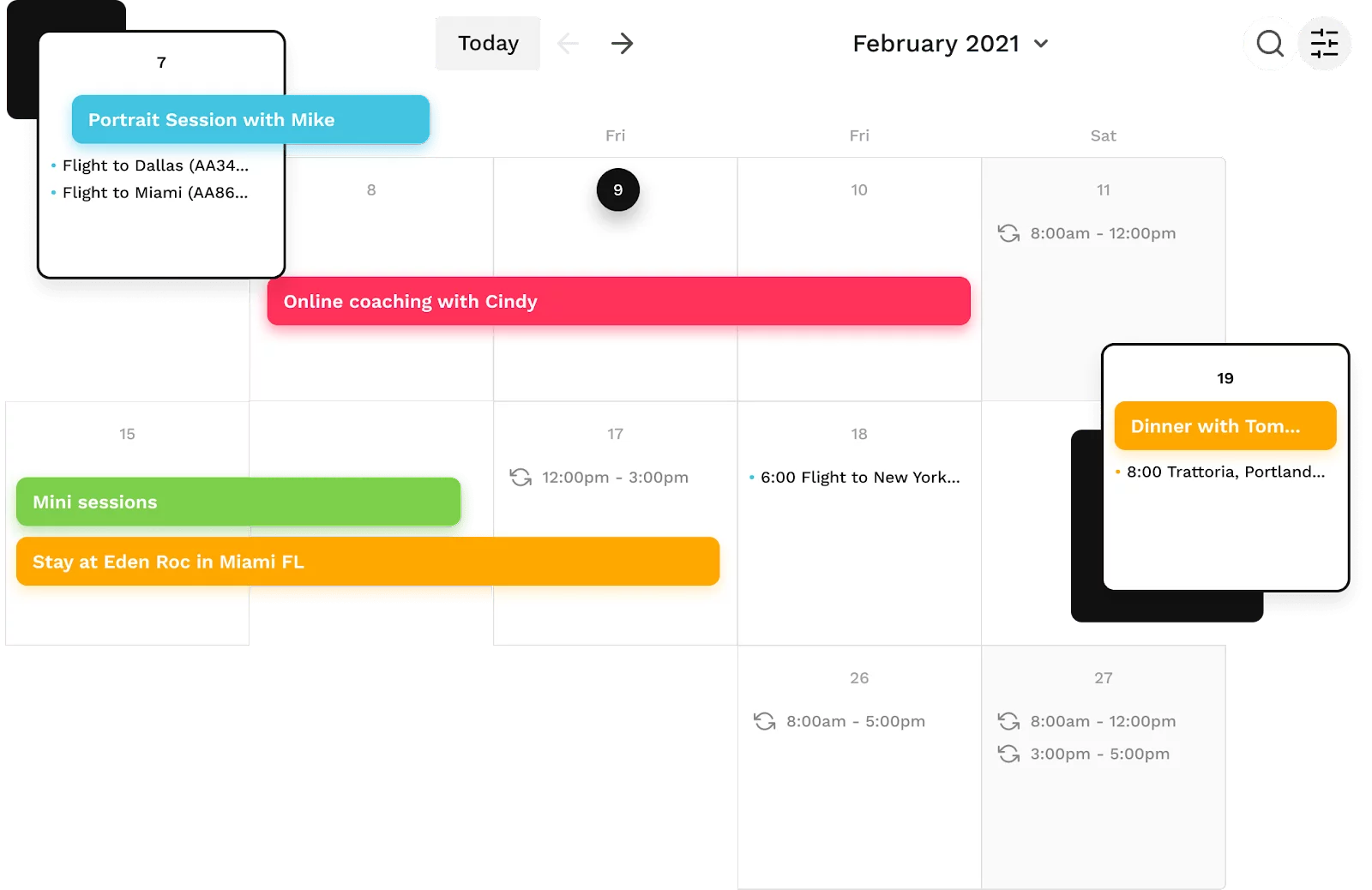 If you're already using Bloom for its freelance-focused features, you'll love the scheduling tool as well. The biggest advantage of Bloom calendar is that it accommodates disjointed services such as deadlines, meetings, coaching sessions, and even personal events! It's easy to sync with your other calendars and the color-coded UI makes sure you find the data right away.
But that's not where it ends. You can set your hours and notify clients of upcoming unavailability. When you embed the contact button in your portfolio, you can also set up your calendar for discovery calls more efficiently.
6. Prepare invoice and payment schedules
Next up, we have invoicing. Similar to contracts and e-signatures, you need to have a system for timely payment. Now, you can use an invoice tool, a calendar, and a payment processor to get paid but all these moving parts add more complexity to your business. Bloom was envisioned to support creative professionals with their business and payment schedules are a big part of that vision.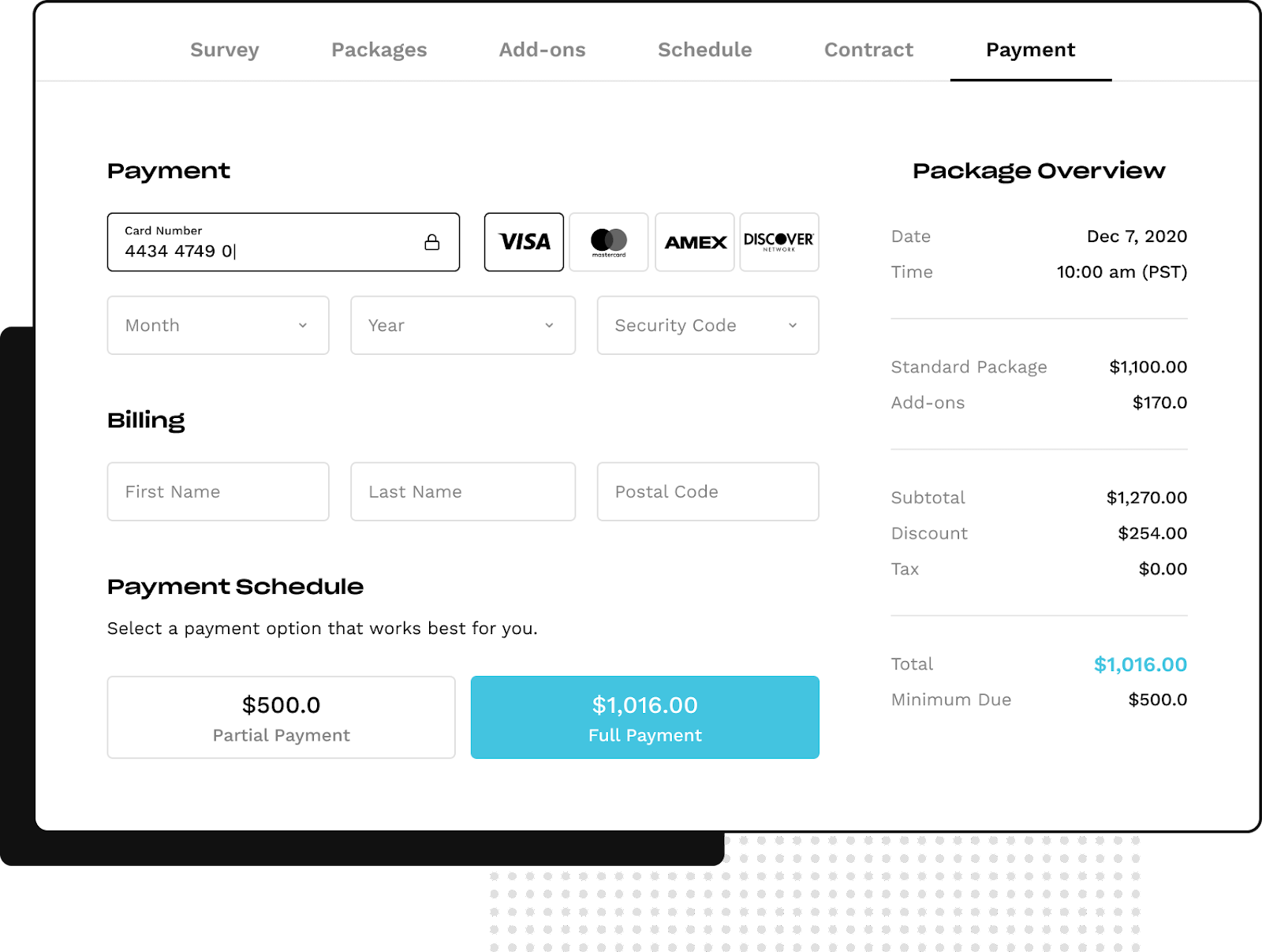 With Bloom, you can create invoices right from the client dashboard, use templates, and edit payment methods. But since it's Bloom, you can do so much more. Want to add retainer fees or discounts? You can select the options from the drop-down menu. Bloom is also one of the rare invoicing tools that supports Cash App, PayPal, Zelle, Venmo, ACH, and credit cards. So if it's about providing flexibility, Bloom has got you covered.
Not sure if Bloom is the right payment tool for your freelance business? Try Bloom's free invoice generator tool to create the ideal invoice for your brand.
7. Use smart automation to improve customer service
So far we've discussed lead gen, instant booking, work dashboards, contracts, calendars, and invoicing as part of the ideal system for freelancers but there's one more step that can take your business to the next level: automation.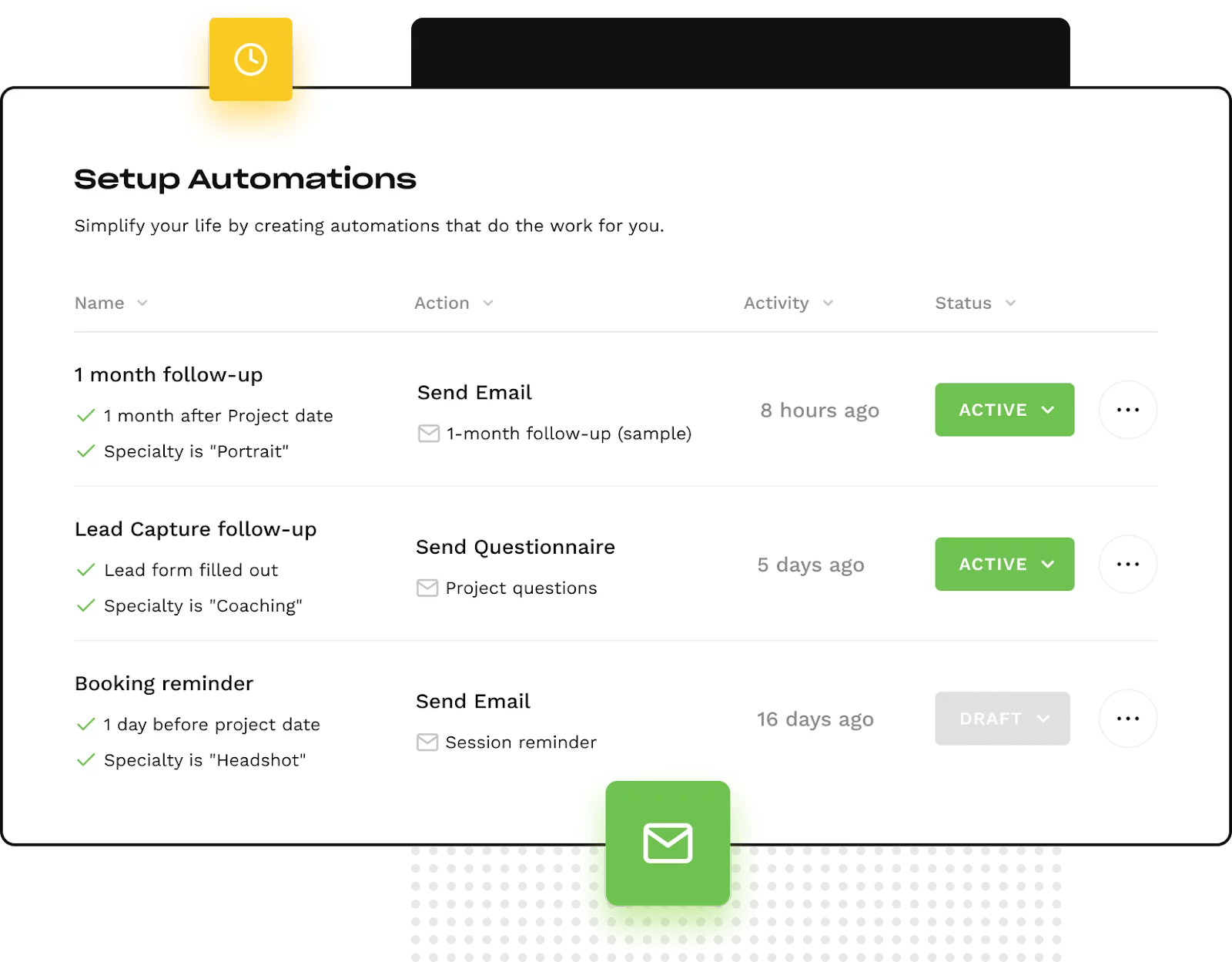 Freelancers spend a lot of time working on interpersonal relationships to get high-value work and referrals. With Bloom automation, you can actually set up follow-up schedules for communications and create personalized templates with triggers and rules. Once you execute it, some parts of your business can run on their own and you can earn money while sleeping. This is more effective when you have a large volume of work and fairly consistent client flow, but you can also set up small follow-ups to automate basic communications.
Wrapping up
The 7-step system that we've discussed above should help overworked freelancers and newbies develop a sense of business structure, task clarity, and work-life balance. The best part is that you can tweak the steps according to your needs and that's where Bloom shines through. It's built for freelancers, creatives, and solopreneurs who want to spend more time enjoying their work and less on ancillary business tasks.