In 2023, a remarkable 73.3 million Americans are working on a freelance basis. This represents an ongoing rise in the number of photographers, writers, and creative individuals choosing to work independently. 
Among the many tasks freelancers handle, keeping track of finances tops the list, and that's where reliable freelancer invoicing software becomes an essential component of a freelancer's business operations.
Good freelancer invoicing software makes billing easy and also strengthens the financial side of a freelance operation, which, in turn, enables freelancers to focus on their creative work without financial worries. This is why we've created ​this article – to help freelancers like you understand freelancer invoicing software and to discuss which features make invoicing software efficient and easy to use.
What Is Freelancer Invoicing Software?
Freelancer invoicing software is a digital tool that helps freelancers manage their billing processes efficiently.
It automates the creation of invoices, tracks time spent on projects, calculates rates, and facilitates payments. Some key processes robust freelancer invoicing software help with include:
Invoice Creation: Enables freelancers to create professional invoices with ease, including the ability to customize the design, add branding, and itemize services provided.
Time Tracking: Top invoicing software options include time tracking features to accurately log hours worked, which is crucial for freelancers billing by the hour.
Expense Tracking: Keeps a record of all expenses, which is vital for accurate billing and tax purposes.
Payment Processing: Provides a streamlined way for clients to pay invoices directly through various payment gateways.
Reporting: Generates financial reports to give a clear picture of income, expenses, and overall business performance.
Automation: Automates repetitive tasks like recurring invoices, payment reminders, and thank-you emails, saving time and ensuring professionalism.
Client Management: Helps freelancers manage client information, project details, and communication in one centralized platform.
What Are the Benefits of Freelancer Invoicing Software?
The importance of invoicing software for freelancers cannot be understated, particularly when it comes to time management, professionalism, and client perception.
With these three elements being crucial to the success of any freelance business, robust invoicing software can be a contributing factor towards the difference between success and failure as a freelancer.
Time-Saving Benefits
Freelancer invoicing software dramatically cuts down the time freelancers spend on administrative tasks.
For instance, it's estimated that freelancers spend over 19 hours per week on such tasks, with invoicing being a significant chunk. Automating the invoicing process can salvage a significant amount of this time, thus allowing freelancers to focus on their core tasks.
Importance of Branding and Professionalism
A professional appearance in invoicing can positively impact client perception and trust. Consistency in branding, which extends to invoicing, is key to success​, with consistent branding increasing revenue by as much as 33% for freelancers!
Professional-looking invoices can establish credibility and help freelancers get paid on time, as they reflect a freelancer's seriousness and commitment to their work.

Client Perception
The way freelancers handle invoicing can significantly affect client perception. For instance, 73% of executives say the invoice-to-cash process can negatively affect a customer's experience if not handled efficiently​​.
Invoicing habits can also give clients an impression of the brand; standard invoicing procedures might be wearing thin with clients, and automating the invoicing process can prevent such negative impressions​​.
Late payments, which are a common issue in freelancing, with 54% of businesses expecting late payment of invoices, can also be mitigated with automated reminders from invoicing software, thus improving client relations​, client satisfaction and reducing client churn​.
Essential Features of Freelancer Invoicing Software
Freelancer invoicing software is packed with features that aim to simplify the administrative side of freelancing, ensuring a seamless invoicing and payment process. Let's delve into some of the key features that make this software indispensable for freelancers:
Online Payments
Freelancer invoicing software facilitates online payments, providing a hassle-free transaction experience for both freelancers and their clients. With integration to over 30 payment gateways, it offers a variety of online payment options, including credit card payments, debit card payments, PayPal, and ACH in multiple currencies. This not only adds a layer of convenience for clients but also expedites the payment process, ensuring freelancers get paid on time.
Automatic Payment Reminders
The software sends automatic payment reminders to clients, which can be a game changer in improving cash flow. These reminders are customizable to suit individual preferences, ensuring timely communication with clients regarding payments. By reducing the number of late payments and encouraging prompt payments, automatic payment reminders are instrumental in maintaining a healthy cash flow.
Unlimited Invoices
The feature of unlimited invoicing is a significant advantage in freelancer invoicing software. It allows freelancers and small businesses to create and send an unlimited number of invoices to clients, eliminating any restrictions that could hinder billing processes. This feature not only increases efficiency but also supports scalability as freelancers expand their client base.
Unlimited Clients
With the feature of unlimited client management, freelancers can efficiently manage and organize client information, track client interactions, and generate invoices for multiple clients simultaneously. The software allows the storage of unlimited client details and customization of client profiles, ensuring a well-organized and easily accessible client database.
Expense Tracking
Expense tracking in freelancer invoicing software empowers users to keep a tab on their expenses and bill them to clients accurately. This is crucial for freelancers to stay profitable and handle tax deductions effectively. The software provides features to categorize and monitor expenses, aiding in meticulous financial management.
Credit Card Payments
Accepting credit card payments is simplified with freelancer invoicing software. This feature enhances payment processing speed and provides an added convenience for clients. Setting up credit card payments involves selecting a payment gateway, configuring account settings, and enabling the payment option on invoices, making the process straightforward. With Bloom's unique freelancer invoicing software, you can bypass credit card fees with ACH!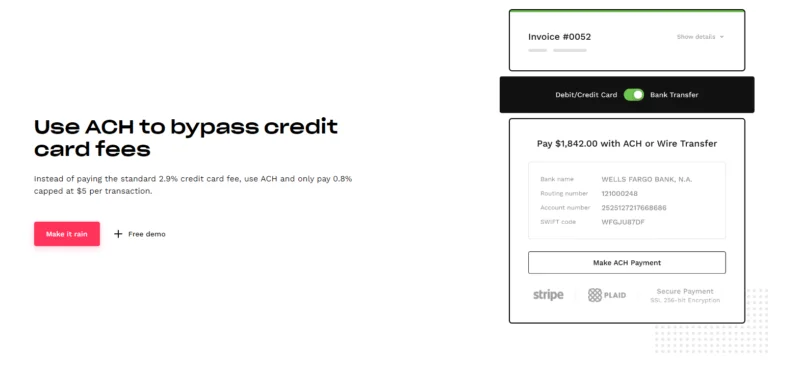 Time Tracking
Time tracking is facilitated through integration with software like TimeTracker by eBillity. This feature syncs with project management tools, allowing freelancers to convert tracked time into accurate invoices seamlessly. Various pricing plans are available, offering features for client billing, expense tracking, and online payments, catering to different freelancing needs.
Bank Transfer
Bank transfer as a payment option is also integrated within the invoicing software, facilitating faster and more secure transactions. Setting up bank transfer payments is straightforward, and it provides an alternative payment method that can be beneficial for both freelancers and clients.
Professional-Looking Invoices
Professional invoices are crucial for establishing credibility and ensuring timely payments. Freelancer invoicing software offers various customization options for creating visually appealing invoices. Whether using standard templates or customizing invoices with logos and branding elements, creating professional-looking invoices is a breeze.
Payment Options
Offering different payment options is essential to cater to clients' preferences. Freelancer invoicing software should provide multiple payment options such as credit cards, PayPal, and bank transfers. This flexibility enhances the client's payment experience, potentially leading to quicker payments.
Late Payments
Handling late payments effectively is crucial for maintaining a steady cash flow. Freelancer invoicing software provides features for scheduling invoices, adding late fees, and sending payment reminders to ensure prompt payment from clients. Additionally, personalized thank you messages can be sent to appreciate clients for their payments, fostering good client relations.
Project Management Tool
The integration of project management capabilities within the freelancer invoicing software is a boon for freelancers who bill clients based on tracked work hours. By syncing with time-tracking and project management tools, the software streamlines the invoicing process, ensuring accurate and timely billing.
These features collectively contribute to making the freelancing business management more structured, efficient, and professional, allowing freelancers to focus more on their core service offerings.
Which Freelancer Invoicing Software Should You Choose?
Selecting the right invoicing software is a pivotal step in streamlining your freelance business, irrespective of the stage you are at in your freelance journey.
Whether you are a photographer, a creative designer, or a copywriter, the right invoicing software will help you manage your finances efficiently, thus maximizing revenue. Here's a breakdown of some popular invoicing software catering to different freelancing professions and stages:
For Photographers and Creatives
Bloom.io
Tailored for creative freelancers, Bloom.io provides a modern payment experience, allowing you to create and customize invoices quickly, offer zero-interest financing, and set retainers. The user experience makes it straightforward and simple, and the platform is designed to give your clients a premium experience from start to finish.

Hello Bonsai
Ideal for web designers and engineers, it provides customizable invoices, automatic reminders for payment due, and partial payments, among other features​​.
Wave
A great choice for freelancers requiring advanced accounting tools. Wave offers unlimited invoicing and is especially favorable for those who prefer a free solution​​.
ShootQ
Created "by photographers, for photographers," ShootQ is suitable for single-user operations, offering quick invoicing, online payments, and comprehensive financial reporting​​.
FreshBooks
Known for its ease of use, it's ideal for photographers as it automatically generates invoices for repeat customers, calculates late payment fees, and sends out reminders for overdue payments​​.
Moxie
Moxie is an excellent option for freelancers aiming to simplify their invoicing process. With features like recurring invoices, automatic reminders, and late fees, it makes billing hassle-free​.
QuickBooks
For those needing extensive accounting features alongside invoicing, QuickBooks is a solid choice. However, it has limited customization and requires a purchased plan for full invoicing features​​.
Zoho Invoice
Known for its value, Zoho Invoice is a viable option for growing freelance businesses, offering a balance of invoicing and accounting features​​.
Scalability Aspects
As your freelance business evolves, your invoicing needs will change. It's imperative to choose software that scales with your business. Bloom.io stands out as it not only provides a cutting-edge payment experience but also offers a suite of tools that streamline various aspects of a freelancing business, making it a highly scalable and modern solution​.
Bottom Line
Investing in robust invoicing software that includes essential features such as online payment integration, automatic payment reminders, and expense and time tracking features will make you a more efficient, thus a more profitable freelancer.
Freelancer invoicing software such as Bloom.io will also not only professionalize your billing process but also save you time, which can be better spent on generating revenue. With its modern UI/UX design, no added payment processing fees, and a myriad of features catering to freelancers across different professions, Bloom.io is an ideal freelancer invoicing software solution for any freelancer at any stage of their journey.
Freelancer Invoicing Software FAQs
Are there invoicing tools that offer a 30-day free trial?
Yes, many online invoicing software provide a free trial to allow users to explore their features. This offers a risk-free opportunity to familiarize yourself with the platform and to test various tools before making a financial commitment.
Can I customize my invoices using freelance invoice software?
Absolutely! Most freelance invoice software provides customizable templates. Tools like Bloom.io and FreshBooks allow you to modify invoice templates to match your brand, making your invoices look professional.
How can an invoice generator help me with unpaid invoices?
An invoice generator not only helps in creating and sending invoices but also tracks unpaid invoices. Features like automatic payment reminders and late fee calculations in the software assist in managing unpaid invoices and encouraging timely payments from clients.
Are there invoice apps that help in tracking time spent on projects?
Yes, several invoice apps come with time tracking features that enable business owners to track time spent on projects. This is particularly useful for freelancers and businesses working on an hourly billing model. Tools like TimeTracker by eBillity and others integrate time tracking with invoicing, allowing you to generate invoices based on the tracked time.
What additional features should I look for in online invoicing software?
Apart from basic invoicing, look for additional features like expense management, unlimited projects, client management, and the ability to accept online payments. These features can significantly streamline the various operational and financial processes of your freelance business, enabling you to manage billable clients efficiently.