Finding the ideal project management tool for freelancers can be a challenging task with so many options to choose from. Even if you are exceptionally organized, there is a possibility that the tasks might be difficult to manage when the work starts to get ahead of you. To prevent undue stress, you need management tools that are designed for your creative business- not overly complicated and expensive tools for enterprises.
You may have noticed that many management platforms are fit for large teams that lack features like proposals, client communication, and simple invoicing. This post discusses the benefits of using the right project management tools for freelancers that can help streamline your unique workflow.
The Benefits of Project Management Apps
Delivering tasks on time can be challenging without proper time management. Several project management tools are used to organize and structure the workload.
Let's look at some of the evident benefits of using these tools:
Create Projects Easily
The intuitive interface of the management software ensures that you can create a project from scratch within minutes. The management tools can be of great help if you have numerous tasks along with several task dependencies. In addition, you will gain access to the project template, which can be edited and used for personalized projects.
The created projects are then visible on the project page or a dashboard. With a glance, you can evaluate how much time the project has taken and the current progress of each task.
Track Time Efficiently
Do you ever feel overwhelmed or lose track of time when working on your projects? If so, a time tracking tool will help you stay motivated and focused entirely on the tasks.
Managing your time effectively is one of the most significant benefits of project management. In freelancing, time is a commodity. With a time tracking app, you can easily keep track of how much time you're spending on each project. This also helps you build trust with your clients. For instance, when you bill the clients and provide a detailed timesheet, they will be able to verify whether they are charged fairly.
Improve Customer Satisfaction
You will come across all sorts of clients in the freelancing market. Some may be easygoing, while others constantly want updates on the progress and the status of individual projects. Manually writing status reports or sending emails to clients can take several hours. As a creative freelancer, you need a tool or an application that can automate client communication. It's easy to notify clients of the project status when you have a high-altitude perspective on all your projects and the next task for each client.
Makes Billing Easier
Many clients ask you to provide them with an invoice before the payment. Although this is pretty easy to do, it does require some time. Invoicing is really its own separate task, which needs to be taken into consideration when dividing up how you spend your time. After completing your project, you can independently set the amount for the respective tasks. The tool will then calculate all the figures and automatically generate an invoice, which will be ready to send to your client right away.
The Best Project Management For Freelancers
Let's review some of the best project management tools and see how they can help you:
1. Bloom
Bloom helps you to organize all the task details concerning bookings, client invoices, questionnaires, assets, and essential documents in one place. With a beautifully designed and clean layout, the tool is helpful for all creative freelance business owners looking to organize their operations.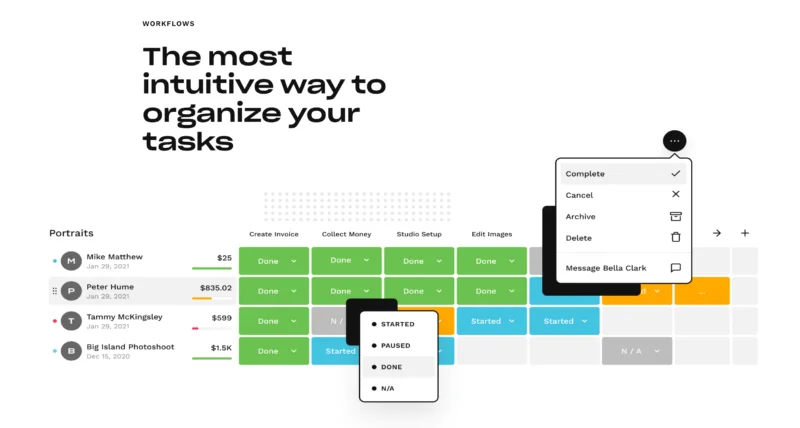 Bloom is built with freelancers and small business owners in mind. It lets you focus on your tasks rather than worry about managing your projects. You can create unique workflows for every kind of service you offer, drag and drop to rearrange tasks, view invoice status and check off tasks as you complete them.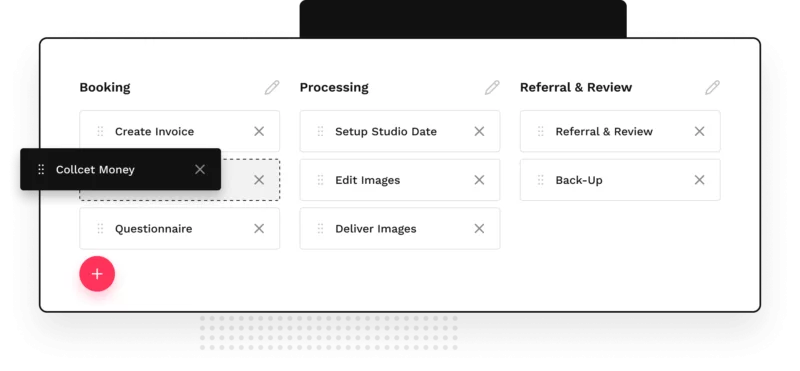 Many creative freelancers struggle with their workflows and become burnt out when they use clunky management tools. For instance, an average photographer subscribes to services such as a website builder, lead management and capture tools, contract signing, invoicing, etc. Creative freelancers can acquire all the services under one roof with Bloom.
This software features two pricing plans: Free and Premium. The free version is suitable for sending invoices and managing a website portfolio, while the premium allows you to look after administrative tasks efficiently.
Try Bloom today – it's free.
2. Trello
If you are looking to manage all your individual or team-based projects, then Trello could be a perfect fit for you. The Kanban board interface allows you to manage all the tasks for your project development easily.
This app for freelancers includes a collaboration feature that helps you with teamwork and efficiently connect with your clients and other team members. Furthermore, you can display tasks, comments, and checklists.
If you are a creative freelancer such as a web designer, then Trello is possibly the best option. The core strength lies in the simplicity of the project management tool. You can view all your projects or web design tasks in a single view and remember the deadlines through Trello's calendar.
Although the free plan is available, it includes minimal automation features. If you want to utilize the automation features fully, you can sign up for the premium plan priced at 12.50/month.
3. Monday.com
Monday.com is another excellent tool that lets you monitor the milestones you have set for your project goals. Although it's built with larger teams in mind, you can look at the monthly tasks you need to complete in list form to plan your work efficiently. You can also assign tasks whenever their status is changed through workflow automation processes. Monday has a lot of tools for small business teams.
Monday allows you to integrate 50 more tools to streamline the work. Apart from the app integration, it includes a built-in repository to draw inspiration for organizing your projects. The downside? It may not be the best for freelancers since tools like HR will not be used. Features like calendar views are only available with its more expensive subscriptions, so scheduling is not ideal with this software.
The tool offers a free seven-day trial. If you want to take advantage of the premium version, the pricing starts at $10 a month.
4. Toggl Plan
Toggle Plan is a simple yet effective tool that helps you set up and manage your projects in no time. Although the platform has several benefits, the key feature is that it helps to create invoices effortlessly, especially if you are a creative freelancer, such as a photographer, web designer, or content writer.
The tool allows you to plan your project's schedule on the timeline view and categorize the tasks into different segments. You can use boards to create customized workflows and prioritize your projects. You can adjust your plan on the timeline with a simple drag-and-drop interface.
Toggle Plan allows you to add project details to your task with notes, attachments, and checklists. A distinct feature of the tool is that it will enable sharing guest access with clients using a simple URL to keep them informed on the project progress.
The tool offers a free plan for freelancers that includes managing unlimited projects. You only need to upgrade if you want to work as a team or utilize advanced and customizable features such as multi-assign tasks, custom plan colors, and extra storage space.
5. Asana
Asana's project management features help you plan, track and organize your projects. It may take some time before you can fully grasp the comprehensive task management of the platform.
You can visualize your projects using boards, lists, calendars, or timelines. The timeline view in Asana lets you draw the task dependencies for improved task planning. You have the option to set rules to automate the most critical actions to ensure you don't miss important dates.
Asana works exceptionally well for freelance writers. You can view your assignments and your projects in different formats. You can view your writing projects in a list or a calendar viewer free of cost. Working with other creative freelancers, such as graphic designers, on a story, you can create a subtask, set its due date, and assign the name and email.
The free version of Asana accommodates unlimited tasks while offering board and calendar views. You can subscribe to Asana's premium freelancer plan starting at $13.49/month to get even more advanced features like timeline view, forms, customizable dashboards, and guest access.
6. Basecamp
Basecamp is well-known for its unconventional interface and provides distinct project management solutions. It is an effective project management software for creative freelancers.
You can set up a to-do list to manage your tasks promptly. The group chat, message board, and automated check-ins allow you to interact easily with your teammates. If you are a freelance journalist, photographer, or web designer, you can benefit from the MyStuff menu, which displays assignments, schedules, tasks, meetings, and bookmarks.
The Basecamp Personal is a free plan that is offered for freelancers and small business owners. This plan includes up to three freelance projects, 20 users, and 1GB of storage. Their premium plan, on the other hand, is pretty expensive with the price per user starting at $99 a month.
7. ClickUp
If you like to explore different aspects of productivity, then using ClickUp is an ideal solution. The tool offers several features: task management, process management, reporting, and collaboration.
The process management at ClickUp helps you to set custom statuses, highlight the task dependencies and create recurring checklists. The Pomodoro timer and calendar option allow you to track your active projects better. The timeline feature helps you with road mapping and project planning.
You can take advantage of the free version of ClickUp, which includes unlimited users and tasks. The premium plan offers unlimited storage and advanced features for a single user, costing $9 per month.
The Bottom Line – Choosing the Best Project Management For Freelancers
The right project management tool will allow you to easily balance maintaining the quality of your work and managing your clients and other team members. Although each of these popular project management tools has distinct benefits, they all intend to streamline your workflow. Think of your team size, project management style, budget, and complexity of your tasks. Then, you can opt for the best available tools to work in a more structured way!