One of the most overlooked costs associated with professional photography? Licenses and permits.
In order to shoot in specific locations or venues, you need to buy a license or pay a permit fee. Portland, like virtually all major cities, imposes certain rules and regulations regarding permits and licenses. While you may think you can get away with ignoring these hurdles, doing so can be a costly mistake—in many cases, more costly than simply paying upfront. Plus, shooting without a permit or license is not only illegal, but frequently dangerous. We don't recommend it.
But if they can't afford a permit or licensing fee, what is a Portland photographer to do?
After reading our recent article about photography locations in Portland, Dan Ostergren reached out to us with a suggestion: go somewhere else. In Dan's case, that somewhere else is Vancouver, Washington:
"Just to offer an alternative for those who don't mind leaving Portland or want to avoid having to buy permits, locations in Vancouver aren't far, nor do they require permits in public parks."
Dan also let us in on some great locations to check out:
Vancouver Lake Park
At the top of Dan's list is Vancouver Lake Park, and it's not hard to see why. Located on the west side of the city, the park sits on the shore of Vancouver Lake and offers a gorgeous view of the surrounding country. Littered with trees and a miniature beach, this looks like a great spot for a portrait session.
NatureScaping Wildlife Botanical Gardens
Located over in Brush Prairie, the NatureScaping Wildlife Botanical Gardens is one place you should check out if you're looking for some uncommon plant life and vegetation as your backdrop—or your subject. The Gardens also encourage photographers to use their trail as a shooting location, so you can rest assured knowing photography is expected and that you won't have to worry about being mistreated.

Officers Row
One of Vancouver's absolute best locations for portraits has got to be Officers Row. Located in the Vancouver National Historic Reserve Historic District, Officers Row is made up of twenty-one 19th Century homes that housed officers stationed at the Fort Vancouver Barracks. The homes are fully restored and make a unique and interesting backdrop for any portrait session.
The Docks by the old Red Lion Hotel
Located just west of the I-5 Bridge, the docks just next to the old Red Lion Hotel offer a great lookout over the Columbia River, the Interstate crossing, and across the river into Oregon. The old railings and cement stairs set the scene for some breathtaking images with a classic Pacific Northwest feel.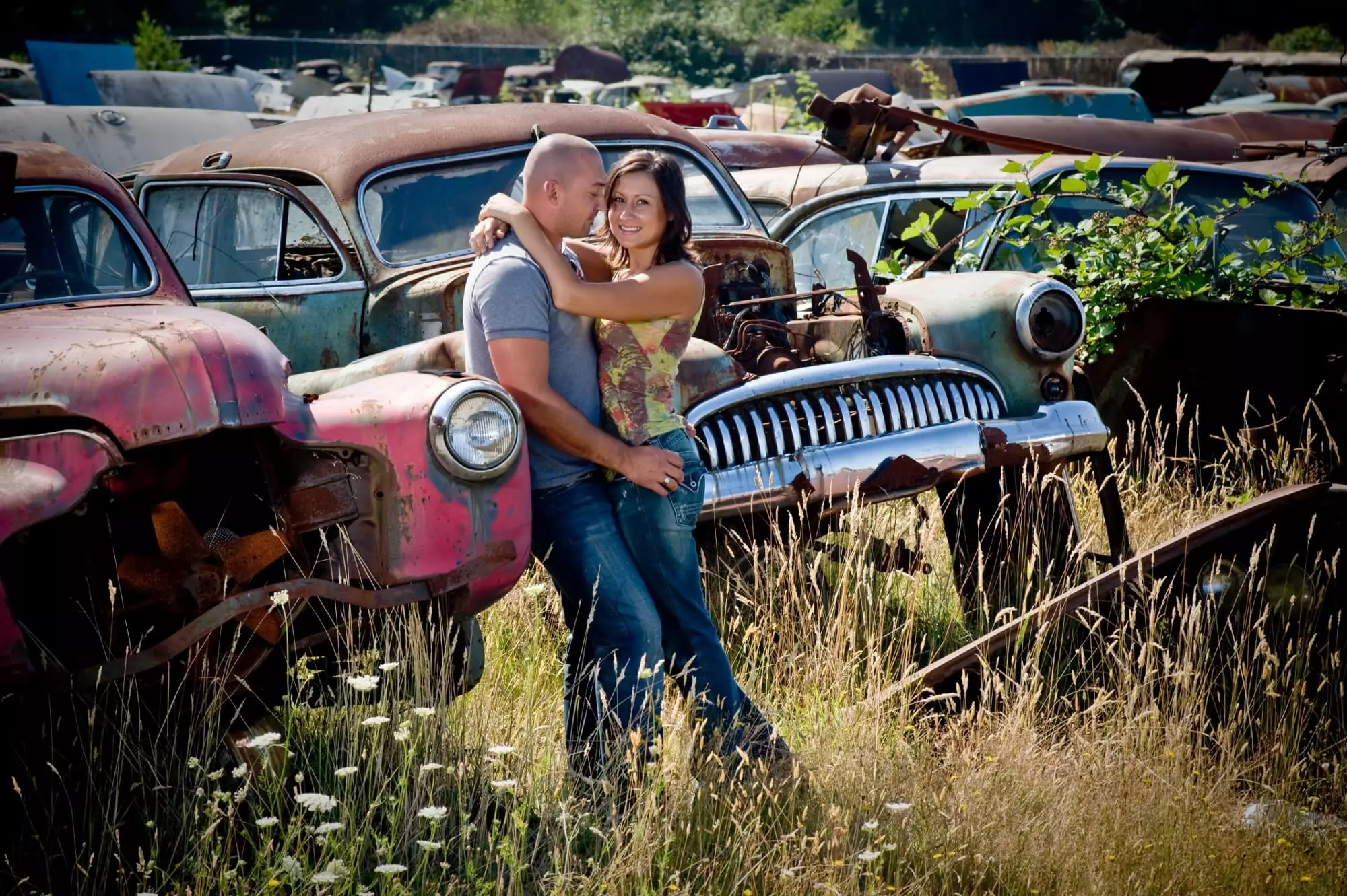 All American Classics
Probably the most unique location on Dan's list, All American Classics—out in Orchards, by the Vancouver city limits—will let you shoot in their junkyard for just $10. If you're searching for a grungy, post-apocalyptic look (perhaps for a "trash the dress" shoot, or a fashion editorial) this is the location for you.
Aside from the four locations Dan shared, there are many more for you to discover across the river, in that wild, untamed land known as Vancouver. For Portlanders, it's just a short drive to a whole new variety of parks and scenery to enjoy without the need to apply for permits or pay to use a public park. A few that we suggest are:
Compile these with the four spots that we shared from Portland in our previous article and you'll end up with an ample list of locations in the area perfect for beginning photographers. And this is just the start. The Pacific Northwest is full of picturesque locations—some hidden in plain sight, others known only to a select few.
As a photographer, one of your biggest assets in this market is your colleagues and peers. The stronger we are as a community, the stronger each of us are in our own businesses.
So get out there and explore, network with other photographers, and don't forget to share your locations in the comments!
Try Bloom for 14 days for free!