Looking for a more robust Sprout Studio alternative? In today's business world, you need more than just email and word processing to be successful. Fortunately, there are some powerful alternatives to Sprout Studio that can help you get the services you need while saving you both time and money. Sprout Studio is a cloud application with an intuitive interface that helps streamline your opportunity reports, sales processes, and potential customers. This studio management suite was built by photographers, for photographers. While this tool was created for photographers, other creatives in the design, videography or interior design businesses can benefit from its features. Sprout Studio has advanced features like layouts with clients,  mileage tracking, lead management, and price lists.
Sprout Studio Pricing
Lite Plan: $17 per month with 3 users
Basic Plan: $34 per month with 3 users
Pro Plan: $49 per month with 3 users
Studio Plan: $69 per month with unlimited users
Looking for the perfect Sprout Studio alternative? We are going to evaluate these customer relationship management tools and see how they compare. As a photographer, you know that being organized while working with clients is pertinent to your success.
Here are 7 great alternatives to Sprout Studio
Bloom
17Hats
Dubsado
Honeybook
Studio Ninja
ShootQ
Shootproof
Let's get started.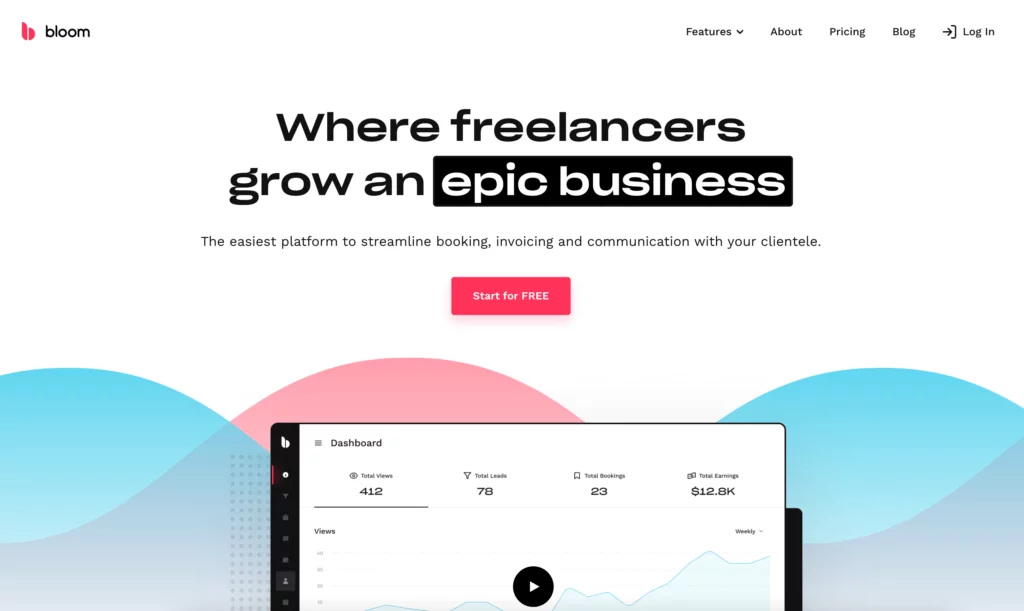 Bloom is a business management solution for photographers that's great at handling the needs of both solopreneurs and larger businesses. Bloom is a one-stop solution for all your business process management software needs. Bloom's hub for client communications features client contacts, email marketing, file sharing, customer queries, email templates, and payment reminders. The workflow capabilities allow you to automate the typical repetitive tasks.
Sending professional documents is an essential part of running a business. Bloom's key features keep you updated on potential customers and automates your business processes. With the ability to streamline your admin work, you can focus on other tasks.
Advanced Features
Auto-countersign
Lead Capture & Contact Management
Email Automation & Management
Online galleries & client communication tools
Collect online payments & payment processing
Bloom Pricing Plans
14-day free trial
$39 a month per user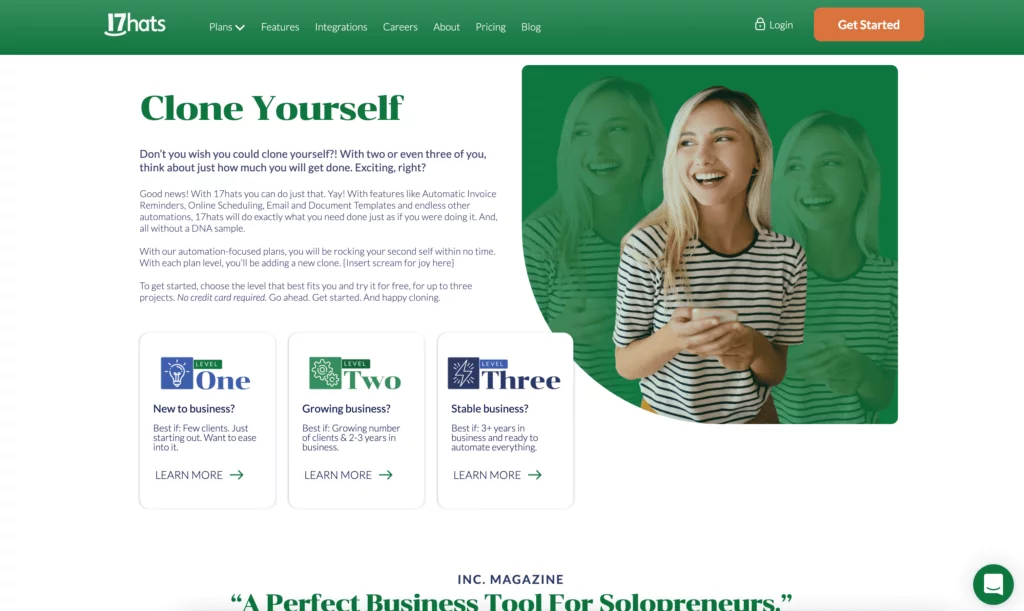 17hats is a feature rich client management tool that is dedicated to providing the education, automation, and advice busy photographers need. 17hats payments integrate with Square, Stripe, Paypal and Authorize.net. The most powerful feature is their free crm software where users can build out their process to suit their needs then decide to upgrade for more features. You have the ability to invoice clients, design proofs, and send photos to clients.
Advanced Features
Strong contact management
Built for new business owners
Integrates with Google Calendar
Base of clients
17Hats Pricing Plans
Level One Plan: $13 a month per user
Level Two Plan: $25 a month per user
Level Three Plan: $50 a month per user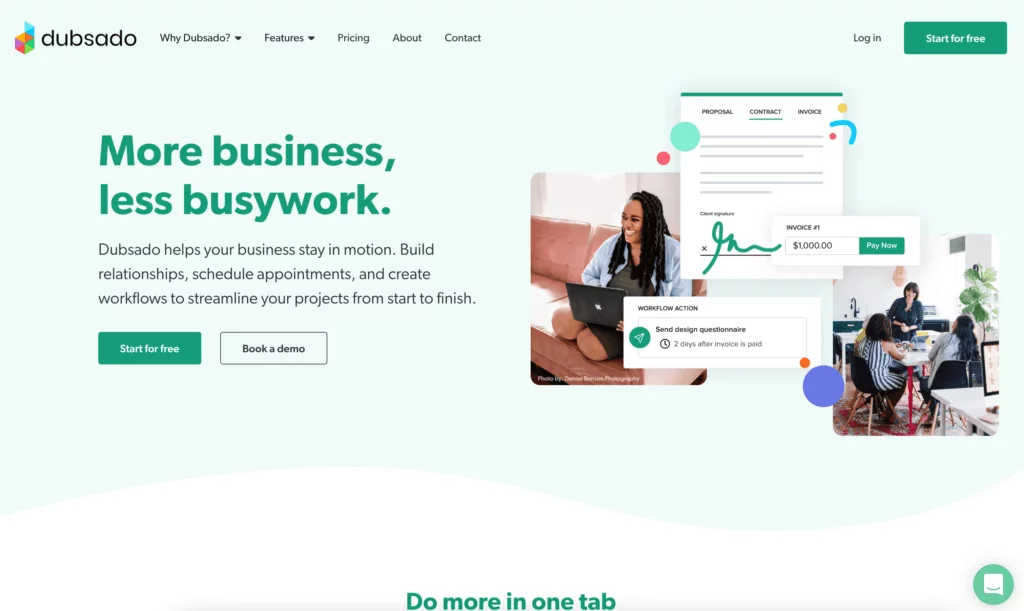 Dubsado is a great CRM software for photographers aimed at small business owners. Even though it's designed for photographers it also works across many different industries. As a great Sprout Studio alternative, Dubsado is a project management platform that helps you build relationships, create workflows, and schedule appointments. Dubsado's platform works well with different size projects for small to medium businesses.
This tool is perfect for busy people and will keep track of your ideal clients. Like other CRMs, Dubsado operates as a main hub for client bookings, collecting email addresses, and relationship building. Compared to Studio Sprout, Dubsado is aimed to target all types of small businesses and doesn't focus on the photography industry.
Advanced Features
Powerful form and questionnaire builder.
Good workflow management
Automatic Payments & payment processor
Project Management
Financial management
Dubsado Pricing Plans
$40 a month per user
Larger companies would need to call to look at their enterprise pricing.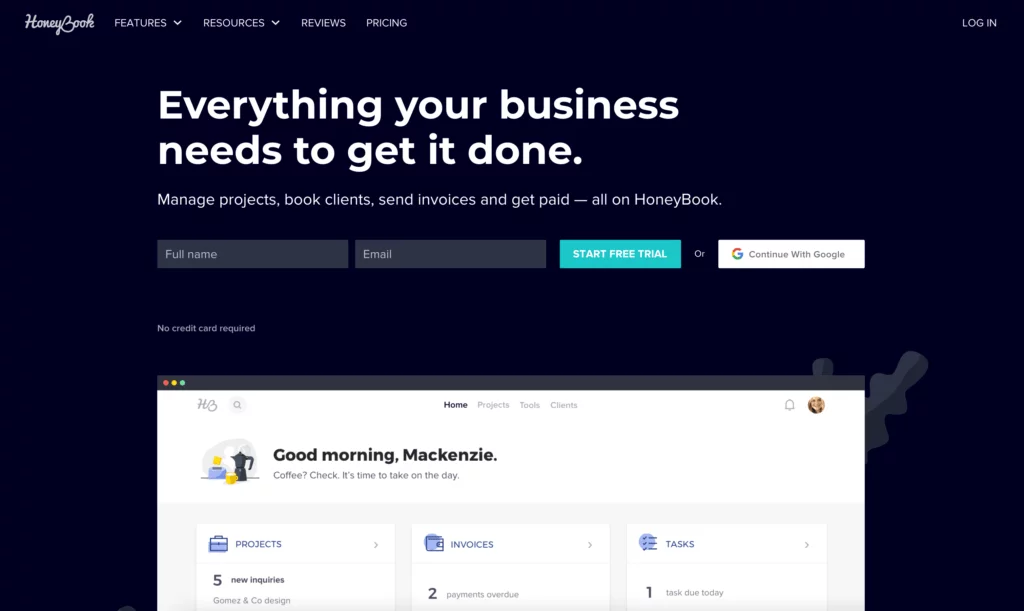 Honeybook is another popular CRM for photographers. The slogan of this business management software is "Book Fast. Get Paid Faster." Honeybook's goals are to streamline your workflow and boost your sales. This business process management software lets you create powerful proposals, invoices, and agreements. Honeybook has a built-in payment processor instead of utilizing third-party integrations. However, for financial management you would need to integrate with Quickbooks or Zapier.
Advanced Features
Strong community
Project Management
Client base, Invoice clients & Client Booking
Payment Processing & Automatic Payments
Good financial management features
Honeybook Pricing Plans
Starter Plan: $9 per month per user
Unlimited Monthly Plan: $39 a month per user
Unlimited Annual Plan: $390 per year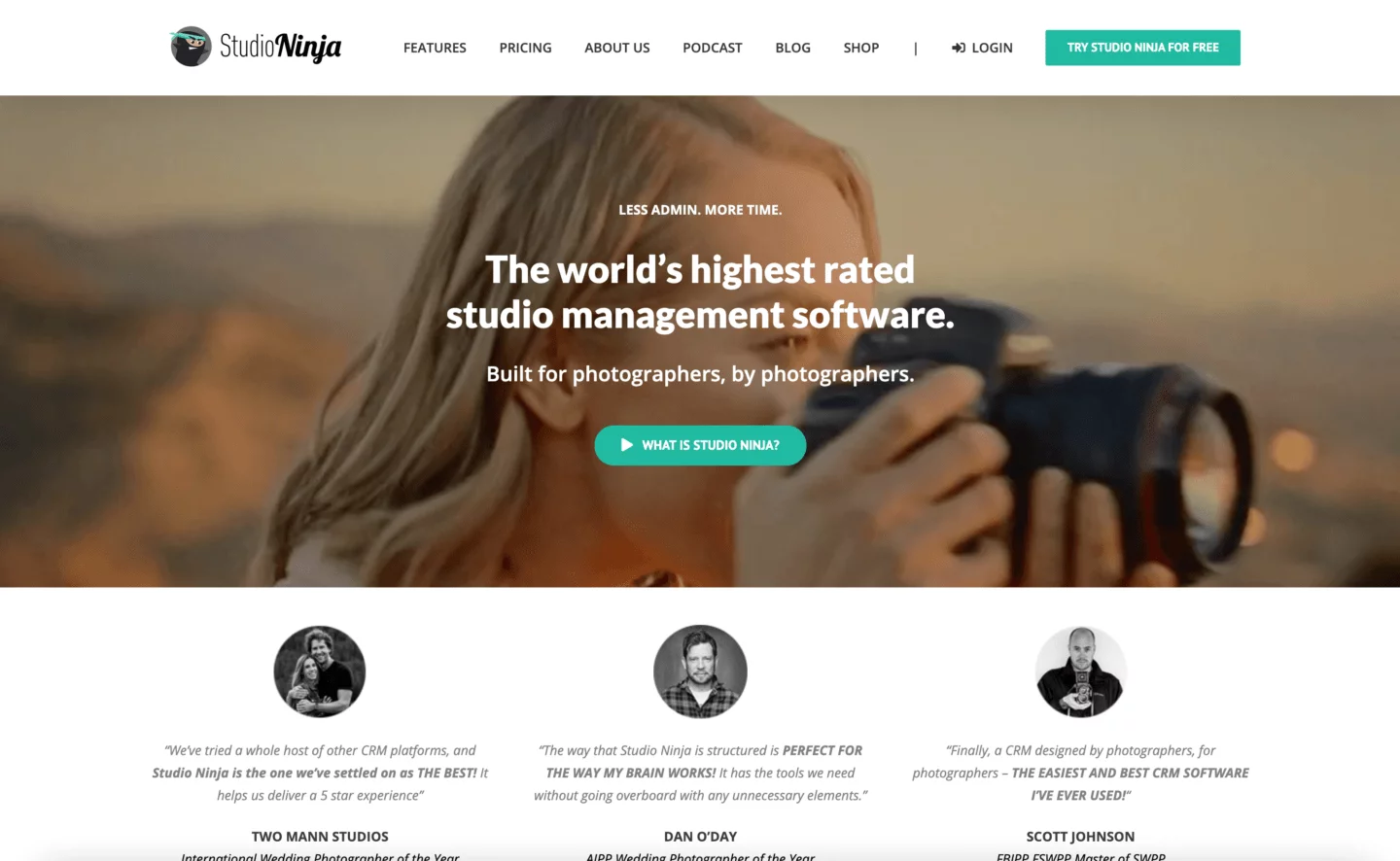 The Studio Ninja business management software is famous because of how user-friendly it is. Studio Ninja can help you save time, increase efficiency and get things done quickly. Another key feature that users often comment on is Studio Ninja's clean interface and business functions. Studio Ninja's most common features are their job tracking, workflow automation, and contracts. This CRM's workflow options allow you to work from anywhere and integrate with various other tools.
Advanced Features
Good invoicing, email integration and payment management.
Works for many different industries.
Financial management
Project Management & Client bookings
Designer email feature
StudioNinja Pricing Plans
Pro Plan: $20.90 a month per company
Pro Plan: $24.90 a month for 1 companies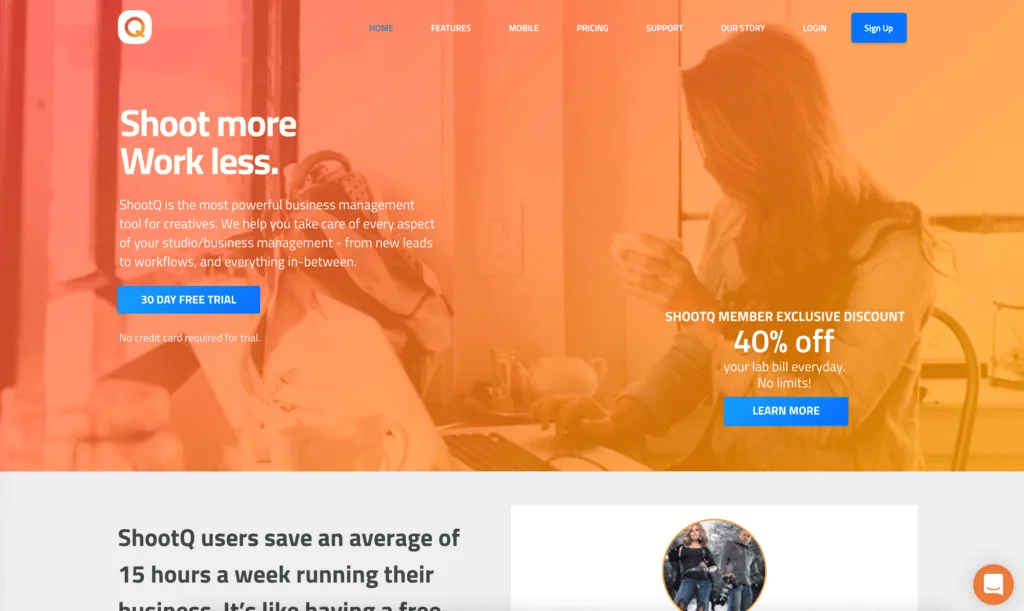 ShootQ's management software organizes your entire photography business in one place. They prioritize automating your business workflows, invoicing, lead tracking, and contracts. Their robust features were developed by photographers for photographers. ShootQ provides top-notch customer service with live chat, email and 1 on 1 account setup.
Advanced Features
Creative automatic email templates
New lead organization & client portals
Custom Reporting & credit card payments
Designer email feature & conversions with clients
ShootQ Pricing Plans
Emerging Plan: Free
Starter Plan: $24 per month for 3 users
Studio Plan: $40 per month for 6 users
Hub Plan: $67 per month for unlimited users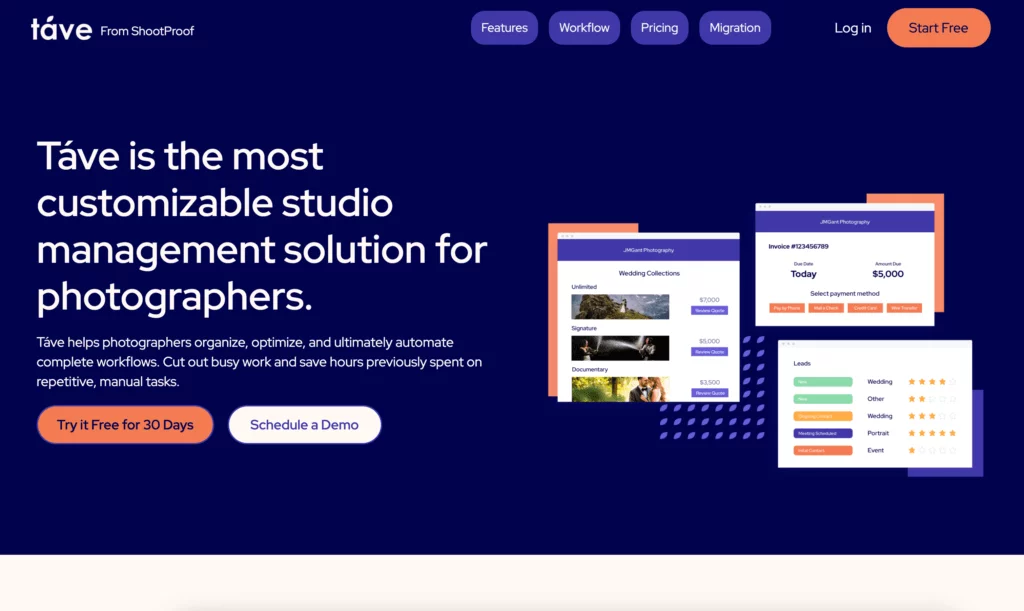 Táve has great client management tools that help keep your business organized so you can spend more time doing what you love. Tave is an extension of ShootProof and is a customizable management solution for photographers. ShootProof is a photo gallery where photographers can sell print, and delivery galleries to clients. Tave integrates directly with ShootProof and is the business management side of photography. This tool develops beautiful experiences for any photographer whether you are a portrait photographer or professional wedding photographer.
Advanced Features
Customizable platform that can handle WordPress data and operations easily.
Advanced accounting and tax reporting capabilities.
Gorgeous client portal, client workflows, & client feedback forms
Top-notch customer service & client experience
Tave Pricing Plans
Solo Plan: $21.99 a month for 2 users
Pro Plan: Contact for pricing
Ready to try out these Sprout Studio alternatives?
Which of these business management software solutions is best suited for you? While all these business solutions are great options, Bloom stands out on many levels. It offers you powerful tools to take your photography business to the next level. If you think we've left a Sprout Studio alternative tool out, leave a comment or visit one of our social media pages to let us know. In the meantime, why not sign up for a free trial of Bloom and experience it for yourself?
Which Sprout Studio Alternative is for you?
Which of these intuitive project management software solutions is best suited for you? Each of these 7 tools will benefit your small business in different ways. Some are more sales heavy while others like Bloom focus more on streamlining your admin work to give your clients the best experience. Try out these tools and see which one is right for your business.
If you think we've left a Sprout Studio alternative tool out, leave a comment or visit one of our social media pages to let us know. In the meantime, why not sign up for a free trial of Bloom and experience it for yourself?