I worked in a bridal boutique for three years while in college. And the job wasn't just playing with beautiful dresses and veils, because when you help someone find 'the dress' you also learn a lot about weddings. I met couples who were planning massive affairs with over 500 guests, and I met brides planning elopements. The size and style of the wedding differed and was unique to each couple, but what remained true for everyone was that their wedding day was a special moment that they will always remember.
Most of us associate these significant moments with photographs. Simply read any number of blogs or advice columns, and the majority of them will say that the wedding photographer is one of the most important considerations in planning a wedding. What can replace looking over photographs from your wedding and seeing your husband's face as you walk down the aisle? Or the reaction from your closest friends as you put on your dress. Or remembering how it was just the two of you as you exchanged vows with waterfalls serving as a beautiful backdrop?
The Wedding Photographer
Wedding photography is all encompassing. Wedding photographers need to be skilled at landscape, action, portrait, and detail shots. The photographer has to be able to think and make decisions quickly. They have to be able to predict moments and direct others. They are like ninjas, quietly catching special moments, yet all the while ensuring that they are not a distraction. Wedding photographers do more than simply take photographs at the wedding; they create a heirloom full of memories that can't be replicated.
Styles
There are distinct styles to wedding photography. When you think of the style, it's important to think about it in terms of both the approach and the final photographs. Fashions come and go, remember selective coloring? So think of style as an aesthetic versus a current trend.
There are many terms and adjectives that photographers will use to describe their photography. Even within each genre of wedding photography, photographers will have a distinct feel to their photographs. There is not a better style of photography; it is about finding the approach that is the right for what you desire on your wedding day.
Traditional
The approach a photographer will take to traditional photography is to provide direction to the couple. The images are composed, and many of the shots will include photographs of the couple looking directly at the camera. The wedding photographer will gather the family and also create group photos. They will do lots of preplanning with the couple on images, and will suggest specific locations. The photographs will be formal and classic, with a timeless quality. Think perfectly lit posed portraits and that is a traditional wedding photography.
Traditional or conventional photography doesn't have to be campy or cheesy. The expressions of the couple will be genuine, just remember that the feel to the photography will be on the formal side.
Keywords: Portraits, classic, formal, clean, details
Fine Art
Fine art wedding photographs are composed similarly to traditional wedding photography, but the intention is different. Fine art photographers creatively construct images with an abstract feel. The images stand out amongst typical wedding photography. The weddings photos will look different than other photos and commonly are shot with film. The feel and atmosphere with fine art photography is very artsy and has an almost airy quality. The photographer is looking for a special way to capture the couple and their story, and unique compositions and working with natural light is common to Fine Art Wedding Photography.
Keywords: film, rare, abstract, unique, dramatic
Lifestyle
Lifestyle photography captures the wedding just as it is. While lifestyle photography bears some resemblance to photojournalistic, there is an element of direction in lifestyle not found in photojournalistic wedding photography. The photographer may suggest to the couple that they talk with each other, and then the photographer will take candid in the moment shots. Lifestyle photographers capture elements of the wedding in an artistic way, and their eye sees beauty in all aspects of the wedding. This style is wonderful for couples that prefer natural poses and would rather not spend time on wedding day posing for portraits. The photographer will rarely do group or portrait sessions and will be discreetly taking candid photos instead.
Keywords: natural, candid, spontaneous, real, authentic
Photojournalistic
This style of photography is purely documentary, the photographer is like a journalist, observing, and capturing the wedding in a story like format. Pure photojournalistic photography means that there are no group shots, no staged moments, and no portraits. The entire wedding is shot by a photographer who is unobtrusive, and providing no direction. Photojournalism can be heavy on black and white, but that doesn't mean that this is exclusive to every photographer. The Wedding Photojournalist Association says, "Photographers who favor wedding images on their website that reflect traditional portraiture, people looking at the camera, gowns fanned out, portraits of brides staring out windows, and/or detail shots of flowers, dresses, shoes or rings, will not be accepted into the WPJA."
Keywords: unobtrusive, documentary, natural light, black and white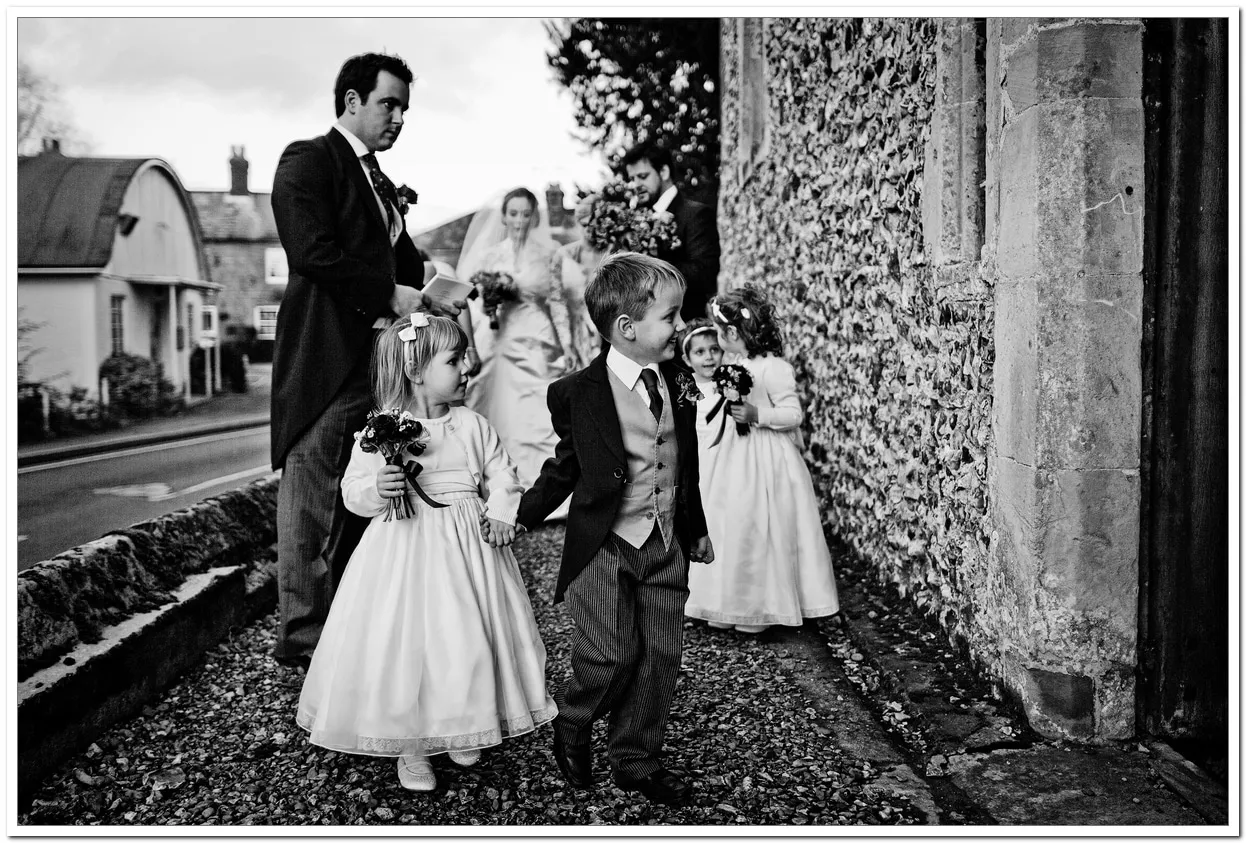 Hybrid
There are photographers who shoot exclusively in a particular style. However, many photographers would describe their photography as a combination of different aesthetics. For example, a photographer may tend towards lifestyle, but still shoot group and bridal portraits. Wedding photographers may describe their photography in many ways, and, of course, this is always open to interpretation.
Good wedding photographers understand the skills they need for their craft. They have to be technically proficient across genres, and they have to be great with people. The best wedding photographers connect with the couple, family, and friends. They will meet beforehand with the couple in person or on the phone and communicate regularly. Wedding photographers genuinely love being part of these special moments and creating lasting memories for the couple and family.
Any wedding photographers out there? Anything you would like to add about wedding photography? Share your responses below!
For all things Bloom, please visit here.