We have some very exciting news to share!
Starting today, you'll receive access to an amazing new feature that will change the way you communicate with clients and follow up with leads.
That's right, email automation has arrived on Picr! ?
This is a big deal, and we know many of you have been asking for this feature for a long time. After months of research, development, testing and feedback, we are excited to finally release it.
Do a little happy dance, high-five your cat, and cry tears of happiness. But when you're done, jump back into this post because we're going to show you how you can use it to save 1000's of hours writing and responding to emails every year — all while increasing your revenue!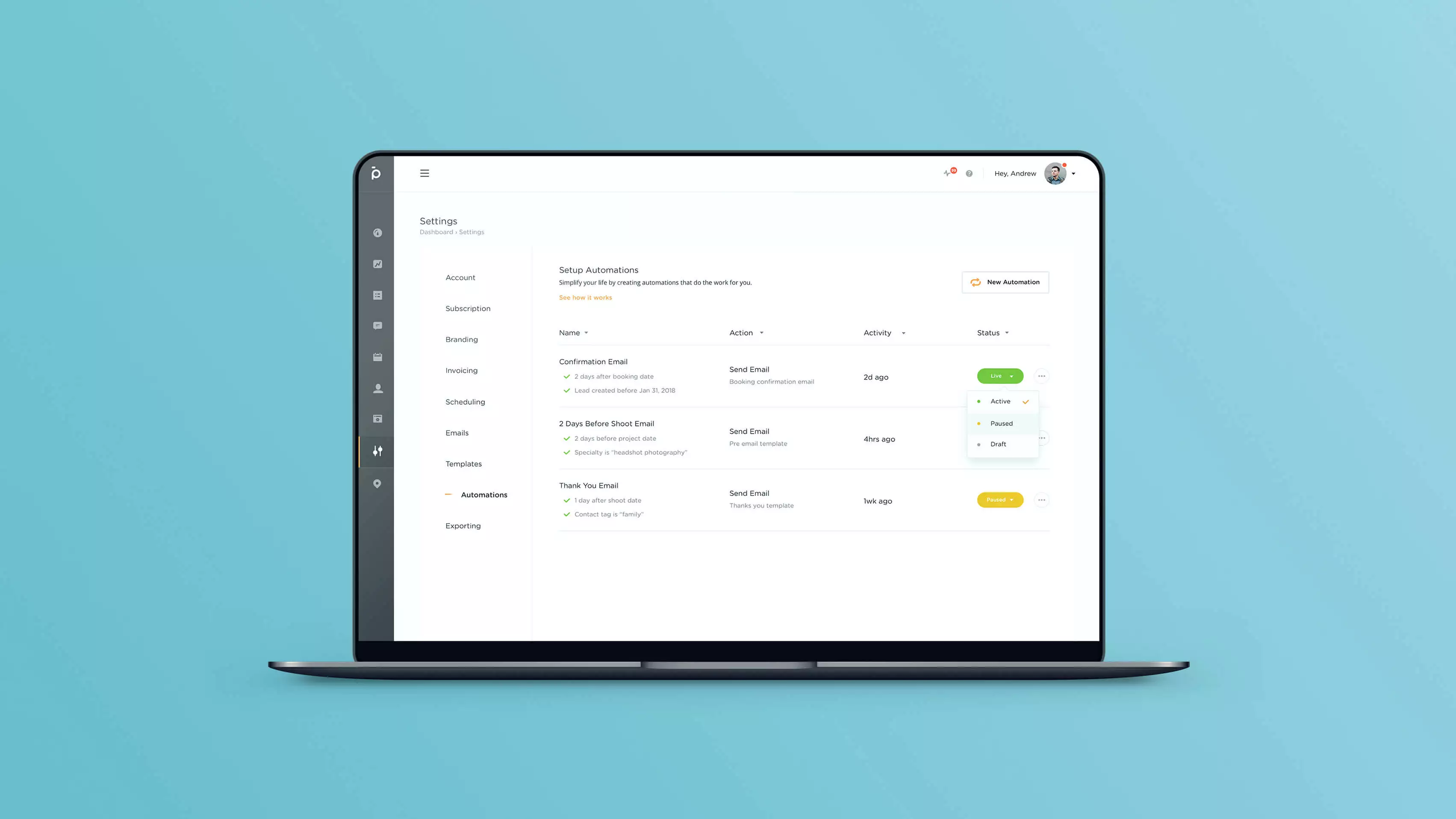 Take a moment and think about how annoying it is to check, write, and respond to emails with clients and leads day after day… especially when you'd rather be out creating awesome work. Email is an essential part of your business, but the minutes and hours add up quickly.
In fact, the average U.S. worker spends 1,000 hours or more each year (Washington Post) just writing and responding to emails. If you apply this estimate to the course of a 35 year creative career, that's 4 entire years spent just on emailing! While these emails are important and help your business run smoothly, I'm sure you'd rather spend those years growing your business and creating beautiful work… right?
The new email automation feature allows you to create email templates and trigger them based on different rules and conditions that occur inside Picr, such as when a booking is completed, a payment is made, or a project is finished… just to name a few.
These triggers are also time sensitive, and work in conjunction with email templates to create ultra-customized, time-sensitive sequences that can help you accomplish virtually any communication goal you have. Since your time is now free from responding to each email individually, you're able to respond to dozens or even hundreds of clients simultaneously, all on autopilot.
Here's a quick demo of what it looks like: 

---

As you can see in the video above, we've made it super easy for you to create and deploy new automations. All it takes is a few minutes of setup and connecting the correct templates. Let's take a look at how you can take advantage of this new feature starting today!
Setting up your first automation: 
Navigate to Settings > Automations and hit the "New automation" button. So far so good, right?

Next, let's give your automation a name:
You can title your automation anything you wish. We like to keep it simple and suggest stating the intent of the automation as the title, such as "Confirm Booking" or "Final Payment Reminder." If you're running a sequence, you can number the sequence here such as "Portrait Session Email 1: Confirm Booking."

Next, choose which email you'd like to automate: 
You can choose from any of the templates you've already set up in Settings > Emails, or you can create a new template by clicking the "Add new template" button. With Picr, you can easily create highly customized, personal email templates that will automatically fill in things like your clients name and their project information.

Now, choose when you would like to automate this email:
Picr email automation works in conjunction with your projects. You can choose from a variety of triggers associated with your projects, such as when a lead form is filled out, a booking is made, a payment is processed, or a project is archived. Even better, you can choose to automate the email any amount of time before or after the trigger, or send immediately when the trigger is fired.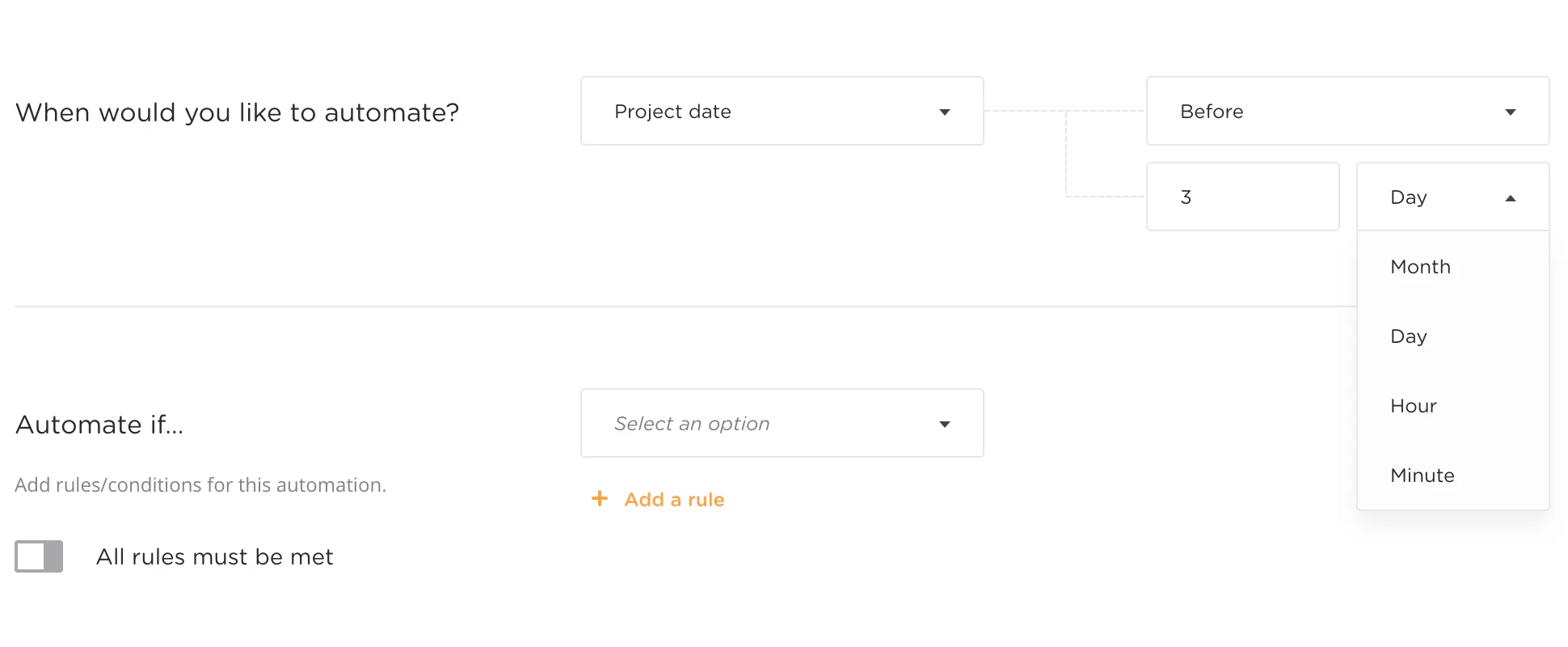 Finally, choose your automation conditions for this email:
This is where email automation on Picr becomes incredibly powerful. Not only can you choose what items trigger your automations and how long they send before or after the trigger, but you can even define what type of rules must be met in order to send the automation in the first place.
Let's say you want automate a session reminder for your portrait clients. You would simply choose Specialty > Portrait, ensuring that the automation would only be delivered to portrait clients.

(click here for a video version)
---
One of the best things about this tool is that you can use it to put together entire sequences that help you accomplish all of your marketing and communication goals. Here are some ideas to get you started:
– Automate your followup with leads, ensuring swift communication and building rapport and trust quickly.
– Automate communication with clients based on triggers that help you send information about a shoot or remind them of payment at exactly the right time.
– Create remarketing sequences that allow you to send campaigns to past clients, maximizing your revenue.
– Send followups to collect reviews that you can use for website testimonials.
The possibilities are truly endless. Gone are the days of writing and responding to every single email, sorting through client communication meticulously, and trying to remember when and who and what to follow up with. Just set up your templates, push a few buttons, and voila!
We hope that with this new feature, you move one step closer to growing your business and being able to focus more on your craft. That's why we're here, after all.
Are you ready to try out email automation? Log in to Picr now to start setting up your automation flows! Or, if you don't have an account yet, sign up here and you can start saving 1,000s of hours a year with Email Automation.