The last couple of months were challenging and at times, a little emotional for everyone at Picr. Why? Well, first we had a hard time finding product market fit for the Picr platform's clients. We spent thousands of dollars on marketing and got almost nothing in exchange. Second, we had to make a decision to lay off half of the team.
I already wrote a post on my personal blog at Medium, but I would like to share more details in this post. In addition, though, I'm going to share something very exciting, and I'm going to be very transparent about it, so get ready!
How we got here and the reasons behind the layoff decision at Picr
When we had just started to work on Picr, we had a pretty small team. It was just 11 people who were very passionate about the industry and the problem we are aiming to solve. We set goals to build our minimum viable product (MVP) in just four months without even completely understanding exactly what we were going to build. But we started building just the same. We learned a lot while doing that. In the end, it took us much longer than four months—it took nine months, to be exact.
To speed up the launch of our first version—the launch to the photographer side of the platform, we had to hire a few folks along the way. By that first launch, we had a team over 20 people. We had promised that we would launch by the end of 2015, but because we had to go through many product iterations, we missed our deadline. Some of the features we had just didn't make much sense and had to be rebuilt or simply removed. Understandably, some of the photographers we had brought in were frustrated that we didn't keep our promise.
We didn't want that same thing to happen when we launched to clients, so we brought in a fairly decent number of people who worked on marketing aspects: content creation and distribution, social media management, video production, running ad campaigns, providing support to clients and photographers and more. We had nine people responsible for all these tasks and duties—a lot, I know.
We recognized that the way things were going, we would run out of money and wouldn't be able to raise another round. We had a high burn rate and just three or four months of cash left. Based on this situation and many other factors, I had to make a hard decision—to lay off several team members.
During that period, we also spent a lot of time analyzing what's not working the way we expected, why, and how to fix it. Through all this, it began to dawn on us that the answer was to change our strategy completely and partially change our product. The great news? Our new approach allows us to reuse most of the components (especially on the backend) that we have already built.
The redesign, relaunch, and revision of everything
Most of you don't know that in the past few months we were working on redesigning everything starting from public pages to all portals. In addition to this, we were building a couple of new critical features that most of the photographers were requesting.
I was lucky enough to bring one of the best designers in the United States from California to Portland. I was able to sell him our vision and show him the design challenges we have. The move happened and he started to reimagine our brand. From designing the logo to setting up the right style guides and designing all pages and components of the brand. Not just redesigning the image, but redesigning how our clients will interact with our brand.
I took personal risks by investing into the redesign before we even got product market fit.
Today we are launching our new brand, along with an updated blog. We're also closing access to our marketplace and photography portal for new photographers. You should be able to log-in and manage all your data for the next two months by using this link.
Currently, we are at the stage of building something new. Our vision is still the same, but the product and our value proposition will change. At least in the beginning. We re-envisioned everything, and will come back to the market with a completely different approach. Some of you might be skeptical and this is totally fine. You can be skeptical or critical, just share your feedback and criticism with me. This is going to help me better understand you as our future client and partner.
We are not trying to fool you or anyone else, and we don't want to sell a half-baked product. We are here to help you succeed. As an entrepreneur, I'm always looking for opportunities to fix things. I see a great opportunity here and believe in the vision I have. My team shares the vision with me and I have 100 percent support from them.
Are we going to succeed? I don't know. All I know is that we are going to try our best. I know we have opportunity. I know I can lose everything. My relatives don't understand why I risk so much, but I know I have a passion and really want to make Picr successful. I want to create a company which will make you successful. You may think I'm a fool by taking these chances. You have an undeniable right to think so.
There are only nine of us left, along with a couple of contractors. Now we have to wear many hats. Handle multiple tasks. Work longer hours. We do work 12+ hours a day. We are committed.
I am going to help manage our Picr blog. At first, we wanted to stop posting anything, but after thinking about it, I decided that I will handle it.
I spent a few days thinking about strategy and the content I'm going to produce and share with you. I'm not a photographer, so I can't teach you photography. But I know something that I can share with you. I have some experience in creating companies, managing people, and marketing. I have built more than a dozen companies and I have done lots of marketing in the past.
So from now on I will post at least two or three pieces of content per week. I will do my best to create very helpful content, to help you with running your business, managing clients and projects, getting new clients and more! I'm not going to post anything boring, and if I do, please let me know. I need your feedback on everything. Also, I will share what's going on here at PICR. Where we are with the new product by offering sneak peaks. I will run contests and giveaways. I will do my best to make it engaging.
Launch date set for the new Picr
We have set a goal: to launch the first version of our new product by the end of this September. That's less than two months away. This is much more than simply launching a product. We have to launch a product that you love.
To make sure that we meet the second part of our goal, we are first selecting 100 to 300 early adopters to work with us and provide constructive feedback to help us make Picr the product you actually need and love. Once we've satisfied them, we will start rolling it out to everyone else.
I encourage you to be more active and help us to build the right product and the community you need by constantly commenting and providing your feedback. I mean it—your input is extremely valuable and critical to us. We will do our utmost to meet your expectations of us.
Giveaway
We have a list of 20,000 photographers around the United States who subscribed to Picr since our prelaunch almost year ago. Some of you may no longer wish to receive our newsletter but for one reason or another do not unsubscribe. So here is the deal:
If you like Picr and what we do, I encourage you to subscribe (or re-subscribe to show your continued interest) using the form below. Everyone who subscribes from this point forward will receive special updates, secret content and other perks. If you are ready to jump in with us for this launch, please subscribe now. We are not going to spam you. Promise.
Everyone who subscribes by 10PM next Wednesday, August 17, will get a chance to receive a custom branded Picr t-shirt, pictured below. We are going to give away 20 t-shirts, so your odds of getting one are good! Subscribe and participate now. Next Thursday I will randomly select 20 emails. If you're a winner, I'll email you to let you know and to get your t-shirt size + shipping address.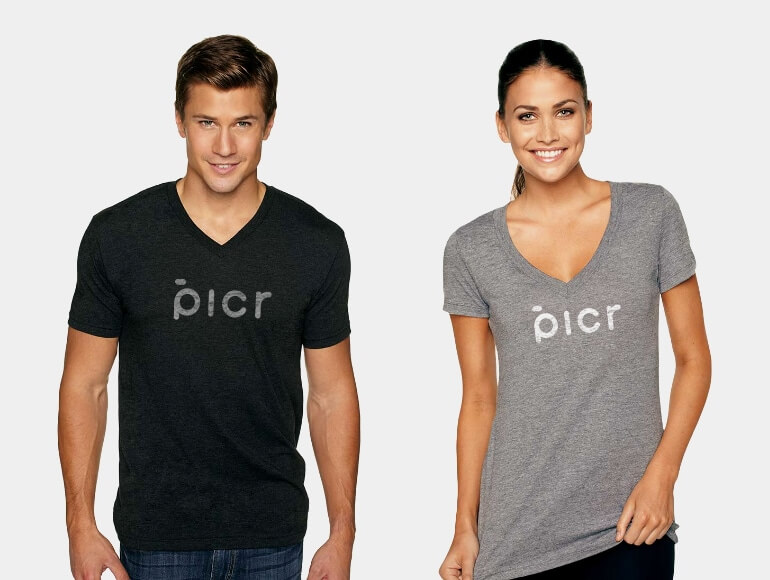 Also, I'm going to run a series of Q & A posts about business and marketing. If you have any questions regarding your business or marketing, please ask it in the comments section below. I'm happy to answer your questions based on my insights gleaned from experience starting and running several successful businesses over the years.